This nourishing Tempeh Buddha Bowl is full of colourful veggies, meaty tempeh, hearty quinoa and topped with a simple creamy tahini dressing.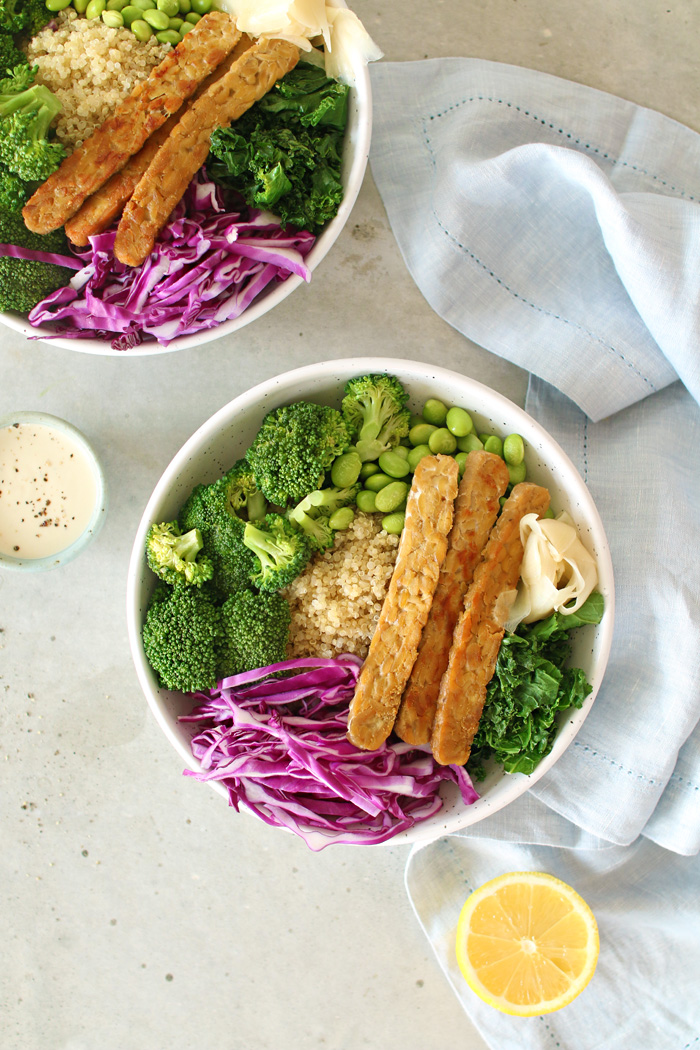 Everything just seems to taste better in a bowl if you ask me!  I love buddha bowls because they satisfy my indecisive mind from having to pick just one flavour.  This way I can have a bit of everything. A great tip is prep all these ingredients ahead of time for easy meals throughout the week. This makes it easier to whip up a quick meal for dinner, or pack a lunch in the morning.  Honestly, I could have one of these bowls for breakfast, lunch and dinner.
Buddha bowls, aka hippie, nourish or macro bowls, are packed full of macronutrients & so easy to make at home.  You can't really mess it up,  pretty much everything goes! Just pick your base (quinoa, brown rice, soba noodles). Then, add some veggies (raw, steamed, sautéed), pick a protein, add some crunch! Lastly, drizzle with creamy dressing, or a dollop of hummus – and voila – you got yourself a buddha bowl.  
I was recently reintroduced to tempeh by my friend Andrea, who just became a part of the Healthnut Team!  Years ago, I tried crumbling tempeh into a stir-fry for my family, and found it to be so bland and I didn't like the texture.  No one told me that it would taste better if I marinate it first! I'm loving the pre-sliced and seasoned tempeh, especially grilled on a pan. Unlike tofu, which is silky and soft – tempeh is hearty, meaty, and crunchy. It also has a nutty earthy flavour. It contains more protein per serving than tofu and is a complete protein, as it contains all 22 essential amino acids.
The best part about buddha bowls is that they are kid friendly! This easy 10 minute dinner is sure to please any picky eaters.  Make it a fun night by letting everyone build their own bowl. Let me know in the comments below what you guys like to add to your buddha bowl.
If you make this recipe, be sure to share a photo on social media and tag me @healthnutnutrition #healthnuteats so that I can see your creations! 
For more easy meals that are ready in 10 minutes check out my Simple Cauliflower Tacos, Shrimp Fried Cauliflower Rice, and Golden Chicken Vegetable Curry. 
Recipe
Tempeh Buddha Bowl
This nourishing Tempeh Buddha Bowl is full of colourful veggies, meaty tempeh, hearty quinoa and topped with a simple creamy tahini dressing.
2

cups

pre cooked quinoa

warmed

2

cups

chopped broccoli florets

2

cups

packed chopped kale

½

cup

edamame

½

package pre-sliced and seasoned tempeh

about 8 slices

½

cup

sliced red cabbage

½

tablespoon

extra virgin olive oil

Garnish: pickled ginger

Optional: sprinkle with sunflower seeds
Dressing
¼

cup

tahini

Juice of ½ lemon

2

tablespoons

water

Pinch

of salt and pepper
Print Recipe
Save Recipe
In a stacked steamer, add the broccoli to the bottom stack and the edamame on the top stack. Steam for 3 to 4 minutes. Remove and set aside.

In the meantime, heat the olive oil in a large skillet on medium heat.  Cook the sliced tempeh for 1 to 2 minutes on each side or until golden brown.  Set aside.

Using the same skillet, toss in the kale with a splash of water and sauté for 2 to 3 minutes or until bright green and glossy.

Make the Dressing In a small bowl, whisk together the tahini, lemon juice, water and a pinch of salt and pepper. Set aside.

Assemble the bowl by adding 1 cup of quinoa into each bowl.  Arrange the broccoli, edamame, kale and cabbage around the bowl.  Top with sliced tempeh, drizzle with lots dressing and garnish with pickled ginger.
similar recipes