This golden chicken vegetable curry is packed full of aromatic spices and creamy coconut milk, making it the perfect dinner that's ready in less than 30 minutes.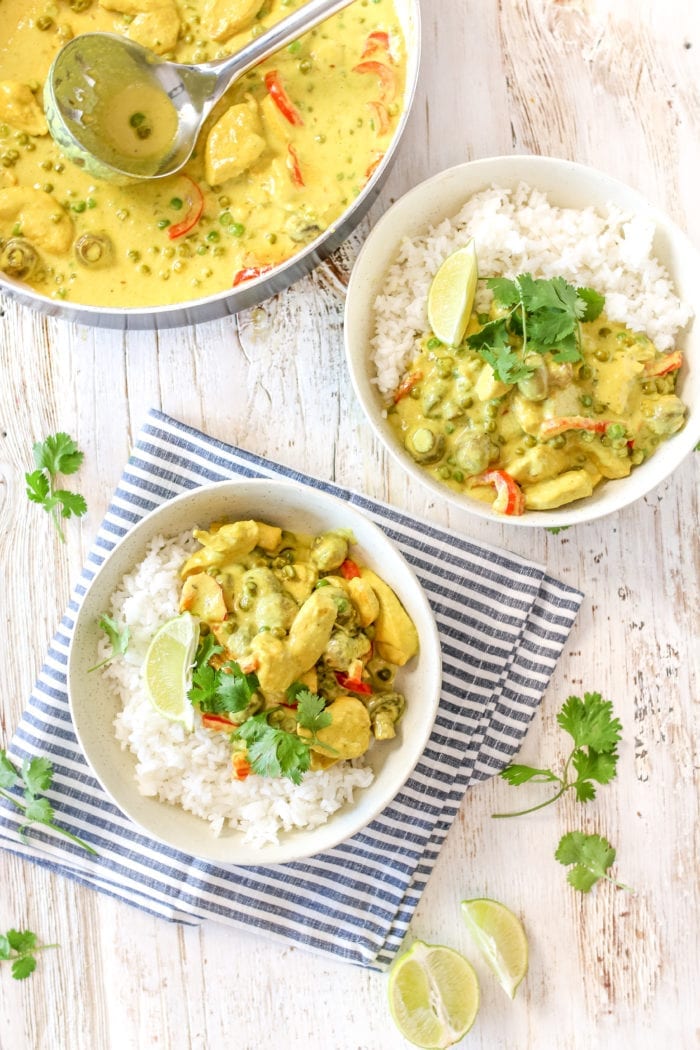 Like most of my recipes, this delicious meal was made on a whim one night when I was trying to decide what to make for dinner. I was craving curry but I didn't have any store-bought yellow curry paste in the cupboards. So I thought…hmmm I wonder if I can MacGyver this one?
I mean we all know that my cupboards are bursting with all kinds of spices, so there's gotta be a way! So off to work I went, and let me tell you, the curry Gods were on my side that day, cuz I nailed this one on the first round!! I know I say this often, but this is hands down the BEST curry I've ever made. I was so impressed with myself and I just knew I had to share this recipe with you guys.
Homemade Curry Paste
Now don't let the homemade curry paste intimidate you. It's super easy to make and it's ready in a few minutes. You most likely have most of the ingredients in your pantry and fridge, they are staples in most households. And the best part, it tastes WAY BETTER than the store-bought stuff. Not that there's anything wrong with the store-bought curry paste. It's just homemade always seems to taste better, in opinion!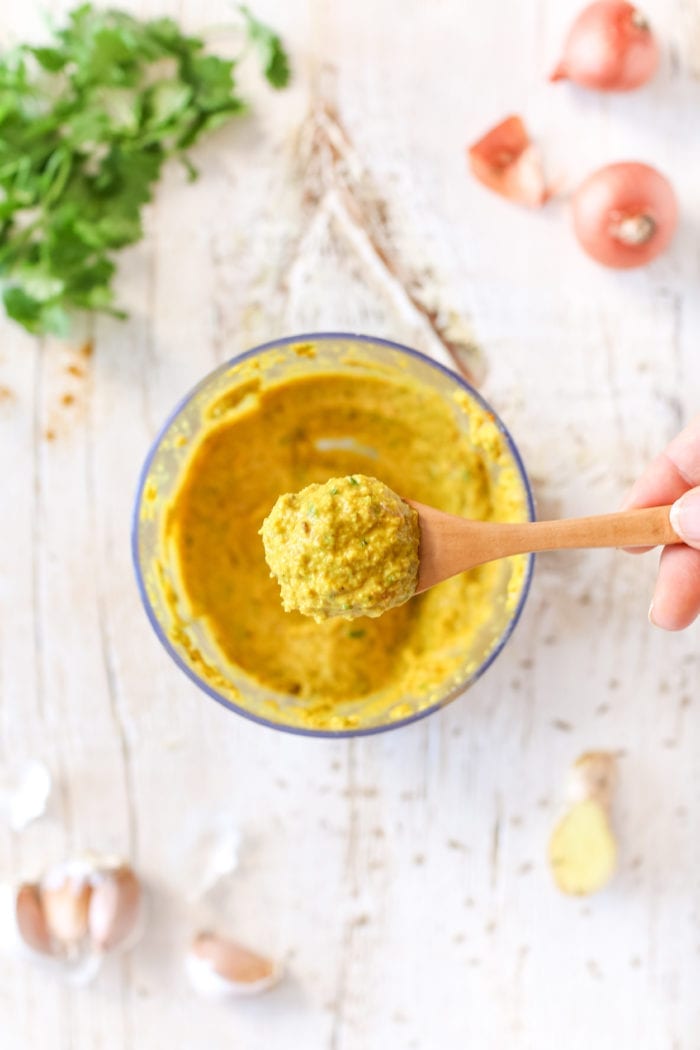 This quick and easy curry has been on regular rotation in the HealthNut kitchen as Mr. Matt and I are huge fans! We just can't seem to get enough of it. I feel like each time I make it, it tastes even better. The best part is that you don't have to use the exact ingredients I listed below! You can pretty much use whatever veggies you have on hand. It's a great way to use up those veggies you're trying to clear from your fridge at the end of the week before they go bad. I love using broccoli, cauliflower, carrots, and tossing in some baby spinach at the end. You can also substitute chickpeas or tofu for the chicken if you want to make it a veggie-friendly meal. Either way I guarantee it will always taste delicious. As long as you have the golden curry sauce you can pretty much play around with the ingredients and get creative.
I love this curry with jasmine or basmati rice and topped off with chopped fresh cilantro and a squeeze of lime juice. This meal is even tastier the next day, so it's perfect for lunch or dinner again. Hands up if you love leftovers!! 
If you love curry as much as I do and looking for more recipe inspo, then check out my Creamy Chickpea Curry.
If you make this Golden Chicken Vegetable Curry, be sure to share a photo on social media and tag me @healthnutnutrition and #healthnuteats so that I can see your creations! 
Recipe
Golden Chicken Vegetable Curry
This golden chicken vegetable curry is packed full of aromatic spices and creamy coconut milk, making it the perfect dinner that's ready in less than 30 minutes.
Yellow Curry Paste
2

shallots

quartered

4

garlic

cloves

1

inch

fresh ginger

1/2

Lemon

Juiced

3

tbsps

avocado oil

1

green onion

roughly chopped

1

tsp

turmeric powder

1

tsp

curry powder

1

tsp

sea salt

1/2

tsp

ground coriander

1/2

tsp

cumin seeds

1/2

tsp

black pepper

1/2

tsp

coconut sugar
Curry
1

tbsp

avocado oil

3-4

(1 lb)

chicken breasts

cut into 1 inch pieces

1

cup

button mushrooms

2

red bell peppers

julienned

1 1/2

cups

fresh or frozen peas

2

cans

full fat coconut milk
Garnish
chopped cilantro

fresh

lime wedges
Print Recipe
Save Recipe
In a small food processor, add the shallots, garlic, ginger, lemon juice, avocado oil, green onions, turmeric powder, curry powder, salt, ground coriander, cumin seeds, black pepper and coconut sugar. Blend on high for 1 to 2 minutes, until smooth and creamy. Set aside.

In a large non-stick frying pan, heat the avocado oil on medium-high heat. Sear the chicken for 5 minutes, flipping half-way. You want the chicken to be slightly golden on the outside and about 80% cooked. Remove the chicken from the pan and set aside.

Add the curry paste to the frying pan and cook for 1 minute, constantly stirring.

Toss the chicken back into the pan, stir until evenly coated with the curry paste. 

Add the mushrooms, peppers and peas. Stir and sautée fro 2 minutes.

Pour in the coconut milk, stir and simmer uncovered on low for 10 minutes, until veggies are tender but still vibrant in colour.

Serve with jasmine or basmati rice, sprinkle with chopped cilantro and a squeeze of lime.
similar recipes