Whether you're packing a lunch box for back to school or for work, these 10 healthy lunch box recipes will curb the boredom that comes from having the same old sandwich every day.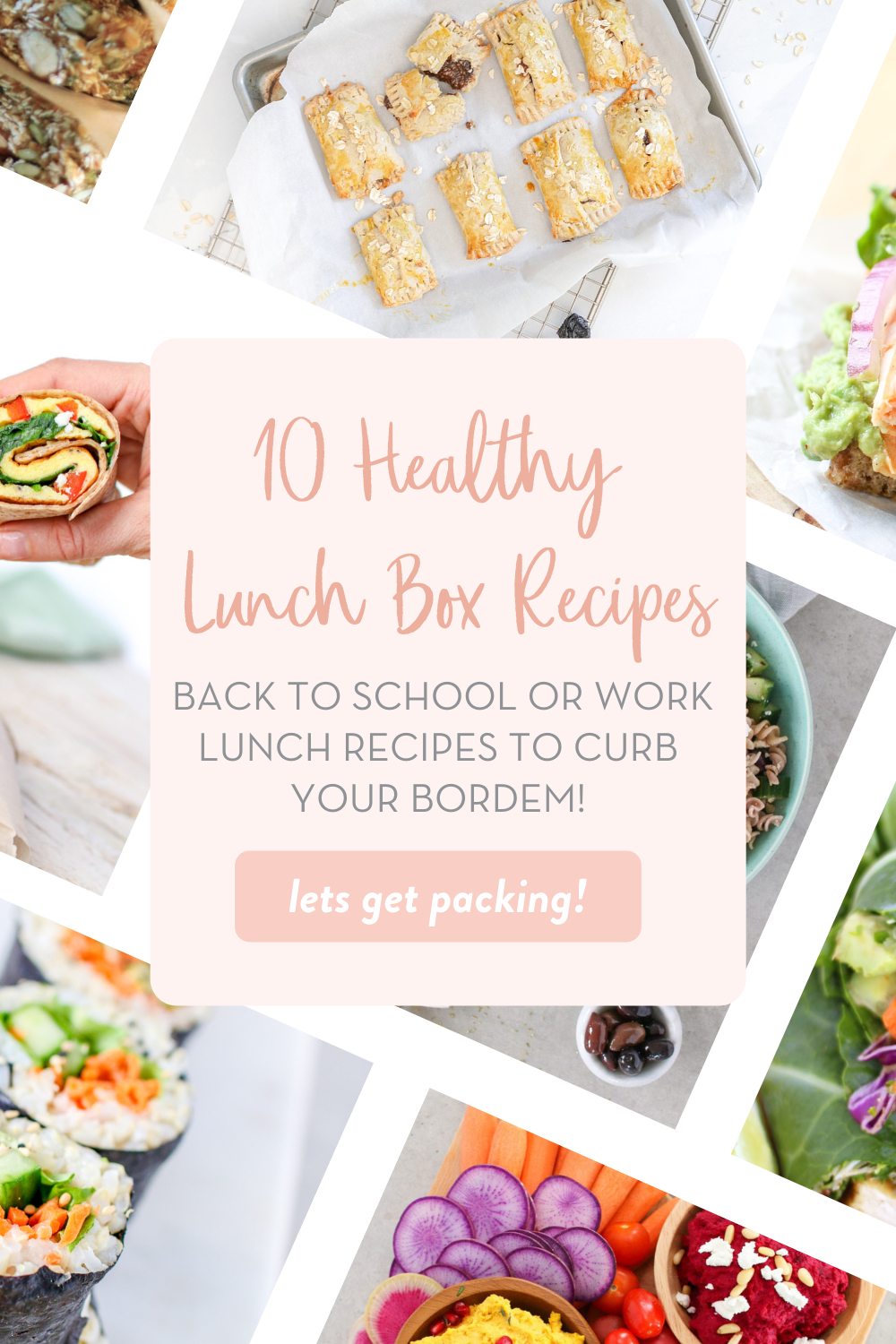 It's that time of year where parents, students and workers alike are looking for inspiration for their boring old lunch boxes. The thing is, lunch boxes don't have to be boring! With some key recipes and the power of meal prep, you can create delicious and nutritious lunches to take to work or school with you with very little effort. Take a look at these 10 healthy lunch box recipes, and if you're looking for the perfect lunch box check out my Bento Boxes that I sell in the HealthNut Shop!
Spinach Feta Egg Wrap
If you're familiar with Starbucks' Spinach and Feta Breakfast Wrap, then you are going to love this recipe. Not only is it homemade and super simple to make, it's way more delicious. I know this, because I did my research. And by research, I literally went to Starbucks, bought their wrap and compared my version to theirs. Now, I'm not trying to brag, but half the Healthnut Team tried both, and everyone LOVED my version better. Success!!!!
Chia Prune Healthy Energy Bars
Growing up we always had either nutrigrain bars or fig newtons in our snack cupboard. At the time they were considered "super healthy." Of course, now we know that those kinds of bars are usually loaded with hidden sugars and other processed ingredients. As with many childhood favourites, I decided to create a new and improved version that is healthier without the added sugars and weird oils. These chia prune healthy energy bars are perfect for a grab and go breakfast, snack or treat!
Grilled Chicken Avocado and Tomato Sandwich
This Grilled Chicken Avocado and Tomato Sandwich is layered with smashed avocado, tomatoes, fresh greens. With a hint of honey dijon mustard, this is the ultimate lunch for on the go! You can enjoy this sammy just by simply toasting the bread. But if you want to take it up a notch, and you have time before work or school, I highly recommend grilling it. This way the sourdough bread becomes crispy, and the smashed avocado warms up. Basically, all the flavours just melt together both in the sandwich and in your mouth!
Easy Veggie Hummus Dip
Veggie sticks and hummus are a classic lunch box option, but why not switch up your hummus and make it from scratch using an array of delicious veggies? I'm excited to share with you guys these three beautiful, vibrant and super tasty homemade hummus recipes. I thought it would be fun to switch it up from the usual classic hummus and share some of my new favourite combos.
5-minute Falafel Wraps
This super quick and hearty plant-based wrap will hit the spot come lunch time. Use any tortilla wrap or even pita bread. For this recipe I went with red pepper hummus but you can use your favourite hummus recipe. Next, I added a handful of arugula, because you know I gotta add some greens! Baby spinach would also be amazing in this wrap. After that, feel free to add whatever veggies you have on hand. I chose tomatoes, cucumbers and red onions! But you can also add sliced peppers, shredded carrots and creamy avocado.
Greek Pasta Salad
I love the Greek inspired flavours in this pasta salad.  The tangy olives, the saltiness of creamy feta, chopped crunchy veggies and a simple herb vinaigrette infused with oregano. It's one of my go-to salads and I always seem to have the ingredients on hand. You can use your favourite type of pasta – I love using gluten free brown rice fusilli. It's also a great source of fibre and iron, and will not leave you feeling bloated!
Brown Rice Sushi Rolls
Making your own sushi rolls may seem daunting at first… and the first couple may be a hot mess! But I promise you, with a little practice you too can become a pro! When I make my own sushi rolls, I prefer using brown rice over the traditional white rice. Why make anything the traditional way when I can healthify it?! I also like to sweeten my rice using honey, which is a natural sweetener with no refined sugar.
Rainbow Chopped Tuna Salad
If you guys haven't noticed by now, I'm kind of a fan of salads. Besides being called the green smoothie queen, you can pretty much call me the salad queen as well because I love them both!  Whether it's for lunch or dinner, I usually try to have a salad every day to get in my leafy vegetables. While I do enjoy a variety of different types of salad, this Rainbow Chopped Tuna Salad is my NEW favourite. Not only are tuna salads super filling and delicious, they'll also keep you satisfied with the right balance of protein, healthy fats and fibre.
Chewy Trail Mix Granola Bars
These chewy trail-mix granola bars are just the snack to keep you going when hunger strikes. These bars are refined sugar free and packed with nuts and seeds! They contain a healthy dose of plant based protein and healthy fats from the nut butter and hemp hearts.
Tofu Collard Green Wrap with Thai Almond Sauce
Tofu just got fancy! These wraps are a great go-to for back to school lunches; they're so easy to make AND they'll keep your taste buds satisfied with a Thai Almond Sauce that's creamy and savoury with just a touch of sweetness. Most Thai sauces use peanut butter but just in case someone has a peanut allergy, you can just swap it out for almond or any nut/seed butter you like.
What are your favourite lunch box recipes? Let me know in the comments below! 
If you make any of these recipes, be sure to share a photo on social media and tag me @healthnutnutrition #healthnuteats so that I can see your creations! 
If you love these recipes and are looking for more options, check out my 5 Easy Bento Box Lunches, and for more lunch tips check out my Back To School Meal Prep Hacks.