This grilled BBQ chicken sandwich layered with smashed avocado, tomatoes, fresh greens and a hint of honey dijon mustard, is the ultimate sandwich with a fun twist!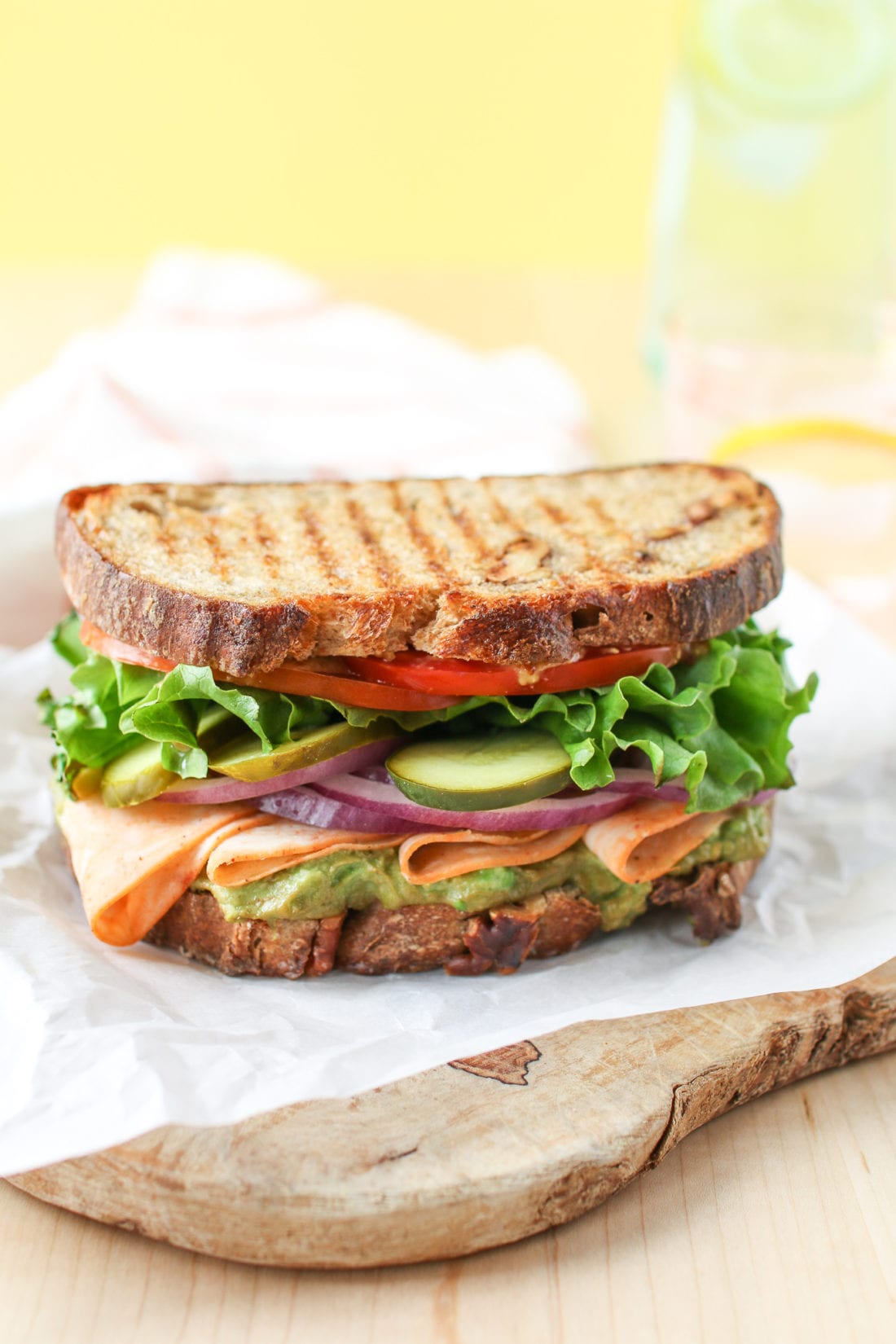 If you've been following me for a while, you know that lately I've been on a sandwich kick, especially now that the warmer weather is on the way. I am so ready for spring! I wanted to put a fun twist to my usual sandwich by firing up the skillet and grilling it. This is the perfect sandwich to eat for lunch outside on your patio, while enjoying the spring sunshine and fresh air!

This layered goodness between two slices of sourdough bread is what sandwich dreams are made of! You can of course enjoy it just by simply toasting the bread, but if you want to take it up a notch, I highly recommend grilling it. This way the sourdough bread becomes crispy, the smashed avocado warms up and all the flavours just melt together both in the sandwich and in your mouth!

As you all know, I'm Portuguese, and if you know any Portuguese people you know how much we love our chicken. To add a kick of protein to this sammy I'm reaching for Maple Lodge Farms' new Natural from the Farm, BBQ Cooked Chicken Breast shaved deli meat. Not only is it precooked and ready to toss into a sandwich, wrap or salad but it's full of flavour, has simple easy to pronounce ingredients and is 25% lower in sodium than other natural deli meats. Don't get me wrong I love me some good quality sea salt but when it comes to added salt in my packaged foods I always check the ingredients list because just like sugar, it can be added in everything in high amounts which can add up throughout the day.

As you know – I'm all about healthy and delicious food that is easy to prepare. This sandwich comes together in a matter of minutes and is so satisfying. Add some sliced pickles on the side and a glass of lemonade, and you have got yourself the perfect warm-weather lunch!

If you like this recipe, you might also like my Rainbow Stacked Veggie Sandwich, 5-Minute Falafel Wraps, or my No-Mayo Avocado Egg Salad.
If you want to try out any of the Maple Lodge Farm products you can use the coupon code here!  

A huge thank you to Maple Lodge Farms for sponsoring this blog post and supporting HealthNut Nutrition. #NFTFDontBeSalty

If you recreate this recipe please share a photo on social media and TAG me @urhealthnut and #healthnuteats so I can easily find them and like them!
Grilled Chicken Avocado and Tomato Sandwich

Serves 1
Prep Time 5 minutes
Cook Time 5 minutes

Ingredients:
½ ripe avocado
1 teaspoon horseradish
2 slices of sourdough bread
4 slices of Maple Lodge Farms' BBQ Cooked Chicken Breast deli meat
⅛ red onion, thinly sliced
1 pickle, sliced lengthwise
Handful of fresh arugula or leafy green lettuce
2 slices of tomatoes
1 tablespoon honey dijon mustard
2 teaspoons unsalted butter or ghee

Instructions:
1. In a small bowl, smash the avocado and horseradish with the back of a fork and set aside.
2. Assemble the sandwich: spread the smashed avocado on 1 slice of bread, add the sliced deli meat, sliced onions, sliced pickles, a handful of arugula or lettuce and sliced tomatoes and top with honey dijon mustard.
3. In a medium size skillet, melt the butter or ghee over medium-high heat. Carefully transfer your sandwich with all the toppings on to one half of the skillet, then place the other slice of the bread on the other half of the skillet in order to grill it. Cook for 4 to 5 minutes or until bread is lightly toasted. Next, add the slice of bread with no toppings on top of your sandwich, and carefully transfer to a plate or cutting board. Gently press down, slice in half and enjoy!
For more recipes like this, check out the Maple Lodge blog here.