I'm extremely excited about todays blogpost not only because I am featuring not 1 but 3 quick and healthy lunch recipes but I'm collaborating with the fabulous Olga over at Fablunch. Olga is the expert on healthy lunches and she is sharing her top 3 go to healthy lunch recipes that are perfect for those lazy days. Don't be scared by the pretty food photos, I promise these are super quick to whip up and taste so fresh and delicious which are perfect for the Summer months. There's basically a lunch to satisfy any lunch craving.  Whether you're a soup, sandwich or salad lover, we've got you covered. We had so much fun creating these recipes in the Fablunch kitchen and I just know you're going to love them!
For Olga's channel I shared my go to 3 healthy breakfast recipes that I make when Im either lazy or am running out the door. You can check out that video HERE!
Healthy Lunch Recipe #1: Spicy Salsa Soup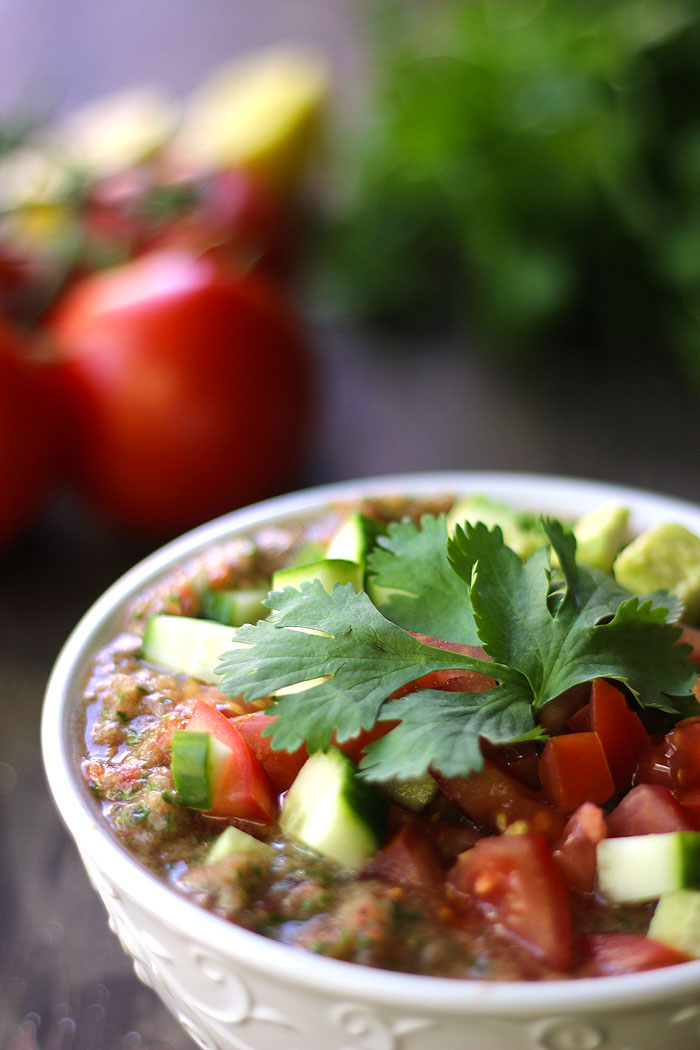 First runner up is this Spicy Salsa Soup which is best enjoyed chilled like a gazpacho. Who says you can't eat soup on a hot day? This vegan friendly lunch recipe will satisfy your tastebuds and keep your belly full.
The combination of the blended soup and the chunky toppings are AH-MAZING! Its like guacamole meets salsa when you top it with the diced avocado.. soo good!
Healthy Lunch Recipe #2: Kale Hummus Salad
Next up is a scrumptious Kale Hummus Salad. You might not have thought to mix the two together before but trust us this is a match made in heaven. Using hummus as a dressing is a great way to save time and add protein to your salad. It makes for a creamy non dairy dressing that your kale will soak up and love.
For this Kale Hummus salad we used Olga's Fablunch containers to store them in. These containers are perfect to bring to school or work because they are actually collapsable.  I love mine and have been using them for months now to pack my lunches 🙂
Healthy Lunch Recipe #3: Chickpea Salad Sandwich
Last but not least a Chickpea Salad Sandwich which is the perfect substitute for any tuna or egg salad. This sandwich is plant-based and full of fibre and protein to keep you full. The best part is that you can make this recipe a regular or lettuce wrap if you want as well. In the same time it takes you to make a tuna salad you could easily mix up one of these tasty sandwiches.
There's something about a sandwich that is nostalgic and makes me feel like a kid again. I'm not going to lie this was probably my favourite recipe out of the 3 although it was a very..VERY tough call! I love the addition of the fresh herbs in this recipe and how it just brightens up the flavours in the sandwich.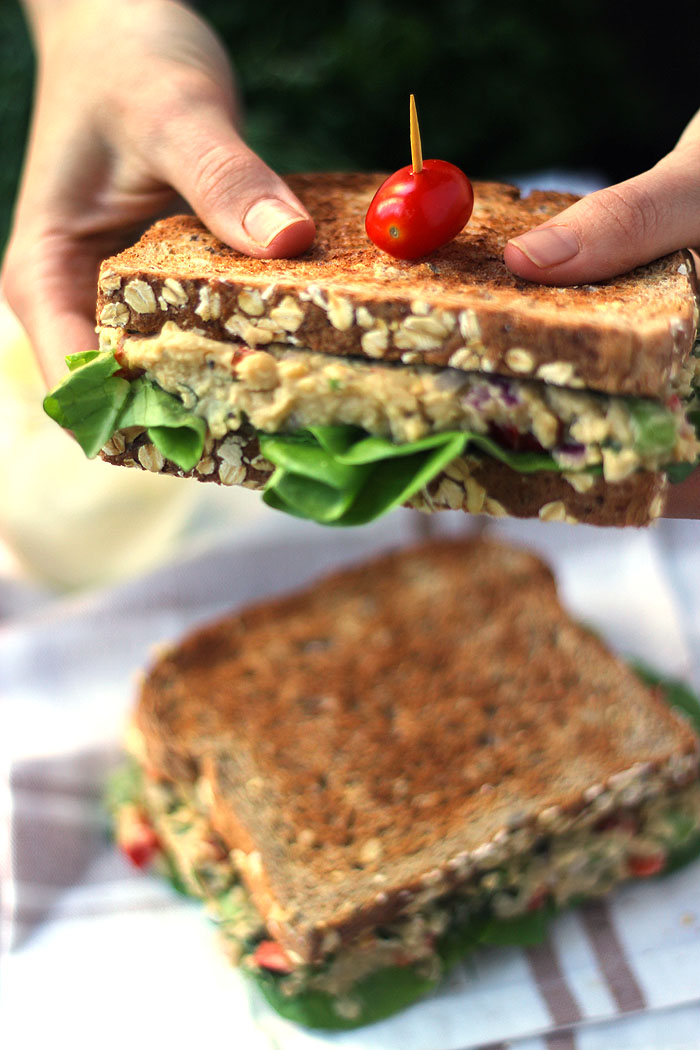 Below I have all 3 healthy lunch recipes laid out for you so you can print them out and stick them onto your fridge for your Sunday meal prep. I hope you try all 3 recipes out and let Olga and I know what you thought of them in the comments below or over on social media.
Now that your all set for lunches this week, don't forget to go over and check out the 3 Quick & Healthy Breakfast Recipes I shared over on Olga's channel here.
Also, be sure to check out the amazing collapsable Fablunch containers that Olga created and designed. They are a great addition to any lunch especially the ones featured in this post and for every container sold 10 lunches are served to children in need. Use the COUPON CODE "HEALTHNUT" to receive 10% off your purchase. To learn more about these "FAB" Fablunch containers click here!
Easy lunch recipes for lazy days
4-5

medium tomatoes

1/4

cup

chopped red onion

1/4

jalapeño pepper

less or more to taste

1/4

cup

cilantro

1/4

cup

spinach

1

garlic clove

1

tbsp

lemon juice

1/4

tsp

cumin

1/2

tsp

salt

1/4

tsp

black pepper
Toppings
chopped cucumber

tomatoes

avocado
Print Recipe
Save Recipe
Cut tomatoes into chunks and process in food processor for about a minute.

Chop red onion and jalapeño pepper and add to the food processor with the rest of the ingredients.

Process for 1-2 minutes until everything is well combined and you reach a soupy consistency.

Pour the soup into a bowl and top with sliced cucumbers, tomatoes and avocado.
similar recipes
Salad
3

large handfuls of kale

1/2

large cucumber

1/2

yellow bell pepper

2

medium tomatoes

2-3

celery stalks

5-6

radishes

2-3

tbsp

of hummus recipe below

1-2

tbsp

of pumpkin seeds
ZUCCHINI HUMMUS
3

small zucchinis

½

cup

tahini

2

garlic cloves

2

tbsp

olive oil

1-2

tbsp

lemon juice

1

tsp

cumin

1

tsp

chilli powder

1

tsp

salt
Print Recipe
Save Recipe
KALE HUMMUS SALAD

Thoroughly wash and dry the kale. Tear the leaves into bite-size pieces.

Cut cucumber, pepper, tomatoes, celery and radishes.

Combine all veggies in a bowl. Add hummus and sprinkle with pumpkin seeds.

Zucchini Hummus

Cut zucchinis into chunks and steam for 6-8 minutes.

Combine all ingredients in a food processor and process until smooth.
similar recipes
Recipe
CHICKPEA SALAD SANDWICH
1 can

400 g

chickpeas

2

celery stalks diced

2

tbsp

chopped red onion

1/4

red bell pepper diced

1-2

tbsp

capers

2

tbsp

vegan mayo recipe below

1

garlic clove minced

1

tsp

lemon juice

parsley and dill optional

salt and pepper for seasoning

gluten free or ezekiel bread

lettuce or kale
Vegan Mayonnaise
½

cup

unsweetened soy milk

1

cup

grapeseed oil olive oil works too

1

tsp

apple cider vinegar

1

tbsp

lemon juice

½

tsp

agave or another sweetened of your choice

¼

tsp

dry mustard or ½ tsp Dijon mustard

¾

tsp

salt
Print Recipe
Save Recipe
Rinse chickpeas under cold running water. Place in a bowl and mash with a potato masher.

Add the rest of the ingredients and mix well.

Toast the bread if desired.

Place lettuce or kale on one piece of bread and add half of the chickpea salad. Cover with the second piece.

Vegan Mayonnaise

Combine all ingredients except for oil in a high-speed blender and blend on high speed for 1 minute.

Reduce the speed to low and gradually pour in the oil. Continue blending on low speed for another minute. The mixture will slowly thicken.

Store in an airtight container in the fridge for up to 1 month.
similar recipes
Comment below and tell me what lunch recipe you'd like me to "healthify" next?