These healthy brown rice sushi rolls are stuffed with colourful veggies all wrapped up in toasted seaweed.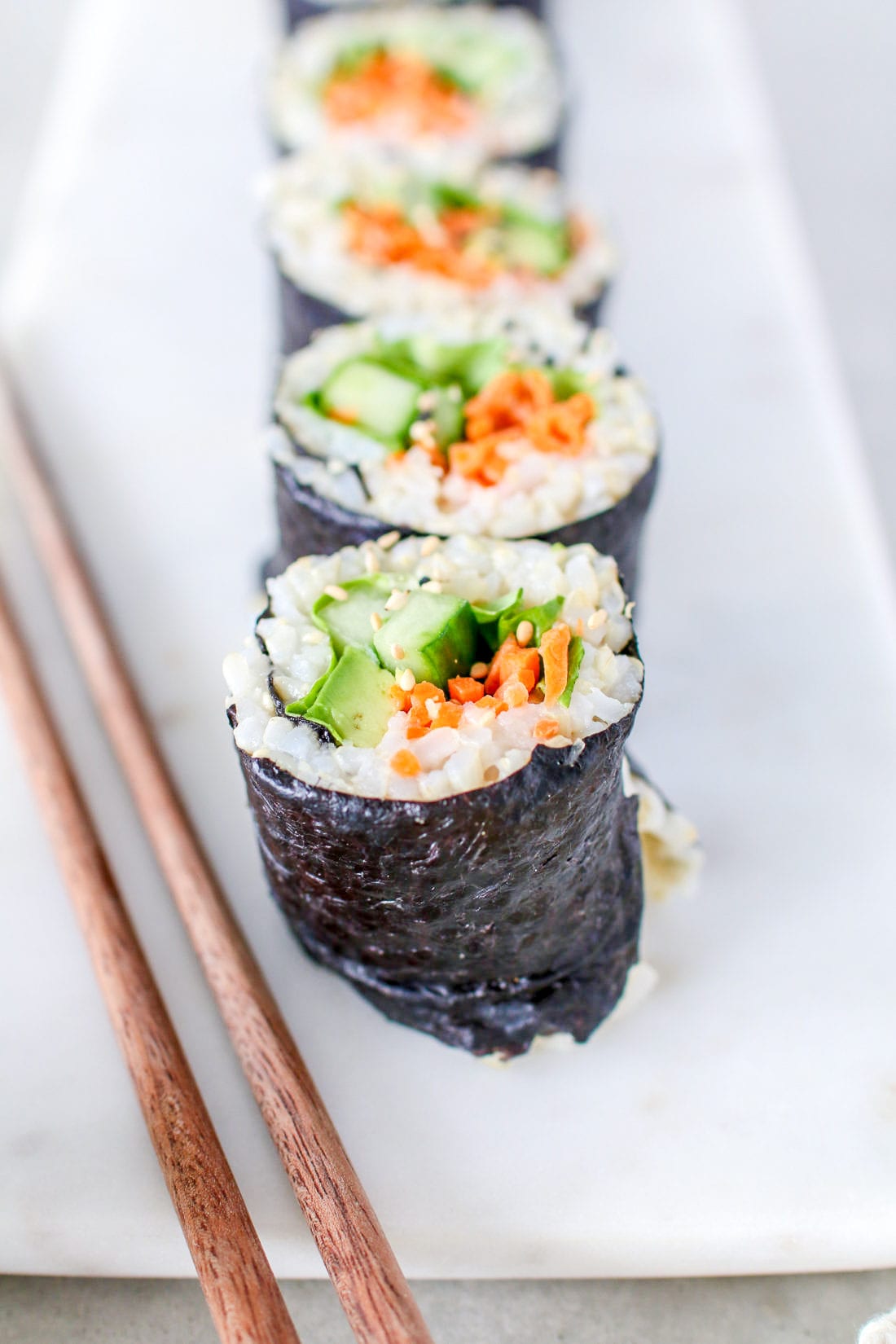 It's been a while since I've made sushi rolls! Mr. Matt and I used to make them all the time when we first started dating. That was pre-HealthNut days when I had all the time in the world! We would bring them to family dinners to show off our skills, and they were always such a hit! With our busy schedules these days, we've been picking up our sushi rolls at our local sushi restaurant when the cravings hit. However there's just something so satisfying (and fun!) when you pull up your sleeves and start rolling your own sushi rolls.
It may seem daunting at first… and the first couple may be a hot mess! But I promise you, with a little practice you too can become a pro! The possibilities of fillings are endless when it comes to homemade sushi rolls. You can set up a buffet style of different fillings and let everyone get creative.
Healthify your Sushi Rolls with Brown Rice
When I make my own sushi rolls, I prefer using brown rice over the traditional white rice. Why make anything the traditional way when I can healthify it?! I also like to sweeten my rice using honey, which is a natural sweetener with no refined sugar. Did you know that most store/restaurant bought sushi contains refined sugar? Yup! Your sushi has sugar in it! There's a reason that fluffy white rice tastes sooo good!!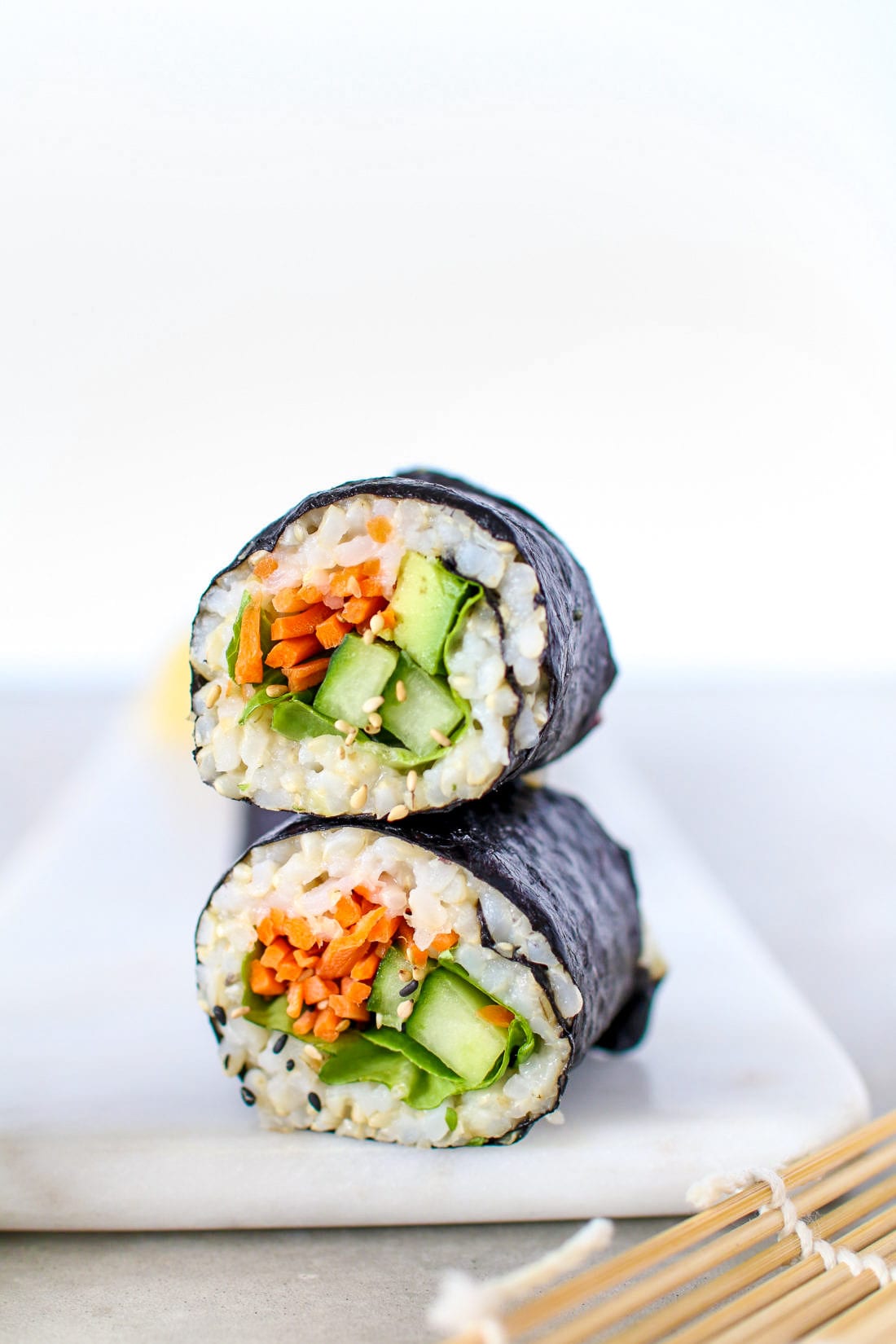 For this version I kept things simple with butter lettuce, avocado, carrot, cucumber and toasted sesame seeds but you can get as creative as you like.
Let me know in the comments below what your favourite sushi rolls are! For more easy lunch ideas check out my 5 Easy Bento Box Lunches post!
If you make this recipe, be sure to share a photo on social media and tag me @healthnutnutrition #healthnuteats so that I can see your creations! 
Recipe
Brown Rice Sushi Rolls
Sushi made easy with these healthy brown rice rolls stuffed with colourful veggies all wrapped up in toasted seaweed.
Print Recipe
Save Recipe
Rinse the rice thoroughly and place in a medium pot with 3 cups of water. Cover with a lid and bring to a boil. Reduce heat to low and cook for 45 minutes or until all the liquid has been absorbed. Turn the heat off and let sit covered for 10 minutes. Fluff with a fork.

Meanwhile, combine the rice vinegar and honey in a small bowl and set aside.

Prepare all the filling ingredients and set aside.

Transfer the cooked rice to a medium bowl and pour in the vinegar honey mixture. Using a spatula, mix gently until rice is well coated.
Make the Sushi Roll
Grab your sushi mat and place a whole sheet of seaweed wrap on top with the shiny side down. Add about a half a cup of heaping cooked rice on top of the wrap. Spread the rice evenly over the seaweed wrap with your hands, leaving about 1 inch margin at the top. (Keep a bowl of water nearby and moisten your hands when spreading the rice, this will keep it from sticking).

Place 3 leaves of butter lettuce on top of the rice at the bottom edge. Add cucumber strips, sliced avocado, a handful of shredded carrots, and sprinkle with toasted sesame seeds.

Using the mat, slowly and carefully start rolling the roll, applying gentle pressure with both hands and making sure all the ingredients are tucked in. Lift the mat a little and continue rolling until the end. Place the roll to the side, and repeat process until all the ingredients are used.

Using a chef's knife, cut the sushi roll in half, then cut those halves into half. You should have 4 pieces per roll. You can choose to cut them into eight traditional pieces, or leave as is.

Serve with tamari sauce, pickled ginger and wasabi. Store leftovers in the fridge for up to 3 days.
*Note: When cutting your roll, wipe the knife with a damp kitchen towel in between cutting to keep it from sticking and falling apart.
similar recipes