5 Easy Bento Box lunches perfect for meal prepping healthy meals Monday through Friday!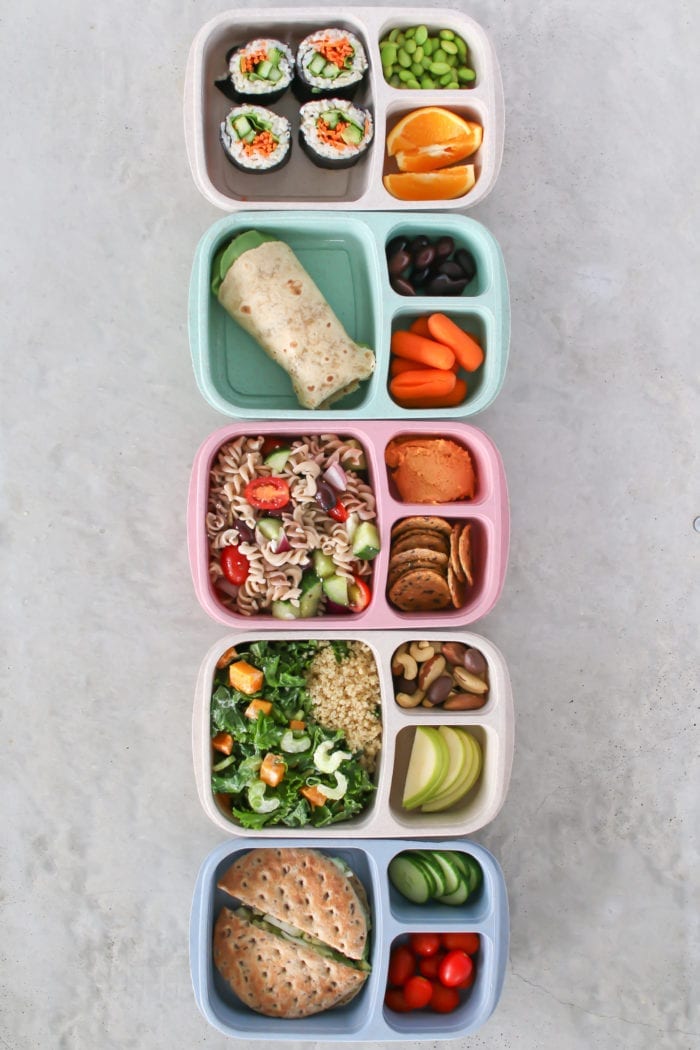 What exactly is a Bento Box you ask? Traditionally, bento boxes were used in Japan and contained some combination of cooked rice or noodles, meat or fish, and cooked or pickled veggies all neatly separated within a box. These days you don't have to go all the way to Japan to have your very own bento box. They seem to be popping up everywhere, from school lunches to corporate offices, everyone is on the bento box trend.
Now that back to school is in full swing, it's easy to run out of ideas of what to pack for lunch. These 5 healthy bento box lunches are easy to prep at the beginning of the week, and best of all they can be served chilled – so no reheating or microwave needed. Feel free to vary the snacks and add whatever you or your kids will enjoy!
MONDAY
Avocado Egg Salad is not your traditional boring egg salad sandwich. The avocado replaces the mayo, making this recipe healthier and even tastier in my opinion. I love having this on a multigrain bagel or sandwich thin, but you can use your favourite sliced bread, pita or wrap. As a side, I love adding cherry tomatoes and crunchy cucumber slices.  
TUESDAY
Nothing says fall like this Butternut Squash Kale Salad with Maple Tahini Dressing. I love using kale because it doesn't get soggy even when the dressing is added, unlike regular lettuce. Adding cooked quinoa adds a great source of protein and fibre to this hearty salad that's drizzled with a creamy dairy free dressing. As a side, I added sliced green apple and mixed nuts, which you can eat on its own or toss right into the salad.
WEDNESDAY
Greek Pasta Salad is full of crunchy veggies, creamy feta, tangy kalamata olives, and tossed with a simple herb vinaigrette. This is another great salad that you can meal prep ahead and will keep well on the go. I teamed this with hummus and crackers as a side to stick with the mediterranean theme.
THURSDAY
Chicken Caesar Avocado Tomato Wrap is the perfect go-to healthy lunch idea. This tortilla wrap is stuffed with grilled chicken, fresh tomatoes, sliced avocados and drizzled with the BEST homemade Caesar dressing. I love having this wrap with a side of tangy olives and crunchy baby carrots.
FRIDAY
These Brown Rice Sushi Rolls are a fun and delicious twist on your usual sandwich or wrap. There's just something satisfying about making your own sushi rolls. Using brown rice and adding your favourite fillings makes this a super healthy option. As a side, I added some orange slices and steamed edamame.
I personally love how these bento box containers keep your main course and snacks neatly separated while making it easy to transport it from home to work or school. I'm such a huge fan of bento boxes, that I even sell them in the HealthNut Shop HERE. 
These bento boxes are made out of recycled rice husks and 100% biodegradable so you can eat in style while helping the planet. They are microwave, dishwasher and freezer safe plus they are both food grade and BPA free!
These are just a few recipe ideas to get you motivated and started on your bento box journey. Let me know in the comments below what meals and snacks you like adding into your bento boxes!
If you make this recipe, be sure to share a photo on social media and tag me @healthnutnutrition #healthnuteats so that I can see your creations!