10 top tips to help make preparing Thanksgiving dinner a breeze! These must know Thanksgiving hacks will take away the and allow you to enjoy the festivities.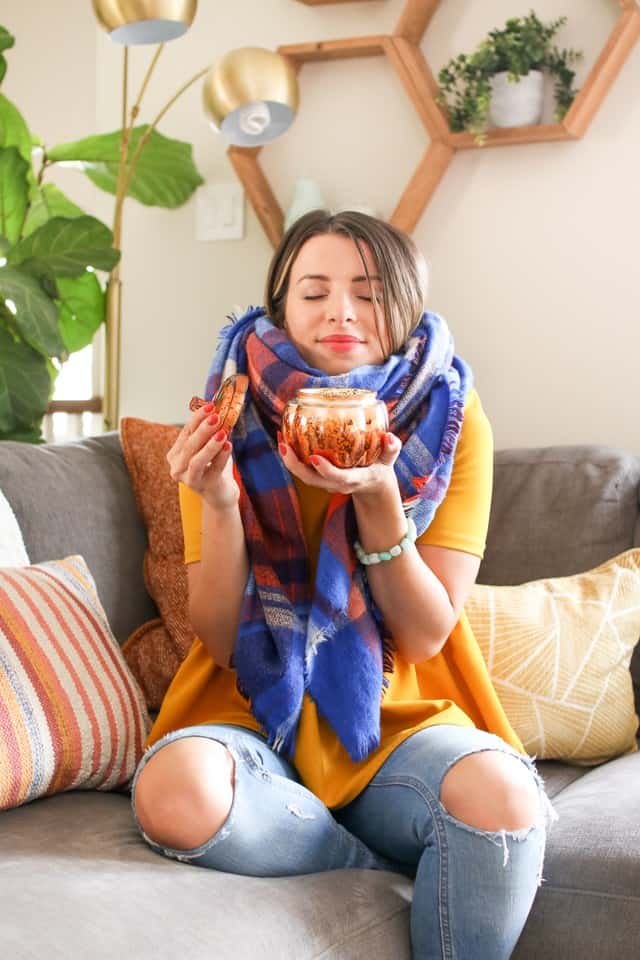 Thanksgiving is such a fun time, and this year especially I think everyone is looking forward to spending some quality time with the family even more than usual. But sometimes hosting Thanksgiving can be pretty stressful. These Thanksgiving hacks will allow you to cook up a tasty feast and still enjoy quality time with the family. 
Don't forget when it comes to planning Thanksgiving dishes, I've got you covered. Check out my 10 Healthy Thanksgiving Recipe Ideas right here.
1. Call in the troops!
Thanksgiving is a family affair for us in more ways than one. We all like to pitch in and help whoever is hosting. One person might bring a side dish, one person might bring a dessert, one person might bring drinks. It can really help to take the pressure off, and also helps if you don't have a huge amount of space in your refrigerator or freezer to store things. Your guests will also enjoy feeling like they've contributed – win win!
2. Have a peeling party
Prep, prep, prep! That's my mantra with food in general. I absolutely love meal prepping, and Thanksgiving is no different. Invite some friends or family round and get all that peeling and chopping of vegetables done in advance. You might need to bribe them with some snacks and drinks, that's okay! Be sure to pop your peeled and chopped veg into airtight containers with a little bit of water so they don't go brown.
3. Use your freezer
Your freezer can be a lifesaver when it comes to prepping your Thanksgiving food. Things like stock, gravy, breadcrumbs, stuffing and cranberry sauce work great in the freezer. You can pre-cook and freeze them so that when Thanksgiving rolls around it's just a case of thawing overnight and re-heating on a low heat in the morning. You can even pre-prepare mashed potato and freeze it! Just mix a few dollops of sour cream or cream cheese into it when you defrost it so that it's not super watery.
4. Parboil potatoes ahead of time
Remember when I said the key to Thanksgiving success is to prep, prep, prep? If you're not into the whole mashed potatoes in the freezer thing, you can still prep your potatoes by parboiling them the day before and wrapping the dish in tin foil. Then on Thanksgiving all you have to do is take them out of the fridge, pop them in the oven and you're good to go!
5. Prep your turkey
Of course, you can't cook the turkey now, but there are a few little Thanksgiving hacks you can do to make cooking the turkey easier on the day. If you're planning on bringing your turkey, you can do that up to three days in advance. Brining a turkey can be quite messy though, so a good hack is to instead dry-brine your bird with salt mixed with herbs like parsley, thyme and sage. You could also opt for a turkey crown instead of a whole bird. They're easier to cook and carve – and they're delicious!
6. Prepare cold appetizers
If you're the kind of family who serves appetizers (please invite me!) it will be a lot easier on the day if you opt for cold appetizers such as a charcuterie board. You can prepare it ahead of time and simply pull it out of the fridge and serve. Plus, a charcuterie board is always a crowd favourite, and looks showstopping on the table!
7. Combine sausage meat with pre-made stuffing mix
If you don't have time to make a full on stuffing from scratch, try taking sausage meat and mixing it in with a pre-made stuffing mix. The sausage meat makes the mix taste homemade, so no one will ever know, but it's so much easier!
8. Steam veg for less washing up
Steaming your veg means there will be less pots and pans to clean. A lot of steamers have multiple layers which also takes up less room. 
9. Bake desserts ahead of time
Pre-baking your pumpkin pie or spiced cake a day or two in advance means you don't need to worry about them on the day. All you need to do is cover and refrigerate, and then on Thanksgiving you can pull them out in the morning and allow them to come to room temperature. Then it's just a case of adding your toppings like a little whipped cream and serving.
10. Get an invite to someone else's house
If all else fails, this is the ultimate Thanksgiving hack! 😉
What are your top thanksgiving hacks? Do you have any tips and tricks you swear by? Let me know in the comments below! 
If you're looking for more Thanksgiving tips, check out all my 10 Healthy Thanksgiving Recipes and my Ultimate Charcuterie Board Guide.