It's no secret that stuffing is a favourite at the Thanksgiving dinner table. This Pumpkin Cranberry Stuffing has a flavour profile that perfectly encompasses the fall season! It's a dish that most I look forward to eating all year! 
Growing up in a Portuguese family though, the Thanksgiving classics that we all know and love, including stuffing, were never part of our tradition. Now that I'm older with a more experienced palette, I have come to realize how delicious these dishes are and will no longer be negotiable during this season!
In an attempt to get the rest of my family on board, I like to bring a new Thanksgiving dish to our gathering every year! Since stuffing is so easy, customizable and hard not to love, this year I felt inspired to create an updated stuffing recipe using roasted pumpkin, fresh cranberries, and Silver Hills Sprouted Bread. I just know this dish will win them over!
Unlike my other stuffing recipe this version is entirely meat and dairy-free, making it the perfect plant-based addition to any Thanksgiving spread. What may lack ingredients certainly does not lack in flavour, and the best part is that it's a dish that everyone can enjoy. The roasted pumpkin acts as a hearty and filling substitute for meat, while the cranberries provide that sweet tartness and aromatic flavour. To top it off, I ended up adding in some warm spices like cinnamon, nutmeg and a touch of maple syrup and wow, it's like fall in a dish.
Sprouted High-Fiber Bread
No stuffing would be complete without the perfect bread though, which is why I chose to use Silver Hills Bakery sprouted bread for this recipe. Not only does it soak up all of the stuffing's flavours to make the most classic, moist and fragrant stuffing, but also provides extra nutritional value in comparison to using regular bread. The sprouting process of Silver Hills Bakery bread makes the nutrients more readily available, lowers the gluten and antinutrients, and has a lower glycemic index, making it easier to digest. Their bread is also made from organic, non-gmo ingredients, making this dish HealthNut friendly!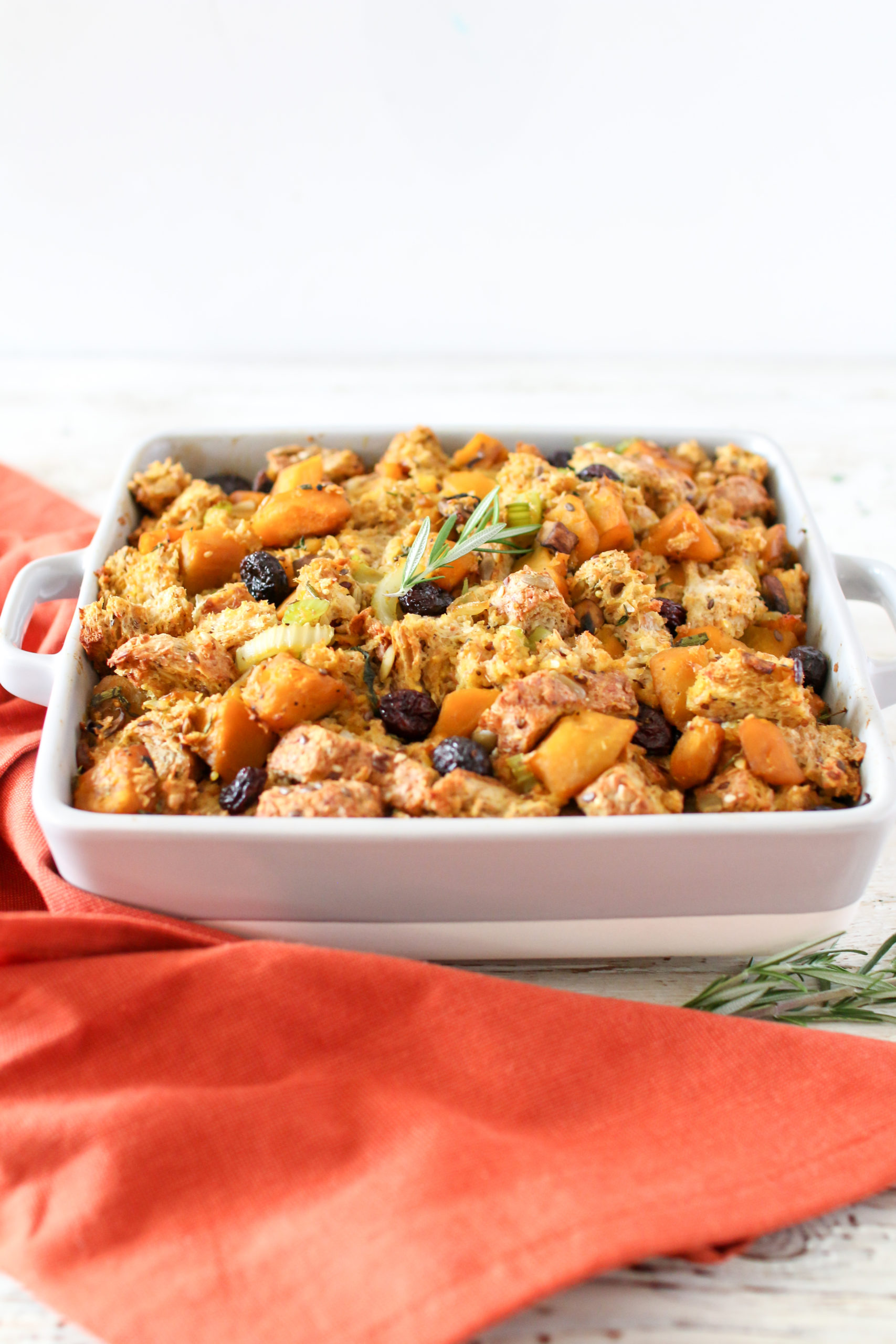 Join me in impressing your guests this Thanksgiving with this healthy Pumpkin Cranberry Stuffing! What dish are you looking most forward to this Thanksgiving? Do you have any family traditions? Let me know in the comments below!
Fun fact: I used to not like pumpkin pie (shocking, I know!) until I created my own healthy version and now I'm converted. I guess I just never liked the overly sweet store-bought versions. You can find my Easy Healthy Pumpkin Pie recipe here, or try these Healthy Pumpkin Pie Squares that are gluten-free and dairy-free! 
Giving extra thanks to Silver Hills this season for sponsoring this blogpost and supporting the HealthNut Community!
If you make this recipe, be sure to share a photo on social media and tag me @healthnutnutrition and #healthnuteats so that I can see your creations! 
Recipe
Pumpkin Cranberry Stuffing
Avoid going into turkey coma this Thanksgiving with this plant-based Pumpkin Cranberry Stuffing recipe! Made with pumpkin, cranberries and warm spices like cinnamon and nutmeg, it's sweet, savoury and aromatic fall flavours will be sure to live up to all of its traditional expectations. A healthier spin on a seasonal favourite that everyone can enjoy!

Print Recipe
Save Recipe
similar recipes