Buttery roasted squash glazed with maple syrup and warming cinnamon for spice to create the perfect festive fall side to your dinner table.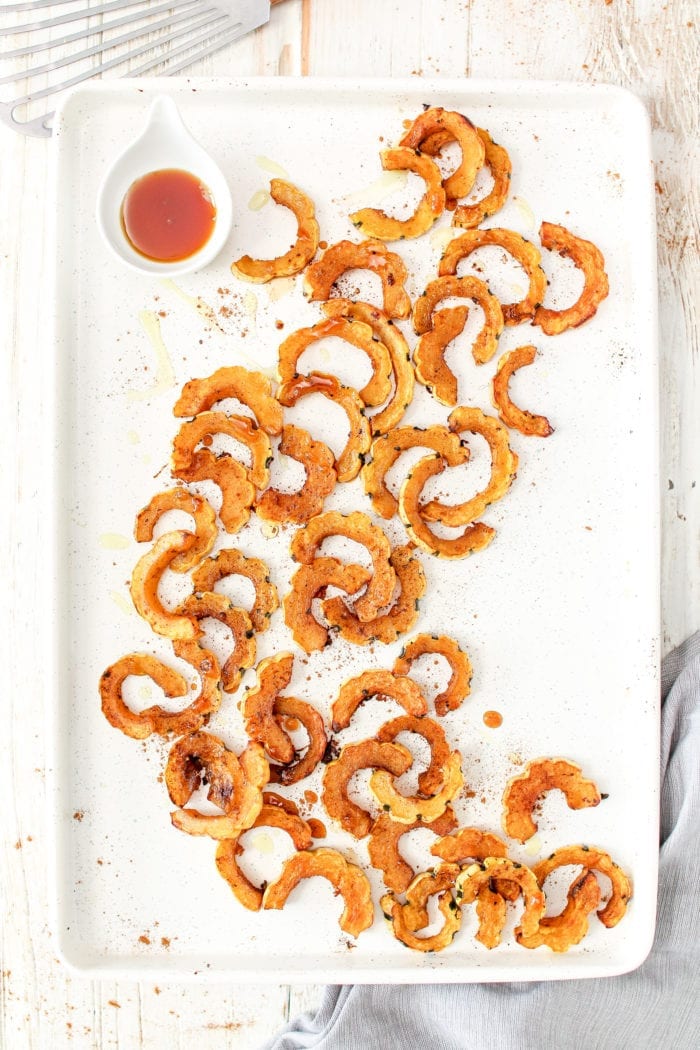 This sweet and savoury dish is a sure way to get everyone eating their veggies during the holiday season. This squash has a buttery texture that melts in your mouth, with a touch of maple syrup and cinnamon. Aka fall encapsulated in a squash! Serve it as a side or salad topper at your next gathering and it'll be the dish that your guests won't be able to resist.
Delicata Squash
I still remember the day I discovered Delicata squash at my local farmer's food market. It felt like my entire thoughts about squash world had changed. Finally, I found a squash that required no peeling, was easy to cut and bake up without little effort. If you're a long-time HealthNut viewer, you'll know that this squash has become one of my favourite fall foods. It's really the thing I look forward to making most as soon as it's in season! For two reasons: the buttery texture that melts in your mouth. And, the skin is so thin that you can roast it and it just crisps up perfectly. You to eat the whole thing- no peeling required, and very little food waste! 
The naturally sweet and rich flavour of delicata squash makes it perfectly delicious as is, much like my Harvest Glow Salad, but with Thanksgiving around the corner, I wanted to impress our guests (aka my family!) with something a little different. Matt and I are hosting after all! By adding just a few extra ingredients to the original recipe like pure maple syrup and ceylon cinnamon, this irresistible roasted sweet and savory squash dish was born! I could easily eat this one dish for dinner and be completely satisfied haha, but if you're nice enough to share it with the rest of the crowd, it's fall-inspired flavours pair really nicely alongside my Pumpkin Cranberry Stuffing and Garlicky Green Beans as well. 
Make Ahead Thanksgiving Side Dishes
These Maple Cinnamon Roasted Delicata Squash fries taste best straight out of the oven when they're warm and perfectly caramelized. But don't worry because you can still prep this dish in advance if you're hosting a gathering! I know what it's like to host, you still want to relax and enjoy everyone's company! This dish is fairly simple and requires very minimal steps as is. But to save time and mess on the day of your gathering, you may was well make it ahead of time.
How to prep this dish ahead of time:
Simply wash, cut, de-seed and slice your squash into "half-moons".

Then in a small bowl, combine the avocado oil, maple syrup, cinnamon, and sea salt and generously coat the squash slices in this marinade.

Next, transfer the marinated fries in a silicone bag and store it in the fridge for up to 2-3 days.
Then on the day of, all you have to do is put the prepared squash on a baking sheet and leave it to bake for 35-40 minutes while you enjoy a glass of wine with your guests.
Taking a bit of time to prep your dishes makes all the difference! There's nothing worse than hosting a gathering and spending all of your time in the kitchen, am I right?!
So next time you're at the grocery store, skip the traditional butternut! Experiment with this maple cinnamon roasted delicata squash recipe instead. The best part is, with it's rich and subtle sweetness, you're almost guaranteed to get everyone eating their veggies, kiddos included! 
Let me know in the comments if you end up serving this dish at your Thanksgiving gathering this year, and if so, what did everyone think?!
If you like this recipe, you might also enjoy my Lemon and Garlic Green Beans and Pumpkin Cranberry Stuffing with a delicious roasted turkey for a Thanksgiving feast!
If you make this roasted delicata squash recipe, be sure to share a photo on social media and tag me @healthnutnutrition and #healthnuteats so that I can see your creations! 
Recipe
Maple Cinnamon Roasted Delicata Squash
Buttery roasted squash glazed with maple syrup and warming cinnamon for spice to create the perfect festive fall side to your dinner table. 
Print Recipe
Save Recipe
Slice squash in half lengthwise, remove seeds and cut into ¾ inch thick slices.

Line a baking sheet with a silicone liner or parchment paper. 

Transfer squash to the prepared baking sheet. Drizzle oil, maple syrup, cinnamon, salt and pepper. Massage well with hands so squash is evenly coated.

Bake for 25-30 minutes (flipping halfway through) or until squash is tender and golden. 
similar recipes