Crisp and tender green beans sauteed in butter and garlic, and topped with freshly squeezed lemon juice, crunchy toasted almonds, fresh parmesan and lemon zest!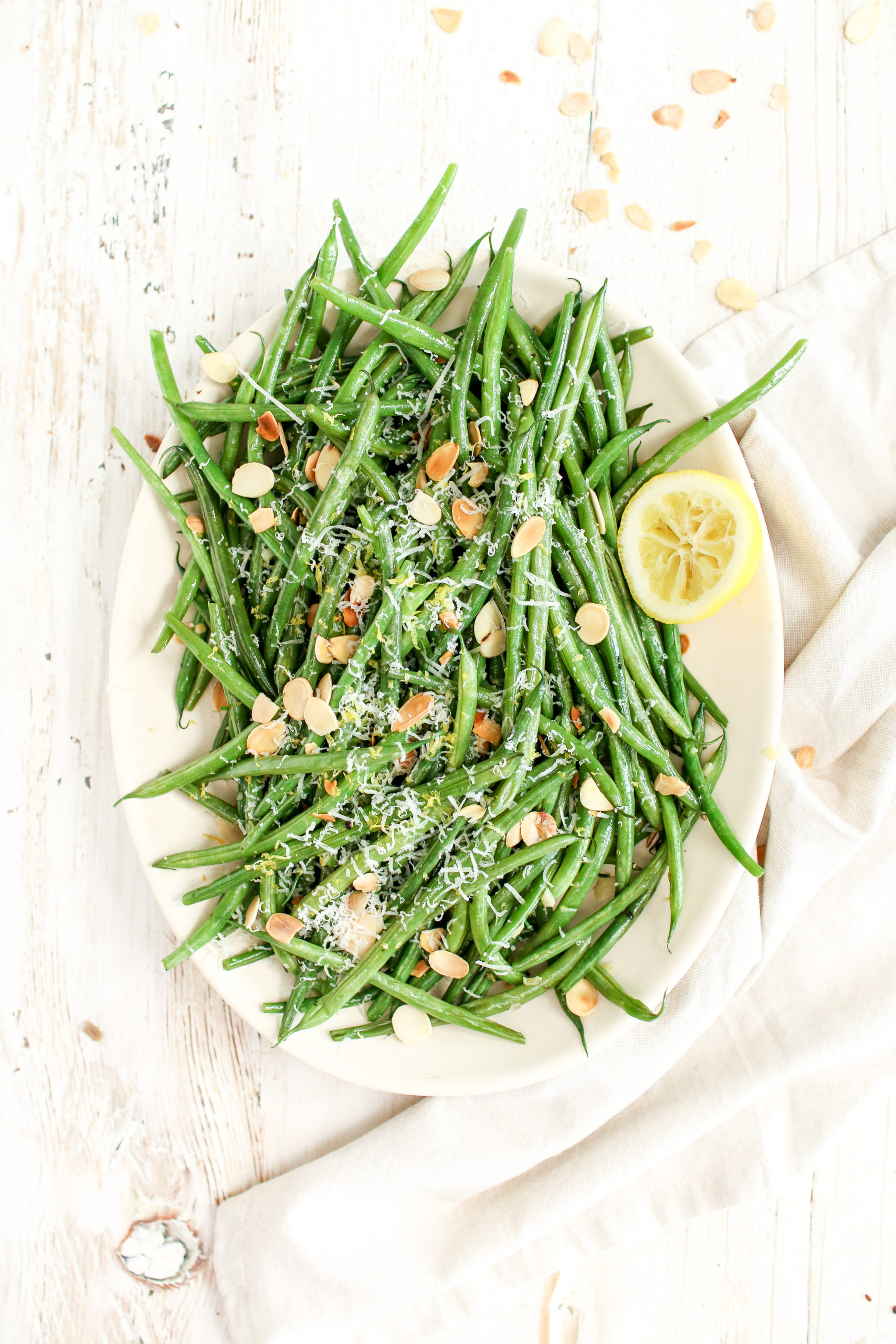 A fresh take on a French classic, lemon and garlic-infused green beans is a fun way to add some greens to your thanksgiving feast that isn't a typical leafy green salad! With a burst of lemon and crunch of toasted almonds, this flavourful side dish can be prepped ahead of time making it perfect for entertaining during the holidays. 
We're getting into holiday mode here in the HealthNut home early this year – as soon as September 1st rolled around this year, I decorated the whole house for fall! The stakes are high because Matt and I are hosting our family Thanksgiving for the first time EVER in our new home. I'm nervous and excited all at the same time! Since my family is Portuguese, I didn't grow up eating all the typical Thanksgiving classics. That being said, I have been slowly introducing my familia to traditional holiday staples like gravy and stuffing. I know that they are going to love this recipe too! I mean, who doesn't love crisp, sauteed green beans, covered in organic butter, garlic and topped with parmesan?! 
This Lemon and Garlic Green Bean recipe is easy and pairs well with just about any other sides or main dishes that you're planning on making. Whether it's a Thanksgiving feast or a weeknight meal, this healthy dish may seem fancy but it's actually super simple to make! 
Make Ahead Thanksgiving Side Dishes
You all know I love meal prepping ingredients for healthy dinners throughout the week, but what about meal prepping in advance for big family gatherings?! When you have your sides prepped and ready to be enjoyed before your company even arrives, it allows more time for visiting and enjoying your evening. Plus, does anyone else drink ONE glass of wine and forget what they were doing in the kitchen as soon as your company arrives?!
… No, just me? 
If you're preparing this dish ahead of time, my pro tip is to cook the green beans as directed in steps 1 & 2, and set them aside to cool without any other toppings. You can store them in the fridge in a reusable silicone storage bag for 2-3 days until you're ready to eat them. Before serving, prepare the toasted almonds and complete steps 3 – 6, sauteeing the beans until they are fully heated. 
If you like this recipe, you might also enjoy my Maple Roasted Delicata Squash, and Pumpkin Cranberry Stuffing with a delicious roasted turkey for a Thanksgiving feast!
Let me know in the comments below if you've made these Lemon and Garlic Green Beans, and also what you're making for healthy sides for your Thanksgiving feast this year! 
If you make this recipe, be sure to share a photo on social media and tag me @healthnutnutrition and #healthnuteats so that I can see your creations! 
Recipe
Lemon and Garlic Green Beans 
Crisp and tender steamed green beans sauteed in butter and garlic, and topped with freshly squeezed lemon juice, crunchy toasted almonds, fresh parmesan and lemon zest!

1

lb

french green beans

trimmed

1-2

tbsp

organic unsalted butter

you can also use olive oil or ghee

2-3

cloves

garlic

minced

1/2

tsp

sea salt

1/4

tsp

black pepper

1/2

lemon

juiced

zest of 1 lemon

1/2

cup

sliced almonds

toasted

1-2

tbsp

finely grated fresh parmesan
Print Recipe
Save Recipe
similar recipes