Rich, smooth and perfectly spiced healthy Pumpkin Pie Squares with a crisp chewy almond and coconut gluten-free crust.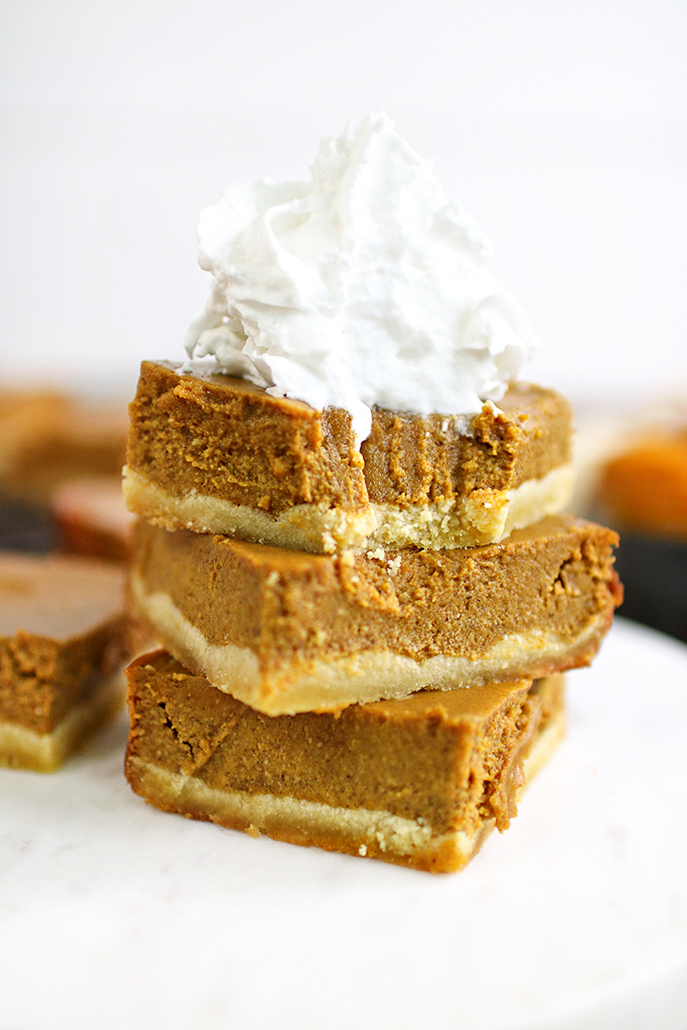 Would you believe if I told you I use to really dislike (cough cough hate) pumpkin pie? YUP I know I can't believe I was missing out on the pumpkin pie experience this entire time. After many years of taking a bite here and there I finally have tricked aka brought my taste buds to their senses (no pun intended) and am now a HUGE pumpkin pie lover. Wow that was A LOT of pumpkin in one paragraph!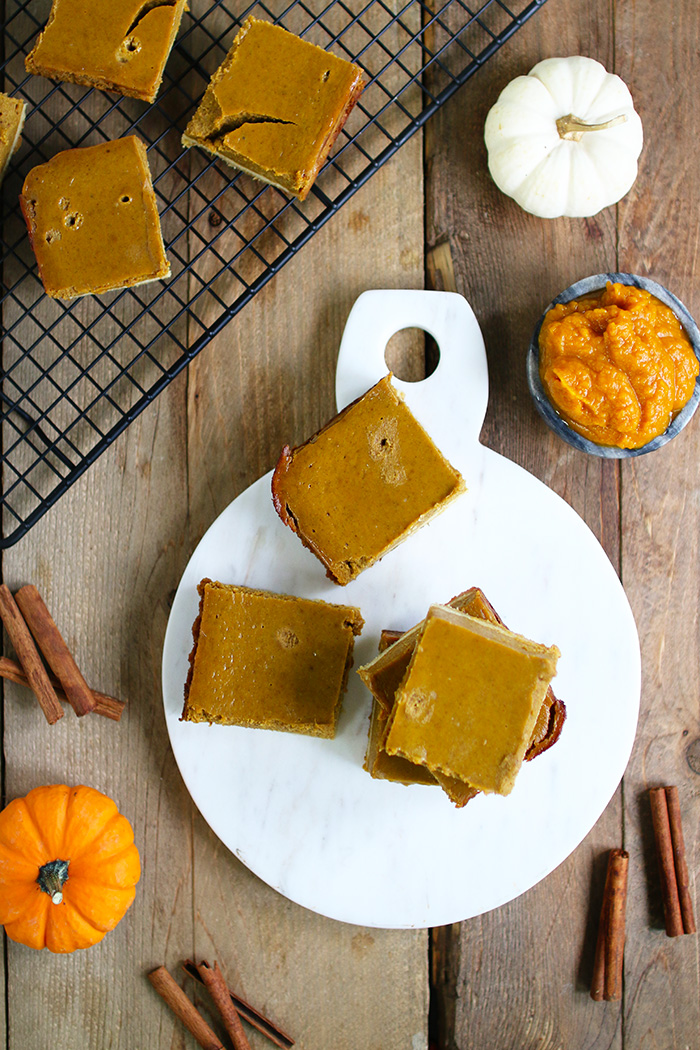 Being a new pumpkin pie lover you know I had to come up with my own healthified recipe and these squares were just it. Silky smooth and sweet pumpkiny filling on top of a gluten free chewy but crisp crust to hold it all in. Can we say pumpkin heaven? Ugh these turned out so good I seriously impressed myself haha 
These healthy, dairy and gluten-free pumpkin pie squares will please the toughest pumpkin pie critique I promise and if not that just means more pie for you 😉
These Healthy Pumpkin Pie Squares are…RICH, SMOOTH, PUMPKINY SWEET, SILKY and just melt in your mouth good 🙂
This recipe is not only delicious and healthy but its also super easy to prepare. The crust and filling take only minutes to put together with minimal ingredients. All you need is a little patience while it bakes peacefully in the oven. If you liked this recipe, you might also enjoy my Easy Healthy Pumpkin Pie, or my Raw Vegan Pumpkin Cheesecake.
Recipe
Healthy Pumpkin Pie Squares GF & DF
Rich, smooth and perfectly spiced healthy Pumpkin Pie Squares with a crisp chewy almond and coconut gluten free crust.
Crust
1 1/4

cups

almond flour

2

tbsp.

coconut flour

2

tbsp.

melted coconut oil

at room temperature

1

tsp.

vanilla extract

1/8

tsp.

sea salt

1

egg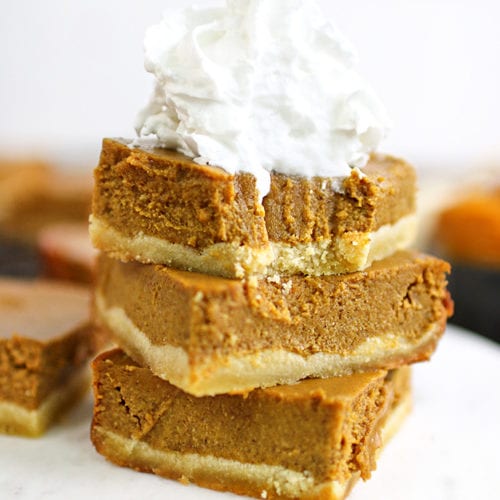 Print Recipe
Save Recipe
Pre heat oven to 350F.

To make the crust simply mix together the dry ingredients first then mix in wet and knead until you form a dough. You can use a spatula or your hands (or both) for this process.

Next, transfer dough into a 8x8 inch deep baking tray lined with parchment paper hanging over the edges to allow for easy removal.

Press in dough so it covers the entire bottom evenly. Using a fork press in holes into the dough to prevent it from rising while baking. Bake in the oven for 10 min until slightly golden and crispy.

For the filling mix together all the ingredients in a large mixing bowl with a whisk until well combined.

Pour pumpkin batter into baking tray on top of the crust and bake in the oven for 45 min. The filling should be firm but still slightly jiggly and dark orange when its done baking.

Remove from the oven and transfer to a cooling rack and score a small cross in the middle to prevent too much cracking while cooling.

Once full cooled, cover with plastic wrap and refrigerate overnight or for 4-6 hours to fully set and firm up.

Using a sharp knife cut into 9 even squares and serve with coconut whip.
Store any leftovers in an air tight container in the fridge for 3-4 days.
similar recipes