A round up of 6 of my favourite healthy holiday cookies recipes. From gingerbread to linzer cookies, whoever said healthy food and holiday sweet treats didn't mix?
The holiday season is upon us! For those of us trying to keep up our healthy habits, it can be tricky to pass up all the delicious sweet treats and baked goods that come with these colder months. But guess what? You don't have to! I've got you covered. These 5 healthy holiday cookies recipes use more nutritious ingredients than your average store-bought sweets, but are just as delicious!
To make these healthy baking recipes gluten-free, you can swap the spelt flour for my HealthNut gluten-free flour blend. Click here to download my flour 101 guide, which contains the recipe for my all-purpose GF flour blend! For more easy baking substitutions, check out my cooking and baking basics cheat sheet!
Healthier Gingerbread Cookies
Nothing signifies that the Christmas holidays have begun better than traditional gingerbread cookies! Whether they're shaped like gingerbread men/women, mittens, Christmas trees, stars, snowflakes, or whatever shape they come in, they're absolutely wonderful. These fun and festive Healthier Gingerbread Cookies are crispy on the edges, soft and tender in the center and packed full of warming spices and flavoured with molasses. They're also refined sugar free!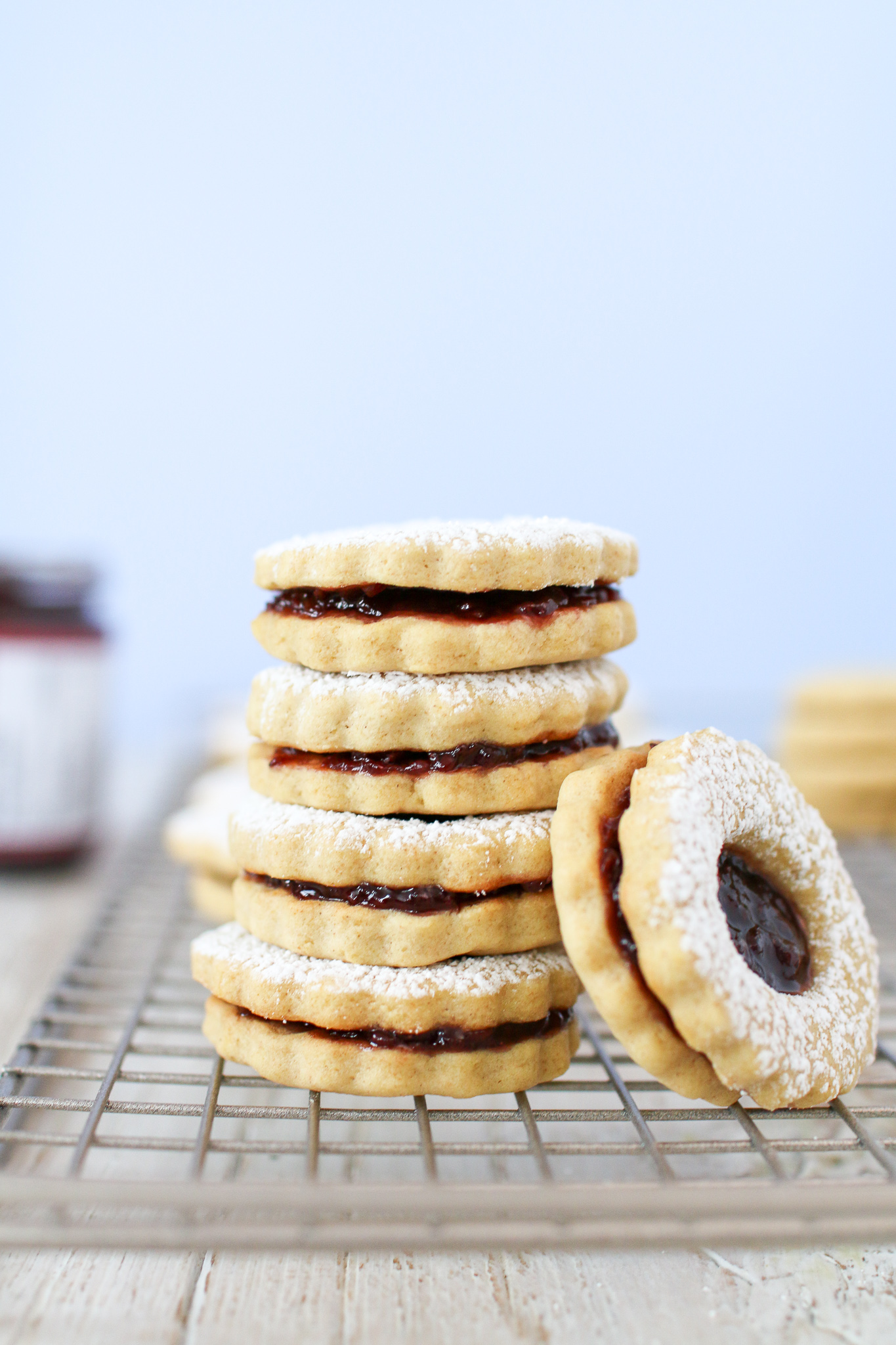 Healthier Linzer Cookies with Raspberry Jam
The cookie with multiple names!! Whether you call them Jam Jams or Linzers or any other name they go by, the one thing that they all have in common is how delicious they are. These Healthier Linzer Cookies with Raspberry Jam are hands down the prettiest cookies I have ever made! They just look so fancy and so worthy of a tea party, or in this case a festive holiday party. I can guarantee you will be the star baker if you bring these to your annual cookie exchange or holiday party.
Healthier Double Chocolate Peppermint Cookies
These double chocolate peppermint cookies are loaded with chocolate chunks and refreshing peppermint. They're super easy to make and perfect for your next holiday cookie exchange! They taste like a chewy brownie on the inside, and with the chocolate chunks added it's like a melt in your mouth chocolate explosion. Not only are these healthier versions due to using light spelt flour and coconut sugar, they're dairy free too!
Chewy Chocolate Chip Cookies
These soft and chewy chocolate chip cookies with crisp edges are sure to satisfy any sweet cravings. You'll get a subtle hint of coconut from the coconut oil, but you can also substitute with refined coconut oil that doesn't have the coconut flavor. Or you can use regular unsalted butter of ghee if that's more your thing. So grab your glass of almond milk and show me your best cookie dip.
Healthier Peanut Butter Blossoms
This healthier version of the classic Peanut Butter Blossoms taste just as delicious as the original, and will be the easiest cookie you'll make this season. Fluffy chewy cookies with a sweet chocolatey center – you'll keep going back for more! They're refined sugar free, using only 9 simple ingredients and 1 bowl, yet they are absolutely DELISH. The perfect sweet, salty and nutty holiday treat, and the best part is they only take 20 minutes to make!
Ginger Molasses Ice-Cream Cookies
These chewy ginger molasses ice cream cookies prove that you can eat ice cream all year round even during the holidays! They're stuffed with vanilla bean ice cream covered in crushed pecans for a festive holiday treat. They are made with REAL ingredients made in 1 bowl and so easy to make you can even have your dessert before dinner if you wanted to 😉 SSHHH I won't tell anyone, this is a judgement free zone!
What are your favourite holiday cookies? Let me know in the comments below! 
If you make any of these recipes, be sure to share a photo on social media and tag me @healthnutnutrition #healthnuteats so that I can see your creations! 
If you love these recipes and are looking for more options, check out all my Sweets Recipes right here.