In light of Canadian Thanksgiving this weekend, I thought I'd share yet another round-up of some of my favourite fall-inspired Healthy Thanksgiving Recipe Ideas! It's slightly similar to the one I shared last year (what can I say, I love all of these recipes!), but I have tweaked it ever so slightly to add in a few more delicious options that I have created recently just in time for the holidays!
Since Matt and I are hosting for the first time this year in our new place, naturally I have Thanksgiving food on the brain! I mean who doesn't? Here's a round-up of 10 quick and easy, fall recipes that are perfect to serve at your Thanksgiving gathering this weekend!
Sweet and savoury Thanksgiving leftovers all wrapped up in a tasty stuffing waffle tower smothered in a mushroom gravy.
A recipe special from The HealthNut Cookbook! Packed with so much fall-goodness like acorn squash, kale, quinoa, roasted chickpeas and red onion – tons of flavor and texture. This recipe is vegan, gluten-free and makes for the perfect comfort meal during the colder seasons!

It's no secret that stuffing is a favourite at the Thanksgiving dinner table. With a flavour profile that perfectly encompasses the fall season, it's a dish that most people have been waiting for all year round.
Crisp and tender green beans sauteed in butter and garlic, and topped with freshly squeezed lemon juice, crunchy toasted almonds, fresh parmesan, and lemon zest!
Buttery roasted squash glazed with maple syrup and warming cinnamon for spice to create the perfect festive fall side to your dinner table.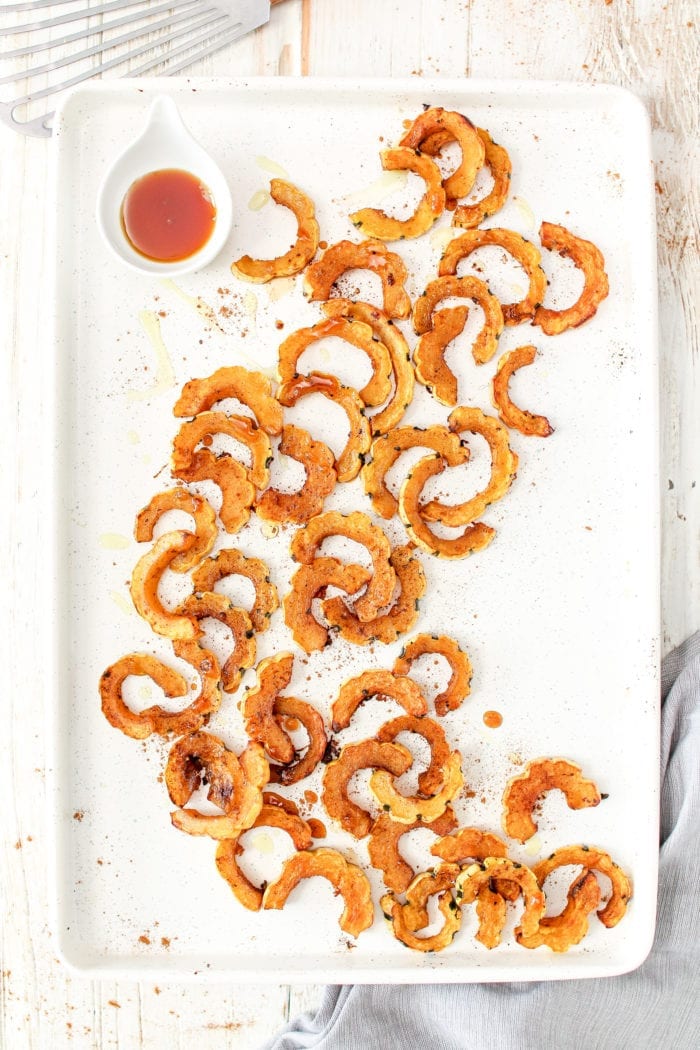 Crispy roasted brussels sprouts mixed with toasted chopped walnuts, sweet pomegranate seeds, drizzled with a light lemon Dijon vinaigrette.
The easiest fluffy, sweet and buttery roasted butternut squash mash in 30 minutes no peeling needed!
A creamy, dairy-free Leek and Potato Soup that feels like a giant hug during the colder months!
Rich, smooth and perfectly spiced healthy Pumpkin Pie Squares with a crisp chewy almond and coconut gluten-free crust.
A healthy Apple Chai Spiced Cake made with the perfect blend of warming organic spices and topped with a dairy-free maple glaze drizzle.
And, there you have it! 10 of my favourite fall-inspired recipes that are perfect to make this Thanksgiving weekend. This year I am feeling more grateful than ever for the HealthNut fam, so thank you for your continuous love and support. Happy Thanksgiving everyone!
If you make any of these Healthy Thanksgiving Recipe Ideas, be sure to share a photo on social media and tag me @healthnutnutrition and #healthnuteats so that I can see your creations!