A quick, 5 minute rawnola full of crunchy nuts and seeds, healthy fats and sweet dates. Perfect for breakfast or a snack with no baking required!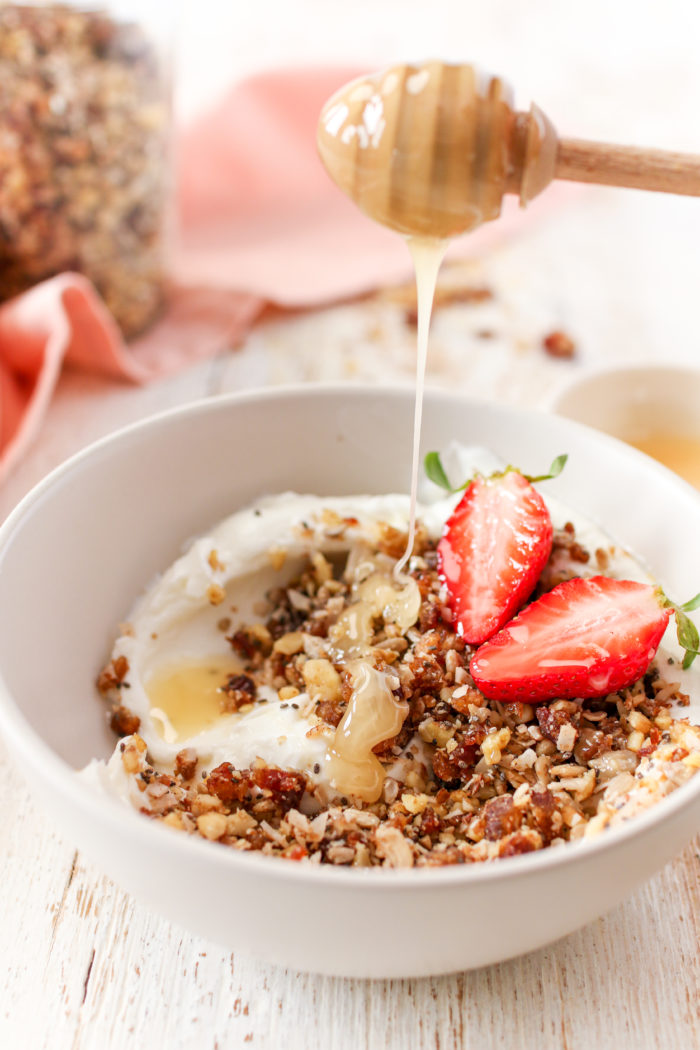 Why You're Going To Love Rawnola
Move over granola! There's a new kid in town – Rawnola! This is a fun twist on traditional granola that we all love and keep in our pantries throughout the year. This recipe is easy to make and comes together in less than 5 minutes! The best part is that you can make it in small or big batches to suit your needs. You can also vary the ingredients and have a ton of fun with it. Sprinkle it on yogurt, smoothie bowls, pancakes, ice cream or just snack on its own.
The best part about this recipe is that it's not too sweet – unlike store-bought granola!  I'm not a huge fan of super sweet breakfasts, especially first thing in the morning. That's why I love this homemade rawnola that's refined sugar-free and grain-free. It's naturally sweetened with juicy dates and honey. Yum! You wanna know why you're also going to love rawnola (not just because it's super delicious) but also because you won't have to wait for it to bake. Yay!!
How to Make Rawnola
All you need to make this delicious recipe is a food processor and a few ingredients. These ingredients consist of nuts and seeds – for crunch, dates, and honey – for natural sweetness and coconut and fax – for healthy fats. My favourite part about this recipe is how easy it is to swap the ingredients!
For this recipe, I chose walnuts as it's one of my favourite nuts and sunflower seeds as my base. But you can also use pecans or almonds which are just as tasty and crunchy. Using nuts in rawnola is what gives this recipe that crunchy texture: plus added protein and healthy fats. Next, we want to add some natural sweetness – none of that yukky refined sugar. I love using dates for added sweetness and also because they're high in fiber and full of antioxidants. Then we want to add some bonus healthy fats, such as shredded coconut (also adds a bit of sweetness) and flax seeds (full of omega-3 fatty acids). And last but not least, we want to add some flavouring like cinnamon and vanilla. But this is where you can let your taste buds and imagination go wild! Add some raw cacao, maybe some ground cardamom or ginger? The possibilities are endless!!
Once you decide on your ingredients, toss them into your food processor and process for a few seconds. You want the mixture to be crunchy, clumpy and soft. Then transfer to a mason jar or a tightly sealed jar and store of up to a week on the counter or a couple of weeks in the fridge.
If you also love traditional granola, you're going to love my Simple Granola Recipe and my Pumpkin Pie Spiced Granola.
If you make this recipe, be sure to share a photo on social media and tag me @healthnutnutrition and #healthnuteats so that I can see your creations!
A quick no-bake rawnola full of crunchy nuts and seeds, healthy fats and sweet dates. Perfect for breakfast or a snack and ready in less than 5 minutes!
10

medjool dates

pitted and chopped (fresh sticky ones work best*)

1 1/2

cup

raw unsalted walnuts

1/2

cup

raw sunflower seeds

1

cup

unsweetened shredded coconut

2

tablespoons

chia seeds

2

tablespoons

ground flax seeds

1

tablespoon

raw honey

1

teaspoon

cinnamon

1

teaspoon

pure vanilla extract

pinch of salt
Print Recipe
Save Recipe
Using a food processor, add all the ingredients and process on high for 20 to 30 seconds, until everything is well chopped and mixed.

The mixture should resemble chunky granola, clumpy and soft.
*

If you're dates aren't soft and sticky, soak them in hot water for 10 minutes and then drain.
similar recipes