A healthy dessert, for breakfast! These breakfast granola cups are made with wholesome ingredients, filled with your favourite yogurt, and topped with fresh fruit!
I think these granola cups may be the prettiest recipe I have ever made for breakfast. Sure, you can make your usual granola cups tossed into a pretty glass jar, but why not take it to the next level? These granola cups may seem like a lot of work, but I promise you they're not. It's definitely not the kind of breakfast you can have on the run, save these for special occasions when you want to impress your guests or when you have time to sit and enjoy them!
The base of this recipe is super simple, and most of these ingredients you will find in your own kitchen – so no need to run out to the supermarket for 'exotic' ingredients. You can use any ground or finely chopped nuts. I went with almonds, but pecans or a mixture of nuts will do. I love using honey for added sweetness, but maple syrup will also be super yummy. Once you toss all your ingredients, give it a taste and adjust the sweetness to your liking, and if you're anything like me and feel like you can never have too much cinnamon go ahead and double it. The mixture will be loose, so don't panic, you didn't do anything wrong, once it bakes you will see how nicely it holds its shape.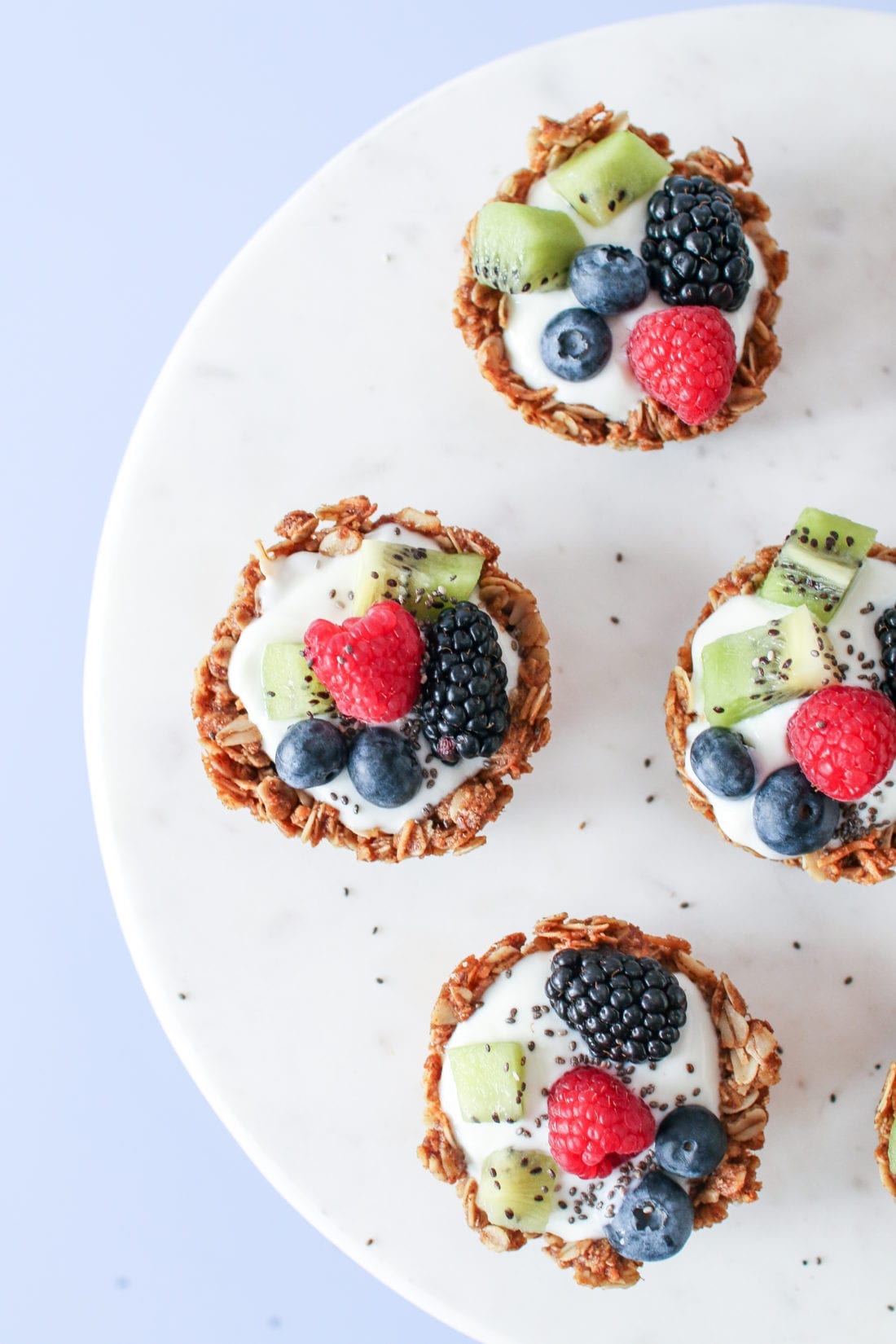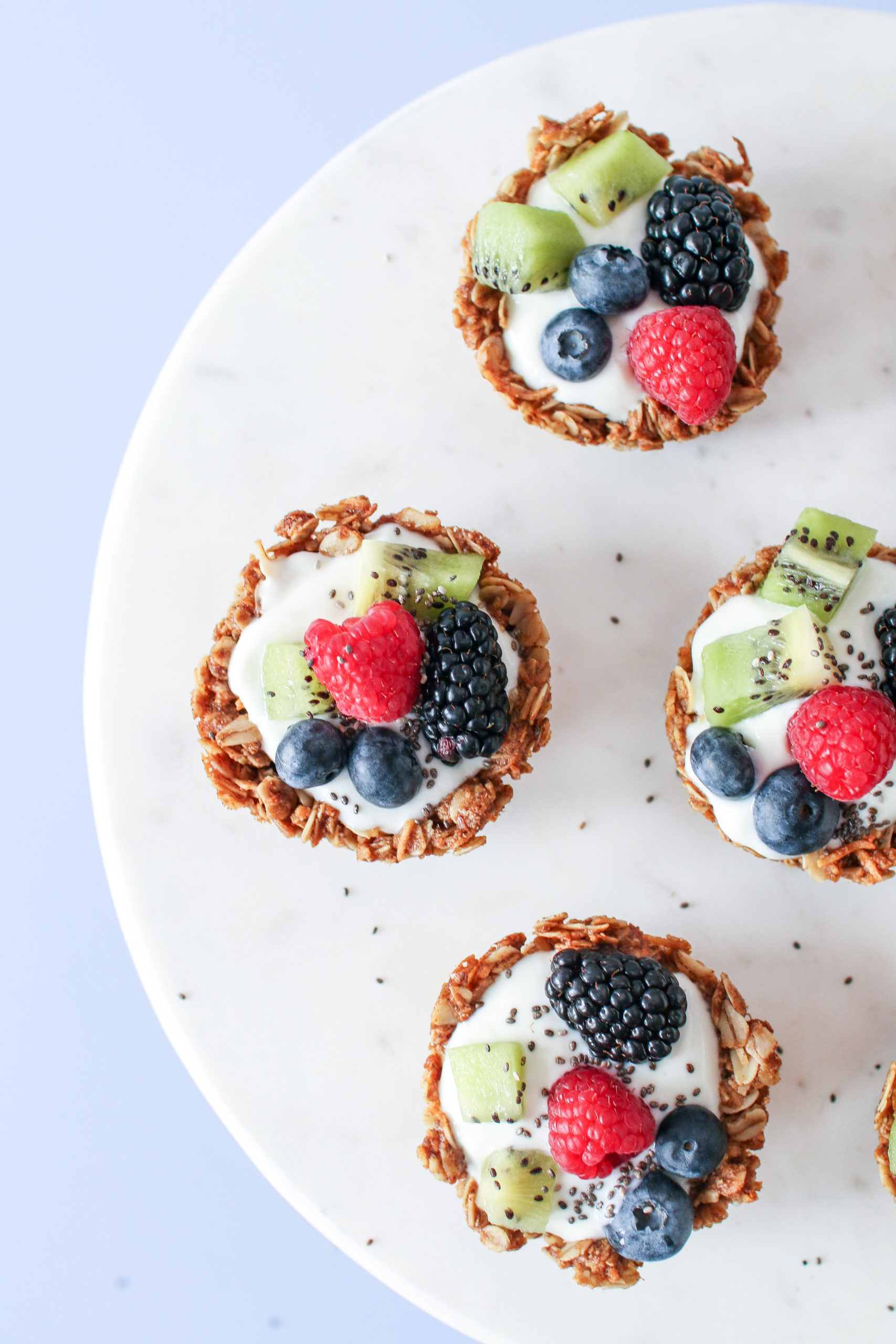 Filling and Toppings
Now when it comes to filling them, the options are endless. Choose your favourite yogurt, plain, vanilla, fruit based and then top it off with fresh berries, chopped kiwis, or any fresh fruit. For added protein, I love drizzling drippy almond butter on top and then adding a sprinkle of chia seeds for added crunch. Don't go too crazy and overfill your granola cups. Let me just say from experience, it will turn into a hot mess when you take a bite! A little goes a long way. 😉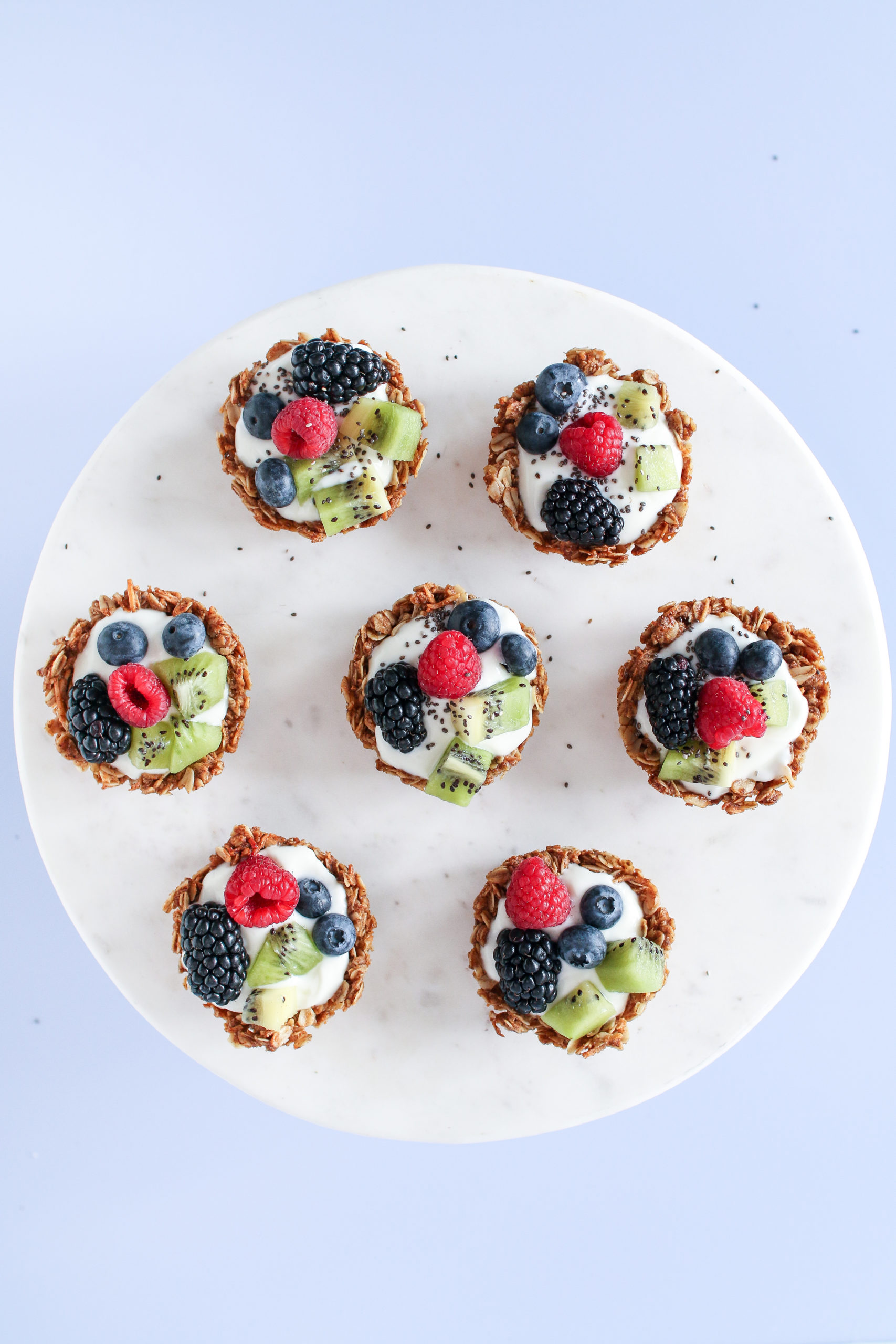 These granola cups store very well in an airtight container for several weeks (without yogurt of course)! You can pull them out and impress your guests for breakfast or brunch! I love that you can make these granola cups ahead and then fill them just before serving. This makes for super easy week-day breakfasts!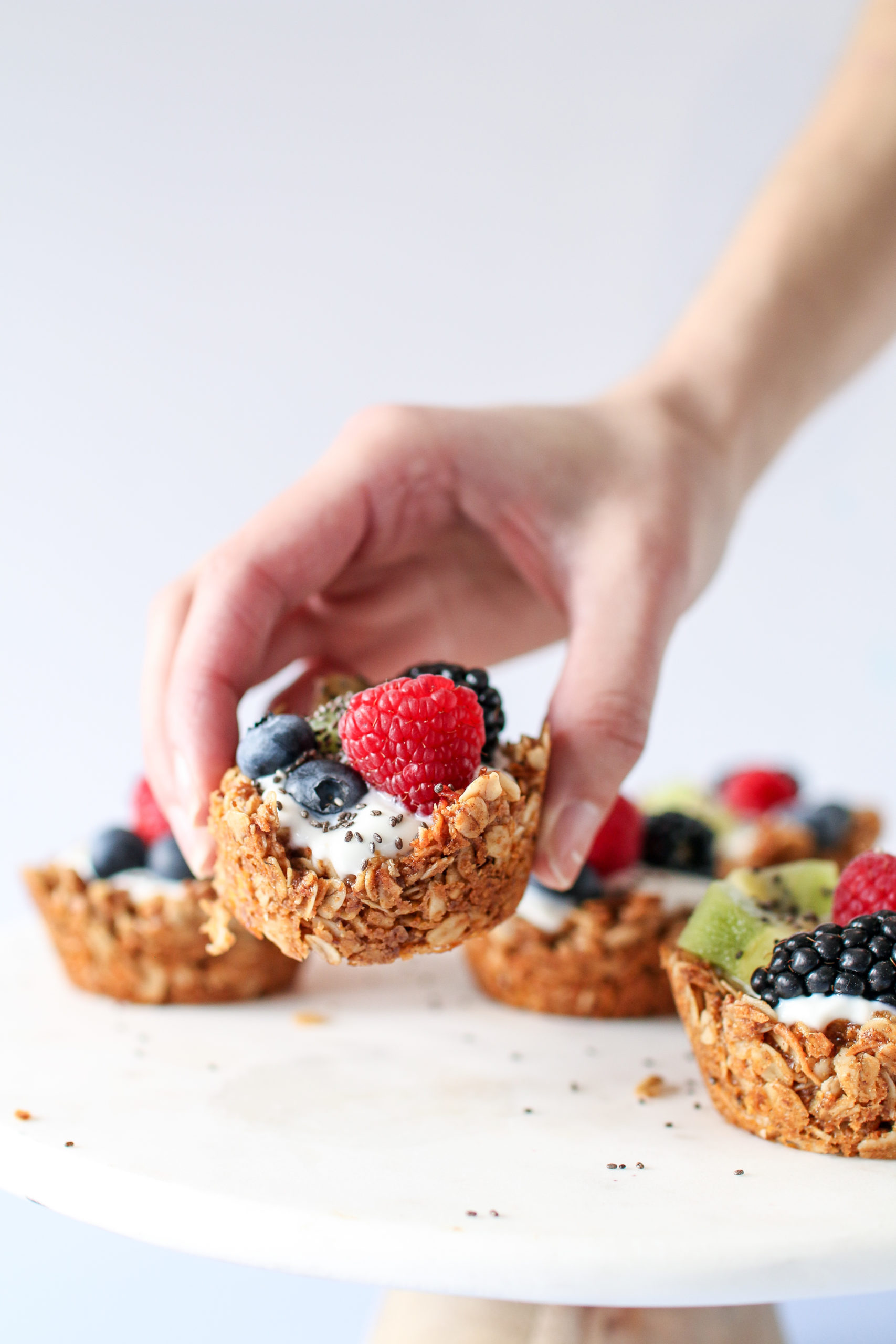 If you love granola and want to make it from scratch, check out my How To Make Simple Granola recipe as well as my Chewy Trail-Mix Granola Bars.
.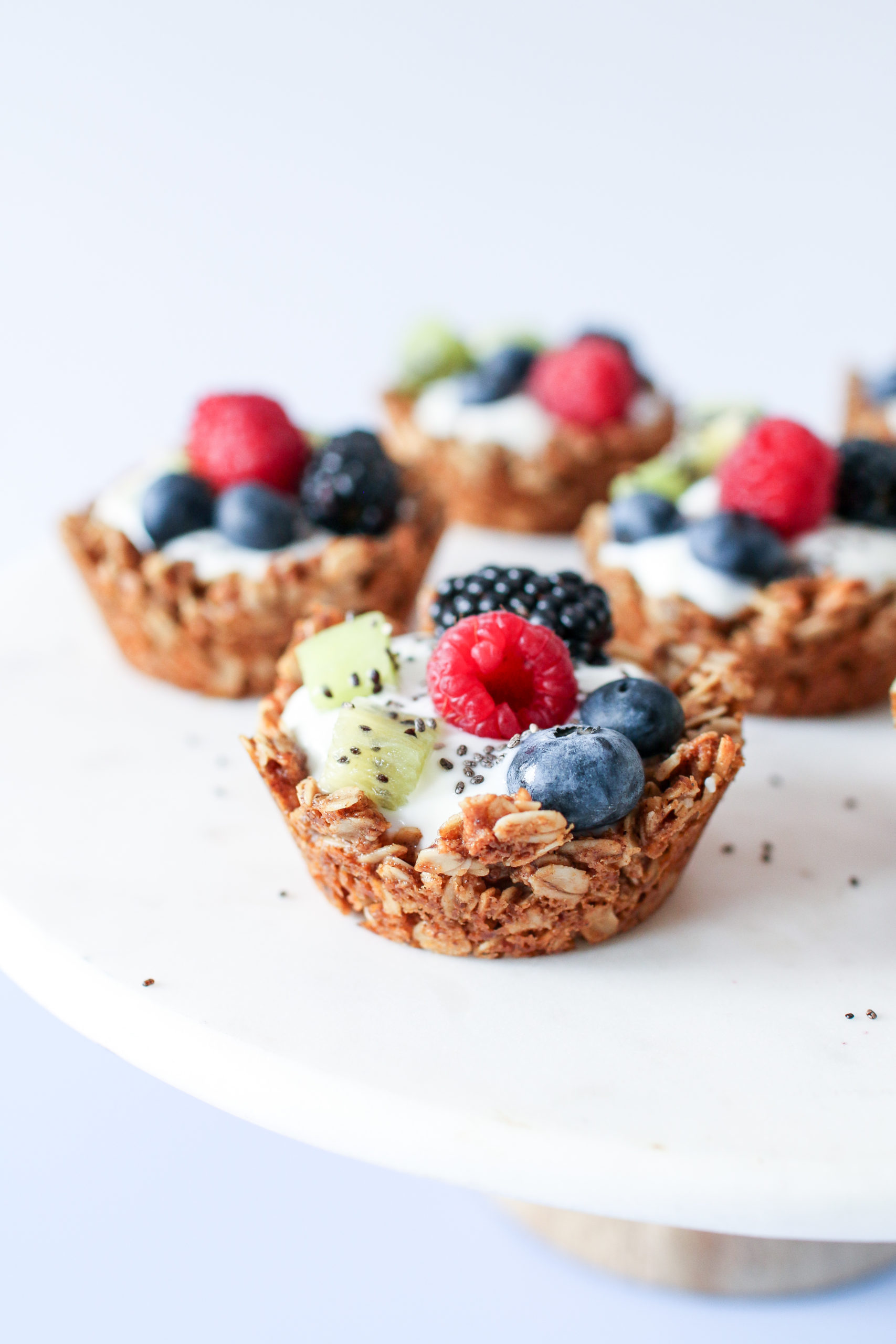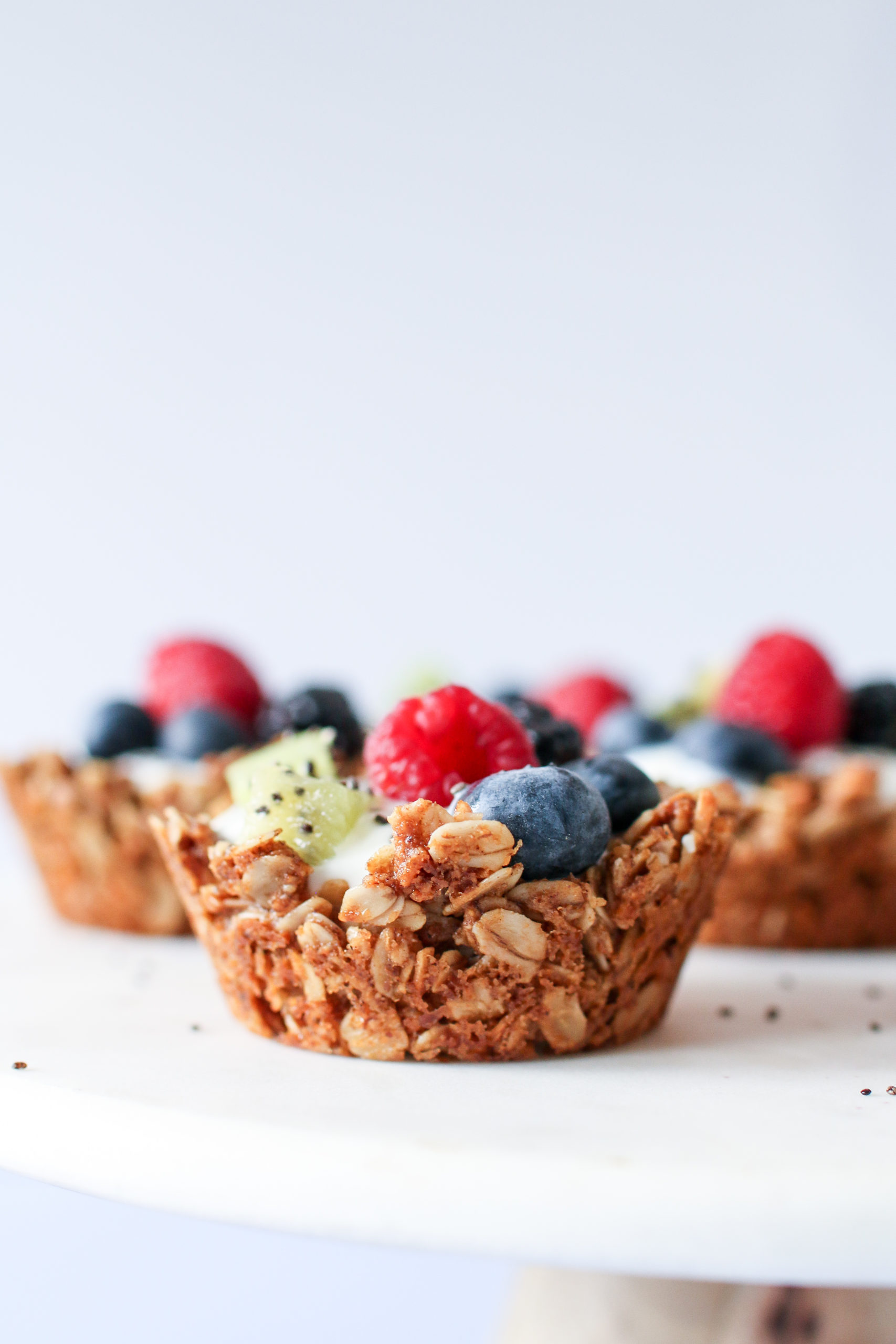 If you make this recipe, be sure to share a photo on social media and tag me @healthnutnutrition and #healthnuteats so that I can see your creations! 
Recipe
Breakfast Granola Cups
A healthy dessert for breakfast; granola cups made with wholesome ingredients and filled with your favourite yogurt and topped with fresh fruit.
½

cup

Rolled oats

¼

cup

Ground pecans or almonds

(or just use almond flour)

¼

cup

Shredded unsweetened coconut

2

tbsp

Ground flax seeds

½

tsp

Cinnamon

Pinch

Sea salt

¼

cup

Coconut oil

¼

cup

Pure liquid honey

¼

tsp

vanilla
Toppings
Vanilla yogurt

Fresh fruit

Chia seeds

Hemp seeds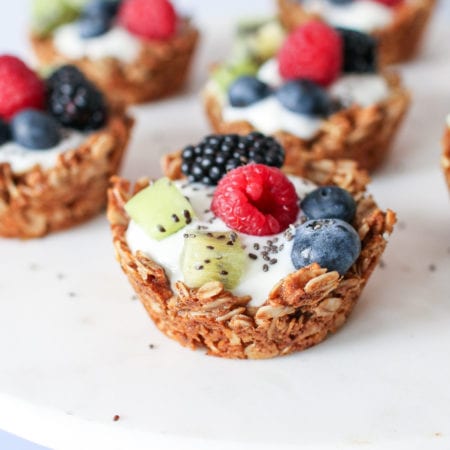 Print Recipe
Save Recipe
Preheat the oven to 325 °F. Spray or grease 8 cups of a regular muffin tin with coconut or avocado oil. Set aside.

In a medium bowl, combine oats, ground nuts, shredded coconut, flax seeds, cinnamon and a pinch of salt.

In a small saucepan, heat the coconut oil and honey on low heat until melted. Stir in the vanilla. Pour over oat mixture and stir until evenly coated. The mixture will be loose.

Divide the mixture between 8 muffin tin cups. Using the back of a small spoon (or your fingers dipped in water to prevent sticking), press the mixture to the bottom and up the sides of the muffin tin.

Bake for 15 to 18 minutes or until golden brown. Allow to cool completely on a cooling rack before removing.

To remove the granola cups, carefully run a knife along the edges of the granola cups to loosen and help lift them out.

Fill with a dollop of your favourite yogurt, and top with fresh fruit, sprinkle with chia or hemp seeds and if you like drizzle with nut butter.
similar recipes