These Sheet Pan Chipotle Lime Shrimp Fajitas are made with a combination of coloured peppers, red onion and avocado stuffed into a warm tortilla wrap ready in less than 30 min!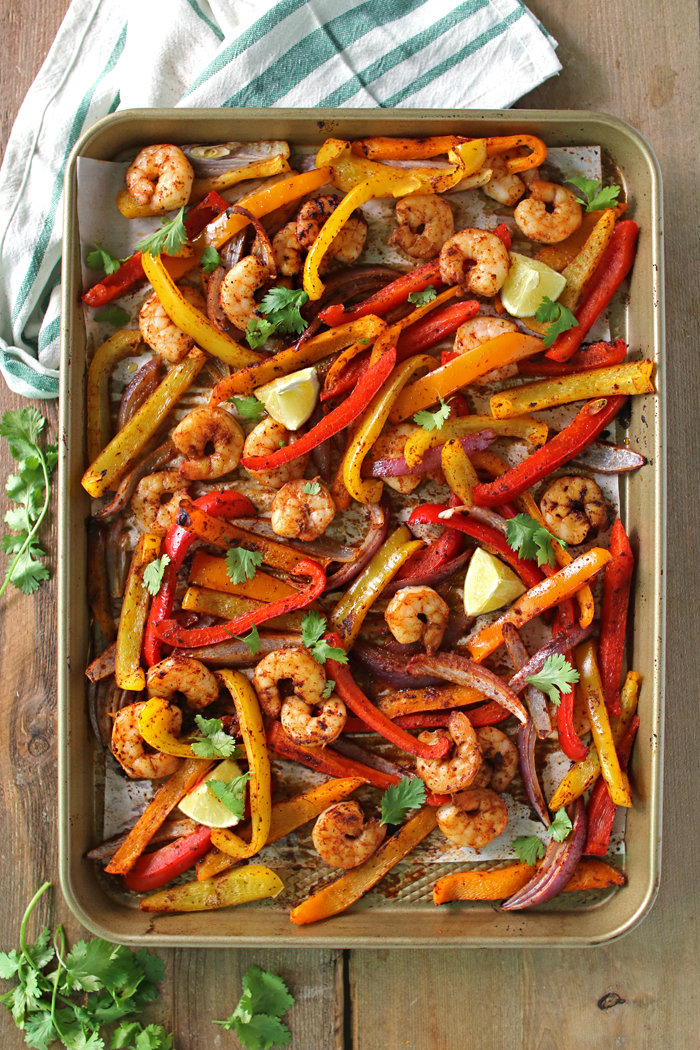 Tuesday Taco night is now new and improved with these drool worthy shrimp fajitas that you and your family will absolutely love.
A lot of people are intimidated by cooking anything that comes from the sea but to be honest it's so simple to season and actually cooks faster than other protein sources you're probably use to.
This epically delicious Shrimp Fajita recipe is spiced perfectly with the high quality Simply Organic spices (my personal kitchen staple) that cook up all on one sheet pan in the oven for 15 min! Yes in less than 30 min you can have all of your veggies chopped, shrimp seasoned and popped into the oven for a quick weeknight dinner for your family or meal prep for yourself throughout the week. It always amazes me how the right spice blend can completely transform a dish.
The combination of the chipotle chili powder with fresh lime juice is unreal and really brings this dish up a notch with a little heat and zesty-ness. If you really have no time you can also try this fun new product I just discovered by Simply Organic called their Simmer Sauces and they have one specifically for Fajitas, which you can find here. I'm usually not about the prepackaged sauces but I checked out the ingredients on this one and was pleasantly surprised with the quality of ingredients, low sodium content and no weird additives I can't pronounce. My pantry is stocked with a few of these sauces for when A: Mr. Matt is cooking or B: I used up all my spices recipe testing lol.
The best thing about sheet pan recipes is that you not only cook everything at the same time on one pan but you also have like zero clean up… I mean just use some parchment paper or a silicon mat and you're good to go! But remember whomever cooks doesn't have to do the dishes… Or at least that's how it works in my house. I cook, Matt cleans, and it's a win win situation if you ask me.
Thank you to Simply Organic for sponsoring this blog post and supporting HealthNut Nutrition. 
If you make this Chipotle Lime Shrimp Fajitas, be sure to share a photo on social media and tag me @healthnutnutrition #healthnuteats so that I can see your creations! And if you liked this recipe you may also like my Sheet Pan Chili Basil Fish and Veggie Dinner.
Recipe
Sheet Pan Chili Lime Shrimp Fajitas
These One Sheet Pan Chipotle Lime Shrimp Fajitas made with a combination of coloured peppers, red onion and avocado stuffed into a warm tortilla wrap ready in less than 30 min!
Makes 8 fajitas

8

corn flour soft tortillas

1

lb.

raw jumbo shrimp

thawed, peeled and deveined

3

bell peppers sliced

1

red onion sliced

1-2

limes quartered

1

large ripe avocado sliced

2

tbsp.

extra virgin olive oil

1

tsp.

Simply Organic Chili Powder

1

tsp.

Simply Organic Chipotle Powder

1

tsp.

Simply Organic Garlic Powder

¼

tsp.

Simply Organic Cumin Powder

¼

tsp.

Simply Organic Paprika Powder

¼

tsp.

ground black pepper

½

tsp.

sea salt
Optional garnishes
¼

cup

fresh chopped cilantro

¼

cup

feta cheese crumbled
Print Recipe
Save Recipe
Preheat oven to 400F.

On a large baking sheet lined with parchment pepper, spread out peppers, onion and shrimp.

Drizzle oil, season with spices, squeeze ½ of lime juice and mix up with tongs or your hands until all veggies and shrimp are well coated in the marinade. Place 4 lime quarters throughout pan for extra flavour when roasting.

Bake in the oven for 15 min (tossing half way through). Optional you can broil on high for 1-2 min at the end to crisp up the shrimp and veggies a bit more.

Wrap up your corn tortillas in some foil and pop into the oven at 400F for the last 5 min before broiling.

Fill up your warm tortillas with the cooked shrimp and pepper mixture, top with a slice of ripe avocado, squeeze of lime juice and a sprinkle of cilantro and feta cheese before enjoying. You can also lay out all of your ingredients and have a fajita party and let your guests fill up their own tortilla and garnish as they please.
similar recipes