The products and essentials I keep in my toddler diaper bag that I absolutely swear by. From healthy snacks to our portable sound machine, I never leave the house without them!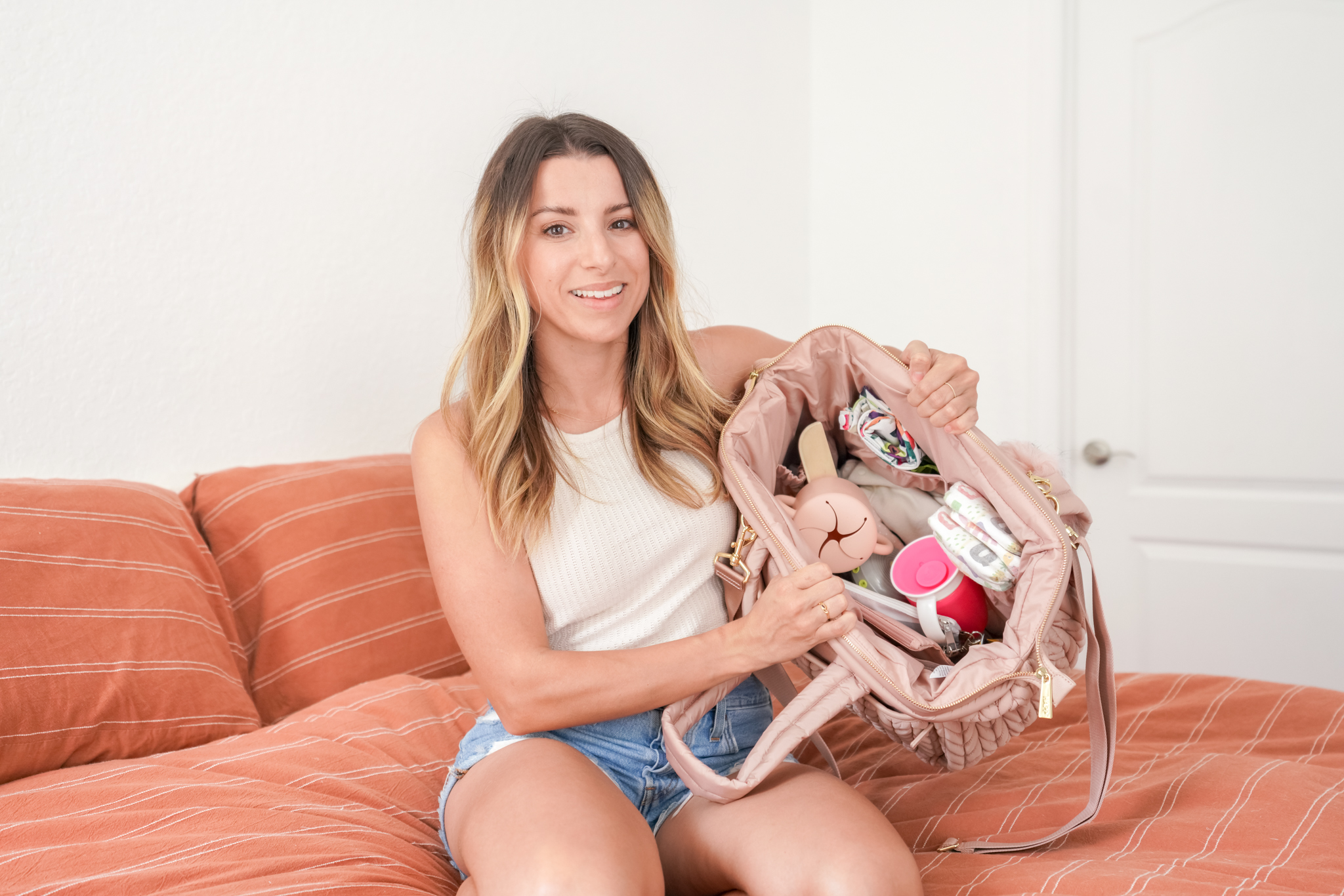 What goes into my diaper bag has changed in some ways since my daughter Sage was a newborn but a lot of things are similar. Nowadays, I find myself having to be prepared in a whole other way such as sticky fingers, entertainment and extra shoes for walking. I'm taking you through everything I pack with me when I leave the house without fail, including all the essentials I swear by.
My Diaper Bag
This is my current diaper bag. I love it because (aside from how pretty it is) it has a 'Mary Poppins' style opening top, which makes it really easy to look inside and see everything you've got. It's also lightweight which is really important when you've got a heavy toddler!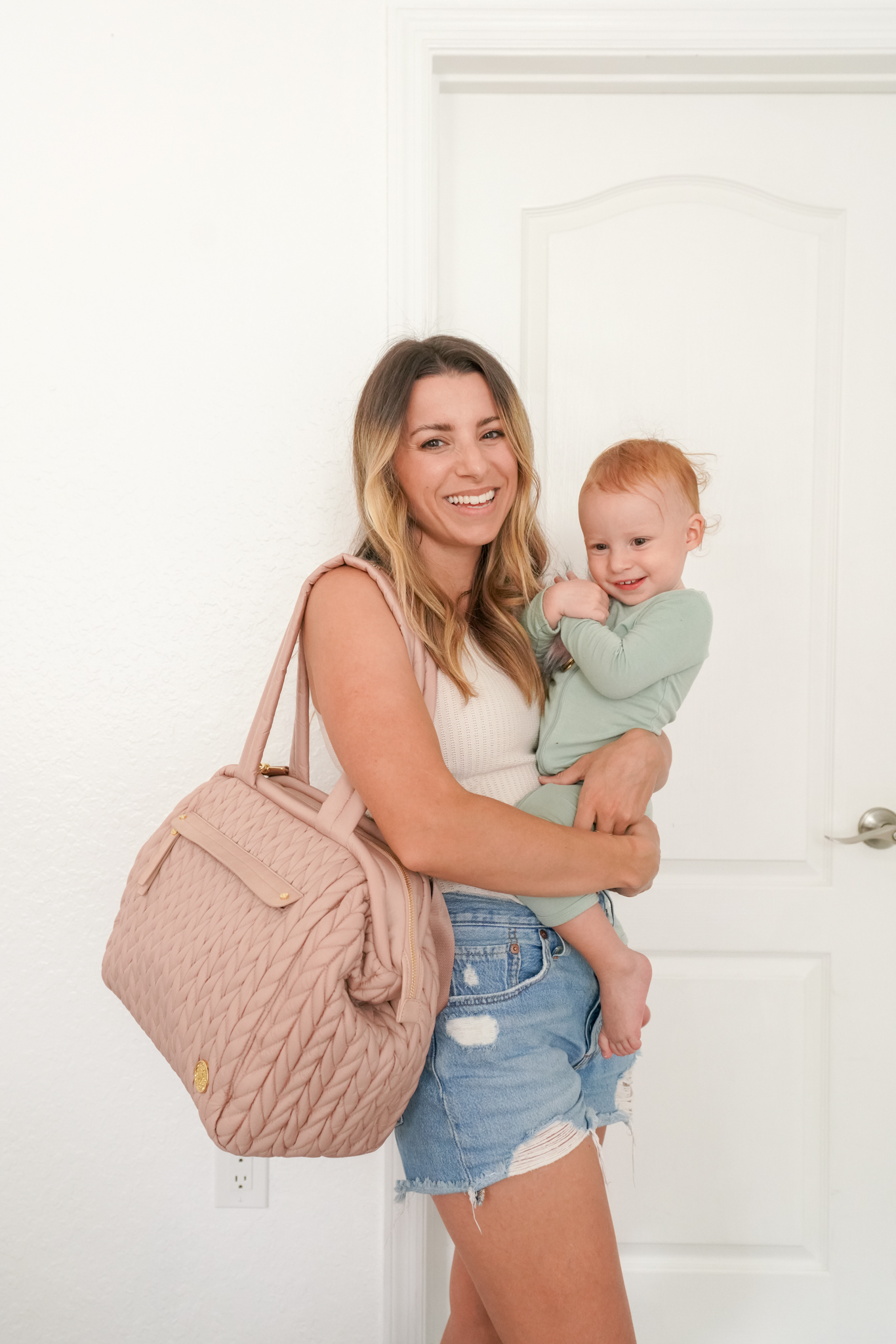 Toddler Diaper Bag Basics
Some of these items might seem obvious, but you don't want to be that mama who accidentally leaves the house without diapers! Here are the basics that I always include first…
Diapers

– I get asked a lot which brand of diapers we use. We switch between a

couple of different brands

, but I'm always looking for varieties that don't use so many chemicals like these ones. Sage has never actually had diaper rash. I'm not sure if that's just her or the cream we use or the diapers, but I'm sure keeping chemicals like bleach to a minimum definitely helps those sensitive little bums! 

Snacks and drinks

– If you have a little one, you'll know they are ALWAYS thirsty and hungry. I love these

no-spill sippy cups

, and I also use

this one

with a straw for Sage because she was always stealing mine! For snacks, one of

these little containers

is so handy because you don't have to worry about snacks spilling everywhere. Check out this blog post for some

healthy toddler snack ideas

! 

Toys

– I wish I was one of those mamas who filled her diaper bag with cute, Instagram-worthy toys, but if you have a toddler you'll know that their favourite toys tend to be the most random things! Currently in my diaper bag are some golf balls she stole from a mini golf putt (true story), random shapes from a matching toy she has and a toy knife that's meant to be for cutting velcro fruit. 

Clothes

– I like to keep an outfit in my diaper bag for

hot weather

, and a long sleeved option for

colder weather

along with a sweater. I try to keep the diaper bag outfits inexpensive so that if I totally forget about them and she never ends up wearing them it's not that big of a deal. Spare socks are also a must-have, because they get lost all the time!  

Wipe dispenser

–

This wipe dispenser

is great because you can easily refill it, and there's a sealable section inside so that the wipes stay hydrated. 

Shoes

– Now that Sage is walking everywhere I like to bring a spare pair of

shoes

(Target has some great affordable options). If we were to lose one of her shoes and she didn't want to be in the stroller, having a spare pair can be a lifesaver! 

Hat – A foldable

hat

(this brand has some great sun/water options-

use code HEALTHNUT15

) is one of those things you might realize you've forgotten once you're already out, so having a spare one always in your diaper bag is a good idea.

Lightweight blanket – We usually keep a l

ightweight blanket

in the car or stroller. It's great if I'm breastfeeding in public and want some privacy. A blanket also comes in handy for darkening the stroller if I want her to take a nap and covering those little legs from the sun during stroller walks. 

Hair elastics – These mini

hair elastics

are super soft and don't damage hair. 

Feeding Equipment
Food is ALWAYS a must when you have a toddler. They're never not hungry. I always make sure to pack some basic equipment so that meal times when we're outside the home run smoothly.
Toiletries
I get asked a lot what kind of skincare products I use for both myself and Sage. I do like to opt for more natural brands, so that I can feel confident that I'm not using any harsh or harmful chemicals. Here's what I take with me when out and about…
Medicines, Vitamins & Supplements
The last thing you want is to be out and about, your toddler gets poorly or has an allergic reaction to something and you have nothing on hand to help them. I like to keep a few medicinal products in my bag just in case we need them. Non essential vitamins and supplements we keep at home and take in the morning before we leave the house.
Pro tip: Keep the boxes of all medicines, because they show the dosage instructions on the packaging.
Toddler Diaper Bag Hacks
These items fall under the 'hack' category because they just make life with a baby/toddler so much easier. You might not necessarily think of them straight away as toddler diaper bag essentials, but trust me, you need them in your bag! 
Wet bag – When you're out and about with a toddler, you can often end up with wet or dirty clothes – be it from a blowout, a spill or even something like a swimsuit. You don't want everything else in your bag getting wet, so a

wet bag

is an absolute must! 

Doggy poop bags – Got a dirty diaper that you need to dispose of but there isn't a garbage nearby? You can pop it into a

doggy poop bag

to keep it concealed and stop it from smelling out your bag until you can get to a trash can.

Portable sound machine – If you're going for a long car ride or expecting them to be in the stroller for long periods of time,

a portable sound machine

can really help to blur out outside noises. Because we've got our

bedtime routine

where we put on the sound machine when it's time to sleep, it's a cue to her that it's nap time, even if we're not home. 

A pacifier clip – Even if your little one doesn't use pacifiers (Sage doesn't) a pacifier clip can come in really handy! We sometimes like to attach toys to them so that they don't get lost even if Sage drops them.
Electric nail file – I've been using this

nail file

since Sage was a newborn, and it's by far the easiest way to do her nails. She moves around so much and I'm always terrified I'm going to accidentally clip her, whereas you don't have to worry with this.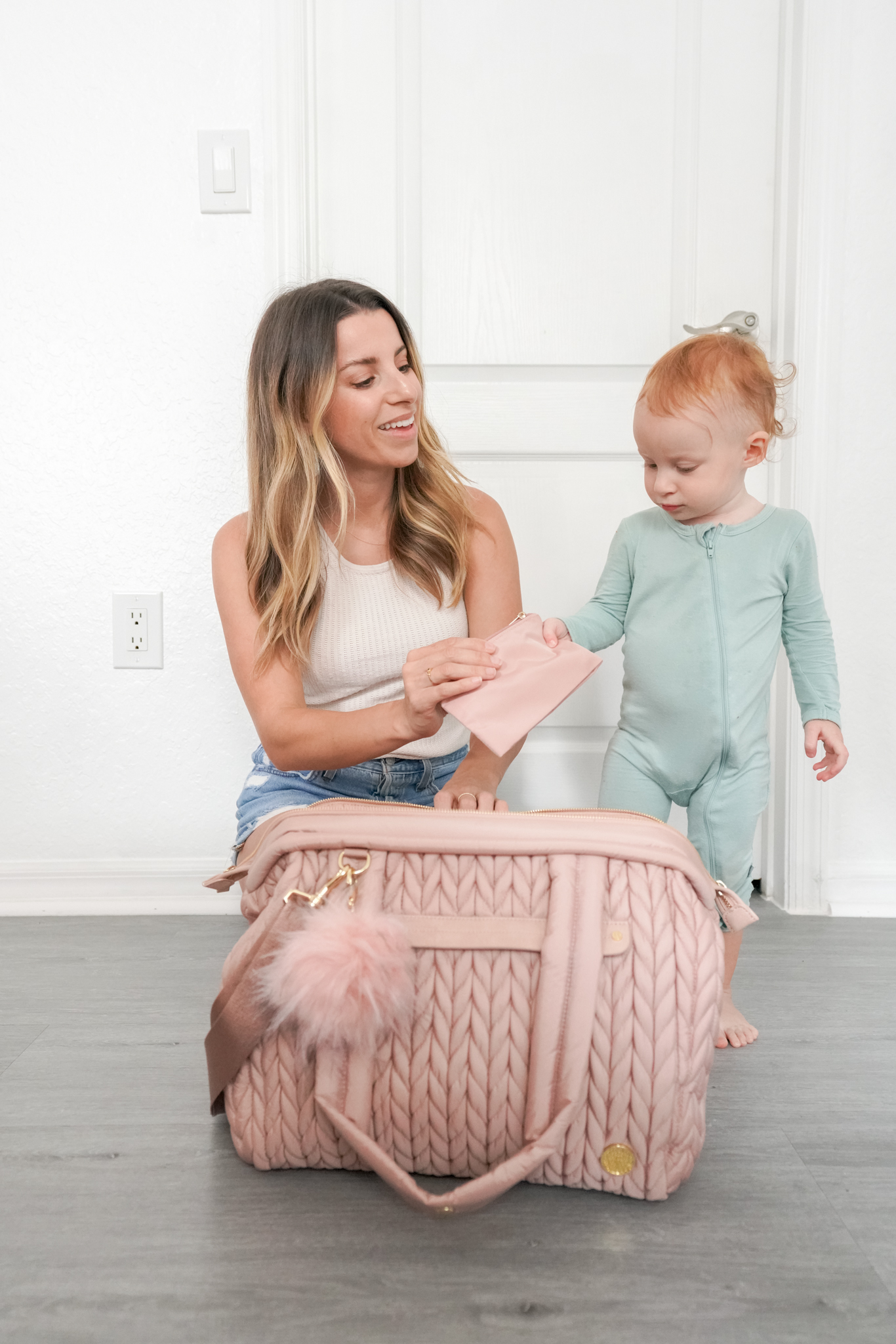 So that's everything I keep in my toddler diaper bag! If there's anything else you think I should include, definitely let me know in the comments below!
If you're looking for more toddler content, be sure to check out my toddler mom life Q&A and my 6am morning routine with a toddler.