Ideas for healthy road trip meals and snacks that will keep your (and any little ones) bellies full for the entire journey!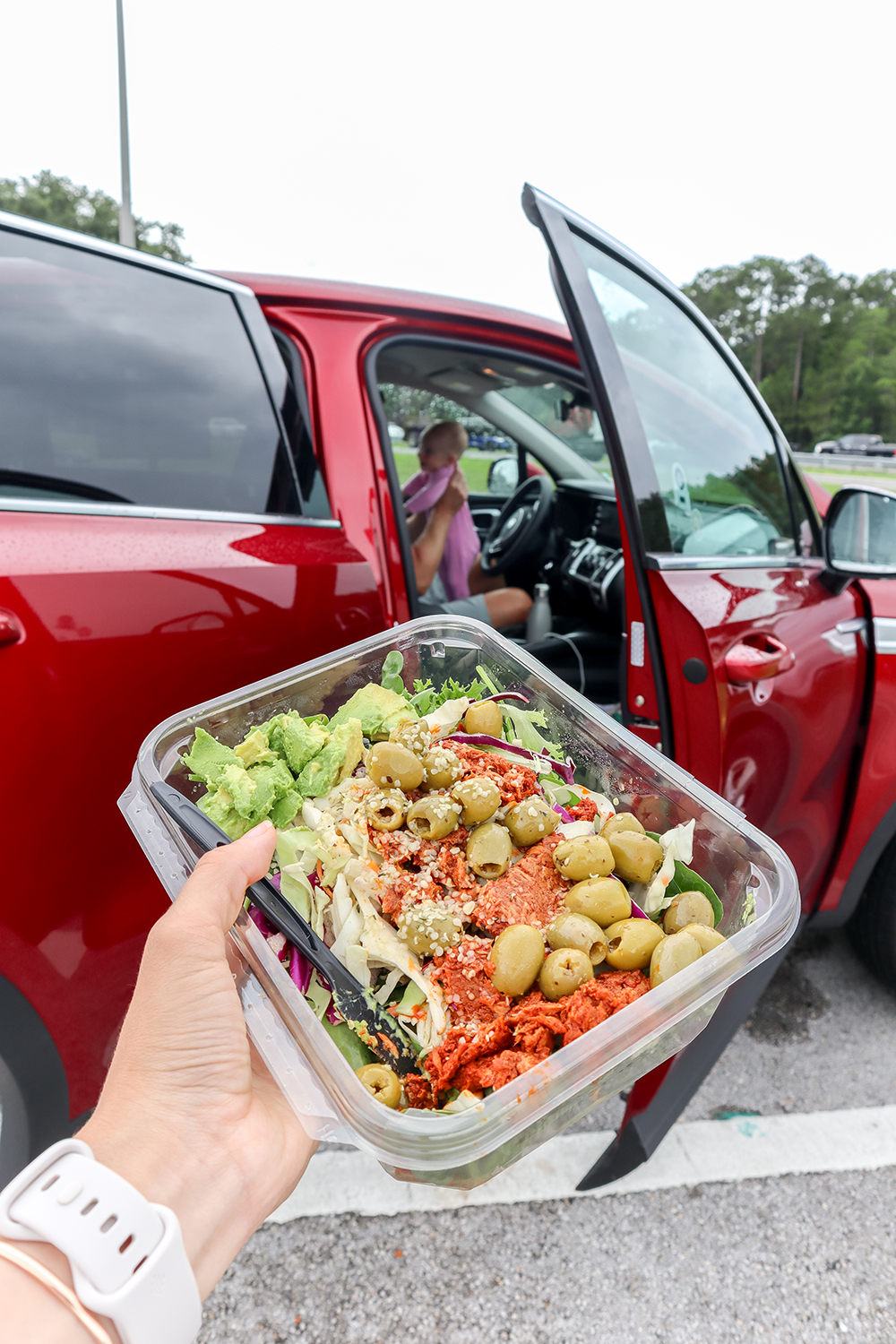 As you may know if you've seen my baby travel must haves post and my flying with a baby tips, we've been vacationing in Florida. It's our first time going away with baby Sage, and because we're super brave (and call us crazy) we decided to do a 3 day road trip for the journey home! If you're planning a road trip, I hope these meal and snack ideas will help you to keep your bellies full while still keeping healthy!
Road Trip Meals: Breakfast
If you've been a long-time viewer you'll know I love granola for breakfast. Well, a road trip wasn't going to stop me! I bought this premixed oatmeal blend  with some yummy berries, cinnamon, almond milk and a dollop of peanut butter in a takeaway cup!
Sage had a jar of banana, cinnamon and granola puree. If you've read my baby food post you'll know we really enjoy making our own baby food for Sage. But for travel, pre-packaged purees are super helpful! 
On Day 2 of our road trip we had oatmeal again. These milk cartons were perfect because it saved having to open up a big container and having it go to waste. They're also shelf stable so you don't have to refrigerate them. I added stevia, banana, cinnamon and hot water, popped it in the microwave for 2 minutes and then took it in the car with us. 
Road Trip Meals: Lunch
Ever tried to make a salad in the car?? It actually turned out pretty delicious! I got some baby spinach and spring mix. These pre-washed salad leaf blends are perfect for road trips because they usually come in big plastic containers, which you can then use to mix all your ingredients together. Just pop the lid back on and shake! 
Car Salad Recipe Breakdown:
Shake it all up in the salad container and enjoy! The juices from everything create a delicious salad dressing without having to add anything else. This was one of my most flavourful salads I've created. 
For Sage I mashed up some avocado and added some prunes (again, pre-packaged in a jar for ease). I always try to have easy on the go foods like ripe banana and avocado to easily mash up for instant baby food on the go even when we aren't on a road trip. 
Now, you know I'm always super honest in my videos and blog posts so here it is… On day 2 of our road trip we grabbed a McDonalds. Yeah, I know. NOT a healthy road trip meal, but there's nothing wrong with 'every now and again'. I haven't had it in over two years, but I got a quarter pounder dressed as a Big Mac and fries. 
Road Trip Meals: Dinner
Because we're doing a 3 day road trip, it meant we could actually take a break from driving and go out on the streets of Savannah for our dinner. We ended up picking up some Thai food and eating it at the Airbnb we were staying at, which meant instead of using up our time at a restaurant we could stretch our legs and explore the city before our next long drive.
On Day 2 we stopped at a cute little Italian restaurant right on the river in Morgantown, West Virginia and we shared a plate of angel hair spaghetti in marinara with meatballs, flatbread pizza and a salad.
Road Trip Snacks
While it may be tempting to bring a ton of unhealthy, processed snacks, there are options for healthier alternatives. That being said, I'm all about everything in moderation. I'm fine with having a little bit of 'junk food' as long as I'm balancing it out with good, whole foods. Here are some of the snacks (and drinks) we packed for the three days…
Dry roasted macadamia nuts with sea salt

Pre-cut carrot sticks with artichoke kalamata hummus

Raspberries
What are your go-to road trip meals? Let me know in the comments below! 
If you want to see more of my travel tips, check out my Baby Travel Essentials post, Flying with a Baby Tips and my Travel Must Haves post.