9 month pregnancy transformation, week by week progress in photos! Watch my bump grow from 13 weeks to 40 weeks!
In my last blog post, I introduced little Miss Sage Cloe Goncalves to the world! But today, we're taking it back to earlier this year when Sage was just the size of a lemon in my belly. I decided to document my growing belly with photos week by week, and I am so glad I did! I used the Bump app to track my pregnancy and learn about what symptoms to expect each week. I thought it was really fun, and I loved that the app tells you how big Baby is in comparison to fruits and veggies. This inspired me to put a HealthNut spin on these pregnancy transformation photos! 
You will notice that I did miss a few weeks… either because I wasn't feeling well, there wasn't too much visible growth or I was too busy baby prepping! But this was such a fun project to document my growing belly, and even more fun to see it all come together at the end. I highly recommend doing this whether you have an online presence / blog or not – it's so fun to look back on. This blog post & video were 9 months in the making – with a lot of dancing, bloopers, and laughs! Be sure to watch my pregnancy transformation week by week over on YouTube!
Week 13 to 17
This was me and babé at 13, 15, 16 & 17 weeks pregnant! At this point, things were changing every day. I did a full recap of my first trimester symptoms, changes, and tips which you can read or watch here!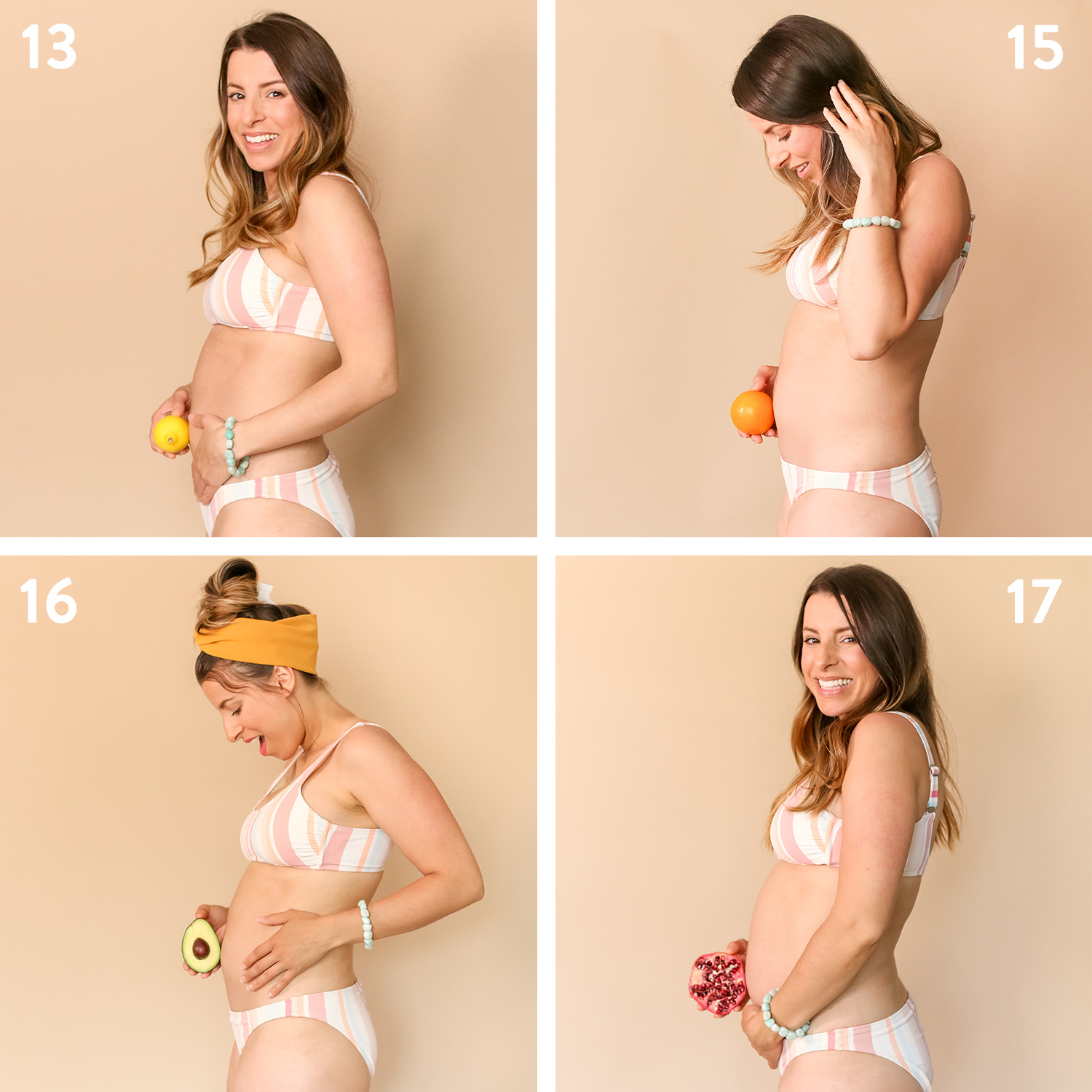 Week 18 to 24
This was my bump at 18, 19, 22, and 24 weeks!⁠ My second trimester was when I started to feel a lot better, full of energy, and much more comfortable in my own skin. I started to feel little kicks around 22 weeks, which I updated you on in my Second Trimester Recap blog post and YouTube video!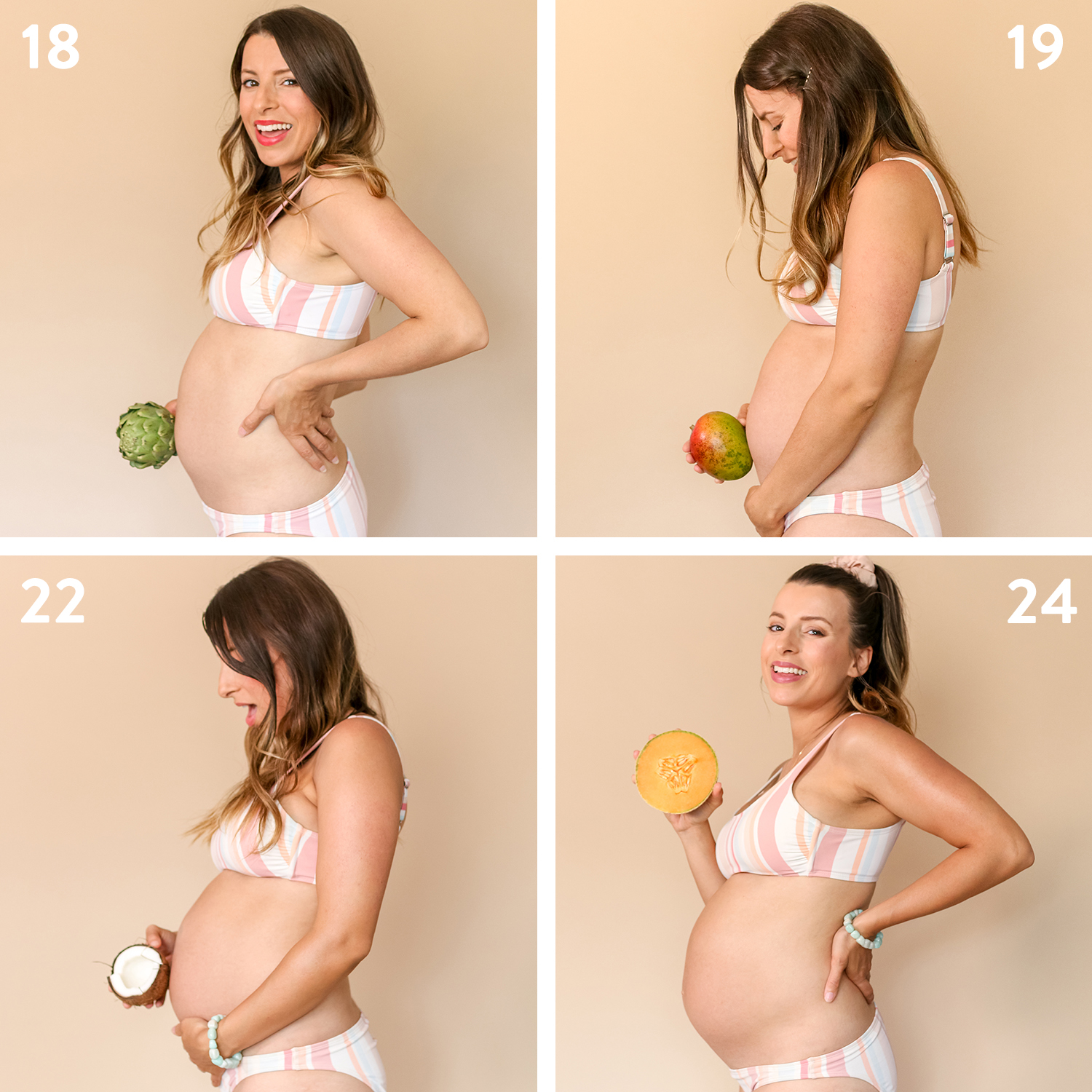 Week 26 to 36
26, 29, 33 and 36 weeks pregnant!⁠ The start of my third trimester, and honestly my favourite part of pregnancy! I know most people love the second trimester, but I felt amazing all throughout my third trimester – apart from a few minor symptoms which I updated you on in my Third Trimester Recap blog post and video.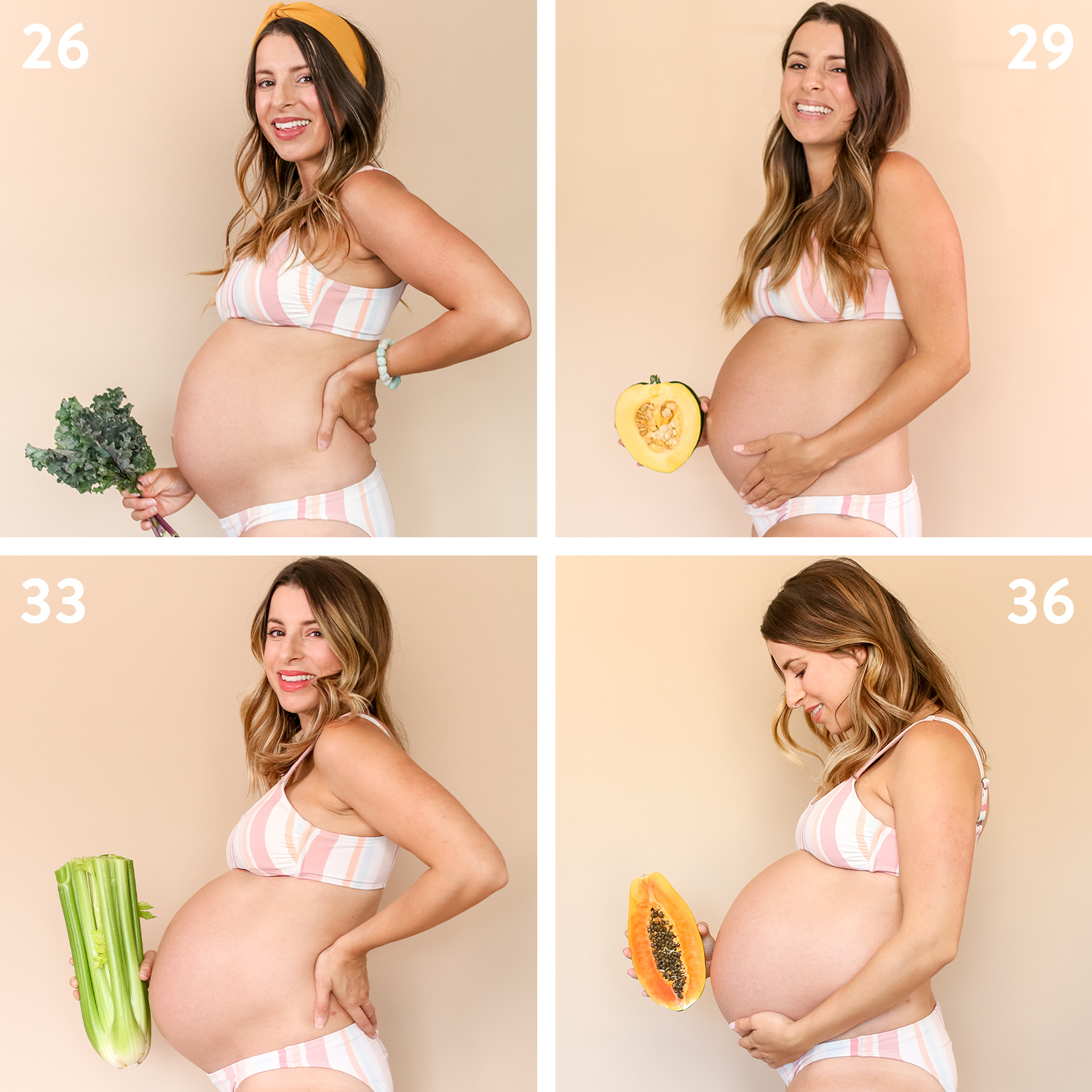 Week 39 & 40
Baby sage was the size of a pumpkin on the week of Halloween (we couldn't have planned that better!) so of course I had to dress up for the occasion! By week 40, I really did feel like I had a watermelon in my belly, especially since I went a few days over my due date. Sage was due on November 3, but she decided to make her grand appearance on November 8th! ⁠⠀I remember lying awake in the nights before her arrival wondering if she was coming soon. Every cramp, ache and kick made me think.. is this it? Are contractions about to start? ⁠⠀
⁠⠀
I'm sure a lot of mommas can relate this last stretch (pun intended!) of so much unknown – it is both scary and exciting at the same time. But so worthwhile! I can't wait to share my birth story / birth vlog with you soon! Leave a comment down below and let me know if you want to see a full birth vlog (we documented as much as we could)!
1 Week Postpartum
And the best photos of all… 1 week postpartum with Baby Sage in my arms! Nothing could have prepared me for how much I would love this girl, from the moment she was born and how he would forever change our lives. Currently, I am one month postpartum, and I already feel like my body has changed so much. Looking back on my 40 week pictures, it's hard to believe that Sage was still in my belly just over 4 weeks ago.  
Matt and I have been adjusting well to new parent life, and soaking up every moment of newborn snuggles, nursing, and yes even a few explosive diapers!
If you enjoyed this post, be sure to check out my other pregnancy and motherhood content! I recently shared my Pregnancy Must Haves, Hospital Bag Checklist (with a free downloadable checklist for you!), our Boho Floral Nursery Tour, and my Boho Floral Baby Shower! And for more family photos, check out my Outdoor Maternity Photoshoot, and Newborn Photoshoot!