Third Trimester Recap and healthy Pregnancy Tips For The Third Trimester, and what to expect. Sharing my experience and best tips for exercise and movement, sleep, bloating, acid reflux, self care and natural remedies that have helped, as well as a bump update! 
Today I am sharing all about my third-trimester experience! As I write this, I am currently 37 weeks pregnant and feeling great. I've been writing down notes about everything I have to update you on since my third trimester rolled around. And, while I may not be totally through my pregnancy yet – I wanted to document everything before I go into labour. 
Third Trimester Scaries
The third trimester has been like this huge grey cloud that has been looming over my head since the start of my pregnancy. Unfortunately, when you get pregnant many people feel the need to warn you that "things get worse" in the third trimester. I have received countless messages, and comments from well-meaning friends and family members who say things like "oh you think you're uncomfortable and big now… oh just you wait until your third trimester". This really built it up in my head and made me feel anxious about what was to come.
To be honest, I don't know why we feel the need to instil this fear for new moms about this "daunting" third trimester. Yes, I am sure everyone experiences every stage of pregnancy differently. And yes,  there are a lot of not so fun things about the end of your pregnancy. But that being said, I think we need to change the narrative and instead shower new moms in positive thoughts, encouragement and good energy! 
It's to be expected that you're going to be bigger, maybe a little less comfortable, and yes – you're going to have to pee in the middle of the night!! But next time you see an expectant Mama, give her a little love and encouragement instead of scaring her about "what she's in for". This sort of narrative caused a lot of stress for me at the beginning of my pregnancy. I thought "if I'm uncomfortable now, how am I going to survive this pregnancy? It's just going to get worse"! But the fact of the matter is that many of the uncomfortable things that I experienced throughout my pregnancy were just temporary. I was able to adjust to and live with the symptoms that popped up, and soon enough they subsided. 
With that being said, if you are newly pregnant and reading this as you scour the internet for information on what to expect during these next 9 months…  then I want to tell you you GOT this Mama! Just remember: this entire experience will just make you stronger. 
Food and Nausea
Let's kick off this third trimester with a little chat about food, cravings, and nausea. It wouldn't be a #healthnut blog post if we didn't mention food, right?! I have heard that if you experience nausea at the beginning of your pregnancy, it could pop up again during the third trimester. This was definitely the case for me, but luckily it wasn't quite so bad. It wasn't the kind of all-day / hungover / sea sickness kind of nausea that I had during my first trimester. Instead, I experienced bouts of nausea just eating too fast, or waking up on an empty stomach. I sometimes felt like I could throw up, but I never actually did. Tip: Sniffing peppermint essential oil and wearing sea bands helped a lot!
In terms of food cravings, I feel like I've been eating like college Nikky! My favourite foods right now include: 
Bagels

Cream cheese

Cereal

Fruit

Ice cream
Of course, I am still enjoying lots of nutrient-dense meals and snacks as well, but if I could eat bagels and cream cheese all the time – I would!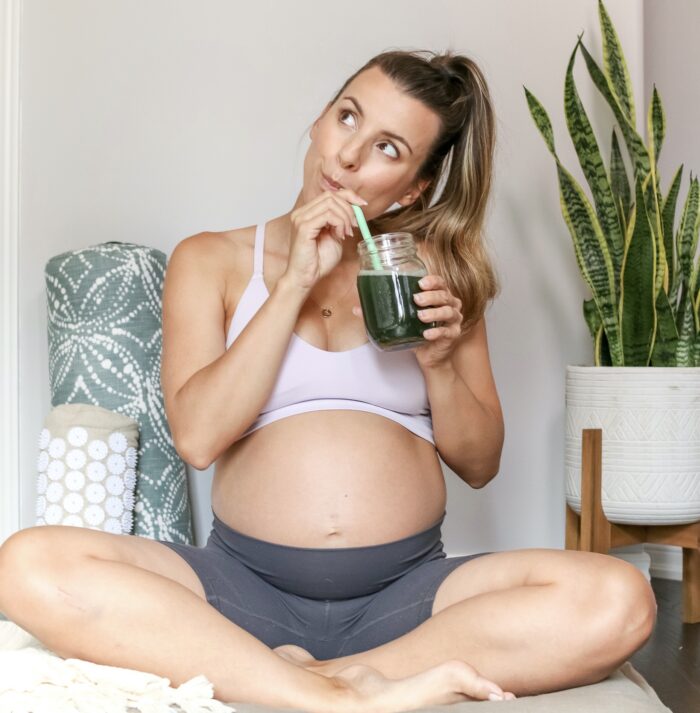 Exercise
I made it to 35 weeks of my weekly personal training sessions, which felt like a huge accomplishment to me! Just yesterday, my personal trainer (who was actually in the same week of her pregnancy as me) had her baby, so no more workout sessions for me! Instead, I've been enjoying taking things a little slower with morning nature hikes with Mr. Matt. We usually go for 45 mins to 1.5 hours and the fresh air is good for my nausea as well. In the mornings I have the most energy, so I find that's the best time to go on our hikes.
Body Changes
Now that I'm almost through my third trimester, I am definitely feeling more aches, back pain and stiffness. Around 33 weeks is when the baby started kicking the most – and also when I felt the most uncomfortable! I remember that this week was my worst for sleep and I definitely thought "uh ok, is it going to be like this until the end?!" BUT by 34 weeks I had adjusted to the new norm, and everything was ok. 
 I also have still had a lot of acid reflux, but my liquid magnesium calcium supplement helps a lot with that. I talked about this more in my pregnancy must haves blog post as well! I've also had hot flashes, and have started to feel a lot more tired and exhausted. I definitely need my naps and have to remember to take breaks throughout the day. For someone who is energetic and loves to work, it's hard to force yourself to slow down! But apparently I should enjoy the chance to sleep while I can 😉 
I've definitely experienced more lower back stiffness, and am feeling a little achy in my upper ribcage area. I think I'm carrying high because she always seems to be kicking me right under the ribs! Prenatal massages  have helped a lot with all the aches and pains, and I can't recommend it enough if this is in your budget. 
Restless legs are another fun third trimester symptom that I can't wait to be rid of once I give birth! This magnesium balm has helped a lot, as well as epsom salts baths before bed and massages from Mr. Matt. Be sure to check out my Pregnancy Must Haves blog post for all my favourite products that have helped me survive pregnancy!
Speaking of bed time, I really can't complain about my sleep! I was worried that I would experience insomnia during my third trimester, because I hear this is a common symptom. But I am so lucky to have had good sleep and I think that my very relaxing night time routine helps with this. Be sure to check out my full blog post on my Pregnancy Night Time Routine for all my tips and tricks to get the best sleep possible while in your third trimester!
Emotions
Ugly crying. It's a thing and I am now familiar with it (on a daily basis). I cry over everything. Writing my birthday Instagram caption, looking at old photos of Matt – anything could set me off!
So needless to say, I am definitely more emotional than ever, but I'm just rolling with it. I've always worn my heart on my sleeve, and once the water works start, there's no stopping it! Mr. Matt is always just wondering what I am crying about now… he can't keep track!
Events 
A few exciting events happened during my third trimester! We celebrated Baby Acorn with my baby shower, which honestly was more exciting for me than a wedding. I have to thank my friends and family for throwing me the baby shower of my dreams! We can't get over how fun it was, and so nice to see my close family and friends in person. I was so glad we got to celebrate this exciting time together. You can watch my Baby Shower Vlog here, or head over to this blog post for all the details and to download some free printable graphics for your baby shower! 
We also had our maternity photos taken, and I am so in love with them. I can't wait to have baby photos of newborn Baby Acorn as well! You can check out this blog post for my Outdoor Boho Maternity Photoshoot. 
Matt is officially on pat leave now, and we are just spending the last few weeks getting ahead with content for my YouTube channel and blog so that you won't even notice I'm gone during my mini maternity leave. We've also been working on getting the nursery finished, so watch for a nursery tour coming soon! I've also just been enjoying spending time with Matt just the two of us before the baby arrives. We are so excited to meet her! I can't wait to see what she looks like and what her little personality is like!
Birth Plan
I'm not feeling too worried or stressed about labour and delivery. I have been doing my best to stay present and not stress about it. After all there's no point worrying when I really don't have much control over what happens. That being said, we have been taking a 5 week hypnobirthing course (online) every Sunday morning. It's been a great experience as a couple, and we will be taking a few more courses to learn about life with a newborn. 
For our birth team, we have a doula and midwife. Our birthing plan is to labour at home in a comfortable place for as long as I can. Our doula (Jessica) will be here helping at home until Matt and I go to the hospital, at which point she will not be able to join us just because of COVID protocols. The midwifes (Kristen and Carolyn) will be in the hospital with us though, and once we come home after the baby is born, we will have the help of our doula if needed. 
Labour Prep
For labour prep, I have been drinking red raspberry leaf tea (3 cups a day) every day. We are also doing perineal stretching to help reduce tearing! Our midwife and other healthcare practitioners have shown us how properly do the stretching, and it has been a great bonding experience. This is a great way to prepare for labour, and hopefully it helps! 
I hope that you enjoyed this third trimester recap, and these healthy pregnancy tips! I would love to know if you're currently pregnant, and one thing that really helped you out throughout your third trimester! Let me know in the comments!