Our Outdoor Boho Maternity Photoshoot! Choosing an outfit, styling, and location. Inspiration for planning your outdoor maternity photoshoot, what to wear, and the best timing for planning your maternity shoot.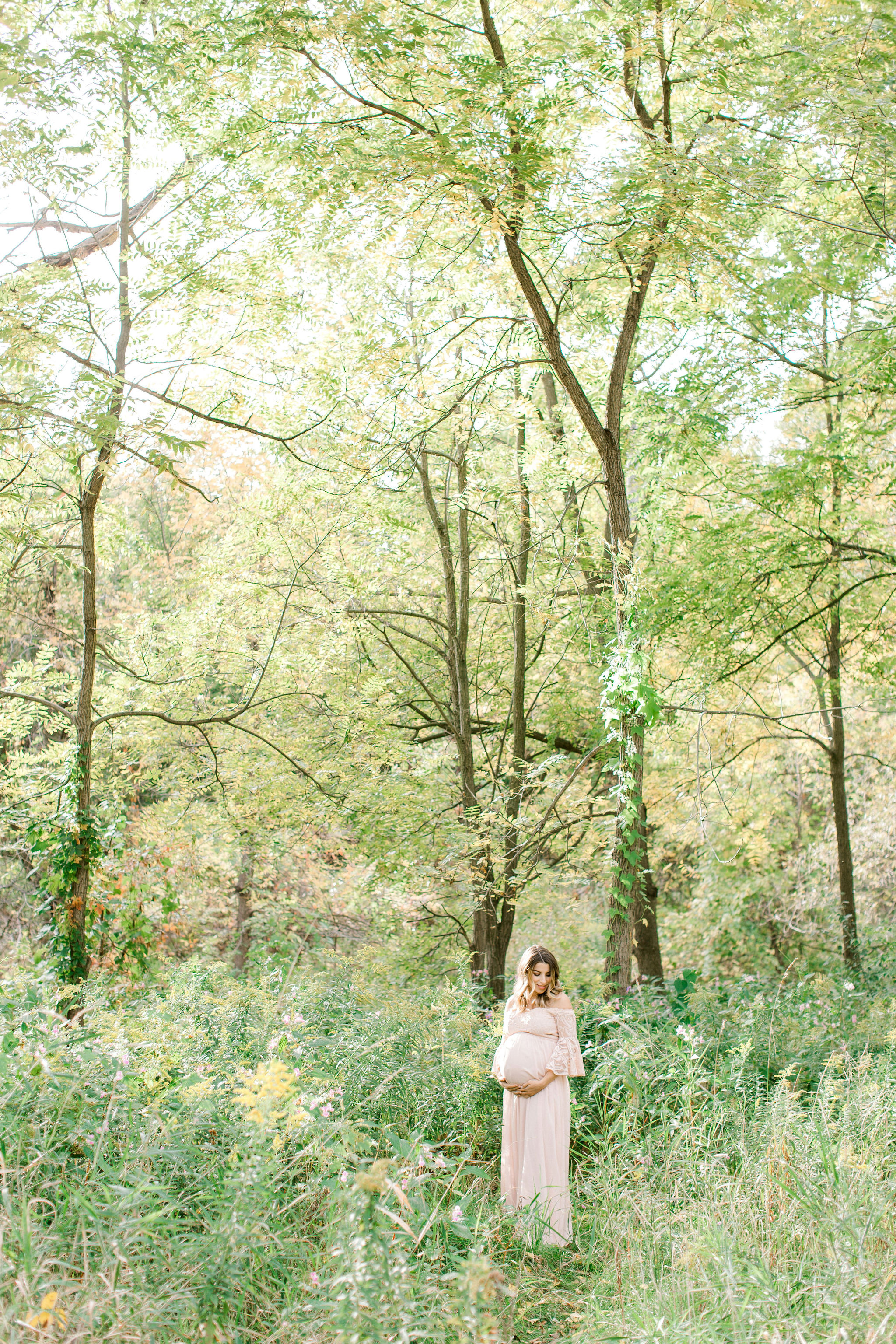 I am so excited to share some of my favourite shots from our outdoor maternity photoshoot that we did last month! This is a small look into our maternity photoshoot because there are so many gorgeous photos, it's hard to choose favourites. But I am also sharing an entire behind the scenes vlog and get ready with me over on my YouTube Channel. 
We are so grateful for our photographer, Aisling from Oak and Myrrh Photography for generously gifting us this photoshoot. Originally, I was going to get my sister Cloe to take some outdoor maternity shots for Mr. Matt and I. And while Cloe is an amazing videographer (love you Cloe!), there is something about having a professional who specializes in family sessions, maternity and weddings. Aisling knew all the perfect posing cues and tricks to help both me and Mr. Matt feel relaxed and candid during the shoot. No weird posing or holding forced smiles here! I would even venture to say that Matt enjoyed getting his photo taken for once, which is saying something! If you can get Matt to look natural in a photo – then you've done your job well! Bravo Aisling for making us feel very comfortable and natural. I think it shows through in the photos.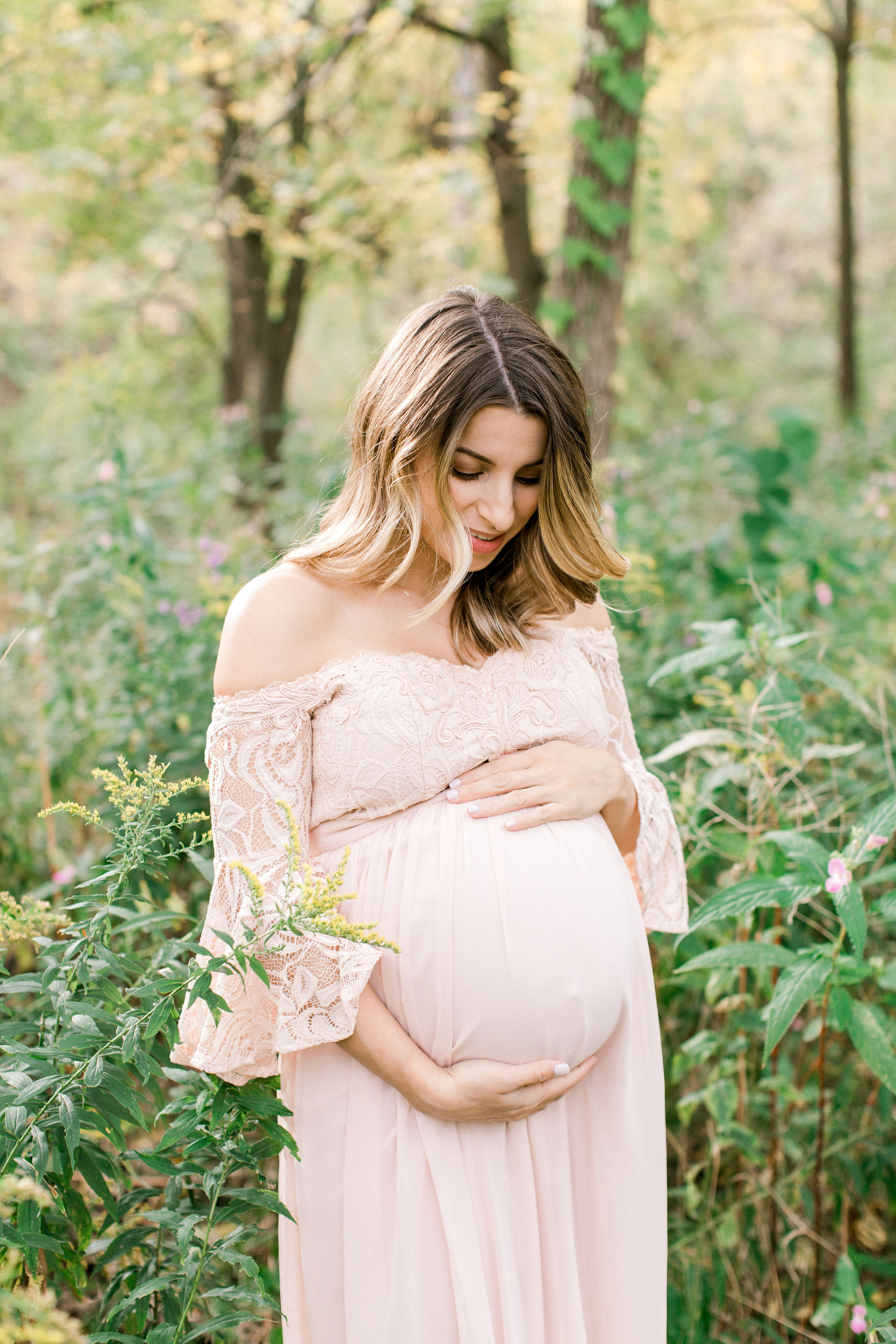 I was so excited when Aisling reached out because her style is bright, airy and fun. This is the style I am always drawn to, and I love that her photos have a pop of colour without being overly enhanced or edited. Her talent speaks for itself, and she truly made me feel like a pregnant boho goddess in these photos! 
We chose to do an outdoor photoshoot, since it was still warm out when we did this session at the end of September. I was so happy with the location we chose, it was so peaceful and the leaves were just starting to change colour – which made for some beautiful yellow tones mixed in with the greenery and purple flowers. 
Outfit Details
I am so in love with this beautiful pink lace dress that Pink Blush Maternity generously gifted me for this photoshoot! Sadly it seems to be sold out on their website, but they have so many other beautiful styles and options to choose from – you can't go wrong! There is even a section on their website dedicated to Photoshoot Maternity Gowns, which is where I chose this dress from. Below, I have linked a few other similar options that I also considered when I was selecting this one. Just make sure you leave lots of room and take into account how big your belly will be when you get your maternity photos taken. The only issue that I had was my dress didn't totally zip up at the back, but we made it work.
Location & Timing
This photoshoot was at Fairy Lake Park in Newmarket Ontario. We went just before sunset to catch that beautiful golden light and glow in the photos. In September this was around 5 to 7 pm, but it you're planning a shoot it's always good to check what time the sun sets at that time of year since it can change so much based on where you are located and the season. I love the soft muted tones in these photos, the lighting really makes all the different and adds to the boho vibe!
They say that 35 weeks is the best time in your pregnancy to get maternity photos. The belly has taken on that full round shape, yet you're not so far into your third trimester that you feel uncomfortable and heavy. Sitting here at 38 weeks and 3 days, I can definitely say I am glad had these photos done when we did! I just don't feel as energetic or comfortable now as I did a few weeks ago – not to mention I'm being kicked in the ribs by little Miss Acorn constantly!

Family Photos
Of course it wouldn't be a maternity shoot without some photos with Mr. Matt aka Daddy, and Miss Cashew who is soon to be a big sister! For this set of photos I changed into these cute olive cropped overalls which are also from Pink Blush Maternity. I got a size small, and I would say they fit well for the purpose of these photos since they hugged the belly so well. I think they will also be cute to wear after postpartum as well, and since they are 100% cotton they are sooo comfy!

We are so excited to have our first professional family photos done, and I can't wait to frame some of these for our home. It's going to be so hard to choose which ones we'll have printed! Aisling truly did such a great job of capturing our personalities, and I can't wait to have more photos taken once the baby arrives.
Also can we just talk about the colour of the flowers in these photos?! Talk about perfect complimentary colours with the yellow and purple! We couldn't have styled a more perfect background for this shoot if we tried. I've also heard that fall is the best time of year to get maternity photos taken, and I can see why with all the pretty colours. Mr. Matt and I spend so much time outdoors, going on hikes and other adventures. We can't wait to do hikes and spend lots of time outdoors with our little girl once she arrives!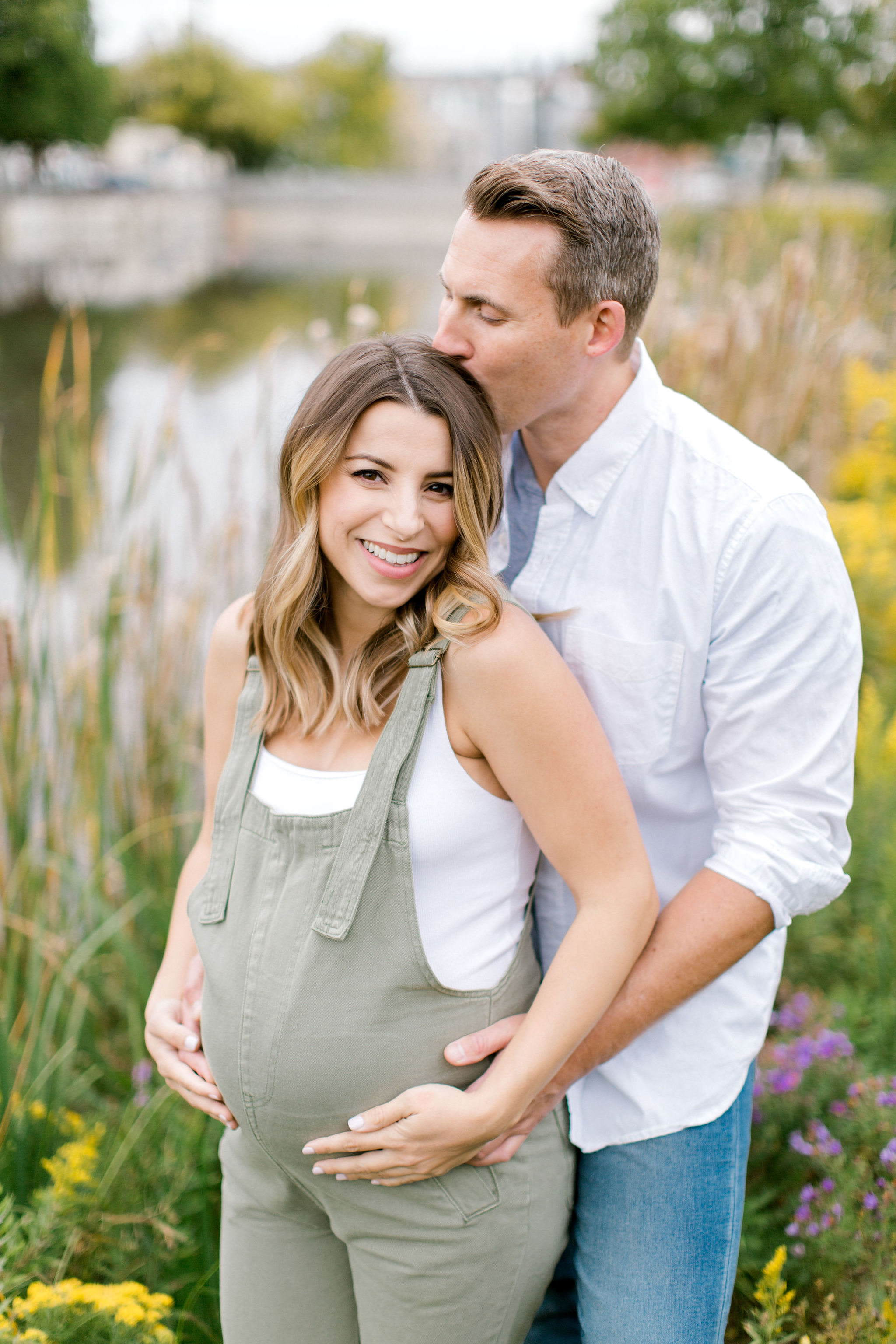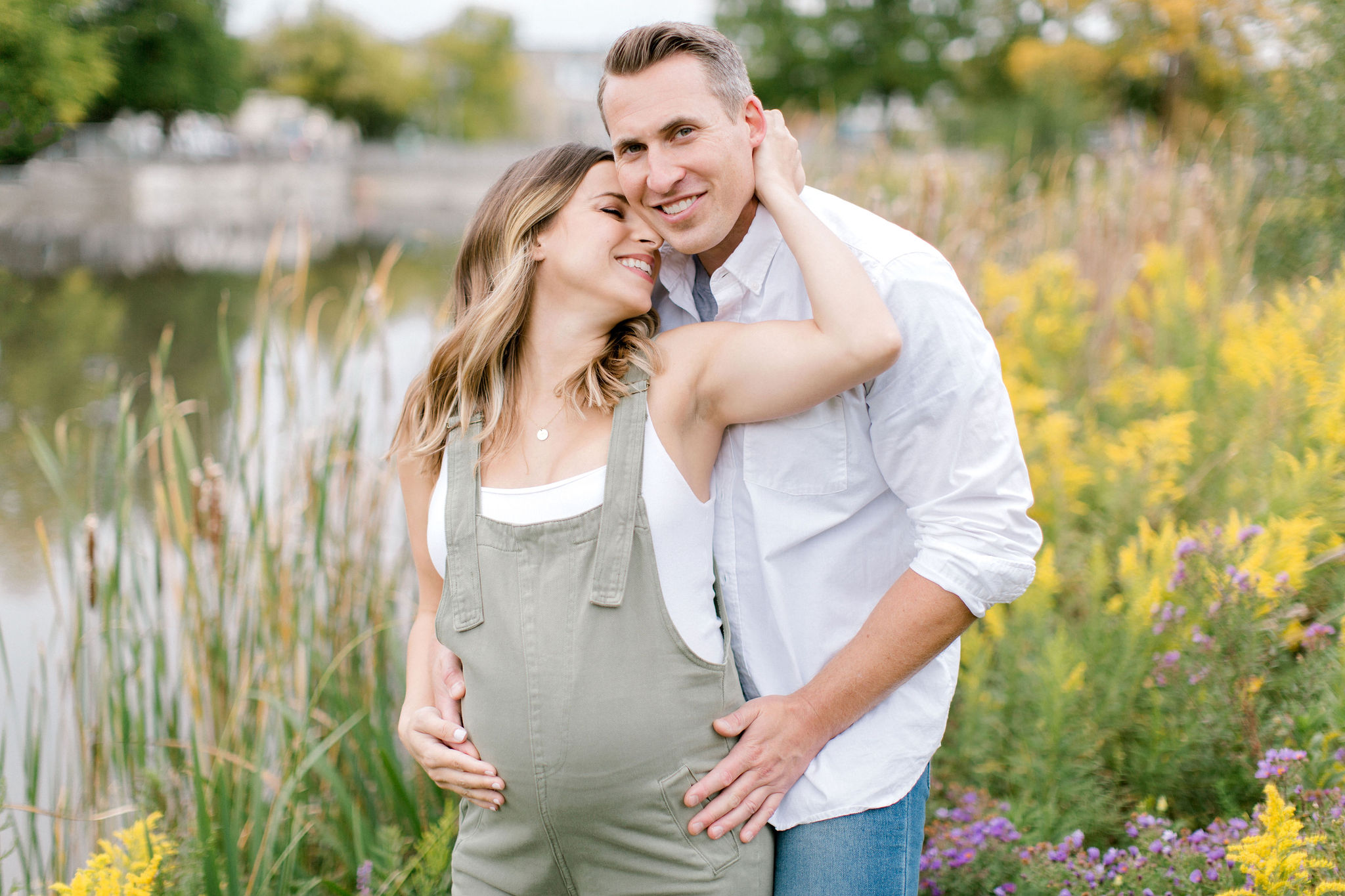 Cashew's Bandana
Last but not least, Cashew's outfit details! Miss. Cashew wore this cute pink bandana from Oscar and Friends on Etsy. We love dressing up our Pup for events (like my baby shower) or for a little photoshoot like this. Definitely check out Oscar and Friends if you have a furry friend in your life – they have all different kinds of cute designs and there's something for everyone.
We can't wait to meet our little girl in just a few weeks (or days)! I'm not sure when she will decide to make her grand arrival, but we already love you so much Baby Acorn, and we could not be more excited to be your parents. I just know that Mr. Matt is going to be the best Daddy. As we await your arrival, I feel mostly calm anticipation and so much excitement just to see who you are and what your personality will be like.
Oak & Myrrh Photography
Once again I want to give a huge thank you to Aisling from Oak & Myrrh Photography for capturing all of these moments. Aisling we can't thank you enough, we had so much fun hanging out with you and you truly made this whole process easy and natural! Be sure to head over to Aisling's Instagram @oakandmyrrh to check out her work, or visit her website for more information on how to book if you like in Southern Ontario and are looking for a talented photographer to capture your wedding, engagement, maternity or family photos!