Tips for creating a calm and relaxing pregnancy night time routine, to get a good sleep! My healthy and mindful night time routine during my third trimester, including what I eat, skincare, stretches, calming essential oils, acupressure, and pregnancy pillow setup.
As I near the end of my third trimester, I feel like I've finally found a night time routine that helps me feel good and get the best sleep possible. Being 9 months pregnant seems to bring up a lot of aches and pains – especially at night time. If you know, you know! After a long day, I'm tired, hips are achy, the lower back is tight and I feel like I need some good rest and relaxation before winding down and heading to bed.
So today I am sharing my ultimate pregnancy night time routine that has kept me feeling happy, calm, healthy and well rested throughout my third trimester! I think there's a misconception that the last trimester and few weeks of being pregnant are the most uncomfortable and you can forget about sleep! Being 39 weeks pregnant as I'm writing this, I can honestly say everything I've done leading up to this point has helped me feel my best and I am officially sleeping solid 6-8 hours a night so it definitely is possible to feel great till the end.  I hope that you find some good tips here if you are also pregnant, or hoping to grow your family soon. Be sure to leave me a comment down below and let me know if any of these things also worked for you, or what your pregnancy night time routine looks like!
Work From Home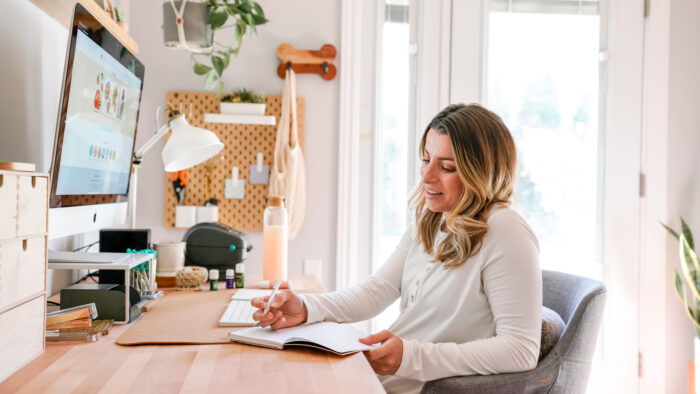 At the start of my evening, you can usually find me at my desk finishing up with work and getting things done before I end my day and officially start my night time routine. By the way, I am so in love with my new office space – which you may have seen in my Small Home Office Makeover video and blog post! And yes I am still working away and pumping out a ton of content even in the last weeks of my third trimester. I am planning on taking a mini mat leave for 6 weeks, but don't worry you will hardly notice because I have so many fun pre-filmed videos coming your way! 
Just like many of you who are also working from home these days, my night time routine begins when work is wrapped up for the day. I wanted to include this in my night time routine because I think it's so important to be able to separate work and life. Having a separate home office has helped me do just that!
Dinner
After work, I like to get dinner started right away whether that means taking something out of the freezer to thaw or just planning out what I'm going to make. Lately, I've been trying to eat my dinner a little earlier just to give some time to digest before I lay down to rest for the night.
On this particular day, I was really in luck because we had some leftovers from the day before – I'm all about the leftovers these days! This beef stew that I made the night before and it was so yummy. By the way, there is no recipe for this one, but this stew is similar to this one on the blog. It is so hearty and warming, and you can sub lentils for your preference of protein such as beef or chicken.
Night Time Skincare Routine
It's my favourite time of night – time to get unready! If you're a long time HealthNut viewer, then you will know that I love my night time skincare routine, and I'm all about the clean and natural products. First things first, I like to get into my comfy robe and tie my hair up with a silk scrunchie.  
I've been testing out some new products that we will be adding to my skincare line very soon! If you don't know, I actually have my own skincare line called BeautyNut Skincare, which you can shop over at the HealthNut Shop. Our products are all made in Canada in small batches, and are 100% pure and natural. Check out our reviews on the HealthNut Shop to get an idea of what our customers have to say about BeautyNut Skincare!
Cleanse
To start my skincare routine, I am doing a little cleanse with this new glowy oil serum that I've been testing for months and will be coming to my skincare line soon. I'm not going to give away all the ingredients, but it has a beautiful golden hue and has been making my skin feel extra smooth and moisturized lately. Leave a comment down below if you can guess what this product will be! 
I like to do a double cleanse, especially on days where I am wearing makeup. So I am just following up with this gentle cleanser to remove any leftover gunk. It is natural and as the name suggests, very gentle on sensitive skin. 
Tone
After that comes my #1 favourite skincare product probably ever – rosewater toner! Some things just never change, ok?! This one is so hydrating, and balancing to combat the drying effect of tap water after washing.I just mist my face all over with it, and it feels so refreshing! 
Exfoliate & Moisturize the Lips
Since I'm going for the full skincare and pampering routine tonight, I'm also doing a Sea Salt Lip Polish. This is another BeautyNut Skincare product, and it gets all the dead skin cells off, while also helping plump your lips naturally and get the blood flowing. This is an essential for dry fall and winter skin, so definitely give it a try if you live in a colder part of the world. We're about to head into winter, and I want to be prepared! After that, I follow up with my Lip Butter to moisturize and rehydrate after the lip polish.
Detoxifying Face Mask
Today I decided to give my face a little bit of extra love with a charcoal face mask. I like this one because it doesn't get too dry on my face, and it helps pull out impurities. Like I said, we're doing the ultimate relaxing night time routine tonight, so I also decided to have a bath with some magnesium bath flakes while my face mask worked it's magic. 
Magnesium Bath
Baths with magnesium have really been my jam in my third trimester. Magnesium helps with body aches, restless legs and all the calming vibes before bed.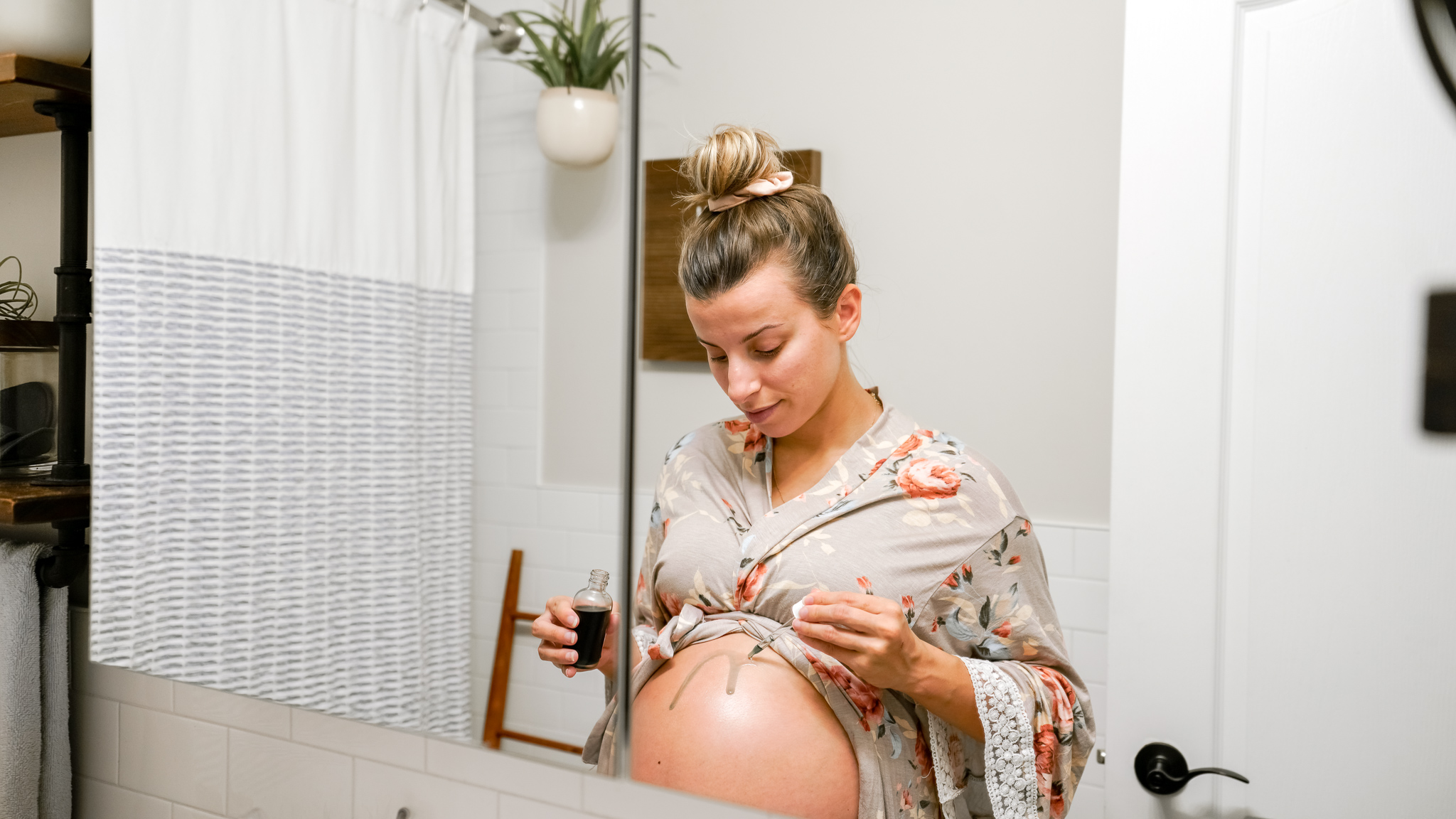 Blue Belly Oil for Pregnancy & Postpartum 
After my bath, I like to follow up with my blue belly oil, which is a DIY that I made myself with 100% pure essential oils. I also like to put it on my face at night – it's so soothing and nourishing and I've really noticed a difference in my skin because of this. If you'd like the recipe and instructions on how to make it, head over to this IGTV video I filmed! 
Moisturize 
Finally, I've been using this peptide eye cream in the evenings. It's a good one to use both day and night, as it is super hydrating and light weight, it feels almost like a gel. I then followed up with this rich but non-clogging Nite Skin Butter to really lock in moisture. This cream feels almost like an overnight leave-on hydrating face mask! You will wake up with baby soft skin the next day after applying this combo. 
Prenatal Stretches
Now that I'm feeling refreshed and relaxed after a nice bath and full skincare routine (I basically brought the spa home!) It's time for some prenatal stretching. Like I said, by the end of the day in my third trimester, I am feeling some aches and pains and tightness in my back and hips. I've been doing a few stretches at the end of the day that were recommended by my Prenatal Osteopath .  These stretches use my pregnancy ball (aka exercise ball) to help stretch my hips, and just loosen up my body. Again, pregnancy aches seem to be worse in my third trimester and at the end of the day, so this has been really helping me!
Finally, it's time to relax and watch a show with Mr. Matt! Lately we just finished The Haunting of Bly Manor which is a little scary but has a good story line and happy ending. It's so nice to cozy up with him and enjoy every last moment as just the two of us before we become a family of three (sorry four including Miss Cashew)! This is also where I try to guilt him into giving me a leg massage with my magnesium balm. I've been getting muscle cramping and restless legs, so this is just another way to help prevent that and get the best sleep possible! 
Calming Essential Oils
When it's almost time for bed, I like to put my diffuser on with some calming essential oils. I usually do this about an hour before bed, so that our room is filled with all the relaxing and chill vibes. Have I said relaxing enough in this post?! You get the idea – everything in my pregnancy night time routine is centred around relaxation! My favourite sleepy time essential oil diffuser blend is: Lavender, Cedarwood, and Orange. I do 3-4 drops of each! It creates such a nice ambiance, smells amazing and truly does help me to get a better night's sleep. 
I also roll on my bedtime oil blend right before laying down, which is called "tranquil". It contains essential oils such as lavender, which act as a nervine and calmative on the immune system. This gentle blend is a must-have for pregnant Mamas, kiddos, and anyone who has a hard time falling asleep or staying asleep at night. 
If you'd like to learn more about essential oils you can sign up for my free 7 day essential oils 101 email course here. In this course, I go over all the basics, how to use oils and you will also get a few downloadables with diffuser blends, roller blends, and more. 
Night Time Snack
It wouldn't be a pregnancy night time routine without a night time snack. It turns out growing a baby makes you hungry (or should I say hangry)!  My go-to bedtime snack is puffed brown rice cereal, topped with some sunflower seeds, fresh berries, a drizzle of honey and oat milk. You can't go wrong! It's such a satisfying night time snack. 
Acupressure 
When it's finally time to head to bed, I have a few rituals that are key for getting the best sleep possible in my third trimester. If there is ONE thing that you take away from this post, let it be this section. 
This acupressure mat will turn your pregnancy nighttime routine into the ultimate spa, cozy, and relaxing nighttime routine. No exaggeration. I like to lay on it (propped up with some pillows) for at least 30 minutes right before I fall asleep. In fact, sometimes I fall asleep laying on it because I'm so relaxed! By the way, you may be wondering if acupressure is painful or what it feels like. This mat has 8,820+ rounded spikes, which press against the skin trigger the body's innate way of healing itself, stimulating energy pathways known as meridians. For the first few minutes it will feel like a tingling prickly sensation, and as you settle in you feel your muscles begin to relax and restoration begins. Acupressure triggers the body to release endorphins, the body's very own "happiness drug" which provides a sense of joy, energy and pain relief, and oxytocin. 
I can't say this enough, but this is the most deeply relaxing and zen nighttime ritual ever. This acupressure mat has been one of my top essentials throughout this pregnancy, and I don't go anywhere without it. It's even coming to the hospital with me! It helps to induce a deep sleep, allowing your mind to relax and totally zen out while also getting your blood flowing and reducing aches and pains. 
I love this acupressure mat because it is made from sustainable, eco-friendly materials. Use code: BON15NIKOLE for 15% off your order!
Pillow Setup
Once I'm done with my acupressure mat, I like to get situated with my pregnancy pillow, wedge pillow, and another small pillow for my back for full-body support. The pregnancy pillow wraps all the way around my side body and neck, and I use the wedge to prop under my belly for support. The other little pillow goes behind my back for additional support, and to prevent me from rolling. I love this setup, and I don't know what I'd do without my pregnancy pillows! I feel like I'm in a little pregnancy cocoon, and this has me drifting off to sleep in no time. 
I hope that you found this post helpful, and if you are pregnant hopefully these tips help! If you try any of these nighttime routine rituals, I would love to know. Leave me a comment below, or tag me @healthnutnutrition on Instagram if you share your pregnancy nighttime routine.