Bright and cozy small home office makeover reveal! Ideas and inspiration for designing your small home office, and how to make the most out of small spaces! 
I'm so excited to give you a full tour of our small home office makeover! I am in love with how this room turned out – it's probably my favourite remodel that we have done so far. Next we are going to be tackling the nursery, which I am also so excited for!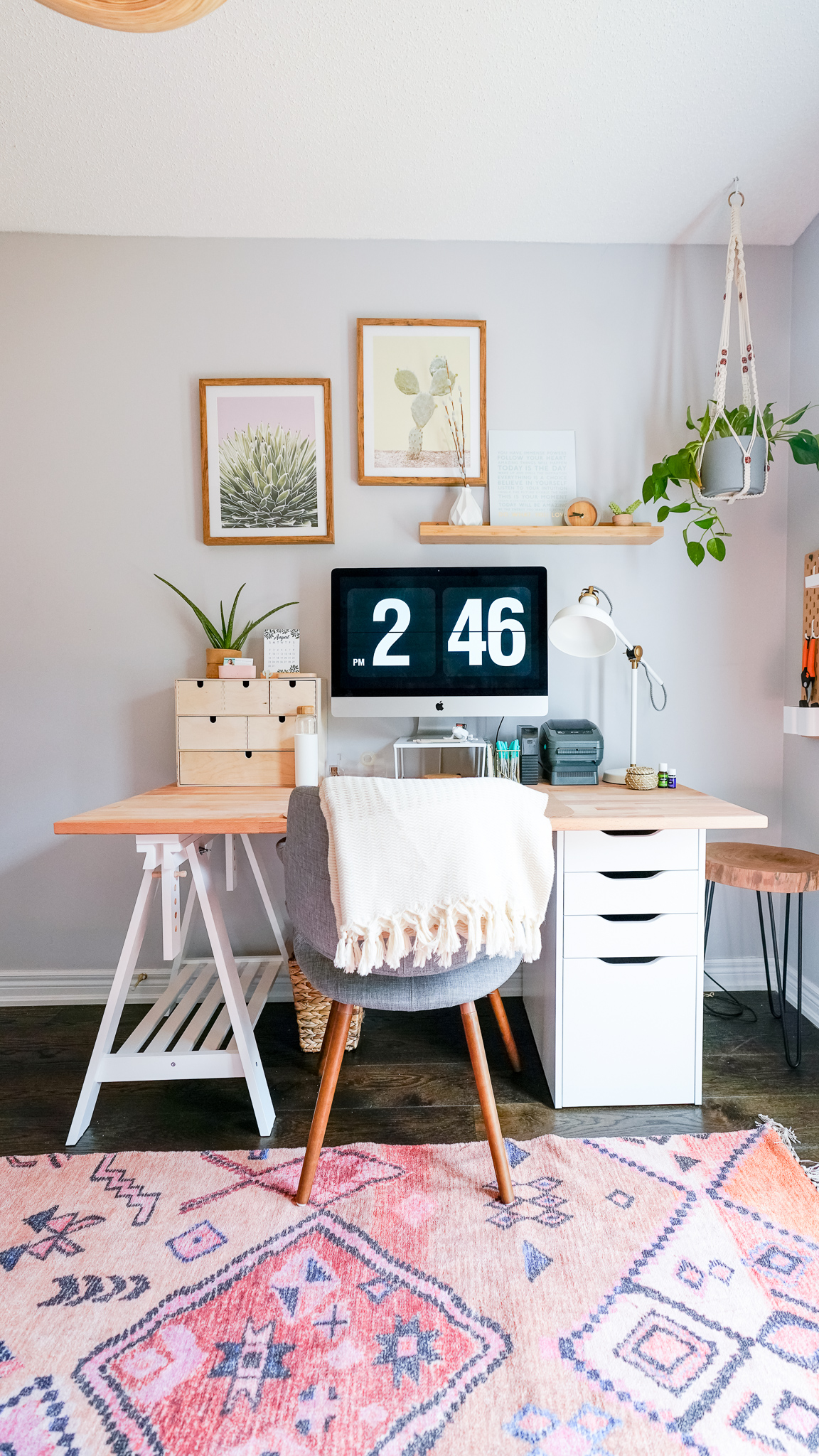 This small home office is very boho greenhouse-inspired, filled with plants, light and lots of wood accents. As a soon-to-be work from home mom-preneur, (Baby Acorn will be arriving in just 1 month!) I know that having an office space separate from the rest of our home will be essential. For years I have worked and lived in the same space – setting up camp at our kitchen table or on the couch with my laptop. Needless to say, it was about time that I had my own zen space to work and get inspired. 
The really cool thing about this home office makeover is that it was all inspired by my 2020 Vision Board that I made back in January! On my vision board, I had cut out a photo from Pinterest of a beautiful office with lots of plants, sunlight light and creative vibes. Later, when I was scrolling through Pinterest looking for inspiration for my Small Home Office Makeover, I came across the same photo again and blog post by Sara from Black and Blooms. Scrolling through the photos, I loved everything about Sara's style and design – so I pulled a lot of inspiration from her home office blog post as I was designing my own. So thank you, Sara for inspiring me!
Speaking of my vision board, of course I had to have both mine and Mr. Matt's framed vision boards hung up in our office. I think it's such a great idea to have your vision board up in your creative workspace – it creates such a positive atmosphere and provides motivation. It's also really cool to look back on because so many things from my 2020 vision board have manifested already (ahem Baby Acorn, the office… waiting on the ring)!
In this corner, you will also notice my little "storefront" and display area for BeautyNut Skincare! This is my natural skincare line that launched last fall and I am so proud of it – so of course it deserved a special place. Not to mention, the bright colours look like candies and add some fun decor and inspiration. I love these acrylic shelves, they were really easy to install and would work great in a bathroom as well!

Getting Creative With A Small Space
It may be hard to tell from the photos since we used a wide angle lens, but this office space is quite small! I was concerned when we started that it might be hard to create the office of my dreams in such a small space. But after seeing how this all came together, I think that if you get creative and work with what you have, you can make good use of the space that you have!  Some inspiration for all those small rooms in your home – I'm sure you can turn them into something amazing!

Plant Shelfie
Ever heard of a #plantshelfie? Once you go down the hole of beautiful #plantshelfie photos on Instagram, I'm sure you will have plant envy just as much as I did! I loved the idea of creating a little at home "greenhouse" and plant wall in my office. I think it brings in such a calming vibe, and will add some much needed green therapy in the winter time! Mr. Matt was under the impression that this shelving unit would be used for storage… little did he know I had other plant plans! This shelving unit I found is the perfect #plantshelfie, and it wasn't too difficult to put together either. I also found these white bins to add for organization – I love that they have lids so everything looks neat and tidy!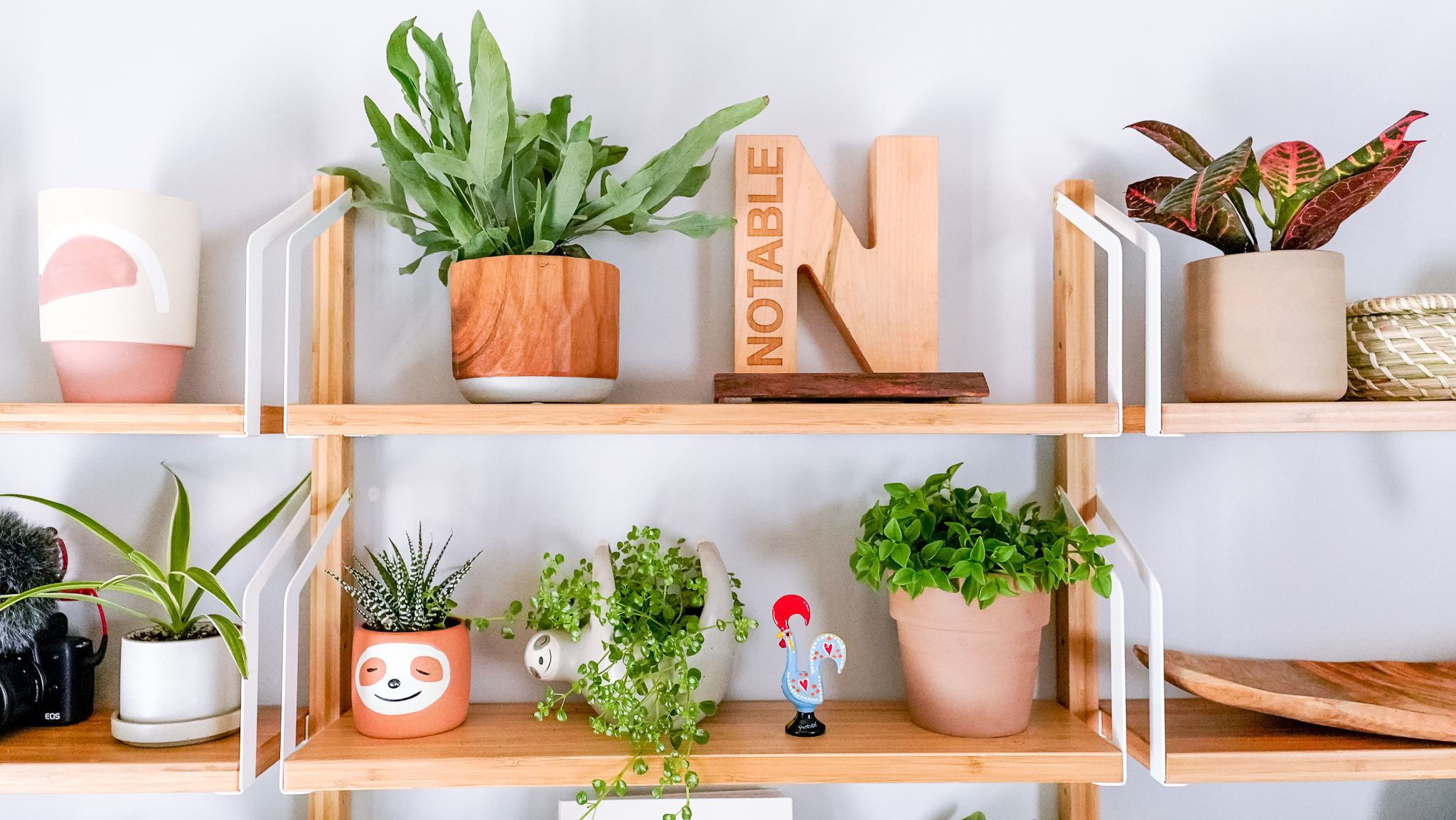 I really wanted this shelf to be the centrepiece of the office, drawing your focus when you walk in. There's a lot to look at, but in a good way! I included plants and pots of different shapes and sizes to add interest. Some of my awards are also on display, as well as keepsake items such as crystals and things that Matt and I picked up on our travels throughout the years. I also have a diffuser in my office with some essential oils next to it. This adds such a nice calming vibe to the space. Comment down below if you'd like me to share some of my favourite home office diffuser blends!

The Desk
It was really hard to find the right style of desk that I was looking for. I wanted something minimalist, with white and wood accents. I looked everywhere before finding this desk (which was also on the blog post from Black and Blooms that inspired all of this)! I love the look of the desk but it's also great quality as well. The wooden top is solid (not particle board) and it is customizable. You can either have the trestle legs on both sides, or trestle on one side and drawers on the other end – as I opted for. 
Above the desk, these floating picture ledge shelves look really nice and add another touch of wood to the room.
On top of my desk I have kept things really simple. I have this mini chest of drawers to help with organization, and a few decorative pieces I got on Etsy! Including this fun pink concrete business card holder, this calendar stand, and these clay diffuser balls that can be used to diffuse essential oils! On top of the chest of drawers is this wood wifi porter, which is a fun little gadget that guests can tap to easily sign into our wifi. I also have this wooden phone charger, which helps to keep my desk clutter and cord-free.
I used this computer stand to bring my computer to perfect eye level, and I also think it looks so cute! Underneath my mouse and keyboard is this cork mat to help with wear and tear on the desk, but also to prevent the keyboard from slipping. I love this simple white desk lamp that I found at IKEA! For my desk chair, I am actually using this chair from our dining room for now but I think it fits really well.
Last but not least, I was so excited to find this beautiful boho style rug to finish off and pull together the whole look of this small office. It is cushy and cozy, and I think it provides the perfect pop of colour for this room. Cashew loves laying on it!
I hope that you enjoyed this small office makeover! Be sure to leave a comment down below if this inspired you, and let me know if you are now scheming to build your own #plantshelfie wall! Be sure to follow me on Instagram @healthnutnutrition for daily inspiration, healthy food, and for updates when Baby Acorn arrives!