10 things to do at home to stay happy, healthy and positive. 
We are all going through this challenging and unpredictable time together, and I know that many of you have already been staying (safe!) at home now for quite a few weeks now. 
To help take your mind off things and make it easier to enjoy this time at home, I wanted to share 10 things to do at home! I hope that this post helps to ease your boredom, inspires you, and maybe even help to ease your anxiety with some of the self-care tips I've provided. 
I would also like to say thank you to all of the frontline workers and healthcare heroes who are currently working so hard to keep the rest of us safe. We are so grateful for each and every one of you! As a thank you, we are currently offering 20% off to all frontline workers over at the HealthNut Shop as a small thank you for all of your hard work during this time. 
I really hope that this list is helpful for those of you who are safe at home! I encourage you to take this time to slow down and enjoy your time at home as much as possible. And if that means watching less news so that you feel less stressed – then do it! As someone who already deals with anxiety, this is something that has really helped me feel more calm and centered. 
Skincare Routine & At Home Spa
My skincare routine has become a very relaxing daily ritual for me. Taking the time to pamper yourself every day can really help to put you in the right mindset and help you feel more peaceful and calm. You can check out my DIY Body Scrub recipe on this blog post and download my Natural Skincare Cheat Sheet here! I have also included all of my favourite natural skincare products on my Natural Beauty page. Watch my Self-Care Morning Routine for my current skincare & at home pamper routine!
Spring Cleaning + Organization 
While you're at home, you might as well enjoy the space that you're going to be spending lots of time in! Last week I shared my Non-Toxic Spring Cleaning Routine with lots of tips on how to clean everything from your dishwasher, to grout and tiles in your bathroom, wood furniture and more.  Once spring cleaning is checked off your list, it's time to organize! Start with your pantry and fridge. I don't know about you, but I always feel so much more inspired to cook when the kitchen is clean and organized!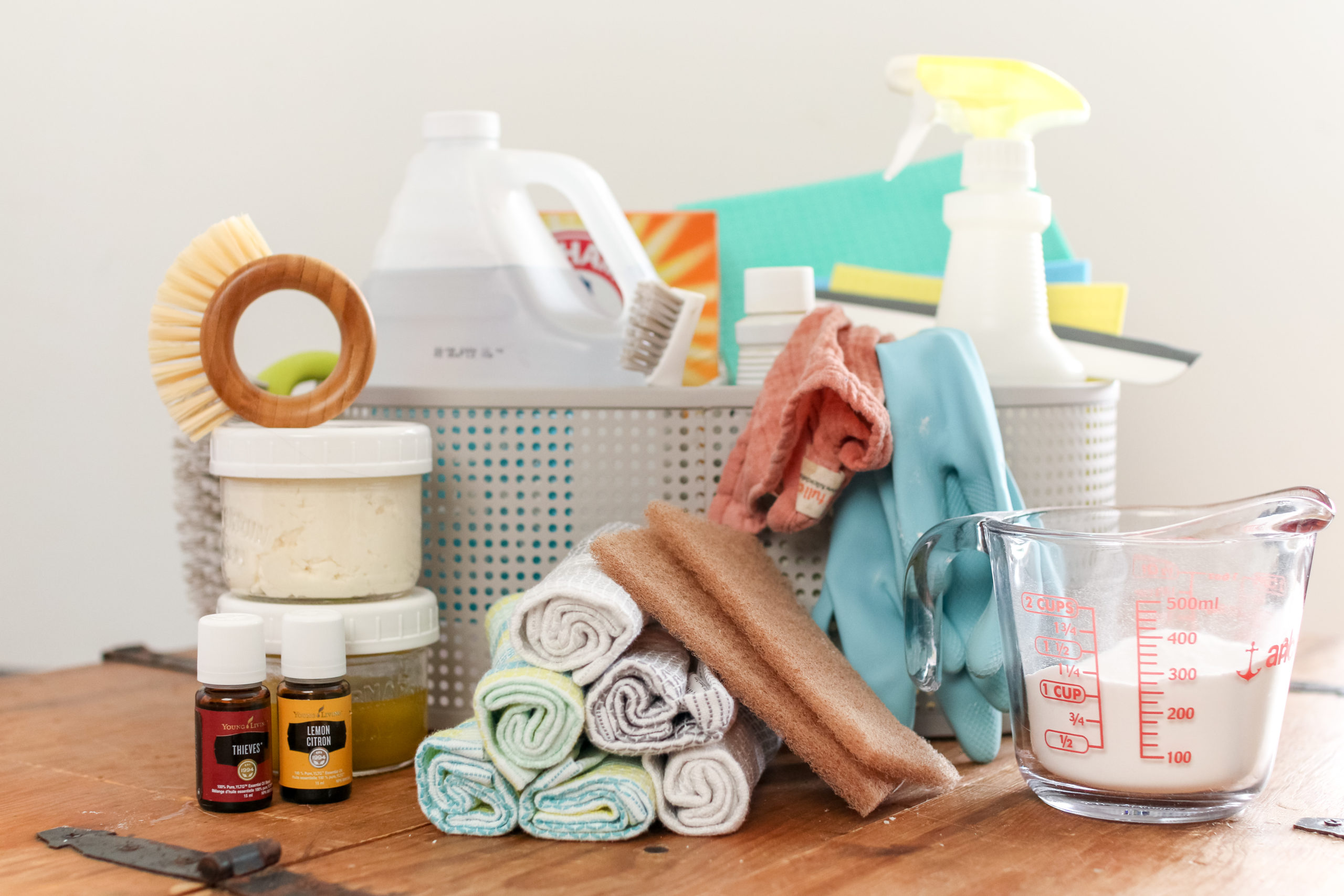 Meditation
For the past two years I have made it my mission to meditate every morning for 30 minutes, and it has changed my life. I get a lot of questions about what I listen to when I meditate. While I can't share the exact tapes with you since they are guided meditations customized for me by my hypnotherapist- I can direct you to some great resources! 
Headspace – currently offering their services for FREE for healthcare workers in the USA. There is also a large collection of free meditations available in the app for everyone – called Weathering the Storm. Once you make a free account you will be able to access those meditations.
Calm – Calm is another app that you can use for meditation and sleep. They are also offering free resources during this time including meditations, sleep meditations, yoga, and soundscapes. You can access all of that here!
Marissa Peer is one of my favourite hypnotists and she has some great guided meditations on her YouTube channel. Check out this guided meditation for Inner Peace.
Plant a Veggie or Herb garden
As you may know, last year Mr. Matt and I moved into our new house and although we didn't get around to planting a garden last summer… I have high hopes to plant one this summer! Kale, lettuce, sugar snap peas and tomatoes are some of the veggies I hope to plant. And for herbs I've love to grow basil, thyme, dill, rosemary…. the list goes on! 
You can order seeds online in Canada via this Organic Seed Directory, or in the US from Grow Organic. What do you plan on growing this spring / summer?! If you have any tips for a newbie gardener, please comment below and let me know all your secrets to growing the best veggies and herbs at home! 
Bake Something Healthy
Baking is so therapeutic, wouldn't you agree?! My Instagram feed has been filled with cookies, banana bread, brownies, cupcakes, and even homemade bread lately! I'm kind of loving the fact that so many people are taking this time at home to enjoy some extra time in the kitchen. If you're looking for some inspiration, I've got you covered. Baking is one of my favourite past times (anyone remember when HealthNut Nutrition consisted of mostly breakfasts and healthy baked treats back in the day)?!
What to Bake:
Make a Calming Essential Oil Roller
I've been leaning heavily on my essential oils lately for emotional support, and I can't say enough good things about them! Some of my favourite calming oils right now are: peace & calming, valor, frankincense, stress away, tranquil, and white angelica. And of course – lavender! You can head over to my Essential Oils page to learn more on how to order these amazing blends, or join my free Essential Oils 101 email course here. In the email course, you will get three free printable cheat sheets including one with all my favourite roller bottle blends! 
Move Your Body
I've said it before and I'll say it again… I always feel so much better when I make the time to move my body! Whether it's yoga, a long walk, or a workout video that you can do from home – make the time and you will feel so much better. Some of my favourite places to go for workout videos or yoga are: Yoga With Adriene , Sarah Beth Yoga, and Boho Beautiful. 
Cook Your Way Through A Cookbook
Cook your way through a healthy cookbook… but not just any cookbook – the HealthNut Cookbook! Haha no but seriously – whatever book you choose, I think this is a great way to gain inspiration while also staying healthy and motivated. You can even get the whole family involved if you have kids at home who like to join in on the fun in the kitchen. Or better yet, get your significant other to cook for you like I did with Mr. Matt recently!

Host a Virtual Dinner Party with Your Friends and Family
The current situation in the world does not mean that we have to socially disconnect from friends and family! In fact, one of the best ways to be positive and protect our mental well-being is to stay connected with our loved ones. Relationships, dinner dates, good food and laughter are not cancelled!
With that in mind, I encourage you to host a fun virtual dinner party! Heck, you can even dress up if you want to! If you're not sure where to connect online, some great programs that we've been using are Zoom, Google Hangouts,  House Party or even good ol' FaceTime. Pick your spot, pour a glass of wine and enjoy each other's company – virtually!
Need some dinner party menu inspo? Choose from some of our most popular recipes on the blog: Apple Bacon Kale Salad, Creamy Chickpea Curry, Crispy Baked Chicken Wings, or Butternut Squash and Spinach Lasagna Roll-Ups. You can also check out my Easter Recipe favourites here. 
Read a Book  or Listen to Podcasts
Whether you like reading or listening to a good podcast – you really can't go wrong with either! I personally love doing a mix of both when I'm at home and ready to unwind. There's something about getting lost in a story that I find so relaxing!
Here a few good books I am reading/listening to at the moment:
Here a few good podcasts I am listening to at the moment:
What activities are you going to be doing while you stay safe at home over the coming weeks? I hope you enjoyed this post and all of these ideas! Be sure to tag me on Instagram @healthnutnutrition if you are inspired to do any of these at-home activities!