These warm, gooey, soft, homemade cinnamon rolls drizzled in the most delicious refined sugar-free glaze are the perfect treat for breakfast and dessert this holiday season!
I think it's safe to say that at some point we all gave in to the Pilsbury doughboy cinnamon rolls at the supermarket. OR lined up at Cinnabon just so that we can get our hands on that delicious gooey cinnamon goodness. I'll admit – many many years ago I was that girl. There's nothing like biting into something warm and gooey and oh so decadent once in a while.
Refined Sugar Free Icing
Making fresh homemade cinnamon rolls has been on my bucket list for quite some time. I attempted to make them a few years ago, but they were an epic fail. Mostly because I was trying to make them super healthy, gluten-free, sugar-free, fat free, etc. You know where I'm going with this… But let's face it, every once in a while you just have to indulge! And, you can still healthify your favourite desserts by making a few minor adjustments!
In this recipe, I swapped the white flour with light spelt flour, and replaced the brown sugar with coconut sugar. Finally, I made the most delicious glaze that's refined sugar free! The one thing I was not willing to swap out was the butter! Now let's go back to that delicious glaze – I think this is my favourite part of this recipe. You're never going to believe that there's no icing sugar in it. That's right! The secret ingredient is down below in the recipe card!
Tips for making the perfect cinnamon rolls
Although it takes some planning and patience to make your very own cinnamon rolls, it's so worth the effort and wait. You do have to let the dough rise a couple of times, yes a couple of times, so this is definitely not a dessert you can whip up in a pinch! The most important thing is to make sure that your yeast is not expired otherwise it won't activate and your dough will not be able to rise. I'll admit it, I think I put off making this recipe for a while because I was a little intimidated to work with yeast. But honestly, once you do it, it's actually pretty easy. And there's nothing like poking and punching a soft risen dough…it's the most fun and satisfying thing ever!!
My other recommendation would be that you thoroughly read through the instructions before beginning. I know it seems like there are a lot of steps, but I promise you they're quite easy to make.
If you're looking for more yummy dessert recipes to make for the holiday season you're in the right place! Check out my Peanut Butter and Thumbprint Cookies and Gingerbread Cupcakes Recipe with Molasses Cashew Buttercream , I know you guys are going to love them!
Let me know in the comments below what recipes are on your bucket list!
If you make this recipe, be sure to share a photo on social media and tag me @healthnutnutrition #healthnuteats so that I can see your creations! 
Recipe
Homemade Cinnamon Rolls
These warm, gooey, soft, homemade cinnamon rolls drizzled in the most delicious refined sugar-free glaze are the perfect treat for breakfast and dessert this holiday season!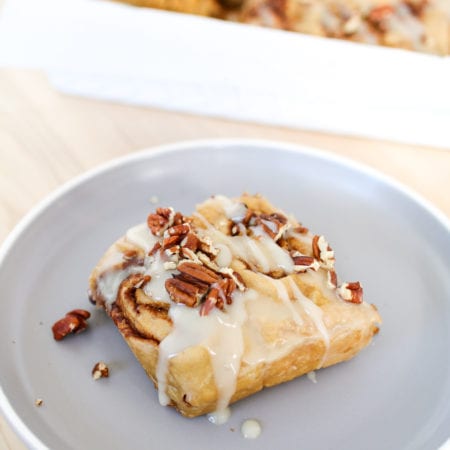 Print Recipe
Save Recipe
Make the dough. In a small saucepan, warm the almond milk on low heat until it reaches a temperature of 100℉ to 110℉ (37℃ to 43℃). Remove from heat, transfer to a medium mixing bowl and sprinkle the yeast and sugar on top. Set aside undisturbed for 10 minutes until foamy and bubbly.

Meanwhile melt the butter on low heat, making sure the temperature doesn't reach above 110℉. Whisk in the melted butter, egg yolk and vanilla into the yeast mixture until well combined.

Combine the flour and salt in a large bowl and make a well in the center. Pour in the wet mixture, stir gently until well combined and forms into a thick and sticky dough. Turn out onto a floured surface and knead for 5 minutes using a sprinkle of flour if too sticky. Shape into a ball. (If you have a stand mixer, you can use the dough hook attachment on the lowest setting to knead the dough for about 4 to 5 minutes)

Brush a large bowl with 1 teaspoon butter or oil and add the dough, flip it to coat the dough in butter or oil (this will prevent the dough from drying out) cover with a kitchen cloth or plastic wrap. Let rise in a warm dark place, like inside the oven or microwave, for about 1 to 2 hours or until doubled in size.

Make the filling. In a small bowl, combine the sugar and cinnamon. Set aside.

Roll the dough out on a well floured surface to about 12" X 18" rectangle. Spread the softened butter over the dough, leaving a 1-inch border at the top of the long side and top with the cinnamon sugar. Tightly roll the dough from the long side into a log shape. Using a sharp knife, cut the ends off, then cut into 12 equal rolls.

Place the rolls in a well buttered 9" X 13" baking dish, making sure to leave space between the rolls and the edge of the baking dish (this will give room for the rolls to rise). Cover with a plastic wrap or tea towel and let rise in a warm dark place for about 2 hours or until doubled in size.

Preheat the oven to 350℉. Uncover the rolls and brush with melted butter. Bake for 18 to 20 minutes or until golden brown.

Make the glaze. Heat the coconut butter, almond milk, maple syrup, vanilla and a pinch of salt, over low heat. Stir until smooth.

Remove the rolls from the oven and pour the gaze over it. Sprinkle with chopped pecans or walnuts. Allow to cool for a few minutes before serving. Store any leftovers in an airtight container on the counter for up to 2 days, or in the refrigerator for up to 1 week.
NOTES:
* You can also use regular spelt flour it just won't be as light and fluffy and I would start with only 2 3/4 cups of flour since its more dense.
**If you want to have fresh cinnamon rolls for breakfast but don't want to wake up at the crack of dawn, simply prepare them the night before and follow the instructions until the second rise. Then place them in the fridge overnight, making sure that they are tightly wrapped so that they don't dry out. In the morning, let the rolls sit in a warm place for about an hour. Preheat your oven to 350℉, remove the plastic cover and bake as directed.
similar recipes