I'm always looking for fun new ways to jazz up my salads since at times they can start to look a little lonely. I've heard about roasted chickpeas for a while now and had yet to give them a go until now. Crazy I know! Not only are the great for my original intention, which was as a salad topper, but also they're equally delicious if not better enjoyed on their own. Roasted chickpeas are a great healthy swap for potato chips, pretzels you name it. If you're not a savory lover, then try making a sweet version by drizzling some maple syrup and a sprinkle of cinnamon on top. Come to think of it that sounds delicious too.
I created a garlic savory version because I was really craving a healthy alternative for the average croutons you normally see on a Caesar salad. Can you really eat a Caesar without croutons? I didn't think so.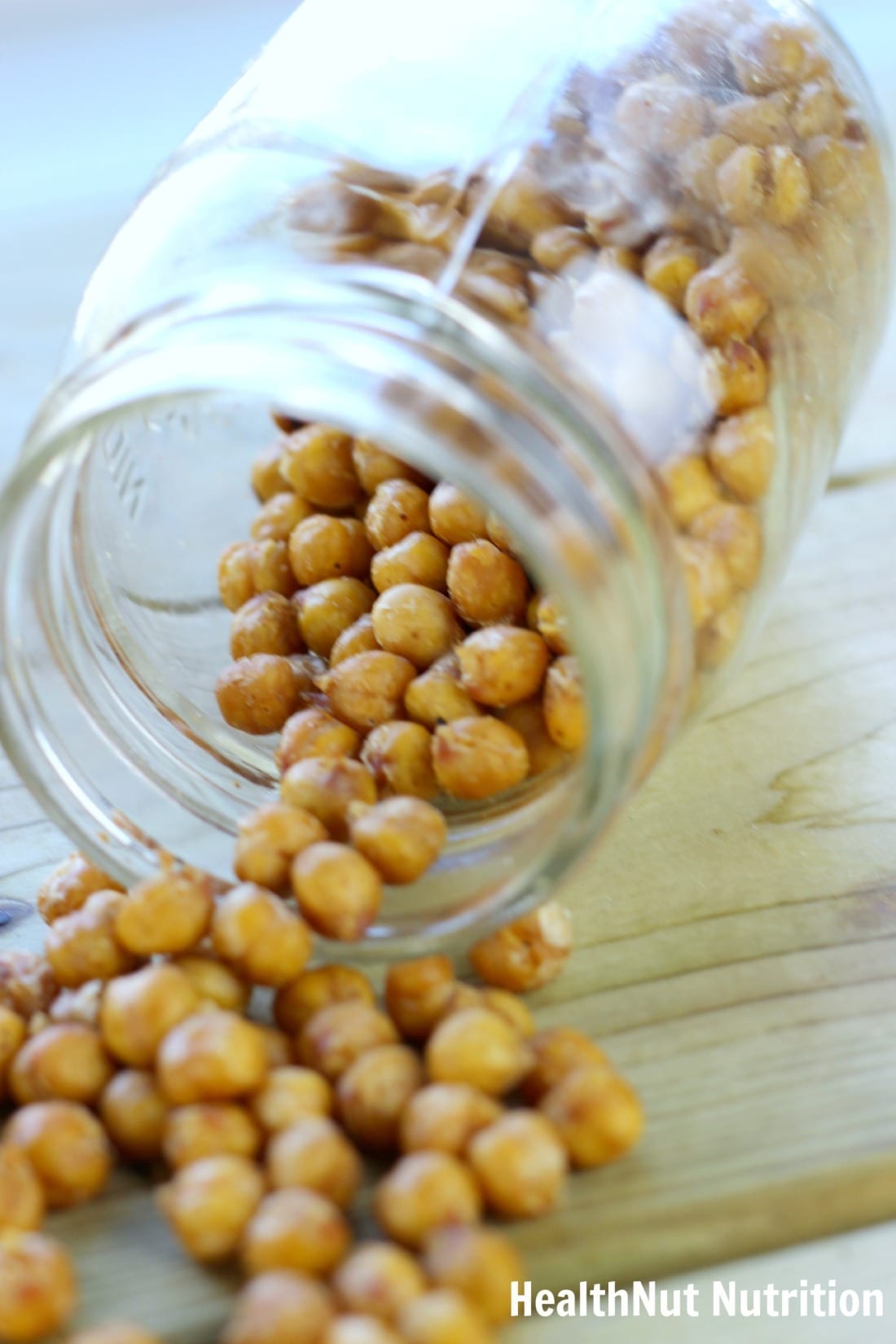 This is a perfect option for all those peeps out there with an allergy or sensitivity to gluten. I don't have a sensitivity (that I know of yet) to gluten but I do notice a difference when I limit my intake. I'm less bloated, I have less sugar/ junk food cravings and I just feel lighter on my feet if that even makes sense haha! My sister's skin is extremely sensitive to gluten so she avoids it entirely so I can't wait for her to try these little guys out.
Recipe
Roasted Garlic Chickpeas
Roasted garlic infused chickpeas.
1

can chickpeas

roughly 1.5 cups

1/8

teaspoon

cayenne

1/2

tablespoon

garlic powder

1

tablespoon

melted coconut oil

Salt and pepper to taste
Preheat your oven to 400F.

If using can chickpeas, rinse very well under running water,strain and lay out on a cooking sheet to dry. I like to pat dry mine with a tea towel to speed up the process.

Once chickpeas are dried, pour into a medium sized bowl and add your coconut oil and seasoning.

Give it a good stir while being gently not to squash the chickpeas.

Next, pour chickpeas onto a parchment lined cookie sheet and pop into the oven to bake for 40-45 min depending on your oven.

I like to move the chickpeas around at the 20 min mark so they roast evenly.

Once roasted, take them out of the oven to cool before storing them in a glass container.
These will usually stay crispy and good for 3-4 days.
similar recipes
I hope you try out this super quick and easy roasted crouton recipe and send me photos via social media using the hashtag #healthnuteats so I can find and like your photos. I love seeing you recreate my recipes, it truly makes my day!
Comment below telling me what your go to crunchy snacks or salad toppers have been.
Happy healthy snacking.