My best tips to prepare for a natural unmedicated birth. How to support your body during pregnancy, labour, and delivery using safe and natural techniques. 
If you've been following along my pregnancy and motherhood journey, then you may know by now that I am very passionate about birth, babies, and natural living. As a long time HealthNut, I went into my birthing experience hoping for a natural, unmedicated birth, but I was open to other alternatives if needed. Honestly, I wanted to fully experience what it was like and looking back now I am so glad that my birth plan worked out the way it did. 
I have chatted a little bit about what I did to prepare for my natural unmedicated birth in my Birth Story blog post as well as my Third Trimester Recap, but I wanted to go into more detail about what I did to prepare. Before we dive in, I also want to preface that all births are natural and beautiful. Whichever way you are going to birth your children is beautiful and unique. Whether by c-section, vaginal birth, using drugs, or no drugs… it's all part of your unique and beautiful experience.
This is what I did to prepare for my natural unmedicated birth. Of course, leading up to my labour and delivery, I was hopeful that these techniques would help. Looking back now, I can say for sure that I think all of these things helped me to prepare for my unmedicated natural birth. Which is why I want to share them with you! So if you're a soon to be Mom, read on! I hope you find these tips and techniques helpful. 
Build a Positive Birth Team
In Canada, you can choose between an OB-GYN (obstetrician-gynecologist) or a midwife. At the start of my pregnancy, I was on a waiting list to get a midwife. This was always the route I wanted to go, but my doctor advised me to see an OB-GYN in the meantime while I waited to be confirmed with the midwife, and I could always switch partway through 
My experience with the OB-GYN was not great. It found our meeting to be very impersonal, and they only gave me about 10 minutes of their time. I felt uncomfortable being open and honest about what I wanted, or about asking questions. It didn't feel like a safe space, and I was very discouraged. After my first appointment (which was in-person, Matt was able to attend via Facetime from the car) – we decided that was not the route for me. 
Halfway through my second trimester , I was finally off the waiting list and able to get in with my midwife! A common misconception is that having a midwife always means having a natural, unmedicated, home birth. But that's actually not the case – a midwife is a specialized healthcare professional who cares for both mothers and newborns – no matter what kind of birth you plan to have! 
Immediately after meeting our midwife (our first appointment was on a video call) I knew that we had found the right person. Not only was it much more personal, but they also take the time to talk over everything you could possibly think of! I was able to ask all my questions, talk about supplements to take, and lifestyle changes. Best of all, I felt totally comfortable talking about my needs and worries with her. 
From my experience, I can't recommend getting a midwife enough.I believe that the people you surround yourself with for your birth team are crucial.
Speaking of our birth team, we also had a doula! The way I look at it, your midwife is there to make sure the baby is healthy, and your Doula is there to support you as a Mom. As a first-time parent, this was amazing. Having a Doula is something you pay out of pocket for (in Ontario) but is totally worthwhile. Our doula helped to prepare our birth plan, and after sage was born, we had support from both our midwives and doula – who came for checkups right at home. 
Focused On My Health (Food + Fitness)
The second thing I did that I think made a big difference in my pregnancy was staying active and focusing on my health. They say being pregnant is a full-time job, and I can attest to that! 
Apart from my first trimester , where I felt like I couldn't eat anything beyond crackers, cereal and soup… I tried to eat as healthy as possible. Of course, it's important to eat well during your pregnancy to get those key vital nutrients in for the baby! I also took supplements to ensure that I was getting all the right vitamins and minerals every day. Be sure to check with your professionals about what supplements you should take.
Apart from eating well, I also stayed active. Walking was my favourite type of exercise. It helped with body aches and pains, and reducing overall stress. When I wasn't walking, I also did weekly training sessions with my prenatal coach Laura, at-home stretching, and yoga.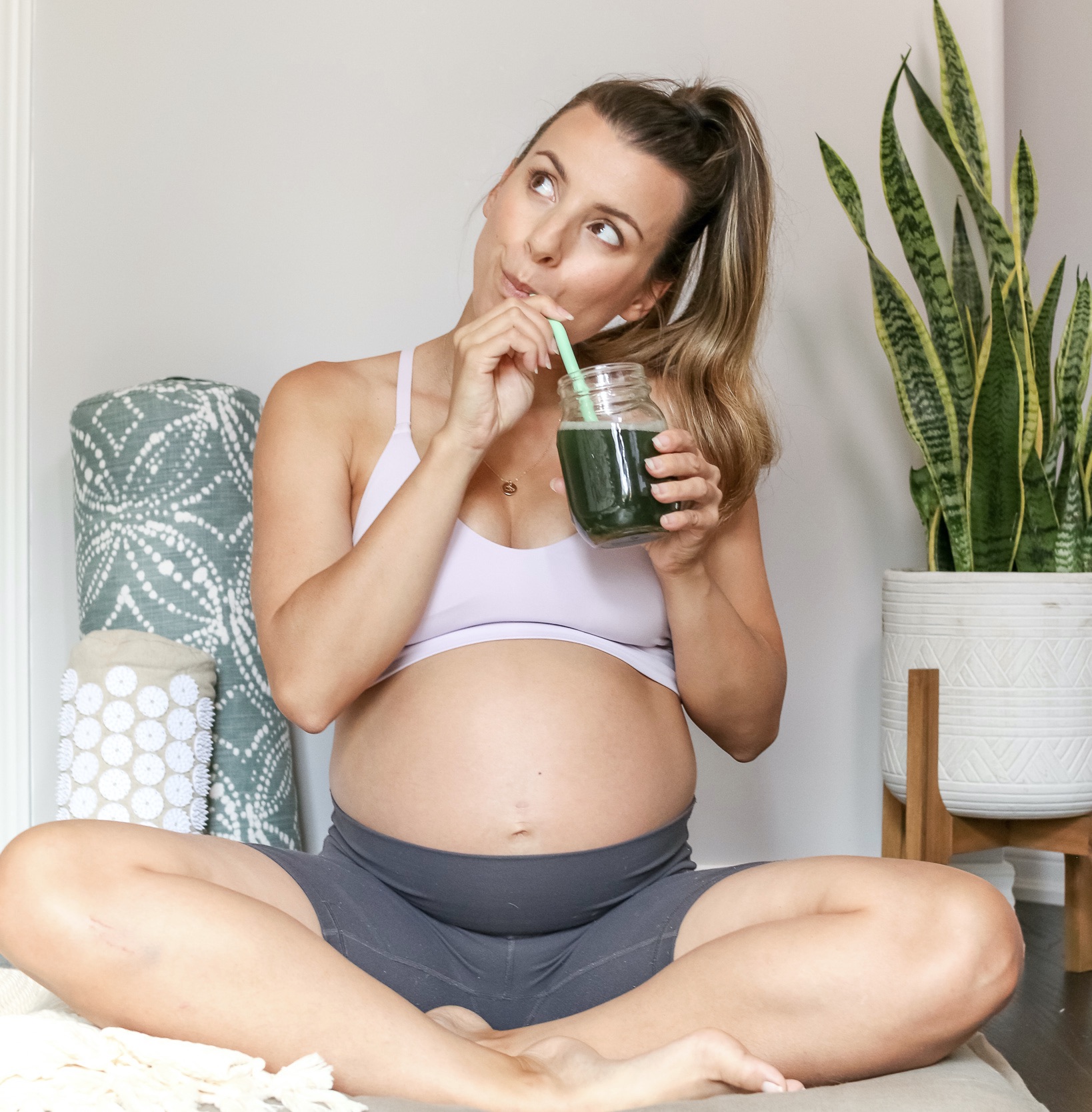 Pelvic Floor Physiotherapy
Pelvic floor physio is something that I think is so underrated! This is not covered by OHIP in Ontario, so you do have to pay out of pocket or if you have health insurance most plans will cover it (ours did!). That being said, even if you don't do a ton of appointments, book in for a few just to see where you're at.
Your pelvic floor is so important – it holds all the organs and baby in place and is under a lot of pressure when you're pregnant.  If you don't take care of it now, later on, you may pay for it later! I don't know about you, but I want to do everything I can to ensure that I don't pee a little every time I cough, sneeze or laugh! Haha Not only that, but it's also a great way to prepare for labour and delivery. You will be given different exercises depending on how far along you are in your pregnancy. Near the end of your pregnancy, they also give exercises to help you relax your pelvic floor muscles and get ready to birth your baby!
Acupuncture
From the second trimester onwards, I started getting acupuncture and I have to say, it's my new favourite health habit. It helped me so much with sleep, feeling calm, helping with digestion and reducing bloating. It's so important when you're pregnant to stay calm and relaxed because if you're feeling stressed, the baby feels that too! Later on, I also did induction acupuncture which helped to prep my body and go into labour. 
Perineal Stretching
Perineal stretching – I can't say enough good things about this! If it's something you're comfortable with I highly recommend it. I attribute this to be a big reason as to who I didn't tear on my perineum. I did get some micro-tearing near my urethra, but I needed very minimal stitching. If you didn't know, your perineum is the bottom area of the vagina and is most commonly where tearing occurs. We started to do perineal stretching every day from 35+ weeks up until birth. You can have your partner help you with it, or do it to yourself. All you need is a little bit of coconut oil as a lubricant! Check out this how to video on how to do perineal stretching for a more detailed explanation.
Evening Primrose Oil Capsules
After perineal stretching, we also inserted an Evening Primrose Capsule next to my cervix. This was something recommended by my midwife and doula. It helps to lubricate and soften the cervix in preparation for birth. On top of this, I also took evening primrose capsules internally every day.
Red Raspberry Leaf Tea
Red Raspberry Leaf tea is supposed to help tone your uterus to prepare for labour. I drank 1-3 cups a day. I can't know for sure if it helped but I figured it was worth trying!
Hypnobirthing
Near the end of my second trimester  beginning of my third, we started a 6-week long hypnobirthing course. which was was an online video call every Sunday. I liked it because it was a nice way to connect with other Moms and parents and talk about different stages of birth. It helped us to feel more comfortable with the topic, and learn how to meditate through contractions using visualizations.
It was also nice because it was something Matt and I could do together as a couple to prepare for birth and becoming parents. It kept us accountable and helped us research new things about birth every week. We also learned about pressure points to use during labour and delivery, and different terminology that helps to make birth more of a positive experience. For example, contractions can be referred to as "waves", and pain referred to as "surges". I enjoyed this comforting, positive approach and would definitely recommend it!
Meditation
Speaking of hypnobirthing, I think what made even more of a difference for me going into my labour and delivery – was my meditation practice. I have been meditating for 30 minutes everyday for the past 3+ years, and I can't even begin to fully express what a difference it has made in my life. Meditation is truly the one daily practice that has improved my anxiety and helped me to feel my best. It's a non-negotiable in my morning routine, which you can read more about in this blog post. I believe this background in meditation is what helped me remain grounded, centered and calm throughout my labour and delivery. It helped me to cope with the pain and have the calm mindset to keep going!
Get Organized & Have a Birth Plan
I may not need to tell you this because those nesting instincts during pregnancy (especially the last trimester) are so strong! But getting organized is key to helping you feel calm and ready for the baby to arrive when the time comes. Having a birth plan or goal is a great idea because it helps you think about all the things you may have to decide on during labour.
When questions come up during labour, you are not in the right mindset to make decisions. So having them planned ahead of time makes it much less stressful. For example, in our birth goal, we planned for a hospital birth. But because I progressed so quickly at home (I was 8 cm dilated when the midwife arrived) we almost had a home birth. At the moment when we were asked to make the decision of what to do, it made it easier to choose to go to the hospital because we had already decided that in our birth plan!
Another way you can get organized is to pack your hospital bags and have the baby's room ready. I was so grateful that we had finished the nursery when we came home from the hospital. It's one other thing off your list that you don't have to worry about as a new parent! If you're looking for tips on newborn essentials and what you actually need in those first few weeks – check out my Newborn Essentials and Must Haves Blog post 
Don't forget to plan for your dog / who will take care of your dog or other kids as well. Having everything ready and decided is a great way to give yourself space to just focus on giving birth!
Be Open Minded
Your midwife, doula or OB-GYN will likely tell you the same thing – but it's important to be open-minded. You don't know if you're going to have a c-section, if you're going to need an epidural, or if you are going to try for a natural birth. I really wanted an unmedicated birth, but I knew if it was too intense, I would be ok with having an epidural. Whatever I needed to do to ensure that I was safe and the baby was safe. Even if you have a preference for things to go a certain way, you can still be open to other alternatives.
Create a Calming Atmosphere During Labour
A few that helped me to be calm and mindful during birth were playing calming music, dimming the lights, and sitting in a warm bath. We also diffused essential oils and rolled them on my body (wrists, chest, spine). I sniffed peppermint for nausea during labour (which helped so much) and rolled on Valor for bravery and courage.
Matt helped by pressing on my hips to help relieve pressure and this really got me through some tough contractions. Having some go-to ways to support your body and remain calm during labour is essential! Anything you can do to minimize the pain (aka surges) and distract yourself.
That wraps up all of my best tips for a natural unmedicated birth! I hope that you found this post helpful to learn how to support your body during pregnancy, labour, and delivery using safe and natural techniques. For more pregnancy and motherhood posts, check out the motherhood category on the blog, and be sure to follow along over at @healthnutnutrition on Instagram for daily Baby updates! And if you are curious about how things have been going post-birth recovery-wise over here, check out the blog post all about My Postpartum Experience!