My Birth Story as a first-time Mom + How I Prepared for A Natural (Unmedicated) Birth!
I'm sure by now, many of you have seen my Birth Vlog that I shared last week! I never thought the day would come where I would be sharing my most vulnerable moment on the internet for everyone to see, judge, cry, comment, relate to, learn from, whatever it is you feel after watching my Birth Vlog. This is our story and I'm proud of it.
The truth is, nothing can really "prepare" you for labour. Yes, you can take hypnobirthing classes, read all the books, drink the teas, eat dates, stay active, watch all the birth vlogs and seek advice from fellow mamas, but until you birth a baby out of your body, I believe you can't understand it to the same degree.⁠⁠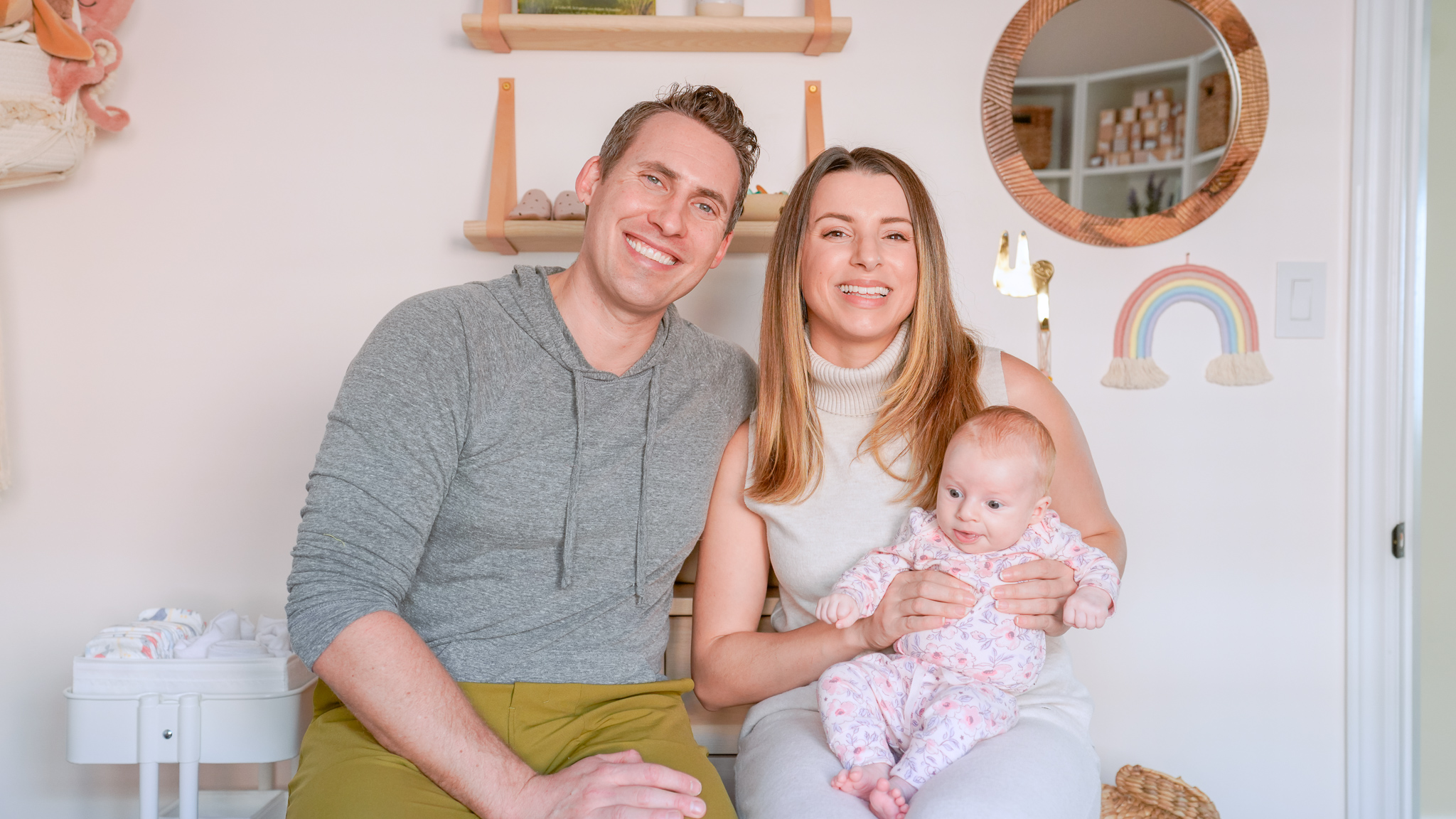 Birthing our baby girl Sage was and is the most overwhelming, intense yet gratifying experience of my life. Yes I chose no drugs and yes it was beyond the most painful thing I've ever experienced, but it does not make me any better of a Mom than someone who had an epidural. All that matters is that you and your baby are healthy and that you had the choice to birth your baby however you felt most safe and comfortable. Even if that means an unexpected c section!⁠
This experience has forever changed me. My perspective on life, family and what I am capable of pushing through (literally!). Life is scary, beautiful and worth every tear and laugh. When I look down at my soft, wrinkly tummy I am reminded of my superpower and that I created a human being, with the help of a puzzle piece from Daddy of course!
⁠Thank you to my life partner and best friend @matthew_varga (aka Baby Daddy) for never leaving my side and staying strong for the both of us when I needed you most. 
⁠Childbirth is real, raw, scary and hard but also empowering and beautiful at the same time, and I hope my Birth Vlog portrays that in all the best ways possible.
Our "Birth Plan" or Birth Goal
Before I get into telling the story of baby Sage's birth, I wanted to first share our birth plan! When I was pregnant and doing all my research, I found it really helpful to see other people's birth plans to get an idea of what to expect. 
A "birth plan" is really just an ideal scenario aka a "Birth Goal" of what is going to go down, but of course not all births will go to plan. It's just good to have an outline planned out, because when you're actually in labour it's hard to make decisions! 
Our plan was basically to labour at home for as long as possible, then go to the hospital. We knew that we would be able to have our Doula and Midwife at home to help out, and once we went to the hospital we were able to just have the Midwife (at this time I was only allowed 1 support person which of course I chose Daddy). I was open to having an epidural if needed, but my preferred plan was to have an unmedicated birth. You can view our birth plan here.
Due Date
At my 40 week appointment on Wednesday November 4th (which was actually my due date!), I had my last visit with my Midwife. She checked me, and I was 3 cm dilated. I figured that I could go into labour any day – it was just a waiting game. I was feeling pretty tired, over being pregnant, and ready to meet the baby by then. I couldn't wait to go into labour, but I also didn't want to stress myself out thinking about it, so we continued to prepare for her arrival and stay as relaxed as possible while we waited.  
Early Labour
On Saturday November 7th I woke up early in the morning (5 or 6 am) feeling some light cramping. I was honestly thinking nothing was going to happen, and I was already 4 days overdue. I couldn't sleep, so I got up and had a bath for about 2 hours with on and off contractions. At this point I didn't know if I was in early labour, or if it was just some mild cramping.  As a first-time Mom, you second guess everything and it's so hard to tell if you're in early labour or not! Now that I know I really was in early labour – my contractions were about 20-30 minutes apart, lasting 40-45 seconds. For me, it wasn't anything unbearable, just an achy feeling similar to period cramps. Every other one would get more intense, but still nothing I had to breathe through – just a little uncomfortable. 
Matt came in around 8:00 am to check on me, and we ended up texting our Doula to update her on what I was experiencing. She said to try to relax and be calm, and see how the day goes. I continued to feel kind of cramp-y all day, but was able to have a nap, go for a walk, run a few errands with Matt, chatted with some family members and my best friend  on the phone, and took it easy.
In the evening around 6:30 pm, we made dinner (pizza) and we even made some Chewy Trail Mix Granola Bars from the HealthNut Cookbook. Yes – of course I would be the one still cooking healthy eats while in labour! At this time my pain level was around 4 or 5, but I was able to function as normal in between contractions, and just breathe through them. We called our Doula around this time to check in, and she advised us to have a chill night, rest and relax, and try to get some sleep since things weren't progressing. She figured she could come over in the morning to do some acupuncture to help get things moving. 
I was feeling really in the zone, and was a little defeated by this news. I really felt like I had the energy and stamina to have the baby that night, and I was so excited to meet Sage as well! She had suspected that the baby might be posterior which is why I was having more achy sensations in my bum and hips which could slow things down and turn into back labour – which is known to be quite painful.  To help move baby into a better position she advised us to do a few stretches from a website called Spinning Babies to help get things moving. This involved a forward leaning inversion, side lying, and some deep lunges during contractions. They were pretty simple stretches and I honestly figured it wasn't going to do much! But next thing we knew, the contractions started coming more regularly. I went from having sporadic contractions every 15 – 20 minutes, to every 7-10 minutes – real fast! 
I texted our Doula at 7:41 pm and let her know that contractions were starting to pick up, coming ever  7 – 10 minutes, and the pain level was more of a 6. Matt was super helpful and squeezed my hips with every contraction. This really helped to relieve some of the pain and take the pressure off, as I was getting a lot of pain in my hips and lower belly. At this point, Matt was also running around stress-cleaning the house, and we were both gathering any last minute things that we needed to pack for the hospital! It's pretty funny to look back on the vlog and see what we were up to. 
Active Labour
By 9:00 pm my pain level was an 8, and I was in active labour. Contractions were coming much quicker and getting more intense. I got into the bath for some relief, and Matt was pressing on my hips to help as well – but it was very painful and I was crying sometimes during the contractions. We called our Doula again and let her know, and she said she would be on her way. It took Jess (doula) about 30 – 40 minutes to arrive, and once she did, she dimmed the lights to help create a more calm atmosphere, and took over with pressing on my hips and acupressure points to ease the pain. I felt SO nauseous at this point, and regretted eating the pizza for dinner! I sniffed peppermint essential oil to help with the nausea, and valor to help with courage and bravery. 
[optin-monster slug="pskdf3lsrg5pwfbtmmfh"]
Jess was only here for about 15 minutes, when she quickly decided that it was time to call the Midwife. One thing that Jess kept telling me when I was in the bath was "your body will never put you through more pain than you can handle" – and it was so helpful in that moment. I just kept reminding myself that I would not let the pain takeover. 
By the time our midwife (Kristen) arrived, it was about 11:00 pm. I was still in the bath at this point, and had to get out onto the bed so that she could check how dilated I was in between contractions. Getting out of the bath was so hard, I was in so much pain and really didn't want to move. At this point I was 8 cm dilated, and the Midwife said we had two choices: have the baby at home, or head to the hospital. I was surprised to be so far along, and for a minute we considered a home birth. I couldn't decide what to do (as I mentioned, it's hard to make a decision when you're in so much pain). Matt figured we should stick to the birth plan, and head to the hospital – instead of making a decision in the heat of the moment.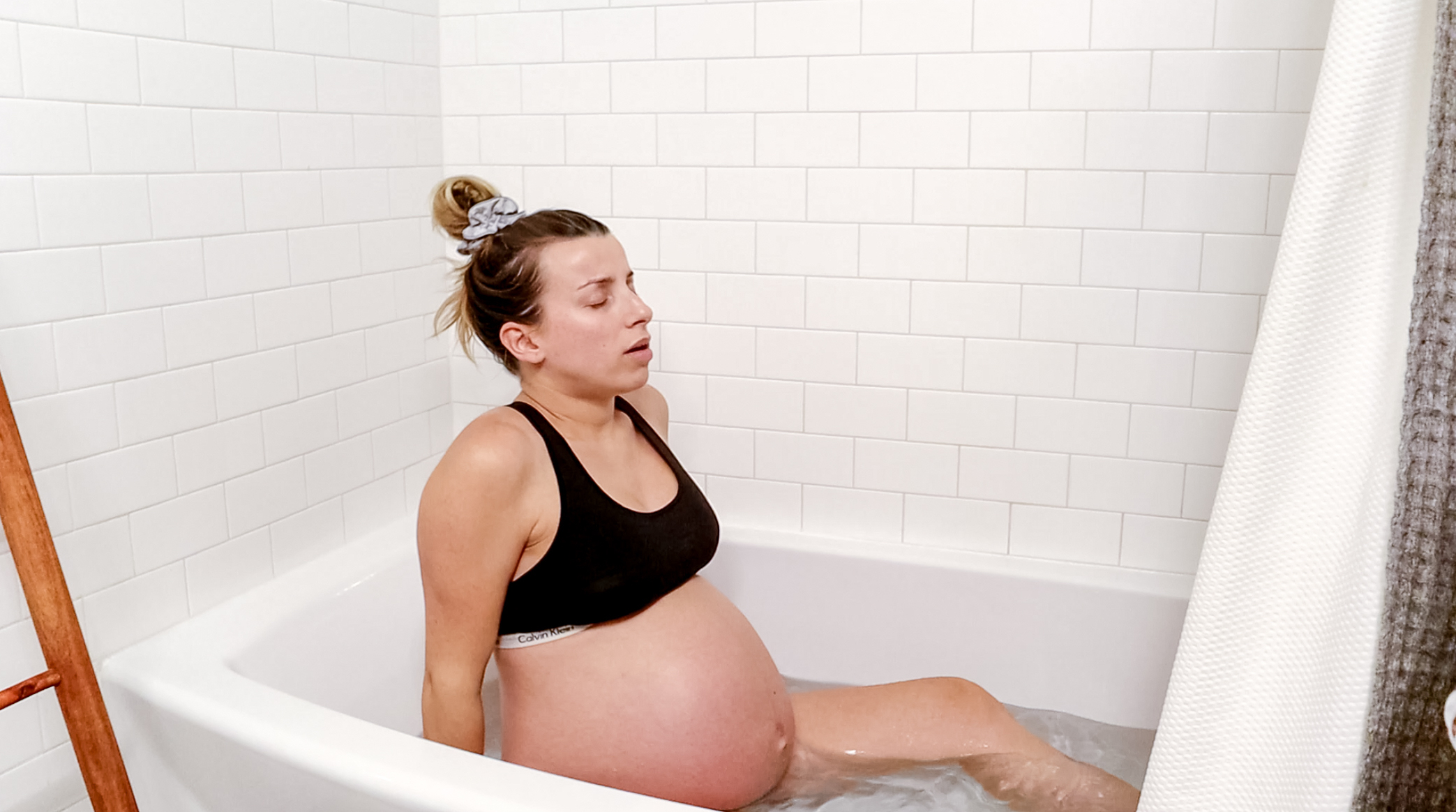 It was about 11:20 by this time, and it's about a 20 minute drive to the hospital. The Midwife went ahead to the hospital, and we quickly packed up and got into the car to head to the hospital. As I was getting into the car, my water broke and continued to leak out as we made our way there!
In the car, I had both my fists on either side of my lower back/ hips, and squeezed them as hard as I could. It was the most painful car ride of my life – luckily Matt drove as fast (and safely!) as possible and there were hardly any cars on the road. 
When we arrived at the hospital it was almost midnight, and our Midwife was there with a wheelchair to bring me in and whisk me upstairs. Matt gathered everything in the car, and met us inside about 5 or 10 minutes later. I didn't have time to even put on a hospital gown, I was still in my own clothes and slippers, and my water was still slowly leaking out. I stood and pushed my hands against the edge of the bed as my contractions were coming, and got in the zone. Matt came in and got me set up with a little fan, some ice, and water – I was really hot! 
Transition
I must have been almost 10 cm dilated, and was starting to get a little bit delirious. I started to wonder if the baby was coming soon, or if I still had another hour or longer to wait. I asked my Midwife if she thought it would be much longer  because I felt like I couldn't do it if it was going to go on for another hour. She said I was probably almost ready to start pushing any minute and after a quick check I was  just about 10 cm. It was time to push!
Pushing
As soon as I got my first pushing contraction, it was the most unexpected and intense feeling. My entire body was bearing down, and I had no control or thoughts other than I needed to push! It literally takes over your entire body. I pushed for 45 minutes, at this point on my hands and knees. Matt was squeezing hips, giving me water, lip chap, and putting ice on my face to help me cool down. The Midwife said that 45 minutes was very fast for a first-time Mom, but it did not feel fast! Again, this video on how to push your baby out was so helpful, and I really feel like it helped me to know how to push! Finally, they told me that I could reach down and  touch her head. I could feel a soft spot and a little bit of hair! The contractions were getting quicker and quicker, and closer together. I let out the pain throughout this time by screaming as I would push as it was the only way for me to release the intensity and pain I was experiencing. 
Finally near the end, the Midwife said "when I tell you to stop pushing, stop" – which was apparently to help prevent tearing. Matt said that once the baby's head was out, they re-adjusted the umbilical cord and shifted her shoulders to help prevent tearing – and after another big push she was out!
On Sunday November 8 1:26 AM, Sage Cloe Goncalves was born, weighing 7.1 lbs and forever changing our world! It was the craziest thing – I went from the most excruciating pain I've ever experienced, to the best moment of my life. It was such an overwhelming amount of emotions. As your brain gets flooded with oxytocin – that feel-good love hormone – it takes away all pain and worry. It was absolutely the hardest thing I've ever done, but also the best moment of my life. All I could think about was that she was finally here, I was crying, Matt was crying… and we officially became parents! 
Recovery
I didn't tear on my perineum, but I did get some micro tearing near my urethra. I almost didn't need stitches, just one longer stitch instead of multiple. Even though the tearing wasn't bad, I did feel the needle they used for freezing the area and it wasn't fun, but bearable. Knowing now what my recovery has been like, I don't think I would change anything.

How I Prepared for An Unmedicated Natural Birth
Having a supportive birth team is huge! Our Midwife (Kristen) and Doula (Jess) supported me throughout my pregnancy and leading up to birth, and I could not have done it without them!
Perineal stretching (I can't recommend this enough! We did it everyday from 35+ weeks to birth. I also talked about it in my Third Trimester Recap blog post!)

Primrose Oil capsules taken internally and vaginally 

Sitting, bouncing and hip circles on a birth ball (aka a exercise/yoga ball) to help loosen my hips and use gravity to bring baby down

5 Week Hypnobirthing course (meditation was a huge pain coping tool for when I needed to stay centred and focused throughout the waves of intensity)
Induction acupuncture and acupuncture throughout my pregnancy to help with sleep, anxiety, stress and promote relaxation in my body
How to Push A Baby Out Video with breathing techniques on how to push your baby out! This is literally how I pushed Sage out in 45 minutes! I used a video from their paid app

but this one of their YouTube channel is very similar. 

Raspberry leaf tea to help tone the uterus 2-3 cups per day during the last trimester (although I can't say if I felt like it did much but it was an east addition)
Staying active (walking and stretching). I loved this 15 min prenatal workout throughout my pregnancy!

Staying hydrated and eating healthy (fruits, vegetables, healthy fats and protein)
I hope that you found this post helpful, and enjoyed hearing out story! I would love to know if you're currently pregnant, what your birth plan is, and if you're a Mama, what your labour and delivery looked like. Let me know in the comments! Follow @healthnutnutrition on Instagram for daily baby Sage updates – we just can't get enough of her!