Newborn must-haves and essentials! Budget friendly baby basics to put on your registry – from clothing to carriers, bathroom essentials, nursing essentials, bedtime and more! What to splurge on, and what to save money on when planning for your baby as a first time Mom.   
As a new Mom, I was recently in YOUR shoes. Yes, I'm speaking to you if you are currently in your third trimester, unable to sleep, and researching baby and newborn essentials at 1:00 am! That was me, just three short months ago – so I know the feeling. If you are a Mama-to-be, then read on because this blog post has got you covered with all our favourite newborn essentials and must-haves. 
If you're new here – welcome! My name is Nikole, and I am a Mama to my three month old baby girl Sage. You can read all about my pregnancy journey, birth story, and postpartum experience, here. Motherhood and parenthood in general has just been a wild ride, and I can't believe we are only just three months in. Already, it feels like our whole world has been changed and we are so in love with our little girl, we can hardly remember what life was like before her arrival! 
Newborn Must Haves and Essentials
In this post, I've rounded up everything that I found to be helpful during these first three months. I'm sharing why I loved these products, and what worked best. Of course, you can also watch my chatty video where I talk about each of these items in detail, over on my YouTube channel. 
Just remember, when it comes down to it – all you really need for a happy and healthy baby is love, food, and sleep! Don't feel overwhelmed, and don't feel like you need to buy every single baby product out there. I hope that this post helps you as you are researching what to get!
At the end I will be sharing a few products that I thought were a must-have, but ended up not finding useful! It seems like there are a million baby products, adorable little onesies, toys, bassinets and strollers on the market. As a parent-to-be, it can sure make your head spin! I've taken the guess-work out of prepping for the arrival of your baby – so if you feel like you have no clue where to begin, this post is for you!
Clothing
Comfortable and cozy basics for everyday. These footie onesies are such a good basic outfit, and so cozy for daytime, naptime or nighttime! Of course it's always fun to have a few cute, frilly outfits as well – but in reality all you really need are these super comfy and cozy basics. My main tip is to stick to the zippers – anything with snaps is so much more difficult to put on when you're changing diapers so often! Go for anything soft, comfortable, and easy to get in and out of. Our top favourites are:
Sleepers and Night gowns
Soft cozy sleepers and nightgowns are essential! Here are a few of our favourites:

Swaddles
We love these swaddles from Copper Pearl, as well as these ones from Solly Baby that are soft and stretchy. Not every baby likes to be swaddled, but Sage loves it! Swaddling helps to keep your baby's arms and legs from jerking and waking them up. 
Sleep Sacks
We started using sleep sacks around the 2 month stage and we love it. This is essentially a blanket that zippers around your baby, making it very safe because it can't go over their head. This one has a swaddle inside as well, and I love using it in the morning after our early morning feeds! These sleep sacks from Guna Muna are on the pricier side, but totally worth it. 
Bedtime
Bassinet
Speaking of swaddles – in terms of zipper swaddles we use the one that comes with the Snoo Happiest Baby… which leads me into my thoughts on the Snoo. This is one of the pricier investments, and one thing that we splurged on. I didn't know whether it would be worth it or not, but we did a lot of research and found out how safe they are, and how it soothes your baby to sleep. The Snoo is made by a sleep baby expert, which was something that really helped to convince me that it would work well. 
We decided to buy ours used off Kijiji for about $1,100. It's a purchase that holds its value, and you can always re-sell it after you're done with it. Not only does it soothe your baby back to sleep, but it also makes hushing noises, and even weans your baby off at the 6 month mark – so that once you're ready to stop using the Snoo bassinet, it's not a huge shock for your baby. So far I can't say enough good things about the Snoo. Sage sleeps so well in it, and I have so much peace of mind because it's such a safe product. There's nothing better for a new Mom than peace of mind that your baby is safe, and a good sleep routine! You definitely don't need it, but it has made Sage's sleeping routine so much easier.

Sleep
Let's talk about bedtime essentials! Of course I love to set the tone for a nice calm and relaxing sleep by diffusing 100% pure therapeutic grade essential oils. We've been loving the Seedlings Calm blend by Young Living for babies – it contains soothing essential oils like lavender, coriander, bergamot, ylang ylang, and geranium. I love the Seedlings Line from Young Living because it's formulated for babies, using pure, gentle and safe essential oils. I usually diffuse 2-3 drops of Seedlings Calm at bedtime, or 2-3 drops of Lavender essential oil. You can read more about why I love essential oils on my Essential Oils page, and sign up to take my free Essential Oils 101 Email Course here!
Blankets
It's nice to have a few soft and cozy blankets for the car seat, the stroller, and the bouncers that we have in the living room. You can't go wrong with blankets because this is something that is going to be useful for years to come! 
Bathroom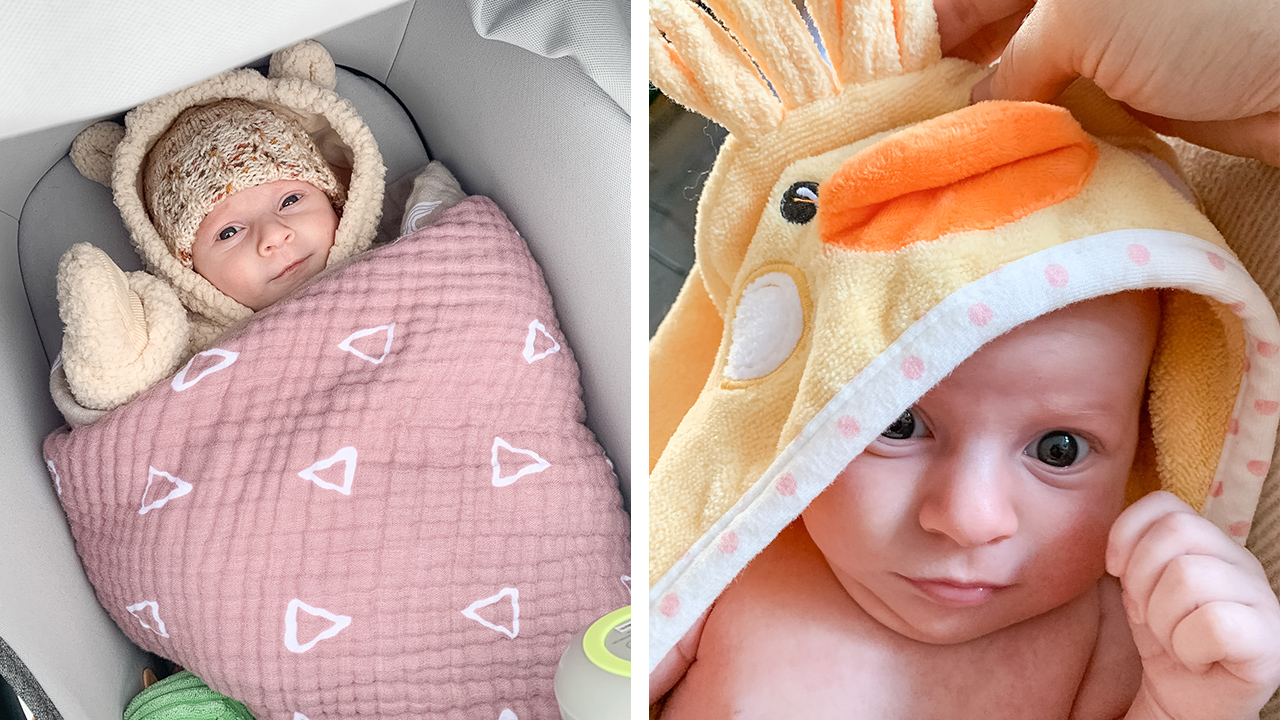 Baby Carriers 
When your baby is little, they want to be carried all. the.time! Baby wearing or carriers allow you to have free hands so that you can get things done while they sleep – a huge mom win! We did a lot of research on baby carriers, and ended up choosing the Baby Bjorn Mini. We love it! It's perfect for hikes outside, but also for carrying your baby inside the house – if I'm just vacuuming, doing dishes, or laundry while she sleeps. It's easy to strap on, comfortable, safe, and grows with your baby. We use it every day! 
We also love using Baby Wraps, and these ones from Solly Baby are so soft and cozy! I know they look intimidating but once you learn how to use them, it's not hard at all. They are so soft and cozy, more intimate than wearing a carrier like the Bjorn, and it feels like you're giving your baby a big hug! I swear it's easy to use, if it wasn't I would not use it!

Toys and Bouncers 
This Lovery Play Gym aka Sage's baby playground – is the best thing ever! It comes with black and white cards for newborns, as well as sensory strands for your baby to play with during tummy time. There's so many different things you can add onto it as your baby grows, and they also have customized toys for every stage of development that your baby will go through. We use it at least once a day, and it's been so fun to see Sage play, and learn with it!
Speaking of toys, another great way to keep your baby occupied and happy while they are awake is a bouncer! We have a few, but by far my favourite (and Sage's favourite) is this Baby Bjorn Bliss Convertible Quilted Bouncer. You can easily bounce it with your foot, or your baby will bounce themselves when they move their arms and legs. It's also customizable, you can have them laying down or tilted so they are sitting up higher. 
Nursing Essentials
Breastfeeding and nursing essentials – these are a few things that have made my life easier while breastfeeding! And believe it or not, there are a few things that I actually didn't need when it came to breastfeeding – read to the end to see what they were!
Nursing Pillow
Burp Cloths
Spit-up happens when you're least expecting it – so having a few burp cloths on hand and around the house is a good idea. We love these ones from Copper Pearl because they are thicker and durable – so nothing seeps through when you have it over your shoulder.  
Nursery & Other Essentials
For more details on our nursery, checkout to my Boho floral Nursery Tour blog post here!

3 Things I Thought I Would Use, But Didn't
Breast Pads. I thought everyone who breastfeeds leaks. Don't get me wrong, I'm happy that I haven't had to use them, but these breastfeeding pads have not been necessary! For me personally, I haven't had any leaking happening. Maybe save your money and purchase just a few, incase you're the same as me. You can always stock up on more after baby arrives, if needed.

Hakaa Breast Pump with Suction – I also didn't end up using the Hakaa – which made me so sad because every Mom seems to highly recommend it! It's a silicone device that you can suction to your other nipple while breastfeeding to catch excess milk.
Pacifiers! I stocked up on SO many pacifiers….and sage does not like them! The only ones she took are the newborn pacifiers from Philips Avent. She's not really into it! At least it's one less thing I'll have to wean her off of in the future.
There you have it – all of our newborn essentials and must-have baby products! I hope that this blog post is helpful, and gives you a starting point if you're feeling overwhelmed. We spent so much time researching what to get for Baby Sage, and have been very happy with all of the products I mentioned in this post. 
That being said – don't feel like you need to go out and spend a ton of money to prep for your baby! Newborns are really easy in the sense of what they need (food, love, sleep)! Don't get overwhelmed – take it slow and just remember you can always add on anything else you need after your baby arrives. Let me know in the comments below if you're a mama or parent, what were your newborn essentials/ what did I miss!?