What's better than a fresh loaf of banana bread that's packed with flavour, straight out of the oven?  Imagine the delicious aromas filling your kitchen… the scent of cinnamon, and the taste of chocolate chips melting in your mouth.  Wouldn't it be amazing to whip up the BEST Hearty Hemp Banana Bread in no time at all? I've got the recipe, just for you.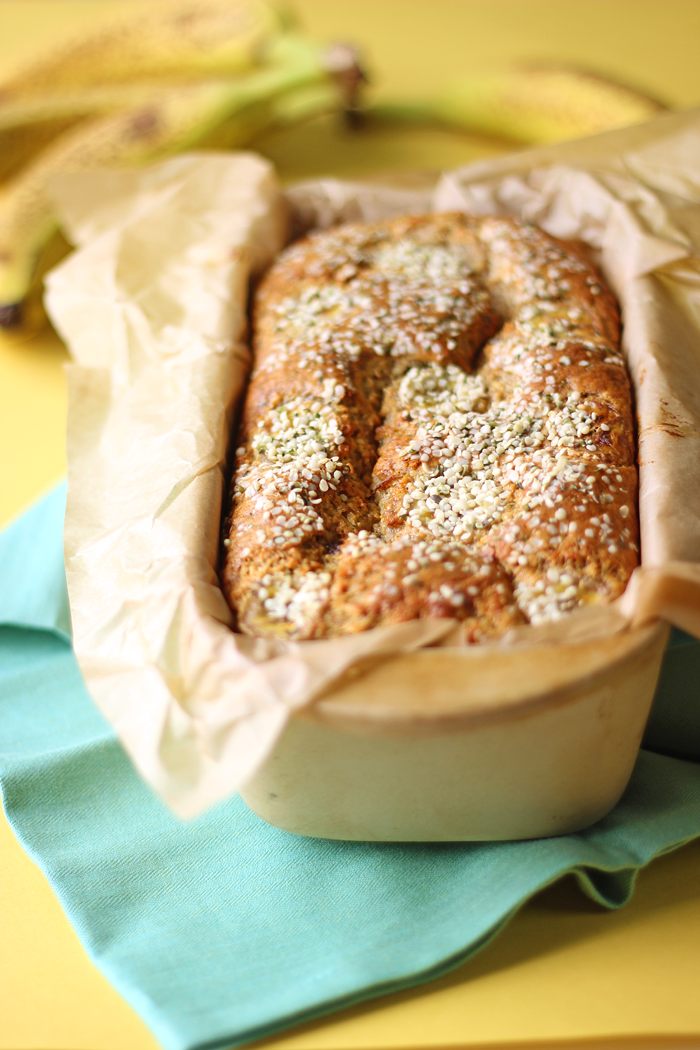 This one-bowl, Hearty Hemp Banana Bread recipe is packed with fiber, plant based protein and delicious dairy free chocolate chips! It's a great treat that's easy to make, and it's sure to satisfy everyone's taste buds.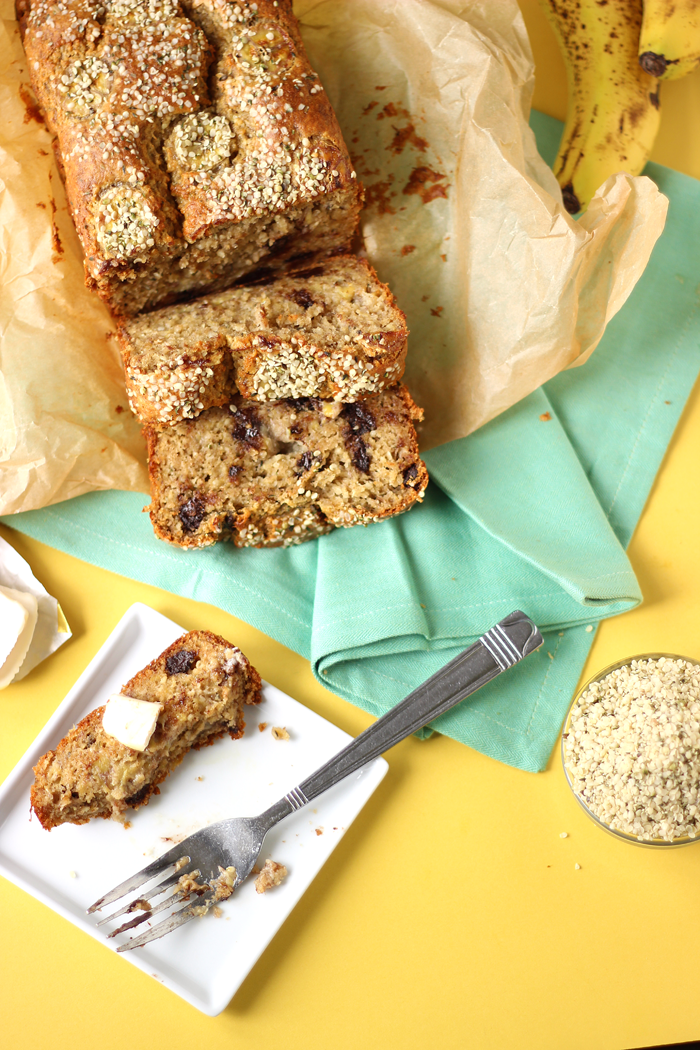 You'll need only one bowl for this recipe, which means less mess dishes. My trick? It's using an all-magical sifter that mixes your dry ingredients as you're sifting them into your wet ingredients.  Genius right? You'll also want to make sure you are using nice ripe and spotty bananas for this recipe and really anytime your baking with banana 🙂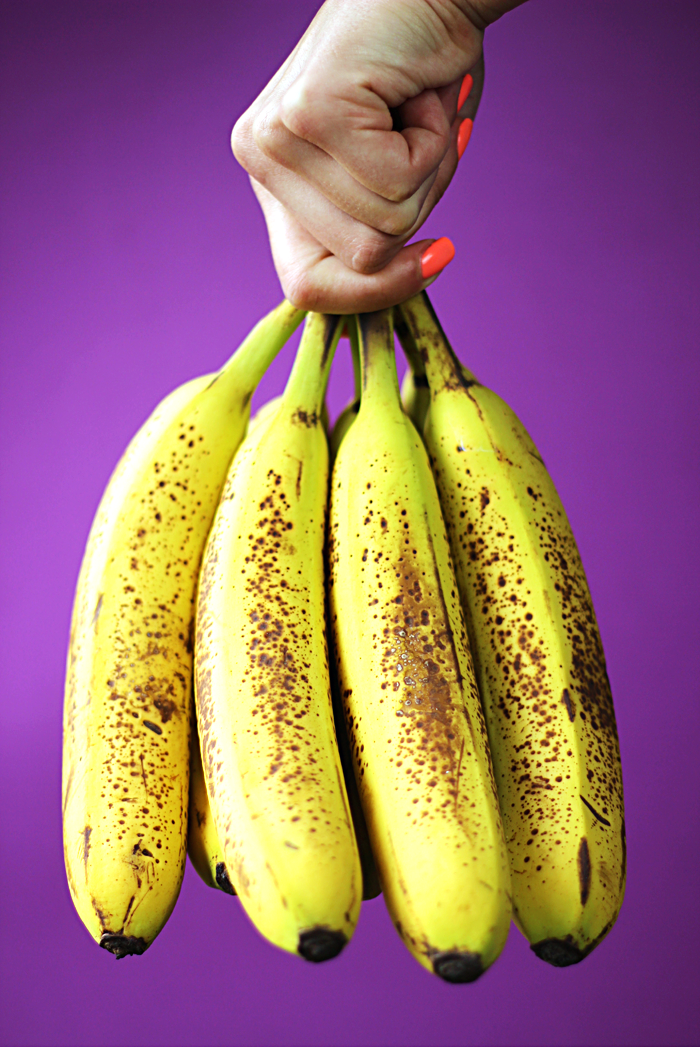 Now let's be real… I could give you a Healthy Hemp Banana Bread recipe that is just moist and delicious, but what is banana bread without a little bit of sweet chocolate.  Trust me, when you slice into that loaf, you'll want the ooewy gooey-ness of chocolate to add just that little bit of magic.  And don't even think about swapping them for raisins, I already get enough of that disappointment from those damn oatmeal cookies! 
Funny enough, I think banana bread was one of the first baked goods (besides chocolate chip Pillsbury cookies of course) that I made when I was younger. I love how you can just play around with the flavours and toppings and always come out with an amazing treat!
If you haven't noticed already, I've partnered up with Manitoba Harvest to create some delicious healthified Hemp recipes all year long! This recipe is a great way to get you comfortable with adding Hemp Hearts to your next batch of baked goodies and amp it up with some plant based protein.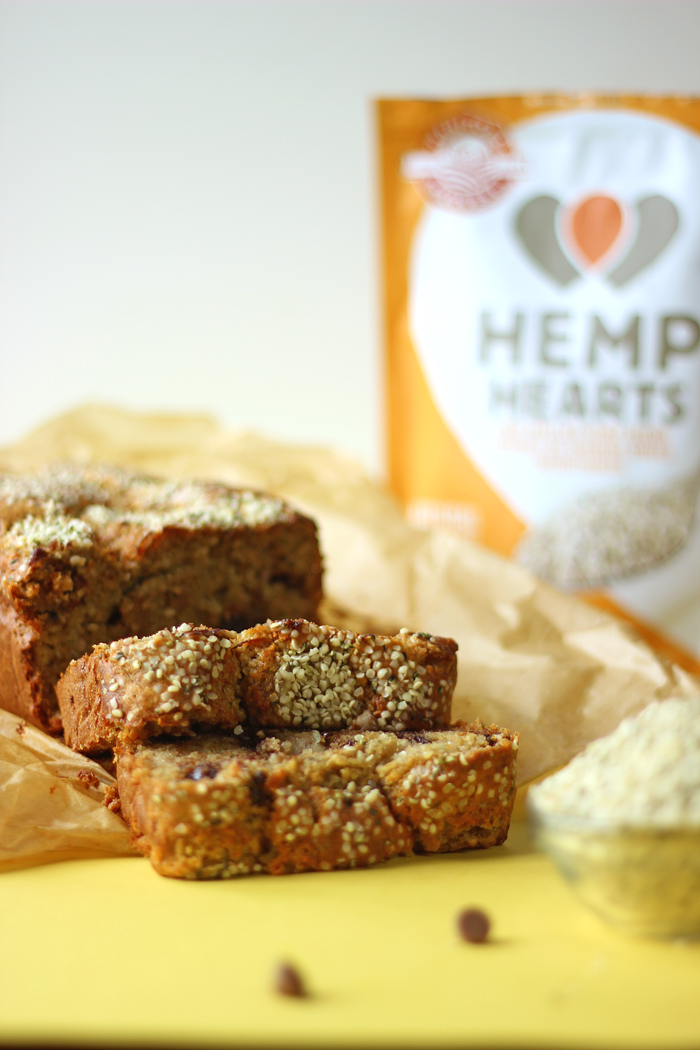 Now, if you want to take this recipe to the next level, you can use 4 mini loaf pans instead and make…. Yup you guessed it! Mini Hemp Banana Breads! These are by far the cutest things I've baked in a while and the best part is, they actually bake quicker than a full loaf so there's less time waiting, and more time devouring. They're also very convenient to gift to a friend or neighbor or just to pretend your "portion controlling" and eat an entire one loaf in one day! Haha
Whichever way you decide to bake your own banana bread, it's going to turn out moist, sweet and full of comfort. Enjoy and share your comments below! Stay in touch with me for more fun, healthy baked goods recipes to try in your kitchen.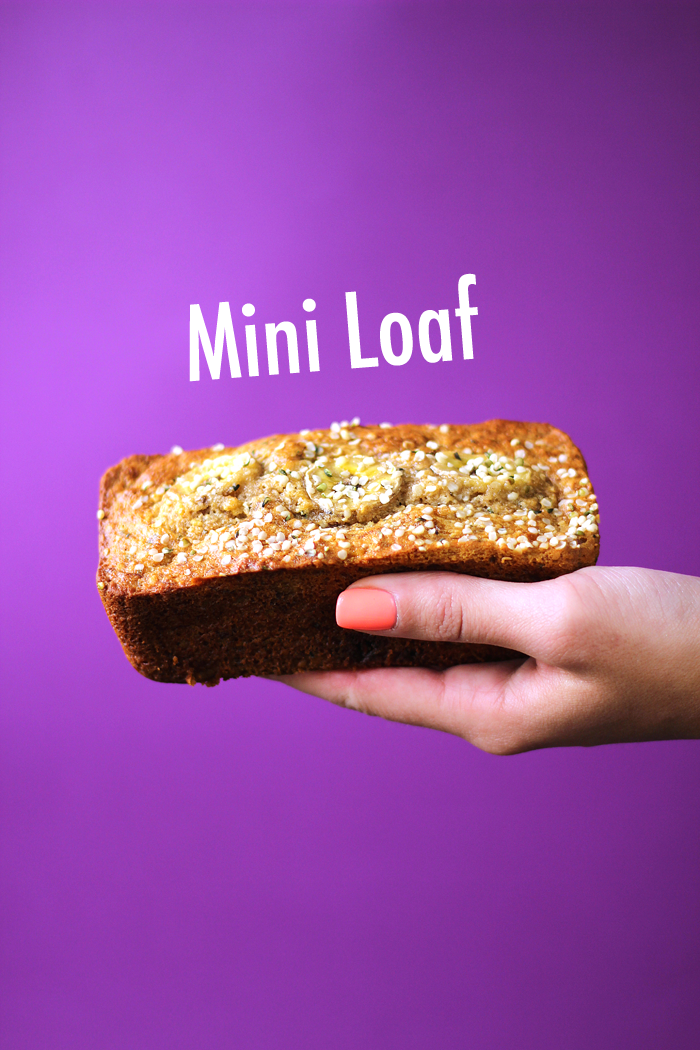 Recipe
One Bowl Hemp Banana Bread
This one-bowl, Hearty Hemp Banana Bread recipe is packed with fiber, plant based protein and delicious dairy free chocolate chips!
Ingredients
3

ripe spotty bananas

1

cup

almond meal

almond flour

1

cup

light spelt flour

½

Cup

Manitoba Harvest Hemp Hearts

¼

Cup

raw honey

2

eggs

1

tsp

vanilla extract

1

tsp

cinnamon

1

tsp

baking powder

½

tsp

baking soda

¼

tsp

sea salt

¼

Cup

melted coconut oil*

¼

Cup

dairy free chocolate chips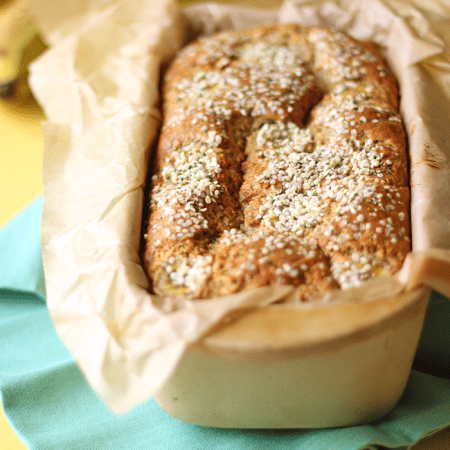 Print Recipe
Save Recipe
Directions
Preheat oven to 350F.

In a large bowl, peel and mash bananas until smooth and whisk in your eggs, coconut oil, honey and vanilla until combined.

Next, using a sifter, sift in the flours, baking powder, baking soda, salt and cinnamon. Using a spatula, mix the wet and dry ingredients together until well combined.

Fold in the Hemp Hearts and chocolate chips until evenly distributed and set batter aside.

Line a loaf pan with parchment paper (or grease 4 mini loaf pans) and slowly pour in the batter. Smooth out the top with a spatula and bake in the oven for 60-70 min (40 min for mini loafs) or until golden brown and a toothpick or spaghetti stick comes out of the center clean.
*melted coconut oil should be left to cool at room temperature before you add it to the wet ingredients. This prevents it from cooking the eggs in your batter.
similar recipes