A round up of 6 of my favourite smoothie recipes. From the classic green smoothie to a pumpkin pie smoothie bowl, you're sure to find a tasty and nutritious smoothie to start your day!
If you've been around here for a while, you'll know I love me a good smoothie! In fact, you guys have actually titled me the Smoothie Queen! So today I'm taking you through some of my favourite healthy smoothie recipes. Smoothies are an awesome way to start your day because not only are they super tasty, they also give your body a ton of nutrients and energy first thing in the morning. And, if you make them right, they'll keep you full until snack or lunch time! Don't forget to check out my 10 Common Smoothie Mistakes post to make sure you're not missing a trick.
The Ultimate Breakfast Smoothie
My smoothie obsession has definitely evolved. I've been more adventurous with adding new flavours and superfoods along with loads of all kinds of greens; from celery to arugula. I have to say though that this Ultimate Breakfast Smoothie is one that I keep going back to. It keeps me full longer, it's packed with fibre, healthy fats, and antioxidants and the best part is, it tastes delicious!
Berry Beet Orange Smoothie
Who's the prettiest smoothie of them all? You can't help but have a big smile on your face when you make this gorgeous coloured pink smoothie. I know looks aren't everything when it comes to a delicious smoothie, it's about the taste! But I can't help and think about the tropics and sunshine when I make this beautiful smoothie, especially on those gloomy rainy fall days. This vibrant beet berry orange smoothie is packed full of veggie and immune-boosting Vitamin C and antioxidants for a burst of nutrients to start your day!
Blueberry Basil Smoothie
Since smoothies are my go-to weekday breakfast and I drink a lot of them, I love having fun creating new flavour combinations with what's in the fridge—or in this case, garden. The slight hint of fresh basil gives this smoothie from my cookbook an aromatic sweet but savoury feel that pairs perfectly with the burst of mellow tart sweetness from the berries and hidden veggie. Usually when you think of fresh herbs in a drink, it's a happy-hour cocktail! But hey, it's fun to switch things up, and this purple smoothie is suitable for all occasions. 
Pumpkin Pie Smoothie Bowl
Why drink a smoothie when you can eat it in a pretty bowl? I'll admit smoothie bowls are not something I make on a regular basis but when I do it's that much more special. This pumpkin pie smoothie bowl will make you feel like you're having a pumpkin pie sans the guilt! It's delicious and super creamy thanks to the coconut milk, and it also happens to be good for you. It's packed full of fibre, healthy fats and protein plus it's a perfectly balanced breakfast that will keep you satisfied for hours.
Pear Ginger Mojito Green Smoothie
This pear ginger mojito green smoothie is definitely a favourite because it has a unique sweet and spicy mojito taste while still packing in a lot of nutrients. I love adding ginger to my juices and smoothies because it has anti-inflammatory properties and helps with digestion. Anytime my stomach is a bit upset, I go straight for the ginger.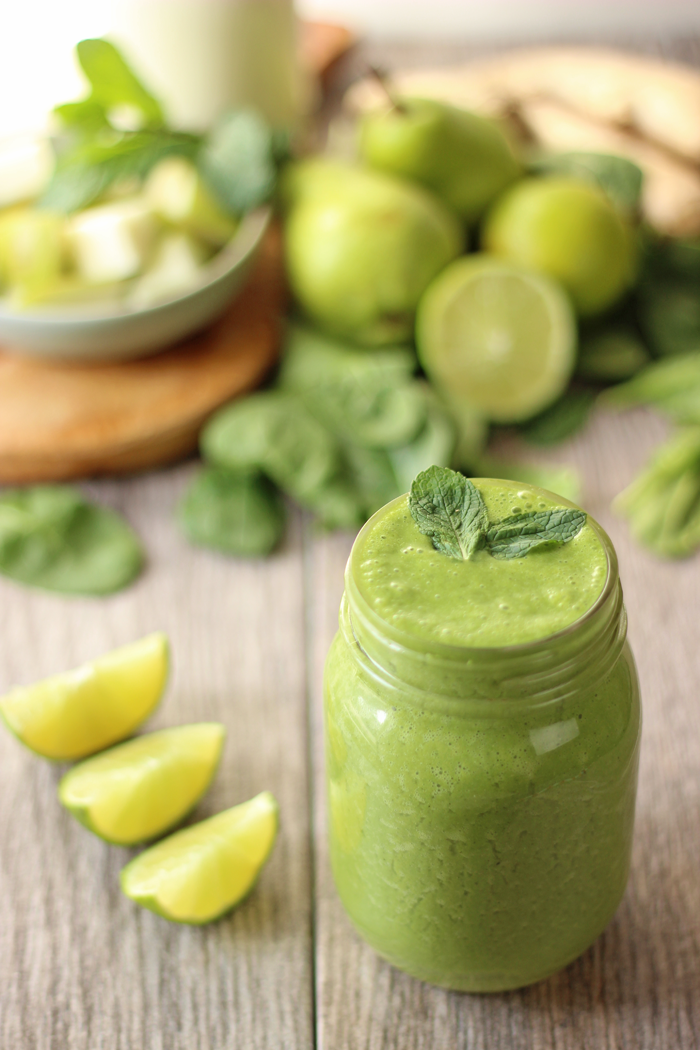 Creamy Cashew Chai Spiced Smoothie
This creamy cashew chai spiced smoothie is perfect as a breakfast on-the-go or midday sippable snack. I love all the warming spices like cinnamon, nutmeg, cardamom, ginger and clove which to me just screams fall in a cup! Adding these traditional chai spices will naturally add sweetness and warmth to your smoothie while providing you with immune-boosting properties.
What are your favourite smoothie recipes? Let me know in the comments below! 
If you make any of these recipes, be sure to share a photo on social media and tag me @healthnutnutrition #healthnuteats so that I can see your creations! 
If you love these smoothie recipes and are looking for more options, check out these DIY Freezer Smoothie Packs and How To Make The Perfect Green Smoothie.