Healthy mini gummy bears made with REAL fruit and no refined sugars or dyes. This is candy you can feel good about eating!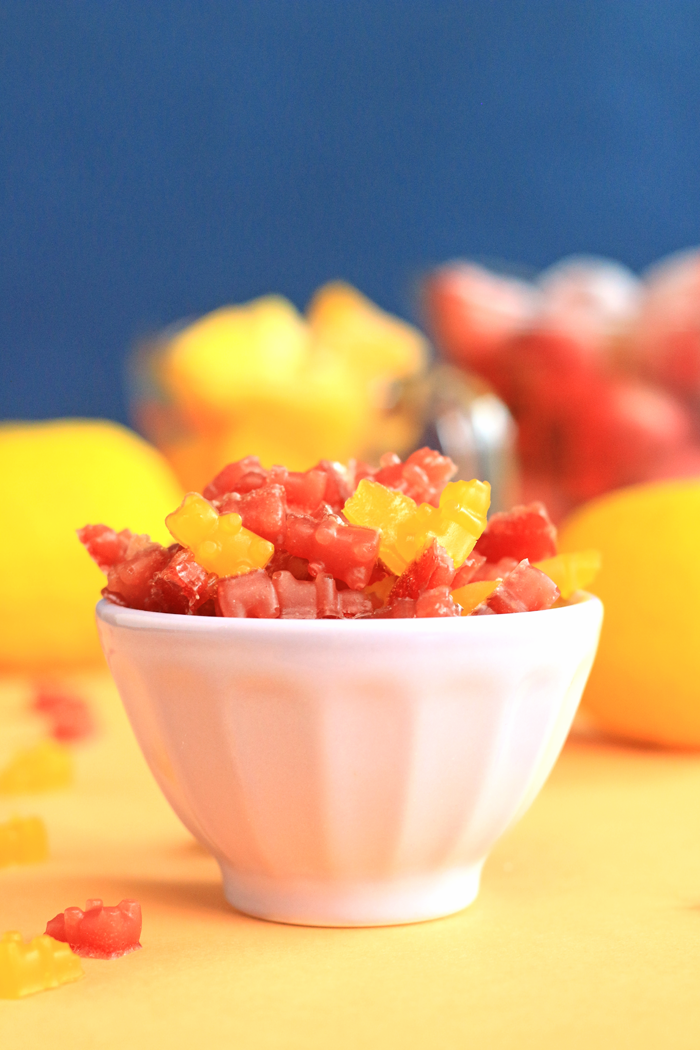 I'm obsessed with these mini gummy bears and the smell of them alone is enough for me inhale them in seconds. Not only are these homemade gummy bears sweetened and coloured with real fruit and raw honey but they have a healthy dose of grass fed gelatin, which is important for your overall health. If it makes you feel less guilty for eating gummy bears you can just say that you're getting your dose of gelatin for the day. Adult gummy vitamins do exist! Haha

The best part about these homemade gummy bears is that you can adjust it to be any flavour or colour you want by switching up the fruit. I made a mango and strawberry version with lemon juice but you can do blackberry, cherry, you name it! I even think it would be fun to add lime next time instead of lemon juice.
SWEET-FRUITY-CHEWY-GUMMY-WOBBLY-SOUR-MINI-GLUTEN & DAIRY FREE
Did I mention there's hardly any clean up? Everything is made in a blender and small saucepan and no candy thermometers are needed because who actually has one of those anyways? I know I'm going to put my foot in my mouth next year when I eventually decide I need one.. oops!
If you like healthy sweets, you may also enjoy my Healthy Twix Chocolate Bars and Healthy Homemade Rolo Chocolates.
For all the details, you can watch the full recipe video over on YouTube!
Recipe
DIY Healthy Mini Gummy Bears
Healthy homemade mini gummy bears made with REAL fruit and no refined sugars or dyes.
Ingredients
2

cups

fruit

I used strawberries and mangos

1/4

cup

lemon juice

2

tbsp.

honey

6

tbsp.

unflavoured grass fed gelatin
Print Recipe
Save Recipe
Instructions
In a high-speed blender, blend together all ingredients except for the gelatin until smooth.

Transfer to a saucepan and sprinkle gelatin overtop and let sit for 5 minutes.

Next, on low-medium heat bring to a low simmer and cook while whisking for 2 minutes unless gelatin is well combined and melted in.

Fill your mini gummy bear mold (

I used this one

) with fruit puree mixture and let sit for 1 hour before refrigerating for 2-3 hours to full set.

Once set pop the gummy bears out of the molds and enjoy right away or store in an airtight glass container in the fridge to stay fresh.
similar recipes