Quinoa for breakfast you say? This super seed isn't just for lunch or dinner; you can also enjoy its sweetness in your next bowl of oatmeal with some simple ingredients. Give your morning oatmeal a makeover with this simple Red Quinoa Oatmeal recipe; it's sweet, satisfying and delicious!

I was determined to make oatmeal a staple in my bag while backpacking through Australia since oats are super convenient to pack on the go and easy to make up a bowl with almost any ingredients you have on hand. Oatmeal never really used to be my thing, something about the texture, colour and taste just threw me right off. I always wanted to like it since I knew it was easy to cook, healthy and budget friendly, so I was determined to find a way I would enjoy it.  After several attempts, I created my first bowl of oatmeal that I thoroughly enjoyed, which was one of my very first videos called The Best Oatmeal Ever.  Since then, I've created so many other oatmeal variations that I absolutely love and I know you will too.
I now think of oatmeal as a base for creating so many different delicious combinations. You can take whatever nut milk, fruit and/or nuts & seeds you have on hand and create a new version each time.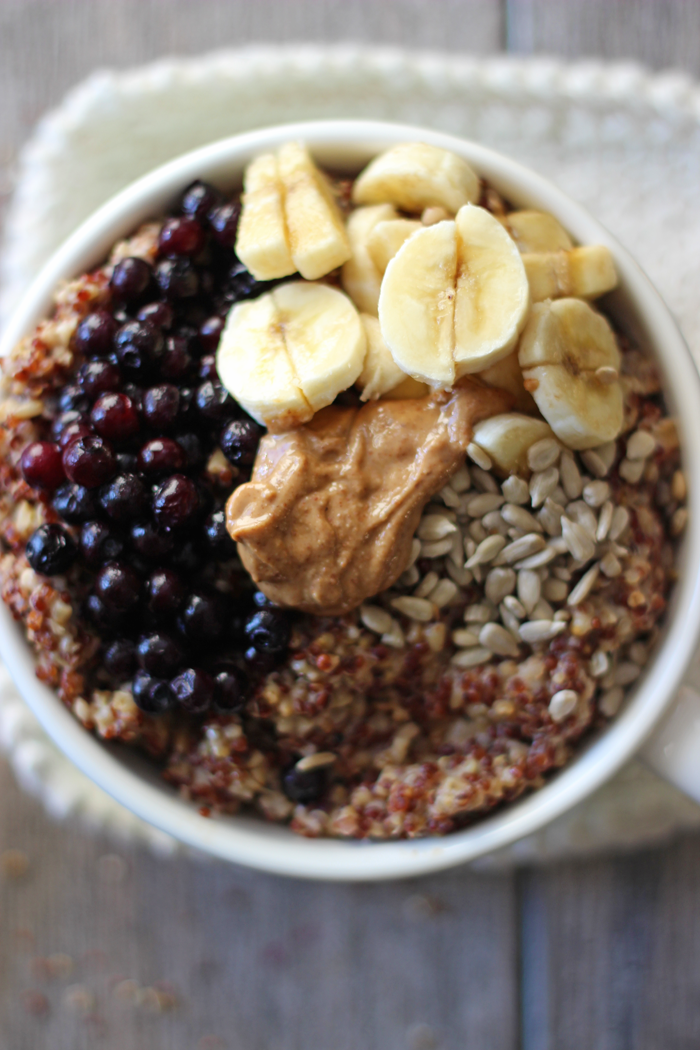 Now, on to my new combo, oatmeal & quinoa!  I tried eating white quinoa for breakfast once, but I was not a fan. When I switched to red quinoa, for some reason it made a huge difference to me. The texture is heartier and it doesn't have as much of a quinoa taste as white quinoa, so you don't feel like you're eating lunch for breakfast. The best part about red quinoa as opposed to white, is that it holds it shape better when cooked so you won't end up with quinoa mash – although that could be an entirely separate recipe haha.
People always ask me how to eat healthy on a budget and I have to say, oatmeal is definitely one of those staples you should have in your home.  Since both oats and quinoa have a pretty long shelf life, you don't have to worry about it expiring anytime soon. So for those mornings when you literally have nothing left in the house to eat because it's grocery shopping day, make a warm bowl of oats, with a scoopful of quinoa!
Are you an oatmeal lover? If so, what are your favourite toppings? Leave a comment below! And if you're not a fan of the oats just yet, try this one out and let me know what you think.
You might also want to try my Apple Pie Slow Cooker Oatmeal or The Best Oatmeal Ever which is an oldie but has been a long time favourite on my blog.
Happy oatmeal making everyone 🙂
Recipe
Red Quinoa Oatmeal
Ingredients
1/2

cup

red quinoa

1/2

cup

steel cut oats

2

cups

filtered water

1/2

cup

canned coconut milk

1

tbsp

coconut oil

1

tbsp

almond butter

¼

tsp

cinnamon

pinch

of sea salt
Print Recipe
Save Recipe
Directions
In a medium size pot, bring water to a boil with a pinch of salt.

Once water has reached a boil, stir in the quinoa and oats. Cook on medium-low for 25 min.

Add coconut milk and cook for additional 5 min.

Once cooked, turn off the burner and stir in the cinnamon, coconut oil and almond butter, put the lid on and let sit for another 5 min on the warm burner.

Add your desired toppings and serve.
Note: You can store any leftover oatmeal in an airtight container in the fridge for up to 3-5 days. When you're ready to eat, simply add the oatmeal to a pot on low-medium heat with ¼ cup of liquid (either water or nut milk) put the lid on and warm for 2-3 minutes until heated, stirring occasionally.
similar recipes