Quick and easy healthy grilled salmon burgers topped with a fresh pineapple salsa served with avocado on a lettuce wrap made in less than 30 min!
I seriously love fast dinner recipes like these healthy salmon burgers that you can put together with leftovers from your fridge and pantry. That is literally how I came up with this recipe like many of my other creations is just by throwing together leftovers and sometimes the most flavourful recipes are created.
These salmon burgers are both gluten and dairy free and provide a good source of healthy fats and proteins to keep you full and satisfied. You can of course pop these salmon burgers into a nice toasted bun but they're equally delicious served on a soft crunchy butter lettuce wrap topped with a thick slice of avocado and a mountain of my fresh pineapple salsa.
I love throwing together fresh salsas with a mix of fruit whether its mango or pineapple the savoury and sweet combination is unreal and adds a kick of flavour to any dish. Homemade pineapple salsa is also a great chip dip.. thats totally what we did with the leftovers after the salmon burgers were devoured.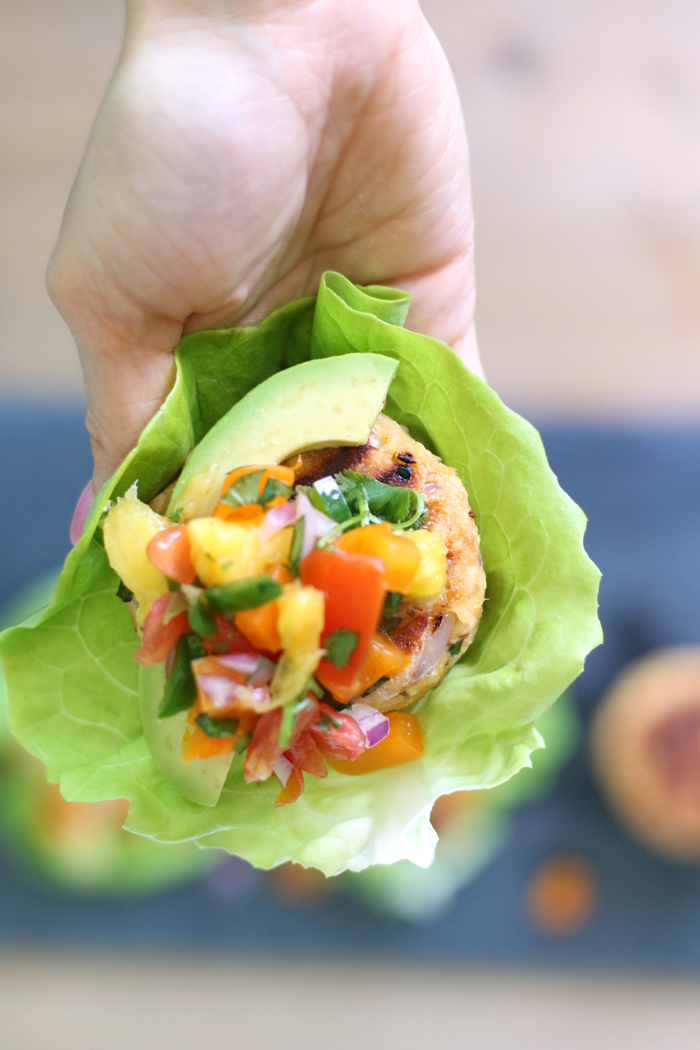 You can prep these guys the night before your next BBQ party and have them chilling in the fridge ready to grill right before your guests arrive. They are also a great addition to your weekly meal prep since they are portioned out and easy to pack.
Happy grilling season and if you recreate these healthy salmon burgers please share a photo on social media and TAG me @urhealthnut so I can easily find it and like it!
Healthy Salmon Burgers DF & GF
2017-05-28 09:26:30
Serves 5
Quick and easy healthy grilled salmon burgers topped with a fresh pineapple salsa served with avocado on a lettuce wrap.
Salmon Burgers
2 -170g cans of wild salmon (boneless and skinless)
2 large eggs
1/2 cup bread crumbs (I used gluten-free rice breadcrumbs)
1 small shallot finely diced
2 garlic cloves minced
5 leaves of fresh basil thinly chopped
1/2 lemon juiced
1 tsp grainy dijon mustard
1/4 tsp smoked paprika
1/4 tsp garlic powder
1/4 tsp sea salt
1/4 tsp black pepper
1/2 tbsp avocado oil
Pineapple Salsa
2 cups of fresh pineapple chopped
1 cup sweet bell pepper chopped
1 cup tomato chopped
1/4 red onion finely chopped
1/4 cup loosely packed fresh cilantro chopped
1 small jalapeno (stem and seeds removed) finely chopped
1 lime juiced
Pinch of sea salt
pinch of black pepper
Pineapple Salsa
In a large mixing bowl add in all of your ingredients and give it a good stir to mix all the flavours together. Cover and store in the fridge to let the flavours marinate while you prepare the salmon burgers.
Salmon Burgers
Drain any liquid from canned salmon and add it to a large mixing bowl and shred with a fork to make it easier for mixing.
Next, add in breadcrumbs, eggs, garlic, basil, lemon juice, mustard and seasoning and mix well with a wooden spoon or spatula until combined.
Heat up a grill pan or non stick skillet on medium to heat with a drizzle of avocado oil.
While the pan is heating up start forming your salmon patties.
Using a 1/2 measuring cup or large ice-cream scoop evenly section off your mixture and using cleans hands form them into large puck shaped patties and place on a cookie sheet lined with parchment paper.
Cook each salmon burger on the heated pan for 3-4 min per side until golden brown.
Best served with a slice of avocado and pineapple salsa on a butter lettuce wrap.
Notes
*you can prepare the salmon mixture the night before, store in an air tight container in the fridge and grill the next day when ready.
**the cooked salmon burgers can be stored in the fridge in an air tight container for 3 days or frozen for 1 month.
Healthnut Nutrition http://www.healthnutnutrition.ca/