Soft baked, high protein ginger molasses cookies with a chewy almond center and a light salted top. Molasses isn't just for gingerbread men!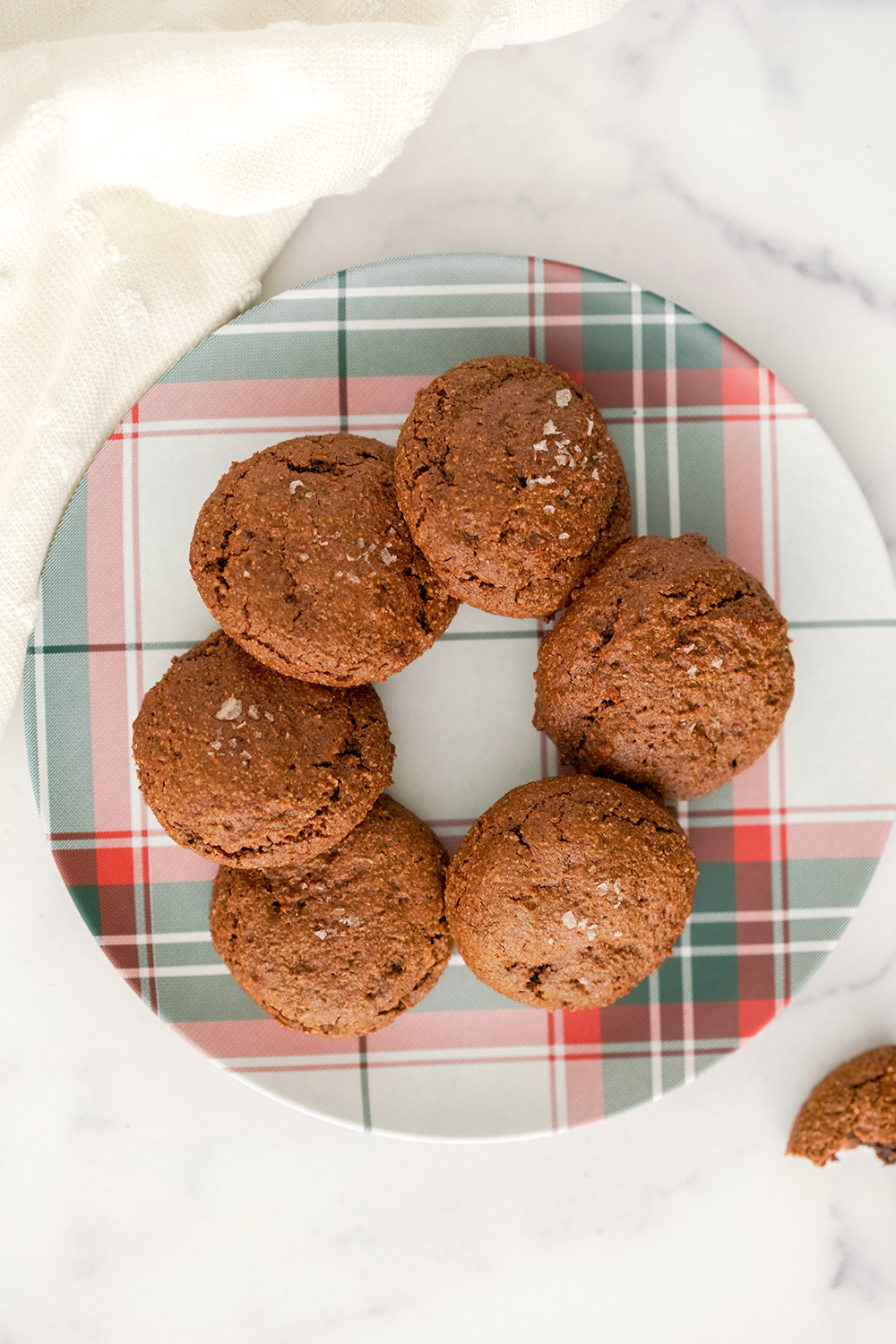 Holiday baking is a must at this time of year. When it comes to baking, I'm a huge fan of finding healthier ways of making my favourites using simple ingredients. This is a flourless holiday cookie you can feel good about eating! It's packed with protein from the almond butter and almond flour, and it's naturally sweetened with coconut sugar and nutrient rich molasses! They're also oil free thanks to the almond butter adding natural oils to the recipe.
The healthier ingredients doesn't make them any less delicious though! These soft baked ginger molasses cookies have a soft and chewy almond center with that burst of warm holiday spice from the ginger and allspice. The light sprinkle of salt on top makes them the perfect mix of sweet and salty. They're melt in your mouth, drool worthy and taste just as good as they look. Make sure to bake double – they'll disappear quickly!
What does molasses taste like?
When it comes to molasses, I used to only think of gingerbread men. But there are so many ways to enjoy this traditional holiday ingredient. Something magical happens when you combine warm spices like cinnamon, allspice, and ginger with the warm, sweet and smoky taste of molasses. It's a nostalgic flavour combination and it's all I'm craving this time of year. And the best bit is it's good for you! Molasses contains a variety of minerals and vitamins such as iron – win win!
If you're new to using molasses in your baking, try light molasses since it has the mildest flavour. Dark and medium molasses has a very robust flavour, whilst blackstrap molasses (which is what I use) has a distinct bitterness. Try a few different types and see which one is your favourite!
What's your favourite holiday cookie? Let me know in the comments below! 
If you make this recipe, be sure to share a photo on social media and tag me @healthnutnutrition #healthnuteats so that I can see your creations! 
If you love this recipe and you're looking to make other healthier versions of your favourite holiday treats, you are going to love my Healthy Gingerbread Smoothie and my Healthier Linzer Cookies with Raspberry Jam!
Recipe
Healthy Chewy Ginger Molasses Cookies
Soft baked, high protein ginger molasses cookies with a chewy almond center and a light salted top. Molasses isn't just for gingerbread men!
Wet
1

egg

1/2

cup

creamy natural almond butter

1/4

cup

unsulfured, blackstrap molasses

1/4

cup

coconut sugar

1

tsp

pure vanilla extract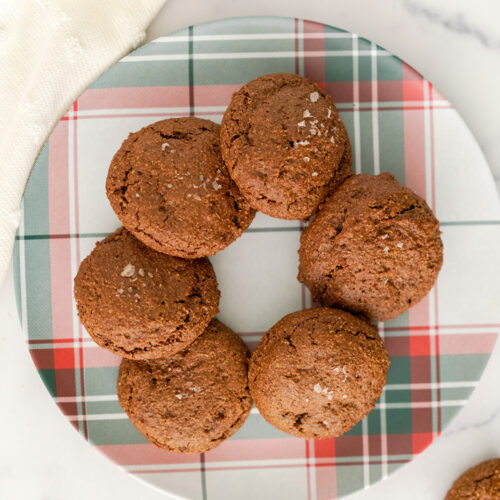 Print Recipe
Save Recipe
Preheat the oven to 350F and line a baking sheet with parchment paper.

In a medium bowl, whisk together the wet ingredients until smooth.

Using a rubber spatula, stir in dry ingredients until combined and so that there's no dry flour visible. The dough will be quite thick.

Using a medium cookie scoop, scoop 2 tablespoons worth of dough and place on a baking sheet about 2 inches apart.

Sprinkle each cookie ball with some flaked sea salt and bake for 9-10 minutes, just until the tops start to crackle and are firm to the touch. The bottoms should be just slightly golden.

Allow the cookies to cool for 5 minutes before transferring to a cooling rack to fully cool.

The cookies can be stored in an airtight container on the counter for 3 days, or in the freezer for up to 1 month.
similar recipes