A round up of 8 of my favourite healthy baking recipes. From cupcakes to brownies, whoever said healthy food and sweet treats didn't mix?
When you decide you want to start eating healthily, you might fall into the trap of thinking you have to give up the things you love such as sweet treats and baked goods. Not true! I've got you covered. These 8 healthy baking recipes use more nutritious ingredients than your average store-bought sweets, but are just as delicious!
To make these healthy baking recipes gluten-free, you can swap the spelt flour for my HealthNut gluten-free flour blend. Click here to download my flour 101 guide, which contains the recipe for my all-purpose GF flour blend! For more easy baking substitutions, check out my cooking and baking basics cheat sheet!
Chewy Chocolate Chip Cookies
These soft and chewy cookies with crisp edges are sure to satisfy any sweet cravings. You'll get a subtle hint of coconut from the coconut oil, but you can also substitute with refined coconut oil that doesn't have the coconut flavor. Or you can use regular unsalted butter or ghee if that's more your thing. So grab your glass of almond milk and show me your best cookie dip.
Did you know this is one of over 100 delicious and healthy recipes you can find in my cookbook? You can order your copy of my cookbook right here.
Chewy Oat & Peanut Butter Cookie Bars
Bars of gooey and chewy Peanut Butter Cookies made with oats and finished with chocolate chips. Think peanut butter brownies that melt in your mouth! I can almost guarantee you'll be coming back for more until the tray is empty. Consider this your warning to double the batch. 😉 Opt for 'natural' peanut butter with no added sugar or oils. Peanut butter not only acts as a natural oil in this recipe, but also flour and keeps the health game in check! Seriously… What can't peanut butter do?
Healthy Vanilla Cupcakes
These light and fluffy healthy vanilla cupcakes are a new twist on an old classic! These cupcakes are perfect for birthdays, special events… or even celebrating a cookbook launch! 😉 These cupcakes contain no refined sugar and are instead sweetened with honey. I also replaced the butter with avocado oil, making this dessert dairy free as well.
Healthy Carrot Cake
Believe it or not, in the past I wasn't a fan of carrot cake. Maybe because I only ever had the store bought versions which were full of processed sugar and oil, and no carrots in sight. But as per usual, I knew there had to be a way to healthify this all-time favourite dessert. A couple of years ago I made a carrot cake muffin recipe that was a hit! Ever since then I have fallen in love with carrot cake. So I took inspiration from my own recipe and created this carrot cake with a delicious real cream cheese frosting!
Triple Chocolate Zucchini Brownies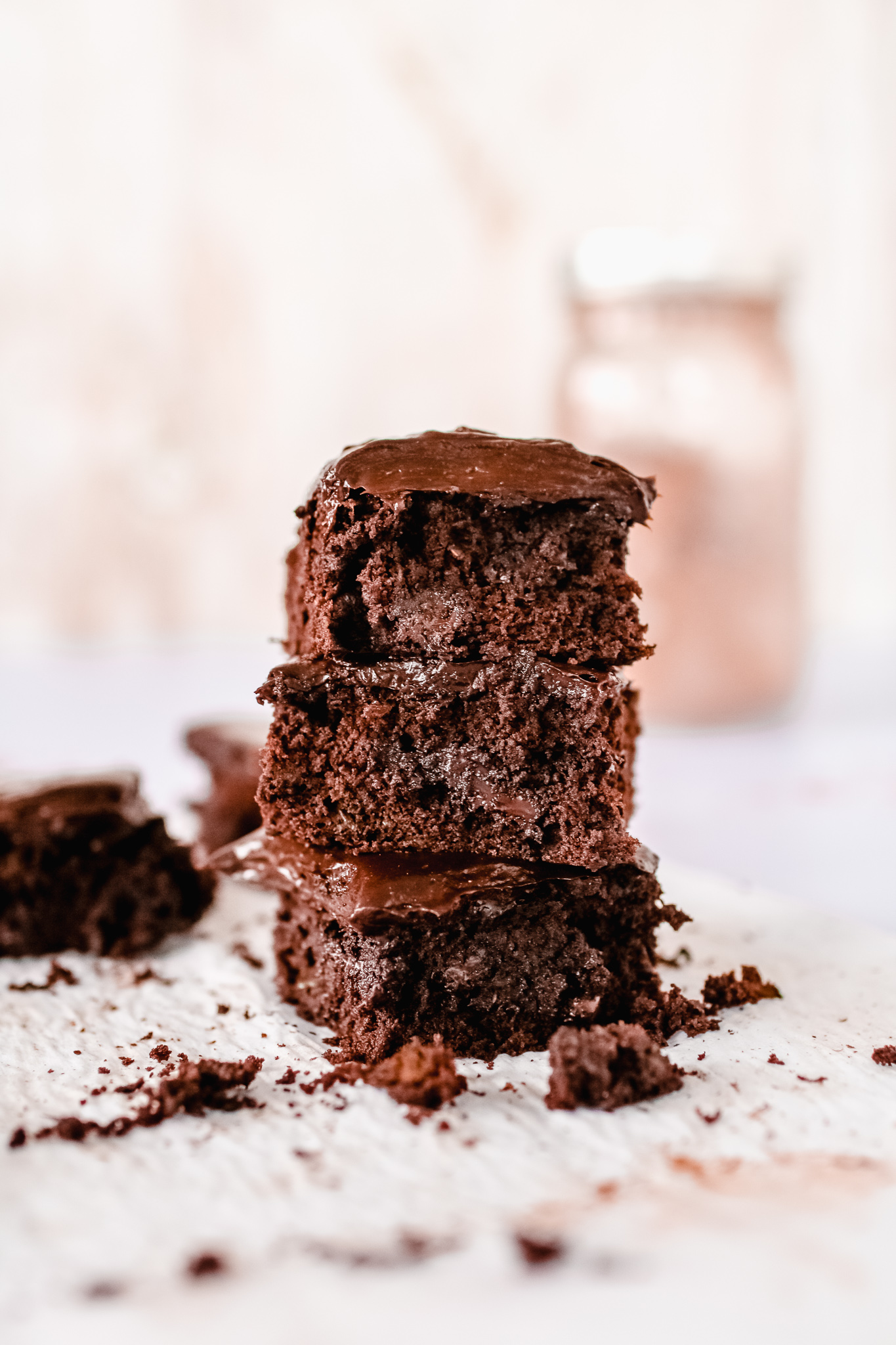 These gluten-free triple chocolate zucchini brownies, slathered in chocolate avocado frosting is the ultimate decadent dessert but with a healthy twist. Who says you can't have your cake and eat it too?! Or in this case, your brownies!! Do you remember McCain's Deep'n Delicious chocolate cake? I think if you grew up in North America, as a kid or maybe even as an adult you thought this cake was the bee's knees. I sure did, but that was pre HealthNut days. When creating this recipe, that's pretty much what I was going for. I wanted that deep'n delicious chocolatey goodness but of course it had to be healthified.
Healthier Linzer Cookies with Raspberry Jam
The cookie with multiple names!! Whether you call them Jam Jams or Linzers or any other name they go by, the one thing that they all have in common is how delicious they are. These cookies are hands down the prettiest cookies I have ever made! They just look so fancy and so worthy of a tea party. I can guarantee you will be the star baker if you bring these to your next party.
Homemade Cinnamon Rolls

These warm, gooey, soft, homemade cinnamon rolls drizzled in the most delicious refined sugar-free glaze are the perfect treat for breakfast and dessert! I think it's safe to say that at some point we all gave in to the Pilsbury doughboy cinnamon rolls at the supermarket. OR lined up at Cinnabon just so that we can get our hands on that delicious gooey cinnamon goodness. I'll admit – many many years ago I was that girl. There's nothing like biting into something warm and gooey and oh so decadent once in a while.
Snickers Shortbread Cookie Bars
Would you believe me if I told you that pre-HealthNut Nutrition, Snickers bars were my go-to energy bar? That's right!! These days I rarely eat chocolate, but to be honest when I see a stash of mini Halloween treats, I still reach for the mini Snickers bar first. Obviously there's still some love left for those sugary crunchy treats! So if you're like me and used to like Snickers chocolate bars, you are going to LOVE this healthier version!
What are your favourite healthy baking recipes? Let me know in the comments below! 
If you make any of these recipes, be sure to share a photo on social media and tag me @healthnutnutrition #healthnuteats so that I can see your creations! 
If you love these recipes and are looking for more options, check out all my Sweets Recipes right here.