I'm all about easy and healthy lunch ideas that take minutes to prepare and are convenient to transport to work, school or just on the go. Today I'm teaming up with my awesome friend Candice from The EdgyVeg to turn your traditional lunch favourites like egg & tuna salad and giving them a vegan makeover, 2 ways!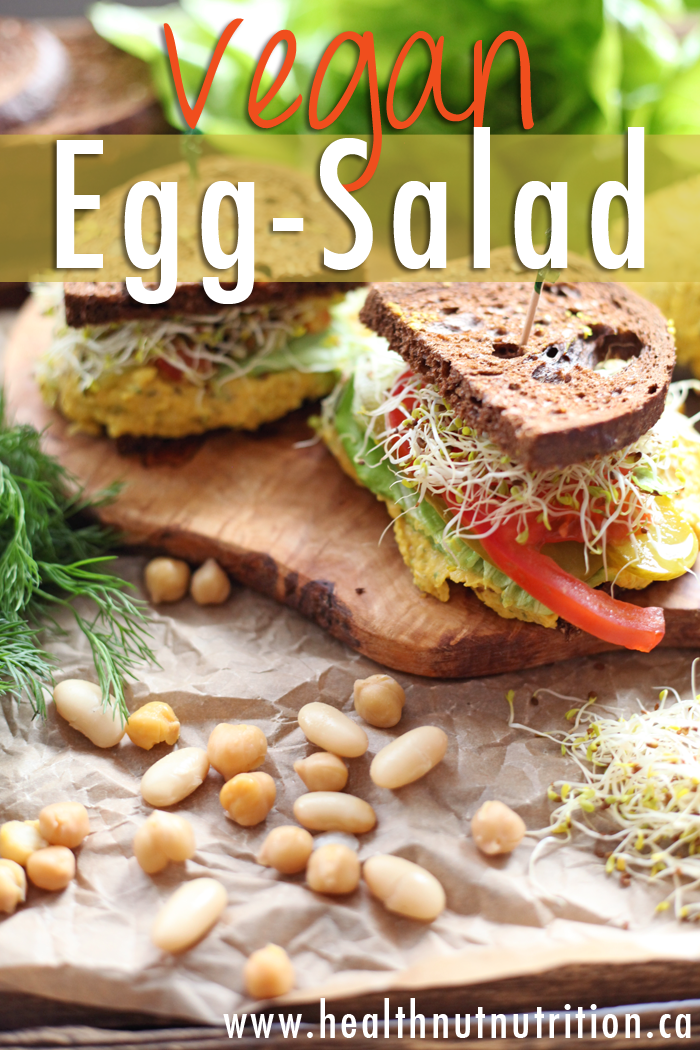 I'm going to be sharing my vegan egg salad recipe and Candice is whipping up one of the best vegan tuna salad concoctions I've ever tried!
This is one of the easiest lunch recipes I've ever made and I promise you it actually tastes and looks like the real deal. Most vegan egg salad recipes use tofu but I really wanted to provide an option that uses ingredients you probably already have in your kitchen. The mixture of chickpeas and white kidney beans creates the perfect texture that actually resembles egg.

When I say this recipe is easy I'm mean it's EASY. No boiling or peeling of eggs and you can throw all the ingredients into your food processor and blend until smooth and that's about it. I personally like to store the "egg" salad in an airtight container in the fridge overnight for the flavours to infuse, but you can totally just eat it straight out of the bowl! This vegan egg salad is full of protein and fiber from the beans and it won't stink up your lunchroom with that egg smell if you know what I mean 😉
The first option is a lemon and dill flavour on dark rye bread. Which if you haven't had fresh dill in your egg salad before you must try this version. Fresh dill in general is amazing and I add it to a lot of things like salad dressings, dips, and whatever else I can manage to sprinkle it onto. 
Option #2 is a curried egg salad version in a collard green wrap for some extra green power. A lot of people don't think about adding curry to egg salads but its another combination that works really well. I mean curry is yellow, egg salad is yellow… seems logical to me, right?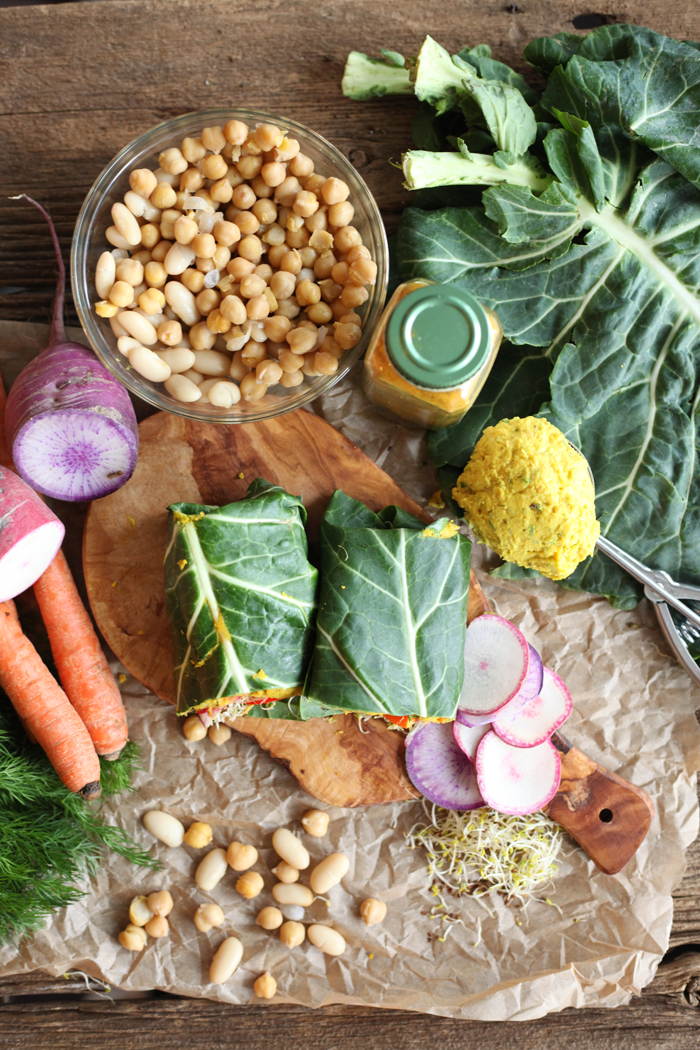 With both of these versions you can really add any veggies you like so go ahead and use whatever leftovers you have in your fridge and create some food art!
Want some more healthy vegan lunch options? Don't forget to check out the vegan tuna salad we made over on Candice's channel HERE! 
Recipe
Easy Vegan Egg Salad
An easy tofu free vegan egg salad recipe.
Lemon Dill Egg Salad
1

cup

chickpeas

1

cup

white kidney beans

¼

cup

vegan mayonnaise

1

tbsp.

capers

½

lemon juiced

1

green onion sliced

1

tsp.

fresh dill

¼

tsp.

paprika

½

tsp.

turmeric

½

tsp.

sea salt

¼

tsp.

black pepper
Sandwich Toppings
Dark rye sliced bread

Boston lettuce

Sliced tomato

Sliced dill pickles

Alfalfa sprouts
Wrap Toppings
Collard greens

Julienned carrots

Red pepper sliced

Tomato sliced

Alfalfa sprouts

Radish sliced
Print Recipe
Save Recipe
Directions
Place all ingredients into a food processor and pulse for roughly 15 seconds until smooth with a bit of texture.

Next, assemble your wrap or sandwich with desired toppings and enjoy!
*Best when stored in an airtight container and refrigerated overnight.
similar recipes
Let me know in the comments below which vegan egg salad was your favourite and if you recreate it, please use #HEALTHNUTEATS and tag me @urhealthnut so I can find your photos and double tap them 🙂