These life-changing light & fluffy scrambled eggs are fresh, delicious, and will melt in your mouth. Made with just 3 simple ingredients, and ready in 5 minutes!
Do you ever have those mornings where you just don't feel like eating eggs, because they are too heavy or too strong tasting? Sometimes they just don't sit well, or they can be too cheesy. Is it just me, or do you ever feel the same?! Typically on mornings like this, I'd reach for a smoothie, acai bowl, or yogurt and granola if I'm just not feeling in the mood for eggs. But I'm telling you, these light & fluffy scrambled eggs are so tasty and fresh, you will want to eat them on the regular!
Made with just a few simple ingredients including lemon and some high-quality grass-fed butter, these eggs will honestly melt in your mouth! The lemon really brightens up this dish, for a fresh spin on traditional scrambled eggs. And they don't have that super egg-y sulphur taste that eggs usually have. 
This recipe, which I like to refer to as "cottage eggs" is something I learned from my friend Jazz @nourishmintkitchen, while visiting her cottage earlier this year – hence the title! Ever since then I have been making them on repeat, and they have seriously changed weekend brunches in the HealthNut home! You won't believe how delicious these scrambled eggs are until you try them, and I even think that the non-egg lovers will be convinced! for those of you that don't like eggs – you might like these!! While they have a cheesy texture, they are actually cheese-free, which makes them even lighter and easier to digest.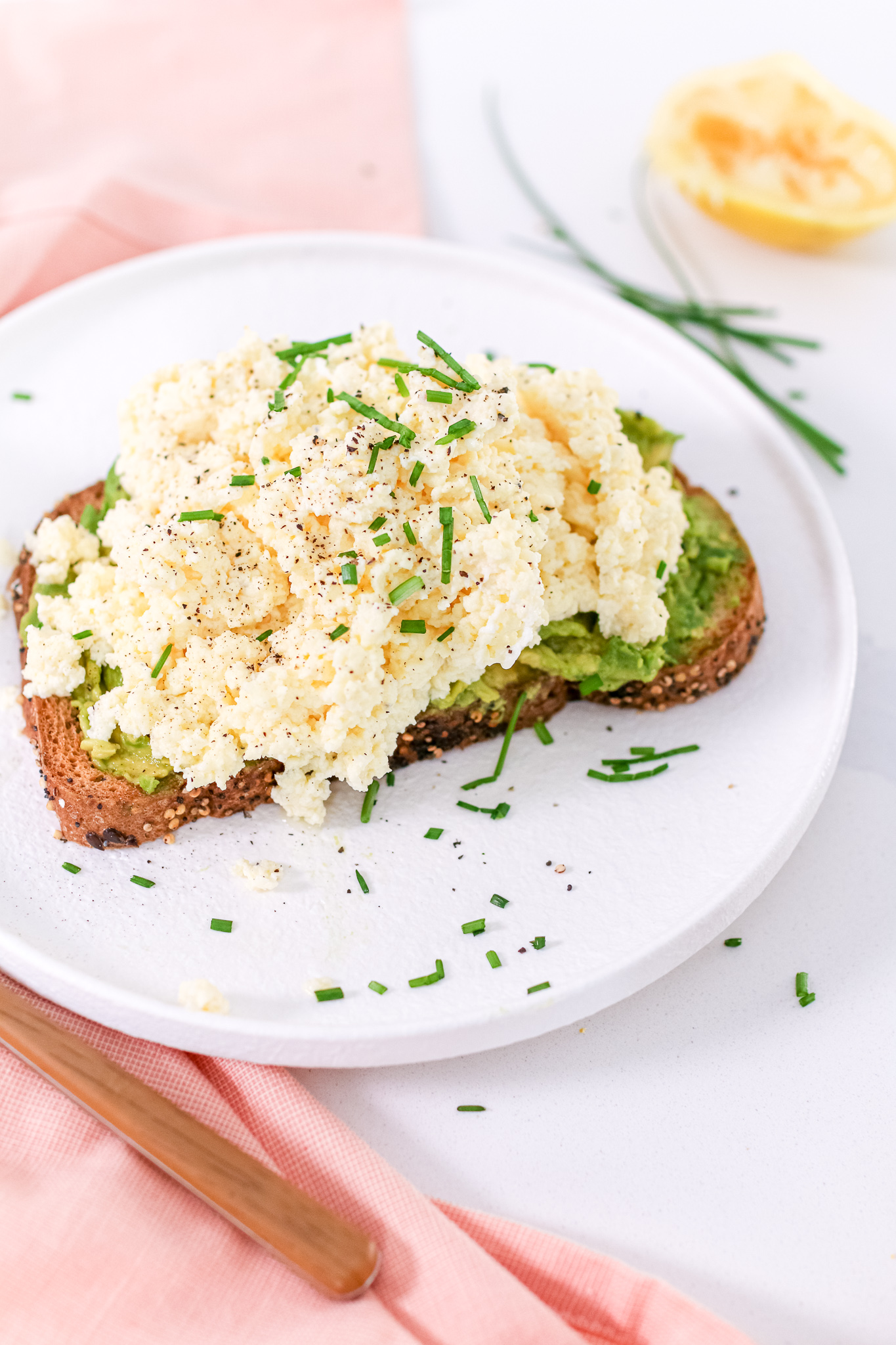 The Secret to Perfect Scrambled Eggs
I'm very picky when it comes to scrambled eggs. I like them cooked just until they are fluffy and gooey – no overcooked scrambled eggs here! After a few years of experience, here are my best tips for cooking them perfectly every time:
Heat the pan first and melt the butter while it's preheating. Then pour the eggs in and turn the heat to low.

Be generous with the butter! Trust me on this one, you want the perfect combination of healthy fats and the acidity of the lemon for this recipe – this is how they turn out so fluffy and delicious!

Cook them low and slow, and whisk them the whole time as they are cooking. Normally I cook scrambled eggs at a higher temperature, but in this case the slower you cook them, the fluffier!

Take the eggs off the pan a minute before they look "done" to you! The pan and the scrambled eggs themselves will hold the heat and continue to cook for a little while after you've taken them off the stove. Plate them as soon as possible to avoid over-cooking them!
I can't wait for you to try these fluffy lemon scrambled eggs – I know you're going to love them!  They are light, fluffy, and seriously the best eggs you will ever have. 
If you make these fluffy  Lemon Scrambled Eggs, be sure to share a photo on social media and tag me @healthnutnutrition #healthnuteats so that I can see your creations!
Recipe
Light & Fluffy Scrambled Eggs
These life-changing light & fluffy scrambled eggs are fresh, delicious, and will melt in your mouth. Made with just 3 simple ingredients, and ready in 5 minutes!
4

eggs

Juice from ½ a lemon

1

tbsp

organic grass-fed butter

Salt & Pepper

2

slices

Bread
Toppings
Avocado

Sliced or mashed

Fresh chives

chopped
Print Recipe
Save Recipe
In a medium bowl or measuring cup, whisk the eggs, and add a pinch of salt and pepper.

Whisk the freshly squeezed lemon juice into the eggs and let it sit.

Heat a medium size non-stick pan over medium-low heat. Add the butter and let it melt.

When the butter is melted and bubbling, bring down the heat and pour in the eggs. Whisk the egg as it's cooking on low heat, until the eggs are super fluffy and almost cooked, about 3 to 4 minutes. Take the eggs off the pan just before they look "done" to you!

While the eggs are cooking, toast your bread. Top with sliced or mashed avocados. Divide the scrambled eggs and transfer on top. Top with salt and pepper, and chives (optional). Serve immediately and enjoy!
similar recipes