Simple creamy banana oatmeal, naturally sweetened and ready in 5 minutes. An easy and satisfying breakfast recipe that will keep you energized all day long!
Start each day with a healthy and warming bowl of quick and creamy oatmeal. When it comes to oatmeal, I gotta admit, I wasn't always a fan. Growing up, I liked instant oatmeal packets. They were quick and I honestly thought they were healthy. But I think most of us know that those convenient packets of instant oatmeal are packed full of sugar. But, thankfully Momma Healthnut taught me how to make and love DIY oatmeal: thanks to her secret ingredient. She taught me the wonders of adding mashed banana. Bananas add the perfect amount of sweetness and makes me feel like I'm having dessert for breakfast!
The Wonders of Oatmeal
When it comes to oatmeal, it seems like the choices are endless. Steel cut, Rolled, Scottish, Quick, Instant, Groats – oy vey! As you can see it can be pretty overwhelming. But the good news is, there's something for everyone. Whether you have 30 minutes or 2 minutes to make a bowl of oatmeal, I got you covered. But for this recipe, we'll focus on Quick oats. With quick oats, you can have a healthy and hot breakfast on the table in less than 5 minutes. Quick oats cook faster than rolled and steel cut oats because they're cut thinner and they're steamed: making them the perfect choice when you only have a few minutes to spare. 
Ways To Add Flavour To Oatmeal
Let's be honest: oatmeal by itself is not very exciting! The exciting part is the endless ways you can favour and top it. Once you've decided which type of oatmeal you're going to cook, the fun can begin. If you look at the back of most oatmeal packets, it always instructs to cook it in water. But for me, that's very bland and boring. I always like to cook my oatmeal in half water half milk. And by milk, I mean whatever nut milk I happen to have in the fridge. So if regular milk is your jam, that's perfectly alright too! The reason I love going halfsies is because it makes the oatmeal creamier and tastier.
Then comes the mashed banana – for more creaminess and a natural way to add sweetness. I know not everyone is a fan of bananas, but trust me, you gotta try it! And if you still don't like it but want to add sweetness, then I suggest tossing in some chopped dates or a drizzle of maple syrup or honey. Now that we have the base covered, feel free to use your imagination when it comes to toppings! Fresh fruit, nuts and seeds, nut butter, dried fruit, spices (cinnamon, nutmeg, pumpkin spice), etc..
Let me know in the comments below your favorite quick and creamy oatmeal toppings!
If you love oatmeal and looking for more recipe ideas, then check out my Creamy Coconut Chai Spiced Oatmeal and Red Quinoa Oatmeal.
If you make this recipe, be sure to share a photo on social media and tag me @healthnutnutrition and #healthnuteats so that I can see your creations! 
Recipe
Quick and Creamy Oatmeal
A quick and creamy breakfast, naturally sweetened with creamy bananas and ready in 5 minutes!
1/2

cup

water

1/2

cup

vanilla almond milk

or nut milk of choice

1/2

cup

quick oats

1/2

ripe

banana

chopped

pinch of salt

1

tablespoon

ground flax seeds
Toppings
stewed or fresh berries

extra cinnamon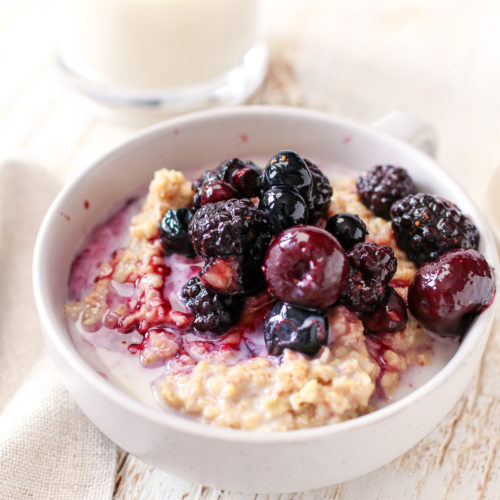 Print Recipe
Save Recipe
In a small saucepan, add the water, nut milk, oats, banana and a pinch of salt. Bring to a boil, lower heat to medium-low and cook for 2 minutes, stirring continuously.

Remove from heat and stir in flax seeds.

Top with stewed or fresh berries and a sprinkle of cinnamon.
similar recipes