A light and creamy, garlic herbed cilantro hemp salad dressing made with no dairy and blended up in 5 min!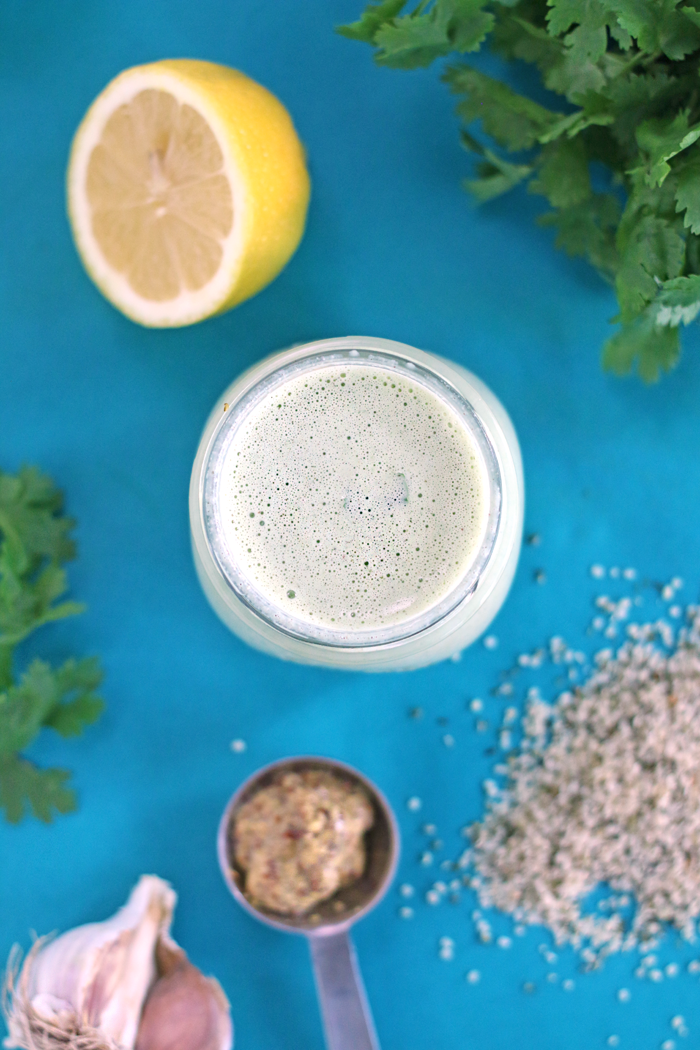 If you're looking for a great go to healthy salad dressing which you can blend up super quickly and add to all of your salads then this recipe is just the thing. This Cilantro Hemp Salad Dressing is light and tangy with the garlic, lemon juice, apple cider vinegar and grainy dijon mustard.  I also love adding fresh herbs like cilantro because they add a burst of flavour and freshness to your salads with a ton of health benefits.
Cilantro is like a cleaner for your insides as it helps to remove heavy metals from the body which can build of over time from the water we drink, fish we eat and our environment in general.
I also cannot tell you enough how much I love a good blender in my kitchen, I'd say its my #1 kitchen staple must have because it just makes creating recipes a dream. I use a Vitamix Blender but there are some other great options to like Blendtec and if you're on a budget a NutriBullet is great to and is what I used for years until I upgraded.
If you're looking for some other healthy salad dressing recipes I also have some delicious ones here, here & here!
If you try out this recipe, be sure to share a photo with me on social media and tag me @healthnutnutrition so I can find it and like it!
Recipe
Cilantro Hemp Salad Dressing
A light and creamy, garlic herbed salad dressing made with no dairy and blended up in 5 min!
1

cup

fresh cilantro

3/4

cup

water

1/2

cup

hemp hearts

1

clove

garlic

1/2

lemon juiced

1

tbsp.

apple cider vinegar

1

tbsp.

olive oil

1/2

tbsp.

grainy dijon mustard

Optional: 1 green onion choppped

Salt and black pepper to taste
Print Recipe
Save Recipe
Directions
In a high speed blender add in all of the ingredients starting with the liquids first and blend until smooth (roughly 30-40 sec).

Serve straight away or store in a airtight glass container in the fridge for 3-5 days.
similar recipes