This savoury Warm Crispy Mushroom Arugula Salad takes less than 30 min to prep and will be the fanciest looking dish at your next dinner party! 

Have you ever eaten the most mouthwatering dish at a restaurant and thought, if only I could make this at home, I would eat so many delicious meals, every single day. Well, the foodie in me lives for finding inspiration from dishes like that.
I recently ordered a warm mushroom arugula salad at Terroni's, one of my favourite restaurants in Toronto and it was just so perfect that I knew I had to make a HealthNut version to share.
This fancy, savoury and sweet salad combination is one your taste buds will love. Start with a bed of light greens tossed in sweet balsamic vinaigrette, then top with crispy mixed mushrooms. I have no doubt that it will impress all of your guests at your next dinner party, and even better, it takes less than 30 minutes to prep!
You can enjoy this yummy salad as a side, or sophisticate it up as a main dish with grilled fish or veggies and eat the whole thing.  Because I may, or may not have done that once or twice already 😉
I love the combination of cooked and raw foods together, especially when it comes to salads. Whether it's roasted butternut squash and kale, or crispy breaded mushrooms and arugula like this one, I'm all for the mix of temperatures on my plate.  Sometimes the simplest things combined can become so flavourful and take your dish to the next level.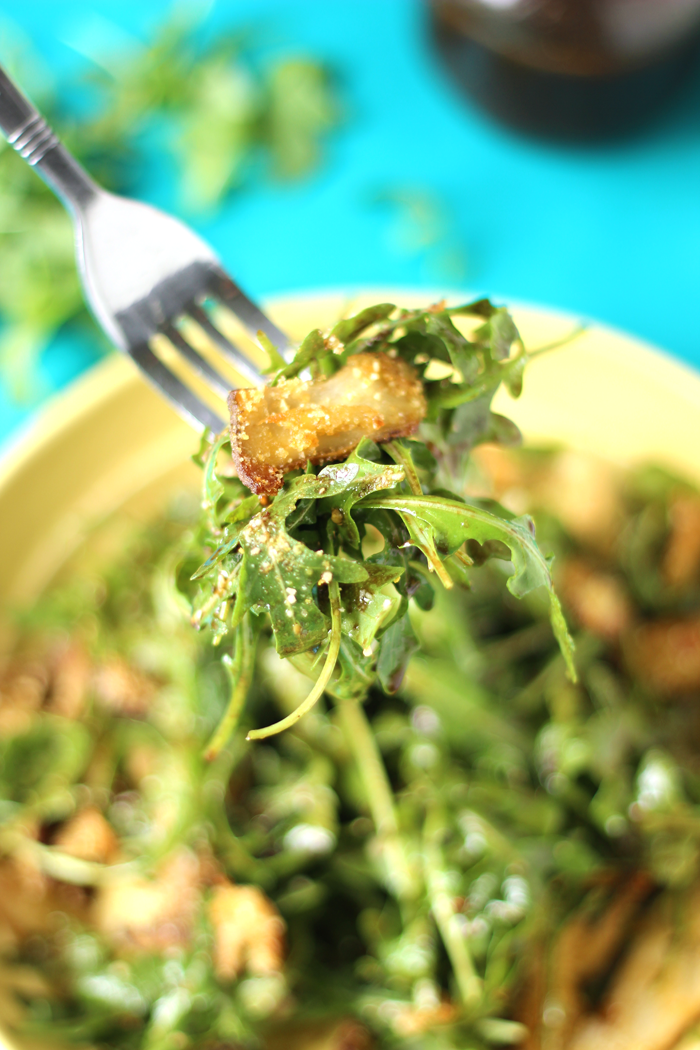 If you're not a mushroom lover then:
a)    Try some different kinds because chances are you haven't found the right one yet for you, or
b)   swap out the mushrooms for other veggies like eggplant or zucchini and you'll have created just as savoury of a dish.
Enjoy!
Recipe
Warm Crispy Mushroom Salad
A savoury Warm Crispy Mushroom Arugula Salad that takes less than 30 min to prep and will be the fanciest looking dish at your next dinner party!
Mushroom Salad
4

Cups

arugula

2

Cups

King Oyster mushrooms

2

Cups

Shitake mushrooms

3

Tbsp.

brown rice breadcrumbs

3

Tbsp.

vegan Parmesan cheese

recipe below

2-3

Tbsp

olive oil
Vegan Parmesan Cheese
¼

Cup

raw cashews

1 ½

Tbsp

nutritional yeast

½

Tsp

garlic salt powder

¼

Tsp

onion powder

¼

Tsp

Italian seasoning
Dressing
¼

Cup

Olive oil

2

Tbsp

balsamic vinegar

2

Tsp

Honey

2

Tsp

Grainy Dijon mustard

Salt and pepper to taste
Print Recipe
Save Recipe
Vegan Parmesan cheese
In a blender or food processor, add in all your ingredients and pulse until the mixture resembles a fine "parmesan" texture.

Set aside to enjoy with this dish or refrigerate in an airtight container for 3-5 days.
Mushrooms Salad
Preheat oven to 400F.

Clean and cut up mushrooms into thick slices.

In a large bowl, add in sliced mushrooms, drizzle with olive oil and lightly toss with hands or tongs (but be gentle).

Sprinkle on vegan Parmesan cheese and breadcrumbs and lightly toss until evenly coated.

Line a baking sheet with parchment paper and spread out mushrooms evenly.

Bake in the oven for 20-25 min on the lower rack flipping half way through so both sides get crispy.

In a large salad bowl add in arugula and toss with dressing until well coated.

Allow your mushrooms to cool slightly and then place them on top of the arugula salad.
similar recipes