Hash browns, french fries, roasted potatoes; these are all amazing potato sides that get our mouths watering, but what about mashed potatoes? Why do we always overlook them as a boring side dish when they can be packed with so much flavour and compliment any meal.  My Vegan Mashed Potatoes are bold with garlic and onion flavours, and the best part is, there's no butter or dairy! These unique, rustic flavour potatoes are totally vegan; they're healthy and nutritious and so delicious, you'll never go back to boring mashed again.
Use it as a side, or serve it as a main course topped with sautéed greens and mushrooms.  It's SO flavourful and so easy to make, no matter how you make it, your tastebuds will be ecstatic. And, since it takes less than 30 minutes to prepare, you can prep dinner after you get home from work, but just in time before that friend "Hangry" shows up. 
So get creative with your next batch of mashed potatoes and add some extra veggies and seasoning and who knows you might just end up with your own epic version! In the meantime you can use mine to impress all those picky eaters in your life that won't even realize they're eating something delicious AND nutritious.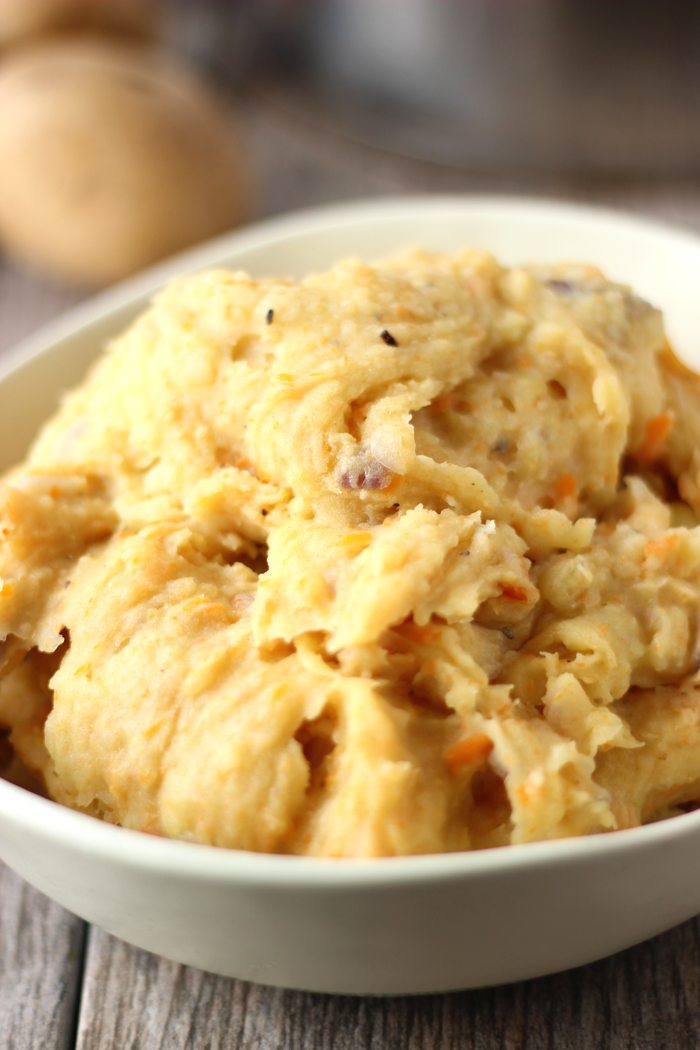 QUICK TIP: Remember anytime you're using root veggies, it's important to try and buy organic.  You may not see the need for organic, but since root veggies grow in the ground, they will soak up everything in the soil, including all of the pesticides used.  If you can't buy organic, make sure to always peel your produce to reduce your pesticide exposure.  BUT keep in mind, it's almost farmers' market season, so it's a great time to scope out and buy local organic produce.  And when you do, leave the skin on for this recipe if you want a more rustic look and taste and you'll get the added benefit of extra vitamins and fibre!
Recipe
The Best Vegan Mashed Potatoes
These Vegan Mashed Potatoes are bold with garlic and onion flavours, and the best part is, there's no butter or dairy!
Print Recipe
Save Recipe
Instructions
Wash and peel potatoes, then cut into large chunks. Set aside in a large bowl of water to prevent browning.

Peel and roughly chop onions and carrots and set aside.

FIll a large pot of water, add a large pinch of salt (roughly 1 tsp), ½ tsp garlic powder, 1 tbsp. olive oil, and then your chopped potatoes, carrots and onion and bring to a boil.

Cook on medium heat for 20 minutes or until potatoes are fork tender.

Reserve ½  cup of the broth and drain the remainder.

In a large mixing bowl, add in your boiled veggies, remaining garlic powder, salt, black pepper, olive oil and mash together using a potato masher while slowly adding in the reserved broth.

Finish off with an emersion blender to get the onions and carrots well blended with the potatoes. Don't worry if it's still a bit chunky as it adds to the rustic feel.

Serve right away hot or allow to cool completely and store in an airtight container for 3-5 days in the refrigerator to enjoy all week long.
similar recipes