Halloween is literally AROUND the corner and I last minute decided I was in need of some healthy chocolate deliciousness in my life and so I whipped up a batch of these super chewy chocolate caramel bites. To be honest this name (which I just came up with this morning) doesn't even give them justice.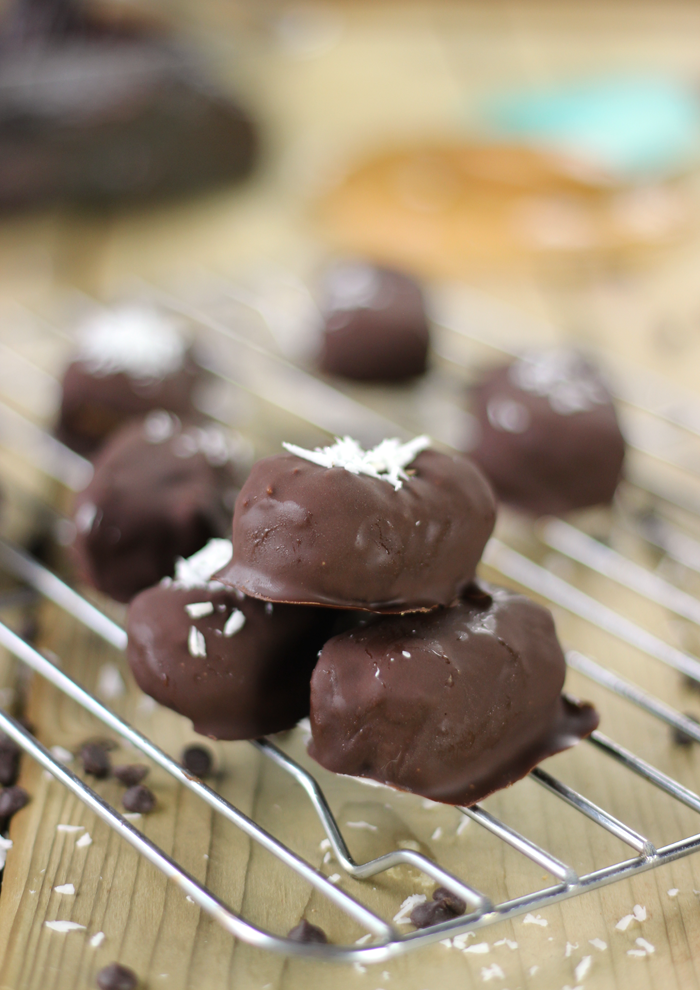 They are chewy, chocolaty, peanut buttery and the coconut just adds a texture like non other. Can you tell I'm pretty excited about these? My mouth is actually watering and I still have an hour left on the train before I get home to rad my freezer of these.
I'm not going to lie, I originally created this chocolate recipe in the attempt to make my 2.5-year-old nephew some allergy friendly treats that he can actually eat. Then what do you know? Magic happened! I love that all you need is a food processor to make this recipe which is one of the cheapest kicthen appliances you can invest in that will do wonders for everything from desserts to soups. I've been using this $30 one from Black and Decker and it works great, you can find it on my Amazon link here.
I love when I create last minute recipes without much testing and it actually turns out amazing on the first try. Trust me when I say this does NOT happen often lol You can go ahead and ask my frequent taste testers (aka-family and friends) who have eaten cookies that taste like sand, brownies that are bitter not sweet.. Or my first batch of pumpkin cheesecake, which just didn't make the cut. Don't worry the second batch was so good and will be coming to your mouths (if you make it) next week 🙂
Recipe
Chewy Chocolate Caramel Bites
A delicious chewy chocolate bar with a caramel, peanut butter and coconut centre.
Caramel Filling
1 ½

cups

medjool dates

2

tbsp.

natural peanut butter with sea salt

can sub for any nut butter

¾

cup

unsweetened shredded coconut

1

tbsp.

coconut oil

1

tsp.

vanilla extract
Print Recipe
Save Recipe
Pit and soak dates in hot boiling water for 10 min and drain.

In a food processor, add in dates, nut butter, coconut oil, vanilla extract, and blend for 1 minute or until smooth to form a caramel batter.

Transfer caramel mixture to a bowl and fold in shredded coconut. Cover and freeze for 30 min. This makes it less sticky easier to handle.

Once your mixture has hardened for 30 min take it out and start rolling/pressing into mini rectangle bar shapes and place on a parchment-lined tray and freeze for another 30 min.

In a double boiler on low-med heat, stir in your chocolate chips, coconut oil and sea salt while stirring constantly until everything melts together.

Remove your naked bars from the freezer, dip them into the melted chocolate and roll until evenly coated. Remove with a fork, transfer to your parchment lined tray and place in the freezer for another 20 min to set.

Optional- you can sprinkle extra shredded coconut on top of your chocolate bites before placing into the freezer to set the chocolate.

Store in the freezer until ready to serve.
You can store these for up to 2 months in the freezer in an airtight container. They will last longer but they just might not taste as fresh.
similar recipes
I hope you have a great Halloween weekend and enjoy these healthy treats with your friends and family. Please share this recipe with anyone you know who suffers from food allergies or is a vegan since I know they will love this recipe if they are a chocolate lover.