I've got another amazingly delicious dorm friendly back to school recipe for you guys that involves zero cooking. These Vegan Caesar Bagels are so full of flavour, texture and creamy dressing, I know you're going to love it. This is a recipe that I use to order all the time from a local coffee shop at lunch while in high school.
I don't know if it was a thing or if I made it up but I would call it a "Caesar Bagel" and man are they ever delicious. There's something about a sandwich filled with a ton of toppings and drizzled with a creamy tangy dressing that just hits the spot.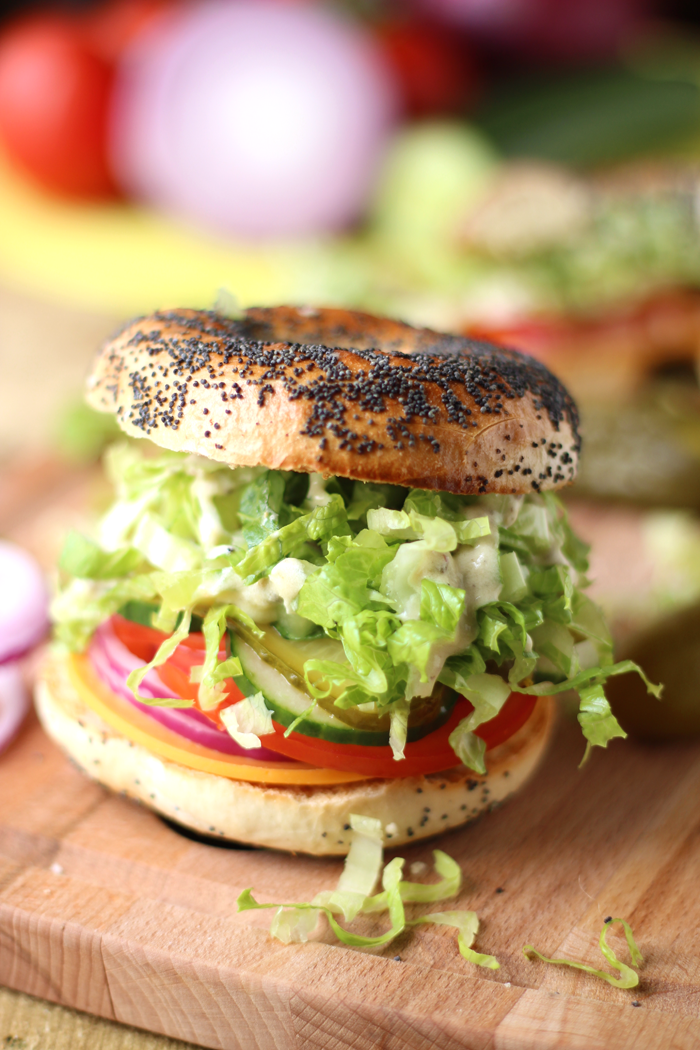 Now of course I had to healthify this recipe and use my vegan Caesar dressing which is a recipe from my 5 Everyday Superfoods Ebook but I'm sharing it with all of you today. Its just too amazing to keep to myself. If you want to check out my ebook you can by clicking here! 
Next time you're having a sandwich craving make this and serve it with a side of tomato soup and it will honestly be the best lunch ever. The sandwich and soup combo just never gets old and this recipe definitely makes the cut. Now all I have to do is share my roasted red pepper tomato soup with you and you'll be all set.
I had my awesome friend Candice from The EdgyVeg helping me out in the kitchen today making these Caesar bagels. If you want another equally delicious dorm friendly recipe to try then go check out the Vegan Pad Thai we made on her channel which is perfect as a dinner option. Pad thai is basically my favourite meal in the world so I was really excited to try out this recipe and it was amazing! 
If you want more no cook/bake recipes from Candice and I, then comment below or let us know on social media. We also filmed two other dorm friendly recipes, which I've added to a playlist for you here.
Recipe
Vegan Caesar Bagel
Vegan Caesar deliciousness stuffed into a bagel drenched in dressing.
Vegan Caesar Bagel Ingredients
Vegan Caesar Dressing
1

⁄2 cup soaked cashews

6

tablespoon

of filtered water

3

tablespoon

extra virgin olive oil

1

⁄2 lemon juiced

1

teaspoon

of Dijon mustard

2

teaspoons

minced capers

1

minced garlic clove

1

teaspoon

coconut aminos

Salt & pepper to taste
Print Recipe
Save Recipe
Vegan Caesar Bagel Instructions
Toast Bagel slices until golden brown.

Add all your toppings on one slice and drizzle lots of the vegan Caesar dressing.

Top sandwich with the other slice of bread and cut with a sharp serrated knife.

Serve by itself or with a bowl of hot tomato soup.
Vegan Caesar Dressing Instructions
n a blender combine soaked cashews and filtered water and blend until you reach a smooth consistency.

Next, in a medium bowl add in your capers, garlic, lemon juice, coconut aminos, mustard and pepper.

Using a whisk slowly add in your olive oil to emulsify the lemon juice with the oil for a creamy texture.

Slowly, add in 1⁄2 of the cashew cream (save the other half to add into a pasta sauce or soup).

5. Sprinkle about 1⁄4 cup of your parmesan cheese in which will give your dressing a salty taste and cheesy texture.
The Caesar dressing makes about 1 1/2 cups of dressing and can be stored in an air tight container in the refrigerated for 3-5 days.
similar recipes