7 tips and tricks to make your visit to Universal Orlando with little ones as enjoyable and stress-free as possible.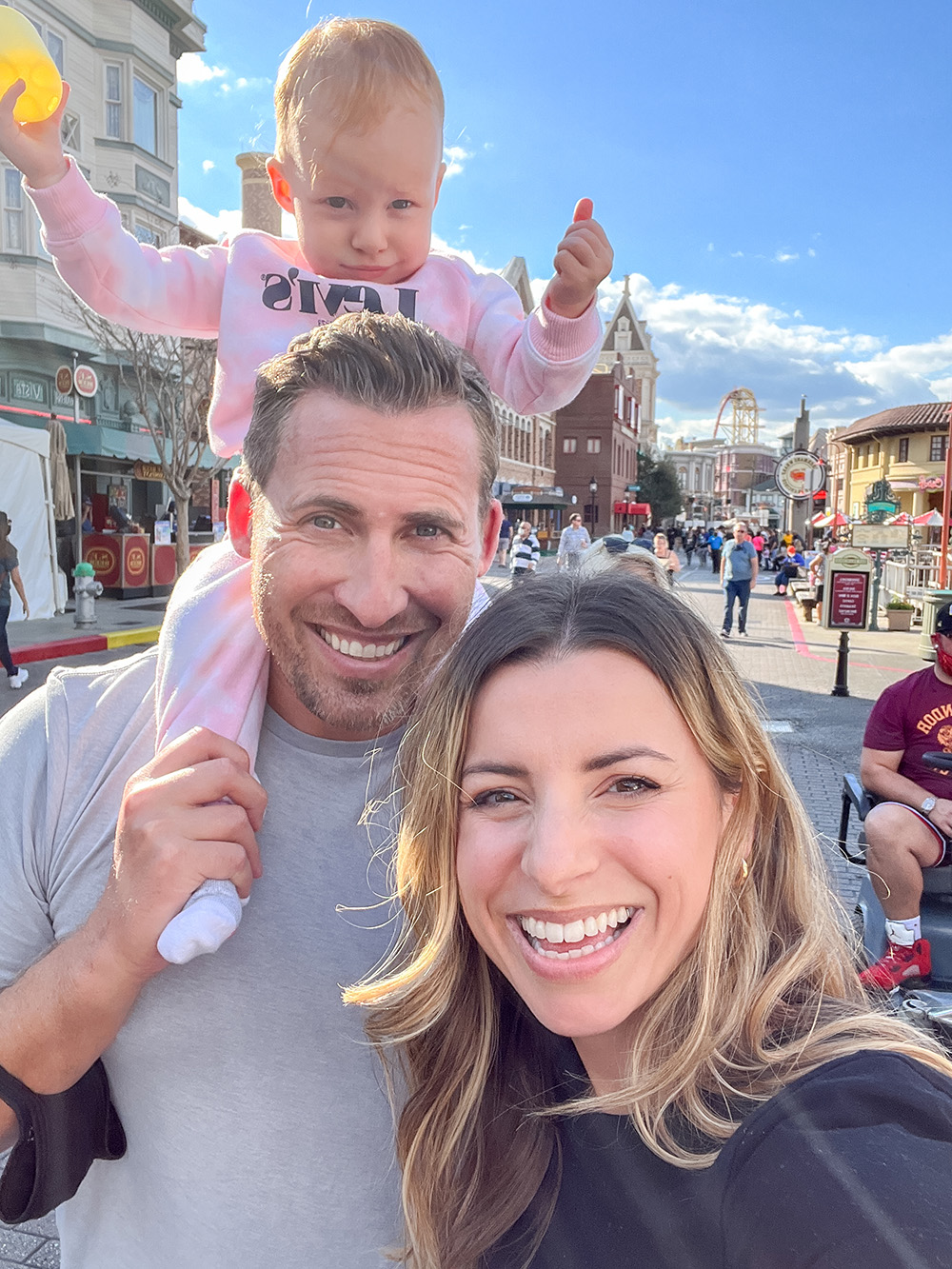 Universal Studios Orlando is the perfect vacation destination for kids (and of course kids at heart!) However, when traveling with little ones in tow (especially when they're on the younger side like our one year old daughter Sage), it can become quite stressful. To help avoid that, here are the 7 tips and tricks I picked up on our recent visit. 
Universal Studios is split up into two parks, so you can either pay to go to one or upgrade and visit both. If it's your first time, I think it's worth the upgrade. Universal Islands of Adventure has most of the best rides (in my opinion) and Universal Studios has The Wizarding World of Harry Potter and Diagon Alley. If you're a Harry Potter fan, this is a MUST see. 
What to wear
While Florida is known for its warm weather, you never know what's going to happen, so I'd always suggest dressing your little one in layers. That way if they get too hot or cold you can adjust accordingly. Also make sure what they're wearing is comfortable. Skirts and dresses may not be the best option for going on rides! I recommend shorts, a tee, comfortable sneakers and a zip up hoodie or sweater. Also be sure to bring a spare change of clothes in case of accidents or spills!
What to pack
You don't want to bring too much with you. Don't forget, everything you bring you'll need to carry around! But there are a few essentials that we packed that really helped us out on the day. You'll want to make sure you have…
Sunglasses and/or a hat

Sunscreen

Packed lunch and snacks for younger kids (we did a toasted multigrain sandwich with peanut butter, sliced banana and hemp hearts)

Extra wipes for sticky messes

Light backpack or crossbody bag
Where to eat
They do allow you to bring food, water bottles and small coolers into the park – just no alcohol. We bought a packed lunch and lots of snacks for Sage so we didn't have to worry about finding food she could eat. And for us we had a large green smoothie before leaving the house and just ate lunch out at the park. If you're looking for some fun and yummy options, here are the best places to eat…
Of course, there's not just lunch options at Universal. There are some DELICIOUS snacks available too! I'd definitely recommend getting a hot butterbeer (only available in winter). This tasted like a fancy Starbucks drink, or what I would describe as hot butterscotch ice cream with whipped cream on top! I'll warn you it's very very sweet so you might just want to share one. The
fresh fruit cups available throughout the park were also a nice refreshing treat. Also check out the soft pretzels (one of Mr Matt's favourite foods!). On your way out through CityWalk (the front entrance area with shops and restaurants) don't forget to stop at Voodoo Doughnuts for some fun and delicious flavours of donuts. Although they have some wild flavours I highly recommend the apple fritter and old fashioned glazed. 
Rides to go on first
You want to make sure you arrive as soon as the park opens so that you can make the most of your time and get in some big rides before the queues get too crazy! Head to the most popular ones first to avoid long line ups. You can also utilize the single rider lines to beat the long lines and head straight up to the ride. Another time saving hack is to take the Hogwarts Express train within the park to travel between parks. Sadly it was closed both times we visited, but we were told it's almost never closed. 
Love a bit of thrill? These are the best rollercoasters to go on…
Jurassic World Veloccicoaster (this was hands downs the best rollercoaster I've been on!)

Hagrid's motorbike

Hulk

Forbidden journey

Escape from Gringotts Bank

Spiderman

Transformers
Looking for more toddler friendly options? There are no rides at Universal Orlando that allow lap sitting babies, however these are the eight rides and attractions that allow children at or under 40 inches to ride…
Studio Tour (No height requirement)

Kung Fu Panda Adventure (No height requirement)

Flight of the Hippogriff (Minimum 39 inches)

Despicable Me Minion Mayhem (Minimum 40 inches)

The Simpsons Ride (Minimum 40 inches)

Transformers: The Ride 3D (Minimum 40 inches)

Silly Swirly Fun Ride (Kids under 48 inches will require a supervising adult)

The Secret Life of Pets: Off the Leash (Minimum 34 inches)
Tips for keeping babies and toddlers happy
Food is always a great way to keep the little ones happy! Bring lots of snacks in a grab snack cup so that they can hold it and help themselves while you walk round the park. We did freeze dried strawberries and puffed rice, but you could also go for chopped up fruit, fruit smoothie melts or something like these lentil cracker puffs. Also make sure you bring water for the whole family. These no-spill sippy cups are great for small children, and this hydro-flask for kids is great for once they're sipping from straws because it keeps their drinks cold.
If you're little one still naps during the day, don't forget to bring a few items that will help send them off. A noisy theme park isn't exactly a great sleep environment, so having a light blanket to cover the stroller and darken it a bit, and a portable sound machine, can really help. 
When it comes to choosing which stroller to bring, I recommend bringing your main stroller as opposed to a small travel one. It might seem like a travel stroller is easier to bring, but your main stroller will be more comfortable for sleeping in and will provide more shade from the sun. It'll also provide you with more storage underneath so you don't have to carry so much around! Make sure to also bring a rain cover for your stroller, just in case! They are thin and small enough to store underneath. We always have ours with us because you just never know! Don't forget to also bring some stroller toys to keep your little one entertained, and a few shows to play on your phone. 
Even though Sage enjoyed all the sounds, colours and things to see, I do think the best age to take your kiddos is when they're about 3 and up. This is a great age because they'll be able to go on more rides and enjoy the park fully.
Child Swap
If you're wondering how to navigate getting on rides with your little one, there's a really handy 'child swap' setup at Orlando. Stroller parking is available at all attractions, and there are lockers for most rides. Park up your stroller, switch your little one into a carrier and walk them through the lines. Once you reach the front of the line, there is then a section to wait and swap with your partner so you both can enjoy the ride without lining up twice! These waiting areas are quiet, have seating, and some even include a changing table and TV for entertainment! I'd also recommend bringing your diaper bag with you into the line, and bringing snacks, a book or a toy so that your little one doesn't get bored while waiting.
Get the app
There's an app for everything these days, and Universal Orlando is no different! Their free app helps you to plan your day and navigate the park, as well as check wait times and show times. This is super helpful for making sure you get on the maximum number of rides. There's free wi-fi at the park too, making it easy and convenient to download and use the app. You can download it from the Google playstore here, or the Apple app store here.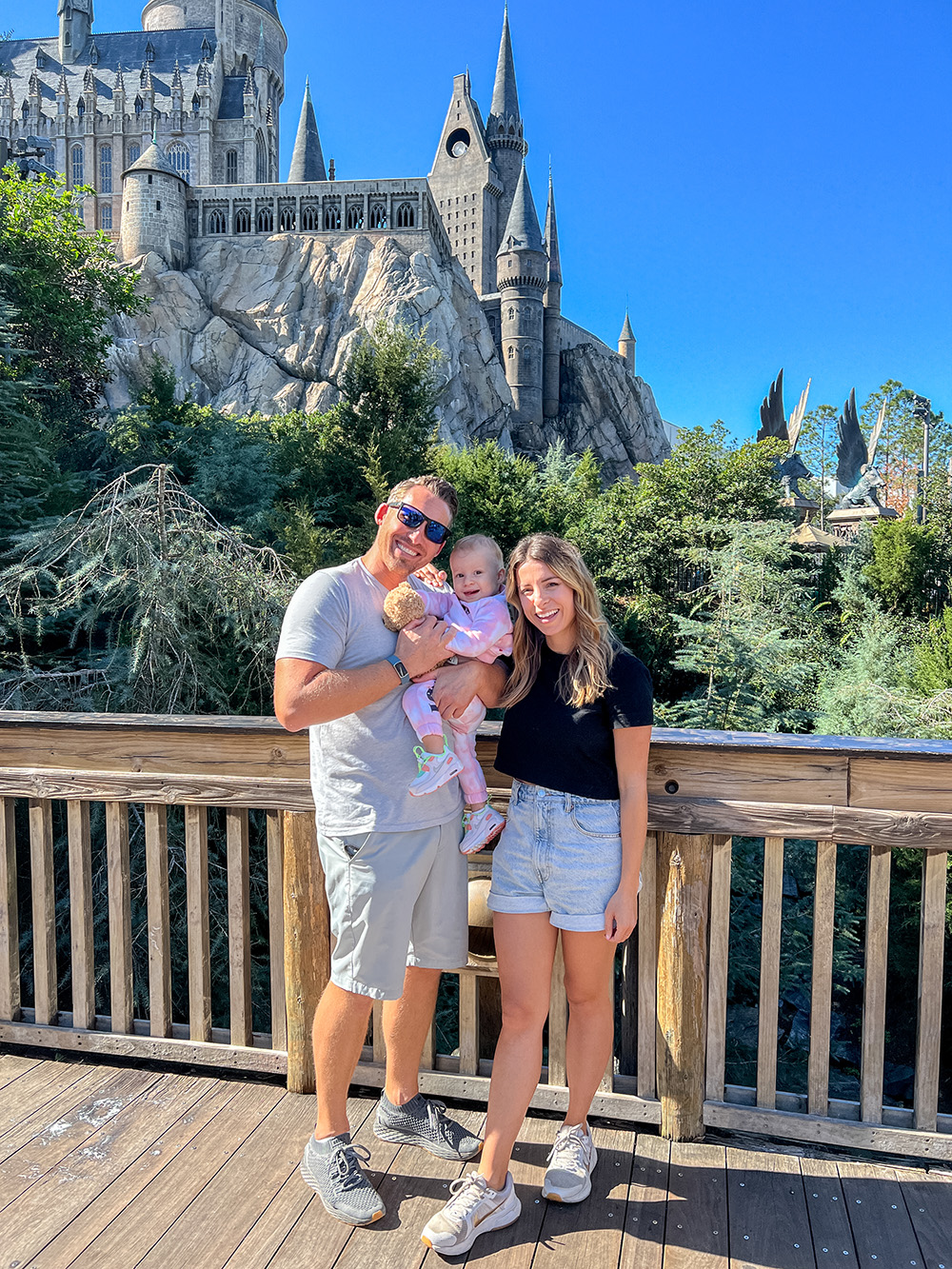 There you have it – your guide to visiting Universal Orlando with kids! Obviously I have a one year old, so things may well change when Sage is a little older, but for now we're learning as we go!
What are your top tips for visiting Universal Orlando with kids? I'm always looking for new tips, so let me know in the comments below! 
If you want to see more of my travel tips, check out my Baby Travel Essentials post and my Top Tips For Flying With A One-Year-Old.