12 of my summer beauty staples, from skincare to dry shampoo. These are my go-to products that are non-toxic and that I feel confident wearing.
Even though my love for health and nutrition started with what went into my body, it wasn't long before it spilled over into what goes on my body, too. I know it can be overwhelming when you first start looking for non-toxic beauty products, since there are SO many on the market, so I thought I'd update you on some of my favourite summer beauty must-haves!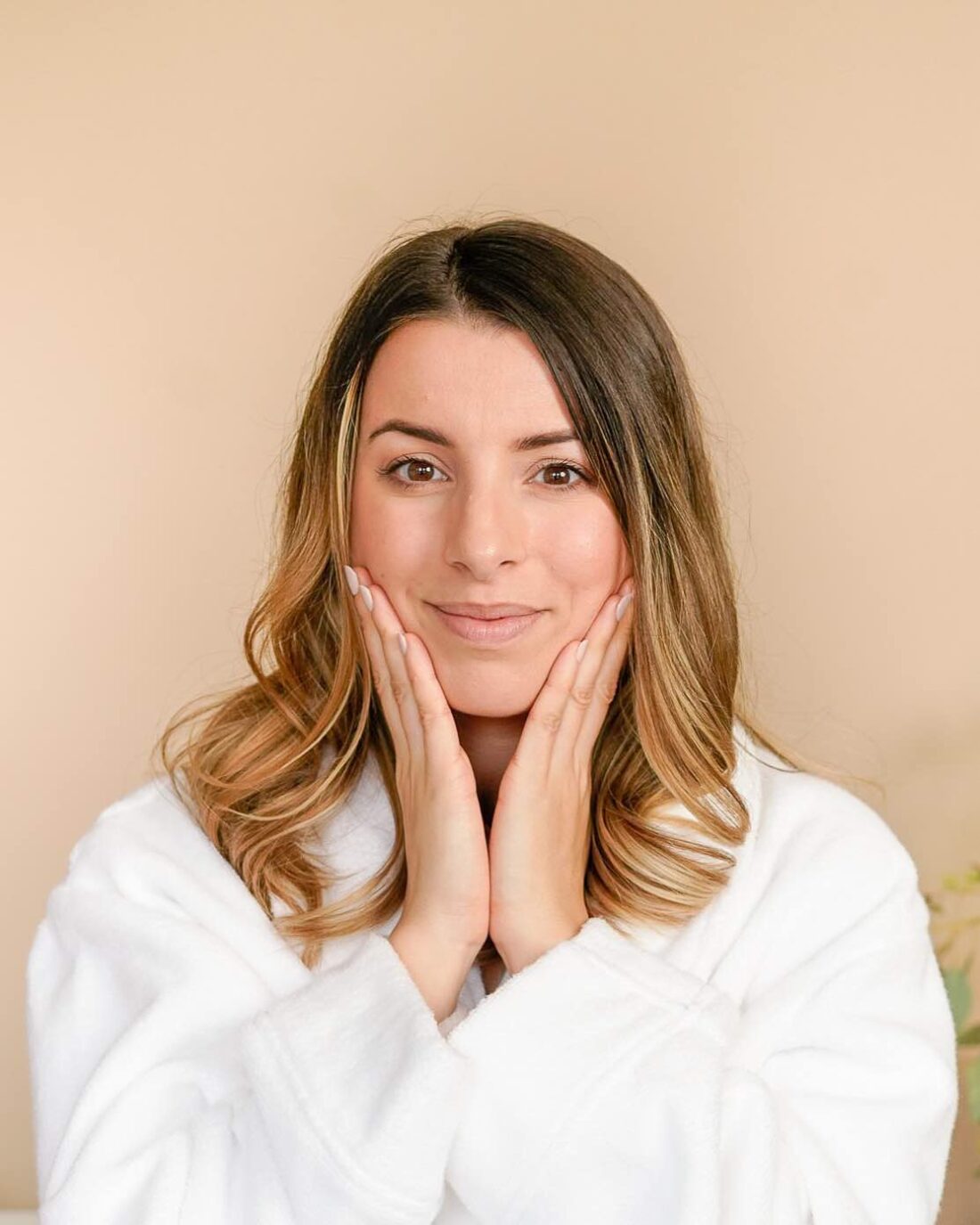 Body Oil
This body oil (Use code Nikole15 for 15% off) smells so amazing and is my new favourite scent – honey suckle! Not only does it give your skin that gorgeous summer glow, but it's also the perfect 'pure-fume'. AKA – Makes you smell great without the toxins! It's super hydrating, but not greasy like a lot of body oils, and contains some of my favourite oils like jojoba and seabuckthorn. I love to apply it right after my shower to really lock in that moisture! 
Don't forget to use code Nikole15 for 15% off!
Tinted Sunscreen
If there's one thing that's a summer essential, it's sunscreen. For my face, I prefer a mineral sunscreen, and this one is full of clean ingredients. It glides on so smoothly and acts as a natural face primer. It's very mattifying so it makes the perfect base for under your makeup! It also blends right in – it's not super thick and white like a lot of natural sunscreens! There's a slight tint built into it and it provides slight cover. This is perfect for me because on the days where I don't want to wear actual makeup (which, let's be honest, is most days now I'm a busy mom!) it still evens out my skin.
Lip Balm
I am super picky when it comes to lip balms. Call me a lip balm snob but I've tried them all and none of them quite hit the mark for me, so I decided to formulate my own! This Lip Butter by BeautyNut Skincare is super buttery (hence the name) and is the perfect blend to keep your pout smooth, hydrated and feeling loved all day long. I swear, I have about 10 tubs floating around the house and in all my bags (including Sage's diaper bag) because I can never be without it. If I could only leave the house with 4 things in my purse, it would be phone, wallet, keys and lip butter. You can even use it as an all-purpose moisturizer because it's super hydrating and is jumbo size – think glue stick!
Cheek and Lip Multi-Purpose Stick
I love a good multi-purpose product and this one is a summer favourite! I use it on my cheeks, lips and even on the tip of my nose for the subtle and natural flush of colour. It's creamy and melts right into your skin, so I like to just apply it with my fingertips! I love all the colours, but the two I use are 'All Of Me' and 'Out Last'. Ilia has been my favourite natural makeup line during the past year and I already own about 6 products from them that I love. If you're interested in seeing which other products I use, check out my 5 Minute Mommy Makeup Routine.

Dry Shampoo
Does anyone actually wash their hair every day these days? Ever since I learned how amazing it is for your hair to not wash it every day (and not strip out all those good oils) I've been all about extending the time between washes for as long as possible. Still, no one likes a greasy mane, so my secret weapon is dry shampoo! That being said, I don't actually use the traditional stuff anymore because I found it was making my hair fall out! Instead I stick to the natural stuff made with clean, simple ingredients that I can feel good about putting on my body. This one (sold by my friend Joy's company from Joyous Health – a local Canadian brand) absorbs excess hair oil so well and blends right in while leaving a yummy scent! They have one for light hair and one for dark hair too, so you won't be faced with a white powdery mess on your head.
Sunscreen
Not only do I feel safe using this sunscreen on myself, I also feel safe using it on Sage! It's what we both wore on our recent family trip to Florida. It's thick but it does blend in. When you're spending long days out and about or on the beach, the last thing you want is a sunscreen that's going to slide right off in 30 minutes. This one actually sticks to your skin! I love that we can just use this as a family sunscreen and get the large tube. Much easier than getting one for us and a separate one for Sage!
Natural Deodorant
Finally, a natural deodorant that ACTUALLY works! PitRefresh by BeautyNut Skincare has the refreshing citrus scent of bergamot and lime, and glides on smooth like a paste but melts in like a body butter without any oily residue. It dries matte, and if you're in a rush you can just apply it to your pits and then rub the rest into your hands since it's not sticky at all! Just apply once in the morning and you'll be stink free all day long! 
Note: If you're sensitive to baking soda, I recommend not applying right after shaving or waxing.
Rose Water Toner
This is a holy grail product and one I've been using religiously for probably 6 years now. I use it everyday! As soon as I wake up I spritz this all over my face and eyes – I wear contacts so sometimes I need that extra moisture and it doesn't sting at all. I also use it right after a shower or when I wash my face to balance out my skin's PH levels and protect it from the drying effects of tap water. It will be your skin's new best friend, pinky swear! You can thank me later 😉
Pro Tip: You can also take it with you to the beach as a cooling spray, and it works great as a natural makeup setting spray!
Vitamin C Serum
This is a 2 and 1 product, because it also contains Hyaluronic Acid. I love the consistency – it just glides onto the skin and sinks right in. Vitamin C nourishes and repairs, so I apply this right after I tone under my moisturizer.
Oil Moisturizer/Cleanser
Over the past few years I've truly fallen in love with the world of oils when it comes to skincare. This magical bottle of skin elixir (made locally in Canada by a small business) is another multi-purpose product that can be used as a cleanser or a moisturizer! It contains nourishing ingredients like sea buckthorn and jojoba oil (I told you they were my favourite!) and smells incredible. I will sometimes use this as a serum under my regular face moisturizer during the winter months when I feel I need a bit more nourishment, but in the summertime I love just layering this on top of my serums and using it as a moisturizer as is. It's so smooth and also works great as a base for makeup. You don't have to use a lot either – a little goes a long way! I'm almost done with my first bottle and I've had it for almost a year, so it definitely lasts a long time. 
Lip Polish
There is nothing more satisfying than applying your favourite lip butter or lipstick over smooth, freshly exfoliated lips. I love giving my lips that extra bit of love by polishing off any dead flaky skin with this lip polish by BeautyNut Skincare. It helps plump your lips up naturally too by increasing blood flow to the area! Whether you're into sweet or salty, I've got you covered. The sea salt & lime is margarita inspired and is the perfect start to your summer beach vacation, while the sugar honey one is sweet and softening with the benefits of honey. It's so yummy you'll have to hold yourself back from licking it off! I love this extra pamper step 1-2 times a week and following up with my lip butter to lock in the moisture and skin loving benefits from the nourishing oils.
Facial Scrub
I swear, I think I've purchased 4 bottles of this stuff since discovering it a couple of years ago. I keep it in the shower so it's easy to grab and exfoliate with in the shower (I usually do it about once per week). It just smoothes out my skin, leaving it super soft for all the serums and moisturizers to soak in, and has a beautiful green hue from the french green clay and sea kelp. Mr Matt has even caught onto this scrub and also uses it in the shower!
What are your summer beauty favourites? Let me know in the comments below! 
If you want to see more inspo for the upcoming Summer months, check out my 5 Must-Have Summer DIYs, and if you're interested in trying out natural deodorant for the first time check out my 3 Tips For Transitioning To A Natural Deodorant.