What a typical day looks like for us with a 6 month old baby. From our 6am wake up call to wishfully thinking she might sleep through the night!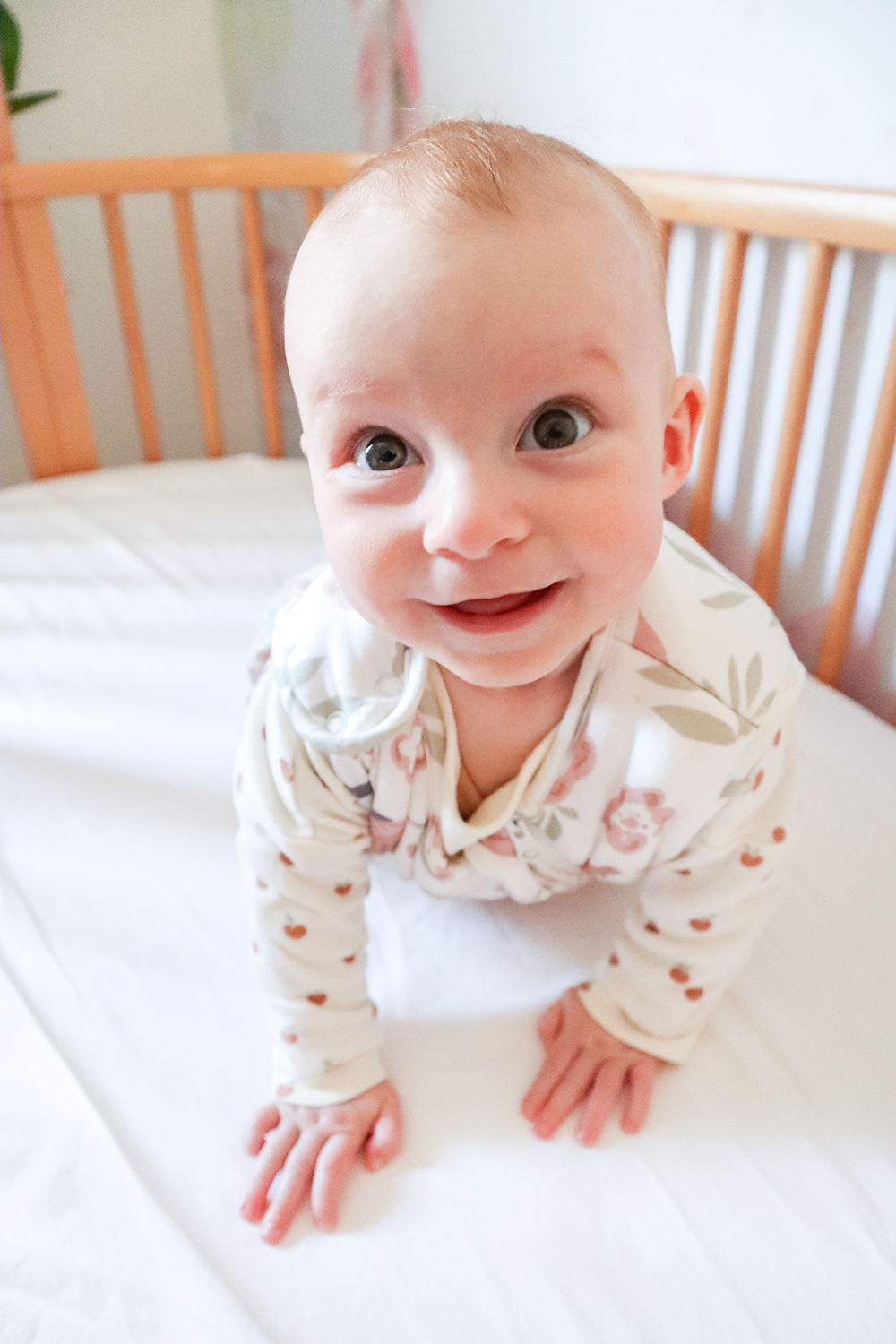 Sage is now 6 months old, and if you've watched my mommy videos or read my blog posts you'll know our routine shifts and changes as she grows. Everyone's routine is going to look different. It depends on you, your baby, and your family set-up. But I hope this will give you some insight into what a typical day looks like for us right now.
Morning Routine with a 6 Month Old Baby
In the mornings, Matt usually goes and gets Sage when she wakes up at 6am. He'll change her and then bring her to our bed for a feed. If you read my top Mom Hacks post, you'll know I LOVE side-lying breastfeeding. It means I can still lay down (so nice when I'm tired and just woken up) and feed her. Sometimes she'll even fall back to sleep for a little bit. Once we get up I'll prepare breakfast. If you're interested in seeing how we've been introducing solids to Sage, check out my Baby's First Foods post. I also add some probiotics to the milk she drinks from her cup.
After breakfast it's time to get Sage (and me eventually!) changed. Here's the baby top and drawstring pants she's wearing in the video above, and here's the sports bra and leggings I'm wearing. I also take the opportunity while she's playing with her play gym to brush my teeth, wash my face and apply my natural deodorant and lip butter.
We'll then do another breast feed and change before Sage's first nap. She's currently transitioning from 3 naps to 2, so it's kind of a gamble each day as to how often she'll nap. We try to make sure nap times are similar to bedtime just so she's aware it's time to sleep. We'll read her a book, put on her white noise machine, pull the semi black out curtains and put her into her sleep sack, and it's been working wonders. While she naps, that's my chance to eat, get in a workout (some days) and a shower!
Afternoon Routine with a 6 Month Old Baby
Our day looks different depending on whether we're filming, doing work in the office or having a day off. But generally in the afternoons we'll do a bunch more diaper changes and another couple of breastfeeds. I've also been giving her a little fruit snack in her fresh food feeder that she can chew on, before her proper lunch. Fresh strawberries, melon or frozen banana work great!
As I said, naps are a little unpredictable at the moment, but she'll usually have between 2-3 naps throughout the day. She's a little cranky at the moment because she's teething. We use this natural teething medicine and some little teethers that we keep in the fridge so they're cool and soothing. I also think she's going through a growth spurt. I find it really helpful to check the Wonder Weeks app to see what kind of developmental growth spurts she's going through and what to expect.
Evening Routine with a 6 Month Old Baby
After Sage's final nap we'll do another change and a breastfeed. I love my breastfeeding pillow, even at 6 months, because it helps bring her closer up so I don't have to lift her so much.
What I've found about the evenings is, even though she's a little grumpy because she's getting tired, it's also her silly part of the day. It's so much easier to get her to laugh in the evenings!
We'll then get dinner ready, and a couple of times a week we're happy to let Sage watch some cartoons while we make it, especially when she's not feeling well. After dinner we'll do another change and get her into her pyjamas. We'll also use some Calendula Diaper Rash Cream to protect her bum overnight. One last feed and then daddy reads her a bedtime story. We usually put her to bed around 6:30pm, and recently she's been sleeping right through till the morning around 6-6:30am. This night though she woke up at 4am! I find if she wakes up before 6am I can just do a quick feed with the lights low and she'll go right back to bed easily.
Once she's down it's grown-up time – dinner, relaxation, sometimes a little work and trying not to fall asleep too early or staying up too late!
What does your baby routine look like? Leave a comment below, I'd love to know!
If you're interested in seeing more about life as a mom, check out my Must Know Mom Hacks and my 6 Months Postpartum Update.