The best tofu ground beef made with crumbled tofu and seasoned to perfection is a healthy plant-based alternative to ground beef! 
Meatless Monday just got more exciting! This tofu ground beef will have everyone saying "I can't believe it's not beef"! Although I'm not a vegetarian, I'm a huge fan of using meat alternatives in my favourite dishes. It's a fun way to switch things up and try something different. Using tofu is a cheaper alternative to meat and is a great source of protein.

Making Tofu Ground Beef
Like most of my recipes, I like to keep things simple. And this recipe is super easy to make. All you need is a block of extra firm tofu and a few of your favourite spices. I like using extra firm tofu because it's drier and has that chewy meaty texture that resembles ground meat. If you're familiar with tofu, then you know that on its own it has no flavour. But tofu loves to soak up any flavor you add to it. The spices I added to this recipe are just what I like and you can use it as a guide. Have fun with it and make it your own by adding your own twist. I also added tamari sauce for that mellow salty flavour and added colour.
Adding a bit of oil also helps the spices stick to the tofu and keeps things from burning. Once you have all your ingredients, it's as simple as mixing all your spices, tamari and oil and adding it to your crumbled tofu. Make sure you give it a good stir so that the tofu is evenly coated. Next, spread the crumbled tofu on a lined baking sheet and pop it in the oven for about 30 to 35 minutes.  Baking the tofu will help dehydrate it and give it that wonderful meaty texture. Make sure you check on it frequently and give it a stir so that it bakes evenly.
How To Use Tofu Ground Beef
The best part about this recipe is that you can use it any of your favourite dishes that calls for ground beef. Use it in your tacos, nachos, chili, lasagna or toss it in marinara sauce. The possibilities are endless. And guess what? No one will guess that there's no meat in the recipe. Surprise everyone on Taco Tuesday by using tofu ground beef. Just add your favourite taco spices to the crumbled tofu and bake as usual. Then top with your favourite toppings such as salsa, guac and sour cream! Yum!!
For more tofu inspired recipes, check out my Butternut Squash and Spinach Lasagna Roll-Ups, Crispy Baked Tofu Nuggets and The Best Dairy-Free Tiramisu.
If you make this recipe, be sure to share a photo on social media and tag me @healthnutnutrition and #healthnuteats so that I can see your creations!
Recipe
The Best Tofu Ground Beef
This tofu ground beef made with crumbled tofu and seasoned to perfection is a healthy plant-based alternative to ground beef!
1

package (350g)

extra firm tofu

1

teaspoon

garlic powder

1/2

teaspoon

onion powder

1/2

teaspoon

chilli powder

1/2

teaspoon

chipotle powder

1/4

teaspoon

ground cumin

1/4

teaspoon

ground black pepper

2

tablespoons

tamari

1

tablespoon

avocado oil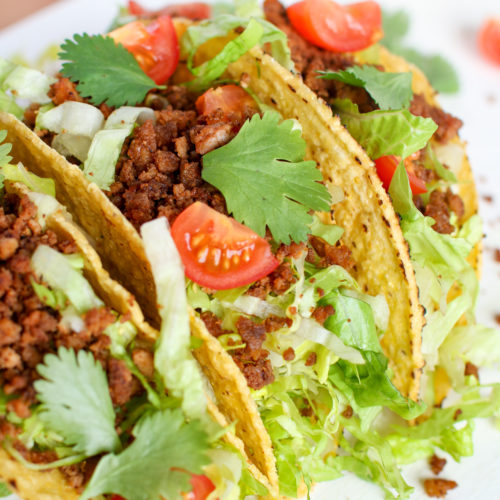 Print Recipe
Save Recipe
Preheat the oven to 350F. Line a baking sheet with parchment paper or a silicone liner.

In a large bowl, add all the spices and mix. Add in the tamari and avocado oil and mix to combine.

Crumble the tofu into the bowl with the seasoning and mix until evenly coated.

Spread the tofu evenly on a baking sheet and bake for 30 to 35 minutes or until evenly dark brown, flipping halfway. 
similar recipes