10 healthy and easy toast creations from avocado to New York style, made with simple mouthwatering ingredients, perfect for breakfast, lunch and even dinner!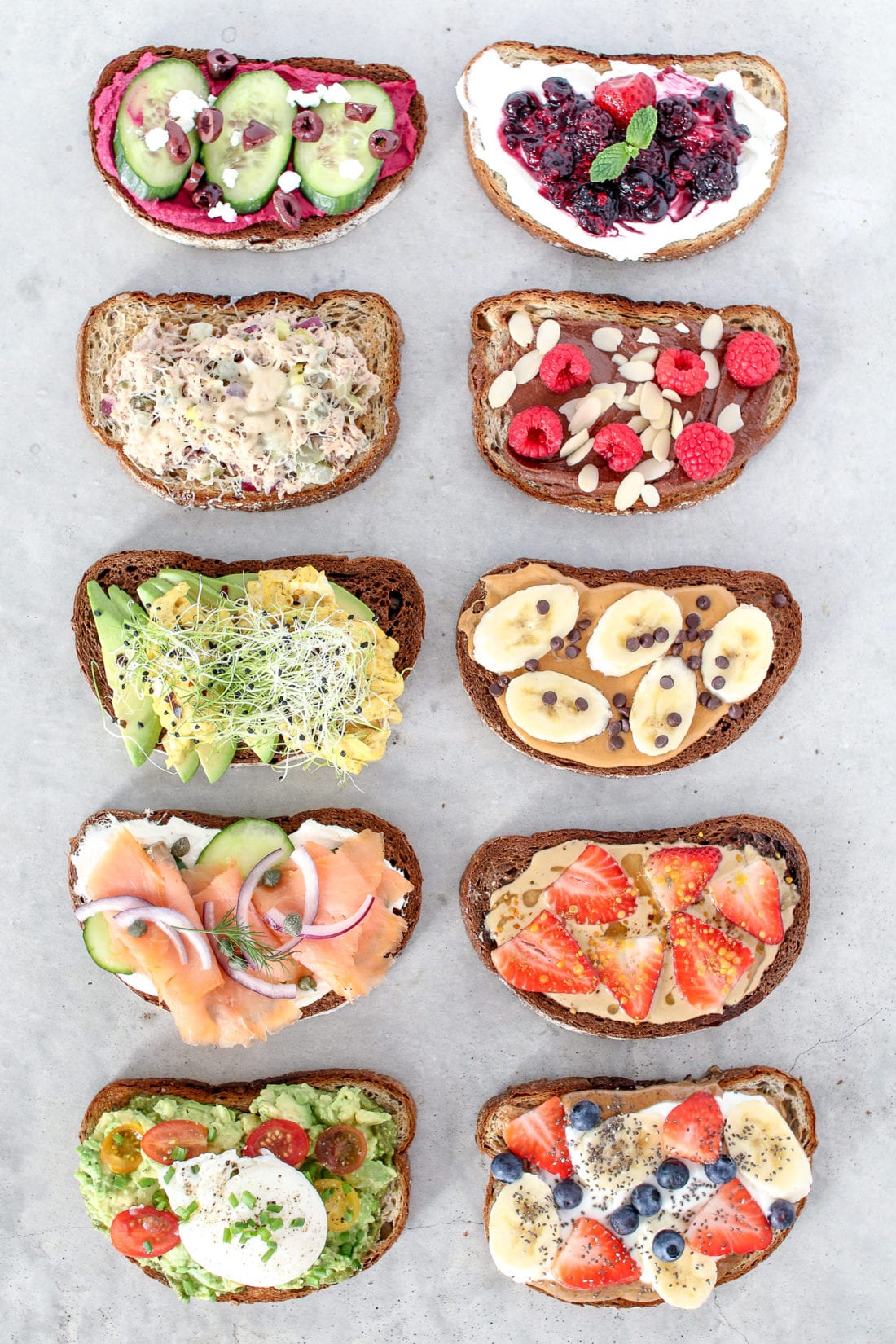 Who doesn't love toast? I mean is there anything that doesn't go great on an open faced sandwich? Whether it's on sourdough, gluten-free, paleo, or ancient grain bread, you name it- toast is the best. There are so many delicious possibilities that you can have for breakfast, lunch or dinner. I call it my lazy prep meal day! Today I'm sharing 10 of my favourite ways to top your favourite toast; 5 savoury and 5 sweet, to satisfy all your taste buds. It was so hard to narrow it down to 10, I feel like I could have shared 50 more recipes. I know you guys are going to love these!! Let's get toasting 🙂
Savoury
The All About The Beet
How pretty is this opened faced sandwich? I love the combination of the creamy beet hummus, crunchy cucumbers and the saltiness of the goat cheese and kalamata olives topped with cracked black pepper.
The Smokey Salmon
Now if this doesn't want to make you get out of bed, I don't know what will! Smear your toast with a generous amount of cream cheese, top with crunchy cucumbers, add a few slices of smoked salmon, sliced red onions, capers, and fresh dill. You're welcome!
The Tuna Melt
I've been teasing you guys with this one for a few days now, you can find the recipe below. Open faced or closed, I just can't get enough of this one! This combo is bursting with all kinds of flavours and crunch. (tuna salad recipe below photo)
Print Recipe
Save Recipe
In a small bowl, add the tuna, celery, onions, mayo, pickle and mustard. Mix until well combined.

Toast your bread and top with half the tuna mixture on each slice. Top with 1 tablespoon of grated white cheddar on each slice and broil in the oven for 5 minutes.
similar recipes
The Scramble
Creamy sliced avocado meets scrambled eggs- a match made in breakfast heaven. This combo is a game changer from your usual scramble. Topped with fresh sprouts which adds a fresh bite and sprinkled with crushed chilli flakes for some sneaky heat. A little salt and pep and you're good to go.
The Sunny Side Poached
Brunch served on toast! This one is bursting with so many flavours and layers, I don't even know where to begin. Smear your toast with pesto, top with creamy smashed avocado, sliced heirloom tomatoes, poached egg, salt, pepper and fresh chives. Who doesn't love that first cut into a poached egg? I like to poach my eggs for 2.5 minutes for that perfect runny center.
Sweet
The Chocoholic
What's better than chocolate for breakfast? Yum! Spread your toast with chocolate hazelnut butter, (I like Justin's Chocolate Hazelnut Spread) topped with juicy raspberries and crunchy almond slices.
The Love Toast
Move over peanut butter, this will be perfect for your sweet nut-free Valentine. Spread a generous amount of tahini on your toast, top with fresh sliced strawberries, sprinkle with cinnamon, drizzle with a generous amount of honey and finish off with a pinch of bee pollen. You will fall in love with this one!
The Smoothie
You know I love my smoothies! Why drink it when you can eat it? Smear your toast with almond butter, spread a dollop of yogurt on top, top with sliced bananas, sliced strawberries, blueberries and sprinkle with chia seeds. So delicious!
The Chunky Monkey
Well hello there Mr. Peanut Butter, don't you worry, I did not forget about you! How could I not include the classic peanut butter on toast. Top it with sliced bananas and mini chocolate chips and say goodbye to your usual PB & J sandwich.
The New York Style
Yes, you can have cheesecake for breakfast! Smear your toast with a generous amount of cream cheese and top with a stewed berry compote and fresh mint. To make the stewed berry compote, add 1 cup of frozen berries and 1 to 2 teaspoons of maple syrup to a small saucepan and heat for 5 minutes on medium-low heat, stirring gently occasionally to not mash up too much of the berries. (serves 2).
Leave me a comment below and let me know which flavour combo is your favourite and how you like to top your toast!
If you make this recipe, be sure to share a photo on social media and tag me @healthnutnutrition and #healthnuteats so that I can see your creations!